This easy one pot tomato lentil pasta makes weeknight cooking a breeze!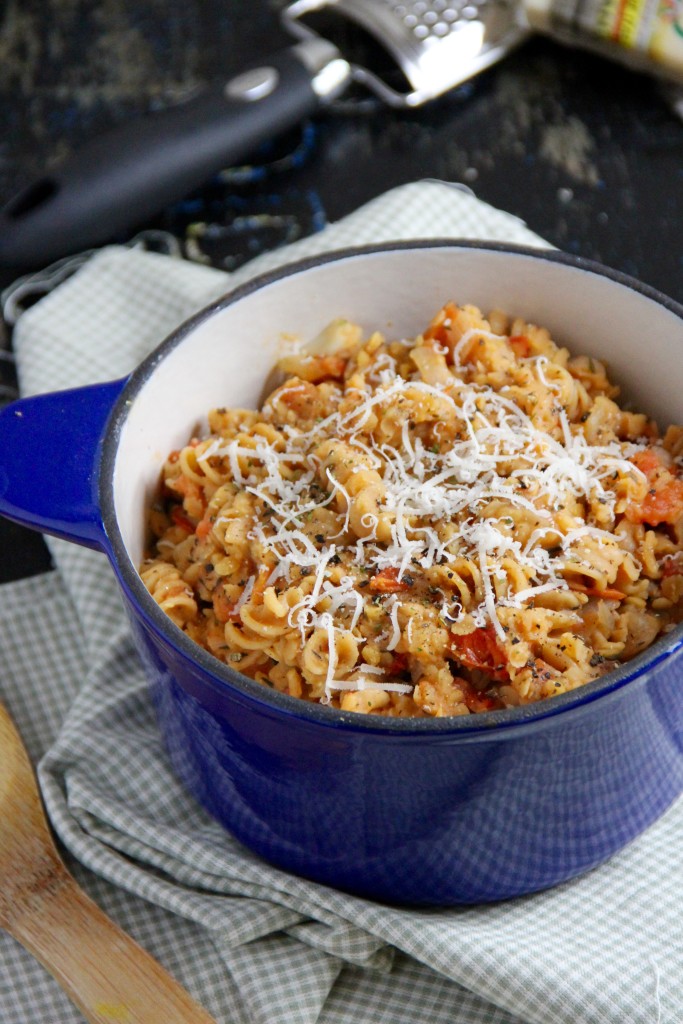 Although the basic premise of Emma's Little Kitchen is to provide you with simple, approachable vegetarian fare, I will be the first to admit that I sometimes get a little carried away. I aim to keep things simple, but sometimes I stumble on a recipe that is SO TASTY, I assume you will forgive me for the extra dishes, or long cook time (exhibit A). A few weeks ago, I had a particularly "creative" week in the kitchen, that left my poor husband -the orderly scientist- tearing his hair out. I vowed that the following week I would stick to One Pot Wonders only, and I'm so very happy I did! Not only did I have more time on my hands, I discovered this beautifully nourishing, earthy, one pot tomato lentil pasta. The very epitome of simple, this dish has just a teeny list of ingredients, requires only one pot, and comes together in less than 30 minutes. Hurrah!!
How about you? I would love to hear about your favourite one pot creations!
More One Pot Wonders on Emma's Little Kitchen:
Spring Vegetable Barley Risotto
Favourite One Pot Wonders Elsewhere:
Curried Butternut Squash & Rice Skillet– Naturally Ella
Kale Quinoa & White Bean Soup– Simple Veganista
One Pot Pasta Primavera- Oh My Veggies
Skillet Tomato Casserole– Well Plated by Erin (husbands new favourite!!)
Summer Vegetable Skillet Lasagna– Oh My Veggies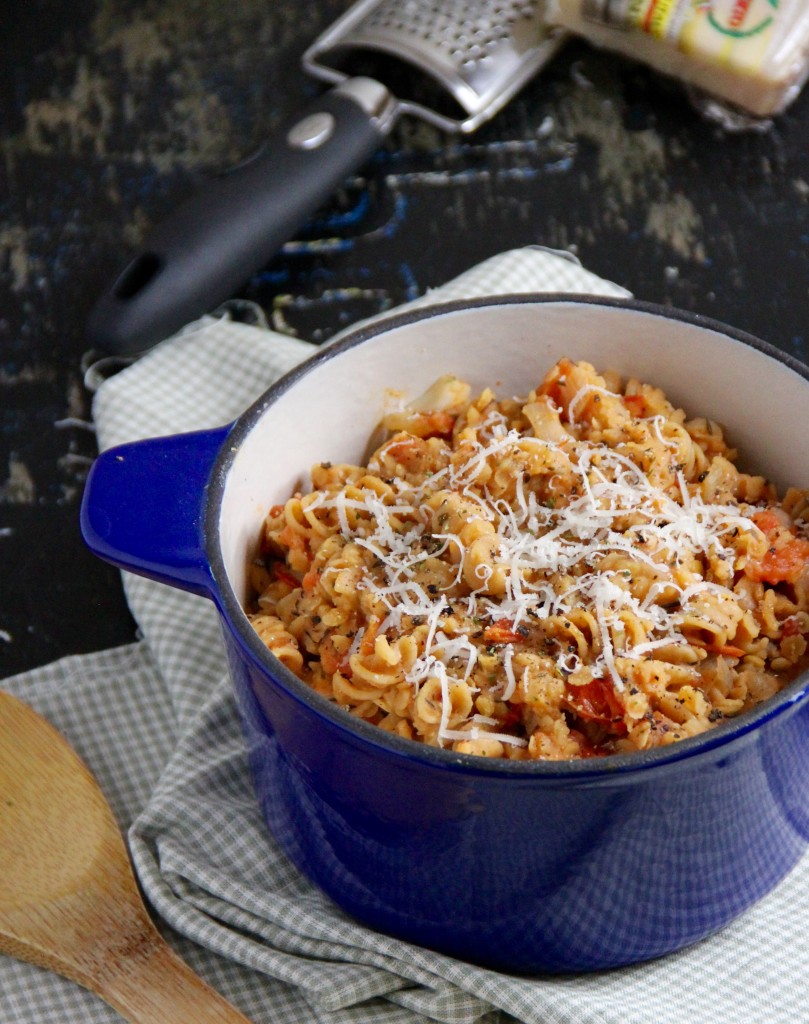 Enjoy!

One Pot Tomato Lentil Pasta
This easy one pot tomato lentil pasta makes weeknight cooking a breeze!
Ingredients
1 tbsp olive oil
½ medium onion, diced
3 garlic cloves, minced
2 large tomatoes, diced
2 tsp dried thyme
pinch of red pepper flakes (optional)
½ cup red lentils
2 cups vegetable stock
1 cup water (have more handy, just in case)
2½ cups whole wheat rotini/fusilli (or pasta of choice)
Salt and Pepper to taste
Freshly grated parmesan or parsley to serve
Method
In a large pot, heat olive oil over medium heat, and add onions
Saute for a few minutes until softened and add the garlic, cook for a minute more
Add tomatoes and thyme to the pan, and mix, cook for barely a minute, and add the lentils. Give everything a good mix so the lentils are coated in the onion-tomato mixture. Add the vegetable stock and water, and bring to a steady simmer
Add the pasta to the pan, and cook with the lid on for about 12 minutes until the lentils and pasta are tender. Stir occasionally to make sure that your lentils aren't sticking to the bottom of your pan, if the lentils and pasta drink up all your liquid before the dish is cooked, add a splash more water
Season with salt and pepper to taste, and serve with fresh parsley or parmesan
Notes
Red lentils work best in this dish as they break down into a creamy sauce-like constituency- delicious!
If I'm feeling a little indulgent I will mix extra parmesan (a few heaped tablespoons) into the tomato lentil mix at the end of cooking, this provides some extra creamy, nutty slightly salty goodness
Fresh thyme can be substituted for dry if you have it to hand, but you will only need about a tsp.