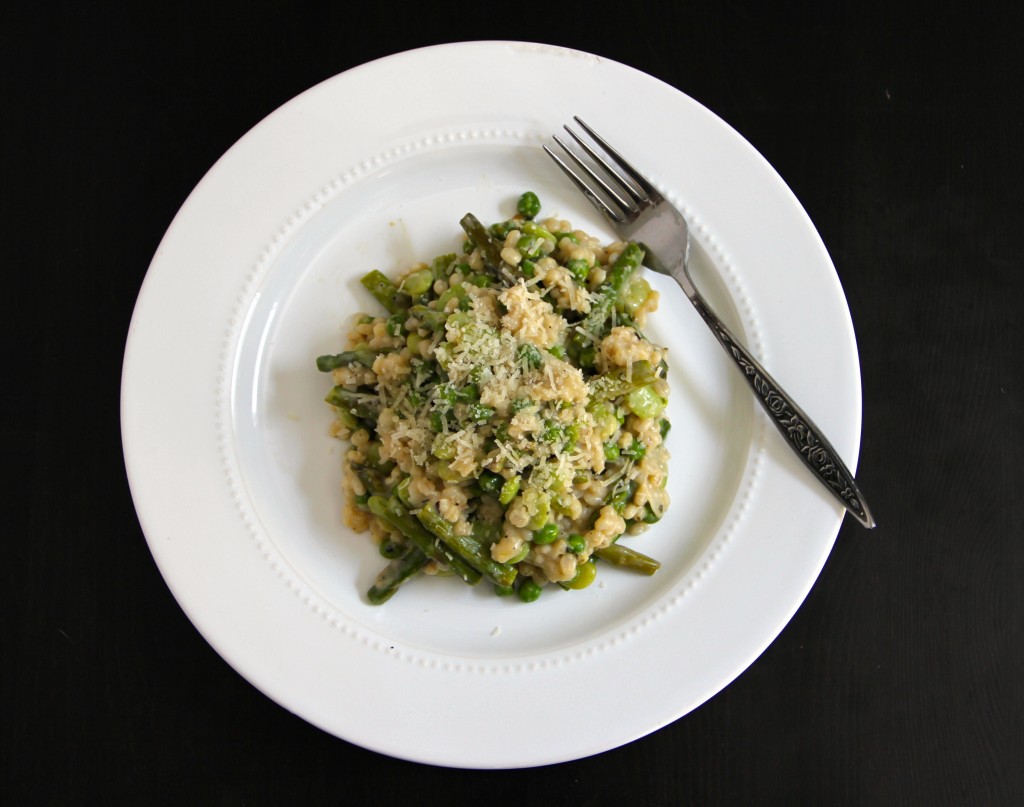 There are few advantages to having my husband live in a different state for the next three months. In fact, I can think of only one: I get to eat Risotto. All. The. Time. That's right, my darling husband is just not that into Risotto. I took me a while to come to terms with this, but we're cool now.  I make this Spring Vegetable Risotto, or variations on it, often. And I know if I eat it once, then I will be eating it every week for a while, it is just lovely.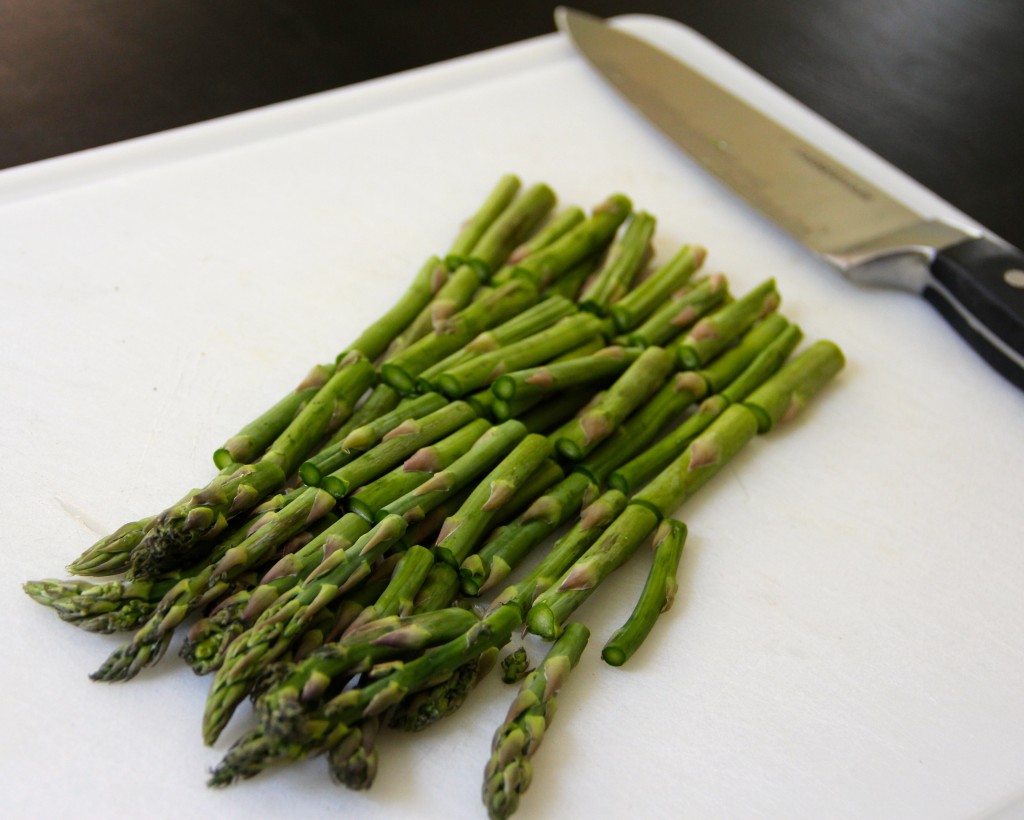 Feel free to use this recipe as a template, the vegetables are totally interchangeable. However I really dig this Spring-y combination of asparagus, peas and broad beans. When I make Risotto with barley I like to add some creaminess back into the dish. In this recipe I do that with with Mascapone, and of course I top it off with freshly grated parmesan. If you want to make this dish vegan, or less rich, simply omit the two cheeses.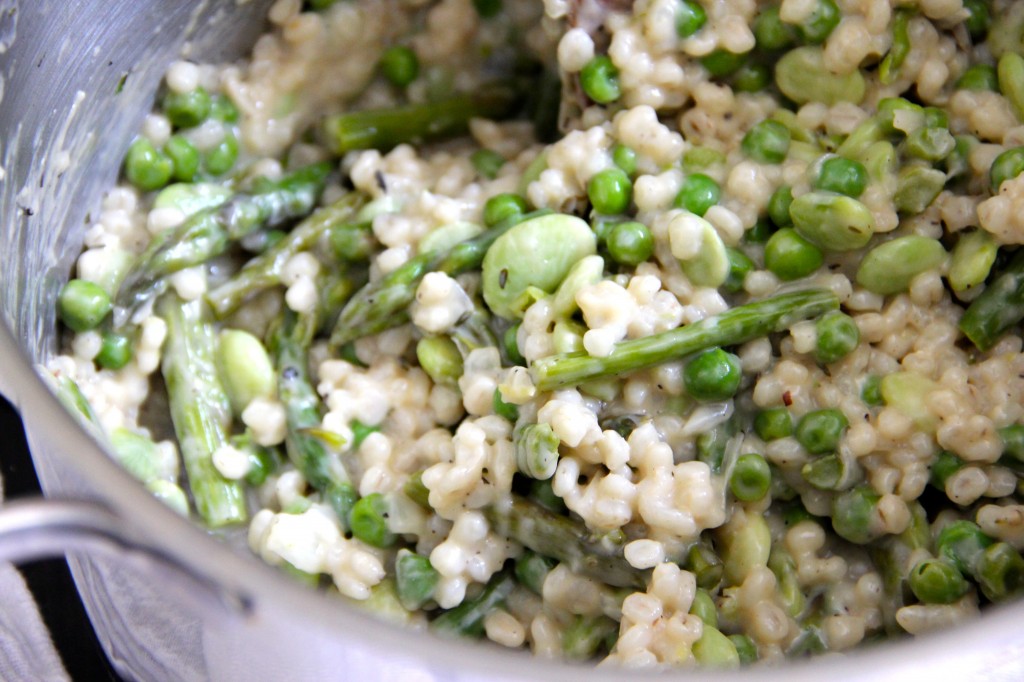 One last note on the vegetable stock- I strongly recommend using a low sodium version. As the flavours cook down and become more concentrated, a normal stock could result in a too salty dish. No good!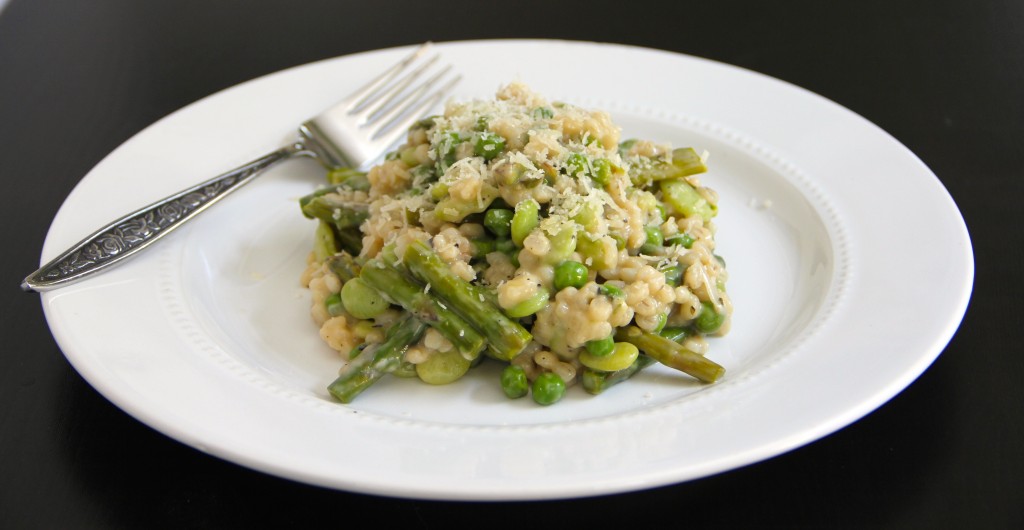 Spring Vegetable Barley Risotto
Barley risotto of spring vegetables
Ingredients
2 tbsp olive oil
1 small onion
1 garlic clove, minced
1 cup/200g pearl barley
1 tsp dried thyme
7 cups (1750ml) low sodium vegetable stock
½ bunch/200g of asparagus chopped into 2 inch pieces
1⅓ cup/180g of frozen peas (defrosted)
1⅓ cup/200g of broad beans (shelled)
3 tbsp mascarpone
½ cup/50g freshly grated parmesan (plus more to sprinkle on top)
zest of 1 lemon
Handful of chopped fresh parsley (optional)
Method
Pour prepared vegetable stock into a small saucepan, and bring to a low simmer.
In a large pot, heat olive oil over medium heat
Add onions, and sauté for about 5 minutes until softened
Add garlic, and cook for a minute longer
Add the pearl barley and thyme to the pot, and give everything a good stir so that the barley has a nice oily coating
Add a ladle of stock into the pot and stir until almost absorbed, continue this process for the next twenty five minutes, remember to stir constantly
Add the asparagus to the pot, and continue ladling the stock and stirring for five more minutes
Add the peas and broad beans to the pot, and cook for 5 more minutes,
After 5 minutes, the barley should be tender, remove from the heat and stir in the mascarpone, parmesan and lemon zest
Season with salt and pepper, and serve with fresh parsley and additional parmesan if desired
Notes:
You might have a little stock left over- it is best to start with more than you need and not use it all!
Adapted from this recipe.