This Pumpkin Chia Coconut Parfait is a delicious solution to busy mornings!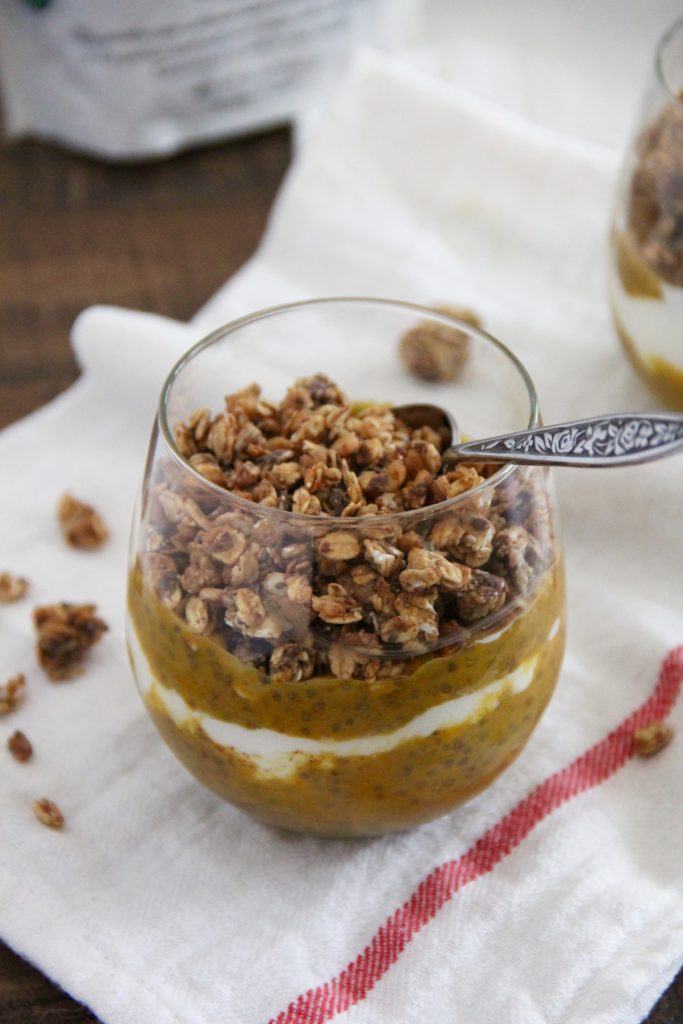 Mornings. They're not what they used to be.
Actually, they are. Mornings have always been rushed for me, pre-children I would stay in bed until the last second and guzzle black coffee from my travel mug as I sped to the office to eat breakfast at my desk. On my more ambitious mornings I might squeeze in an early morning run, but I would still be rushing to get out of the house on time. Now, my mornings are dictated by a cherubic almost-two-year-old who likes to start his day with a smoothie and minor acts of vandalism.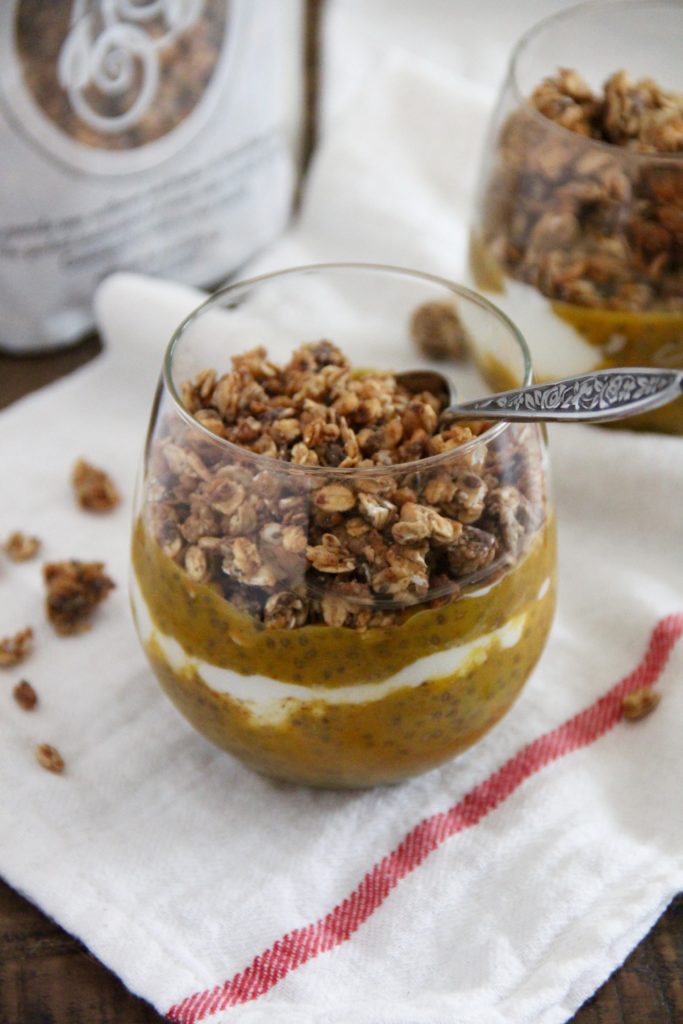 Thus, I have always been a fan of the make-ahead breakfast. I don't always swing it, but when I do my mornings are far more calm and enjoyable. Todays recipe, Pumpkin Chia Coconut Parfait is not only convenient in its makeaheadability (<—– thats the technical term btw), it also has the advantage of feeling just a little bit fancy. The recipe uses Blissful Eats Granola which has become a staple in my kitchen cupboard for those times when toddlers, work schedules, and life take over. No matter how hectic life gets, I find I am always MORE stressed when I don't make the time for a healthy meal, so a brand of granola made from delicious and wholesome ingredients is an essential lifeline!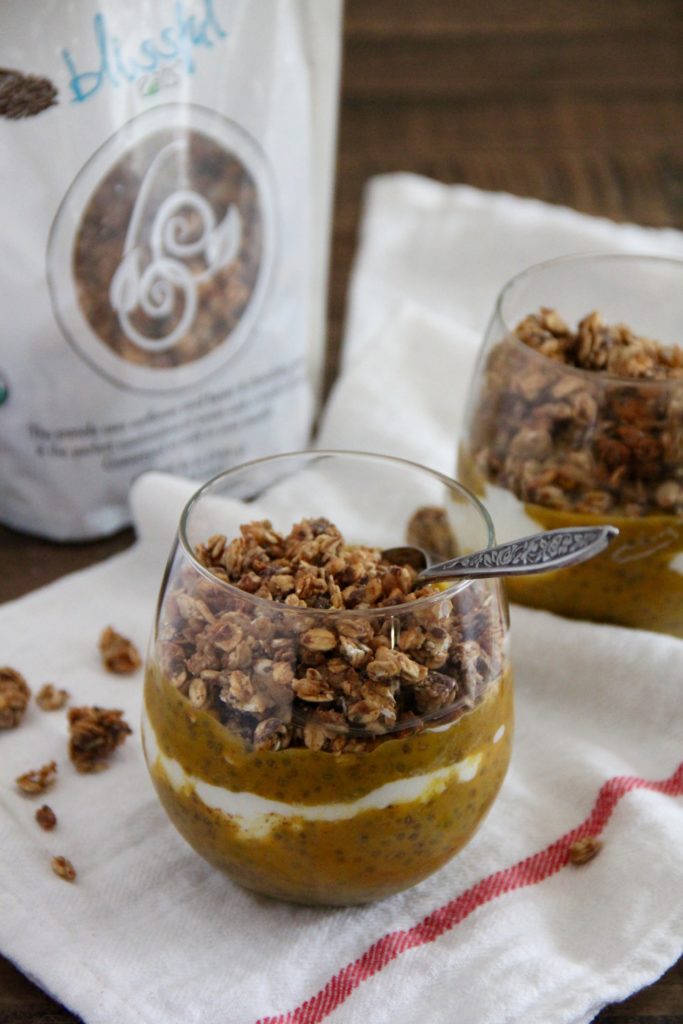 Enjoy!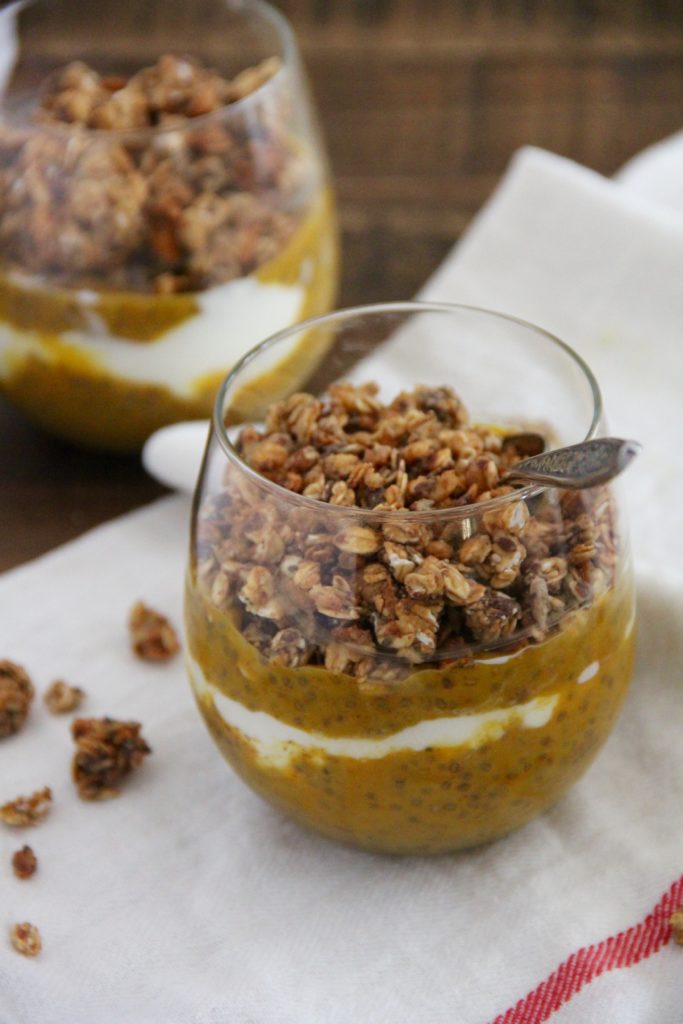 Pumpkin Chia Coconut Parfait
This Pumpkin Chia Coconut Parfait is a delicious solution to busy mornings!
Ingredients
For Chia Pudding:
¾ cup milk of choice
1 cup canned pumpkin puree
2 tbsp chia seeds
2 tbsp maple syrup
½ tsp cinnamon
¼ tsp ginger
For the Parfait
1½ cups Blissful Eats No Nutty Chocolate Chip Granola
1½ cups coconut yogurt (vegan or dairy- your choice!)
Method
In a large bowl, whisk together Chia Pudding ingredients until well combined. Cover, and transfer to the fridge and allow to chill for at least a couple of hours, preferably overnight.
When the pudding is chilled and thickened, place ¼ of the mixture in a glass jar/similar, next add a layer of coconut yogurt (about ¾ cup), followed by another layer of chia pudding. Then top with a layer of granola (about ¾ cup).
Repeat the layering with the remaining ingredients in a second glass jar.
Serve and enjoy!