A nourishing lentil spinach and coconut curry that comes together quickly and is packed full of indian flavour.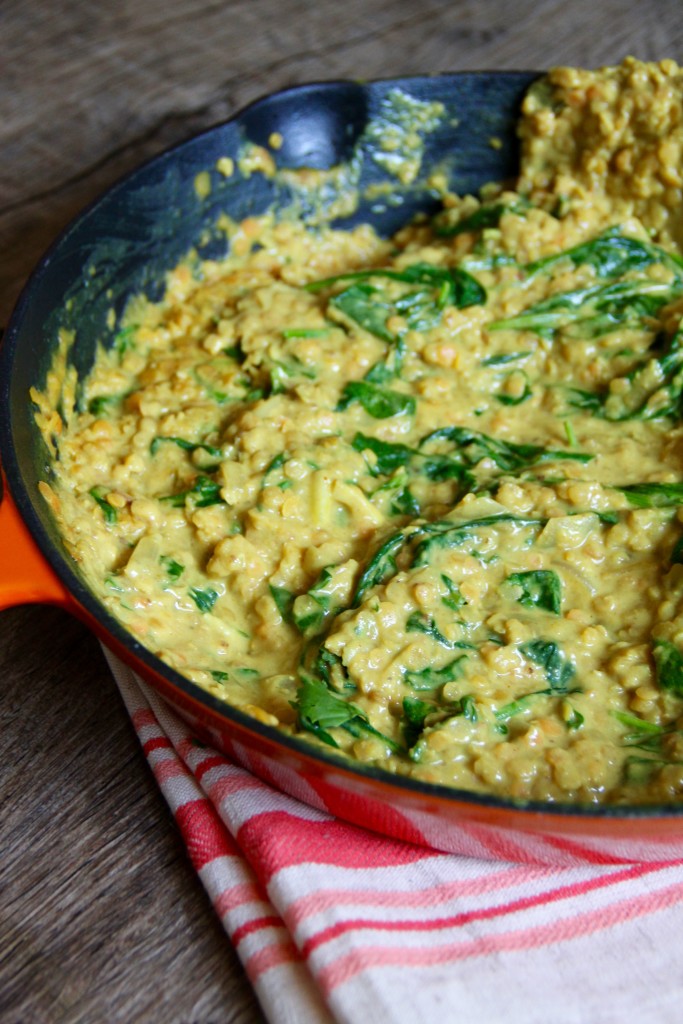 Hey y'all (<— texas is rubbing off on me), thanks for giving me a much needed break the last few weeks! We are still getting settled in our new home, but so far we are enjoying the South. Today I am bringing you another delicious "go-to" curry.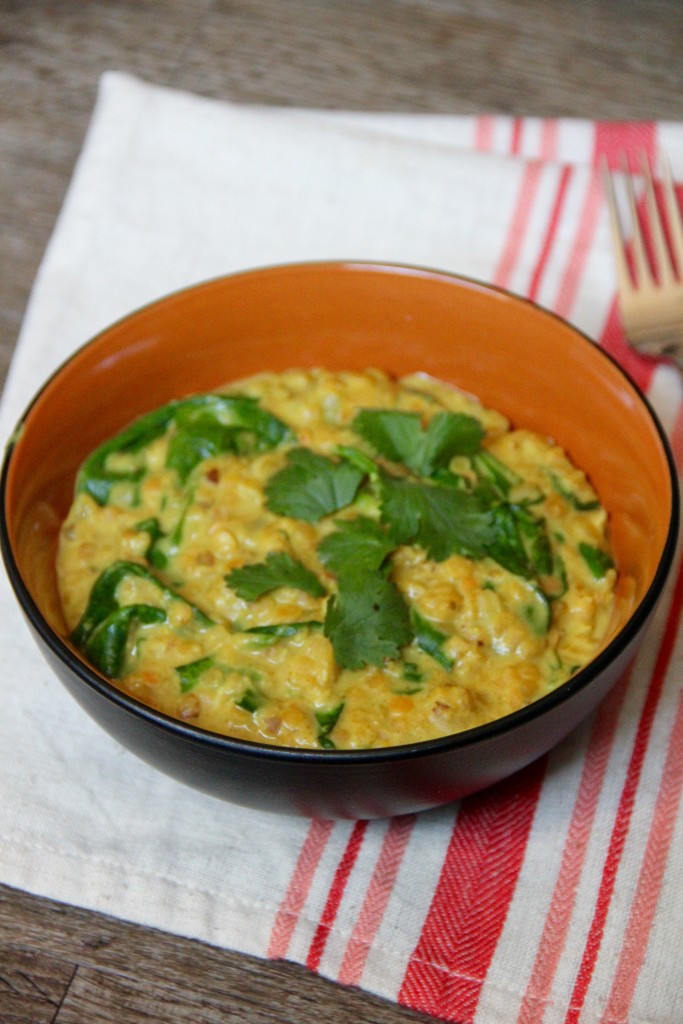 My first version is actually the most popular recipe on Emma's Little Kitchen to date, a fact that really surprised me! I almost didn't post it because it felt too simple, or not "special" enough (I make it ALLLLL the time!). Turns out, thats exactly what you lot are after, so I'm following your cues!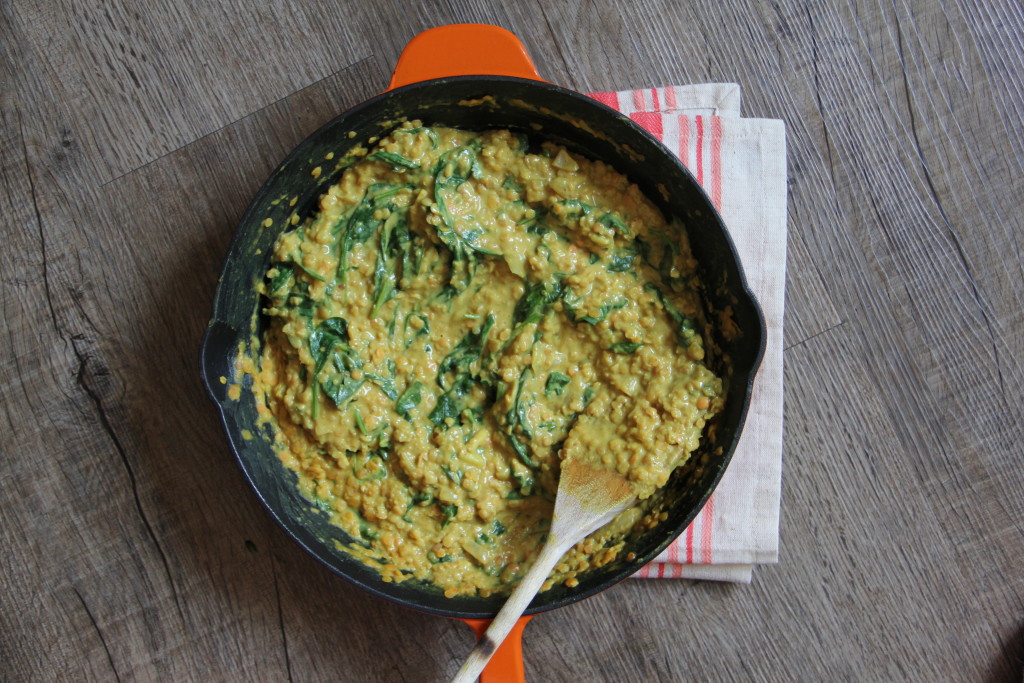 There's a few reasons why I think my original go-to curry is so successful, and many are replicated in this recipe.
Quick– SOOOO important for our family now! Having a five month old means no more long or laborious meals. I imagine this will only become more true as James becomes older, more mobile, or we throw a sibling or too into the mix (yikes!). Even before the babe came along, I was always looking for speedy weeknight meals so I could fit my marathon training in around my 50+ hour a week desk job. This curry is perfect because its FAST and also…
Freezable– One of the easiest ways to stick to a healthy whole foods diet is to double all of your meals and freeze half, we do it all the time and it really helps us to stay on track (98.5% of the time!). This curry freezes very well, and I find it actually improves a little with age (bonus!).
Store Cupboard Ingredients– This recipe calls for many non-perishable ingredients- lentils, coconut milk, and spices. I prefer to use fresh spinach, but frozen could easily be substituted if its all you have to hand. Onions and garlic always last so long in my fridge I almost count them as non-perishable. This means you can russell up a delicious curry whenever the mood strikes or inspiration fails.
Budget Friendly– Admittedly coconut milk can be a relatively expensive item, but lentils, onions and spinach are cheap as chips! I reckon this meal would still cost a couple of pounds or dollars per serving.
Delicious– Lets face it, Indian Food is the bomb shmickety.
So there you have it, my "Go-to" Curry Part II.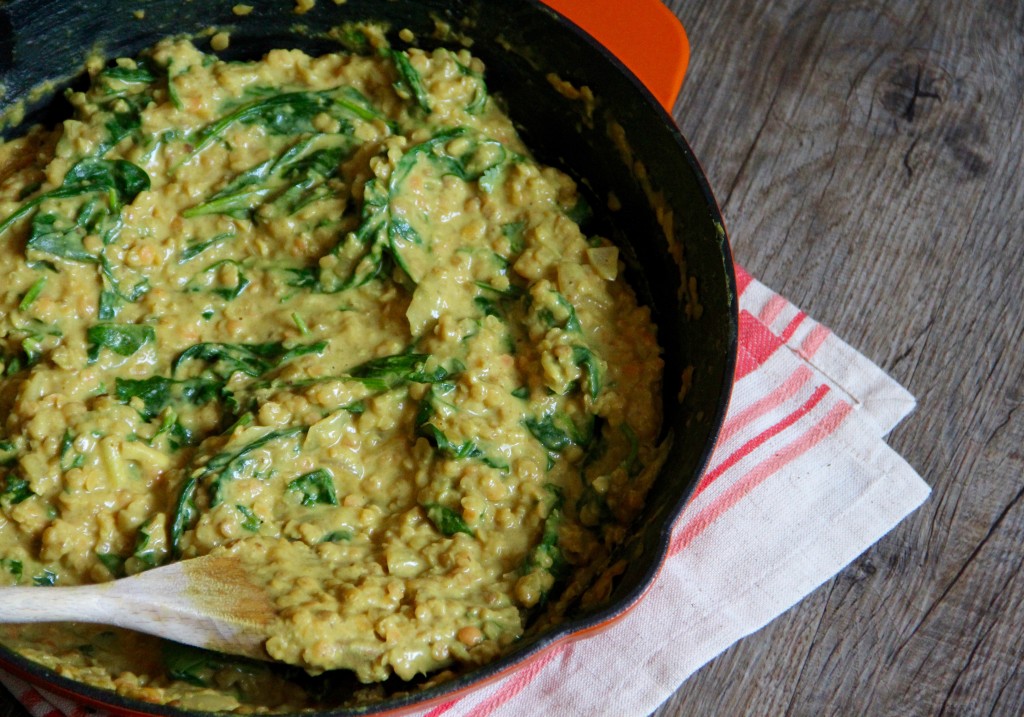 Enjoy!

Lentil Spinach Coconut Curry
A nourishing lentil spinach and coconut curry that comes together quickly and is packed full of indian flavour.
Ingredients
1 tbsp olive oil
1 medium onion, diced
2-3 garlic cloves, minced
1 inch piece of ginger, minced
2 tsp curry powder
1 tsp cumin
¼ tsp cayenne pepper (or more or less to taste)
1 cup red lentils
1 tin coconut milk (14 fl oz)
1 cup water or vegetable stock
2 large handfuls of baby spinach
Juice of half a lemon (optional)
¼ cup chopped fresh coriander (optional)
salt to taste
Method
In a large lidded pan or skillet, heat olive oil over a medium heat and add onions. Saute until softened, about 4-5 mins. Add Garlic and ginger, and cook for a minute longer
Add the curry powder, cumin and cayenne pepper to the pan and give everything a good stir so the onions are coated in the spices
Next, add the lentils, coconut milk, water (or stock), and cover. Gently simmer for about 20 minutes stirring frequently (I find that my lentils stick to the bottom of the pan otherwise). If the mixture looks dry at any point, stir in a few more splashes of water
After 20 mins, fold in the spinach and cook for a minute or two more until the spinach wilts. You may need to do this in batches depending on the size of your pan
Finally add lemon juice and coriander if using, and adjust the seasonings to taste
Serve with rice or naan