This aromatic aubergine tomato chickpea stew makes the most of beautiful tomatoes and aubergines when they are at their peak.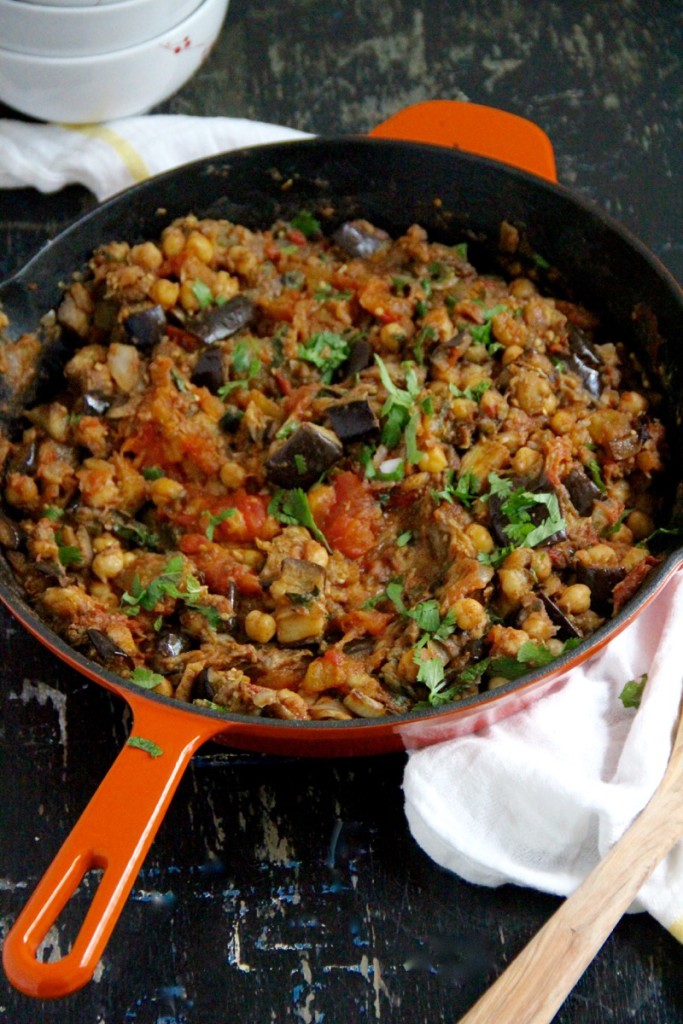 This aromatic aubergine, tomato and chickpea stew is one of the very first recipes I taught myself to cook as a teenager, and has become a firm favourite, especially when aubergines and tomatoes are at their best. Over the years it has been fine tuned and tweaked (the addition of chickpeas is new, but you know how I love my chickpeas!), so it took me a while to get a sharable recipe for you.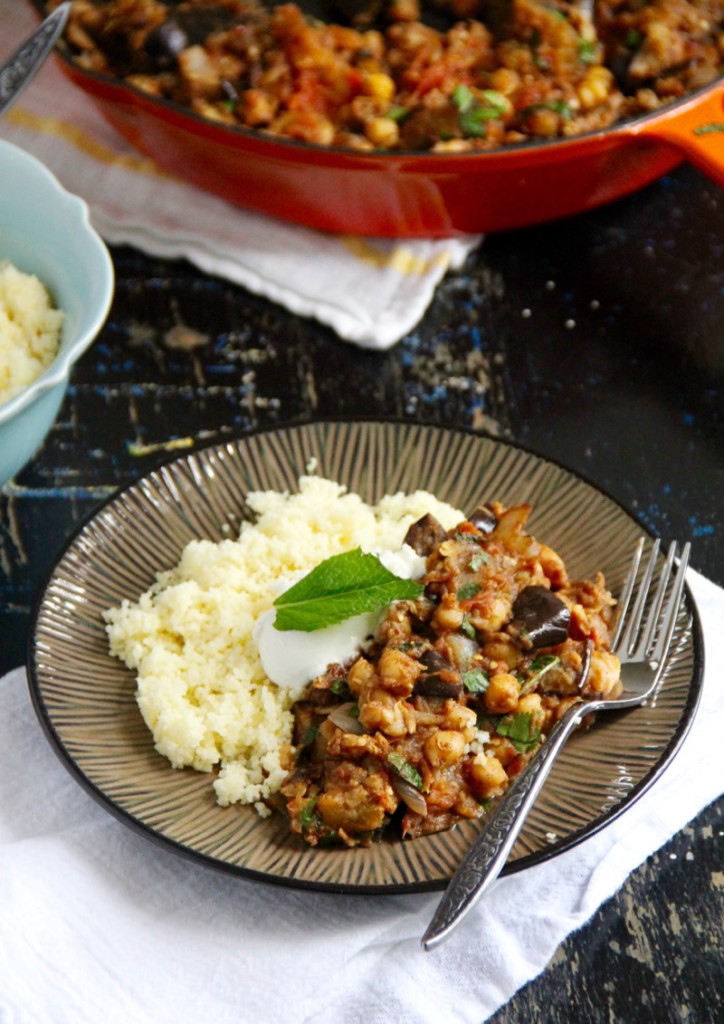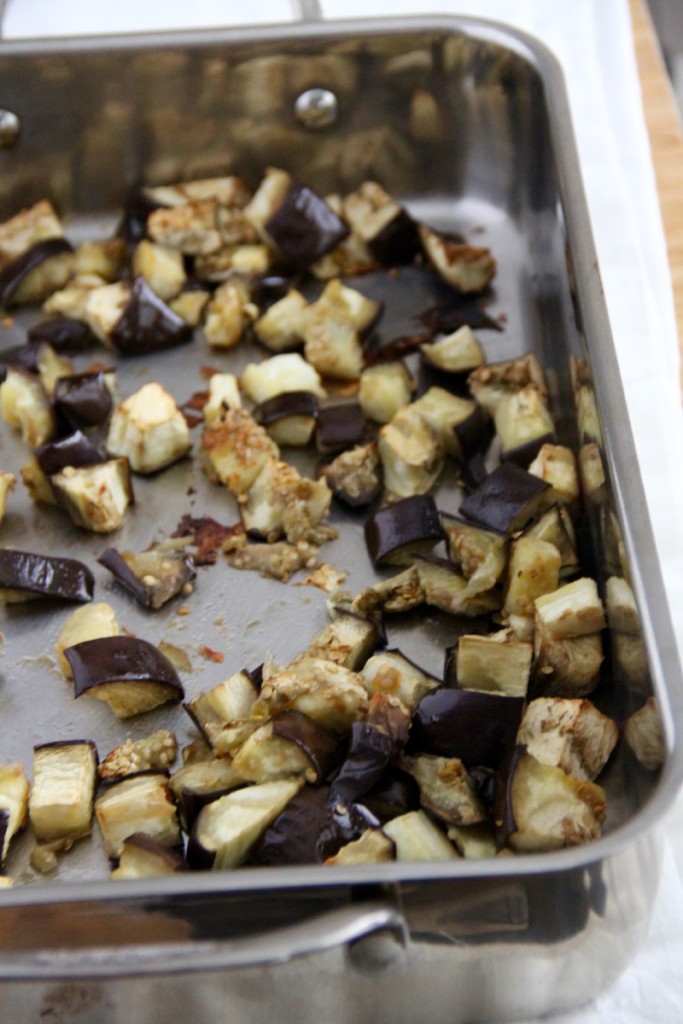 The recipe is originally borrowed from good old Delia, but she serves it cold as a sort of dip-come-salad, and recommends that you prepare it the day before you want to eat it. No bueno. I lack the required forethought, and besides, I prefer it warm, so stew it is!
I have also taken out some of her more fiddly steps to cut down on prep time, but unfortunately could not cut down on the number of dishes- the tomatoes and aubergines need a nice roasting before they're put in the stew. I have tried it without, but it's just not the same (soz!). Roasting brings out such a beautiful flavour, you can't skip it! My recommendation is you double (triple, even?!) the recipe and freeze the leftovers. That way you can enjoy the late summer goodness way into the autumn.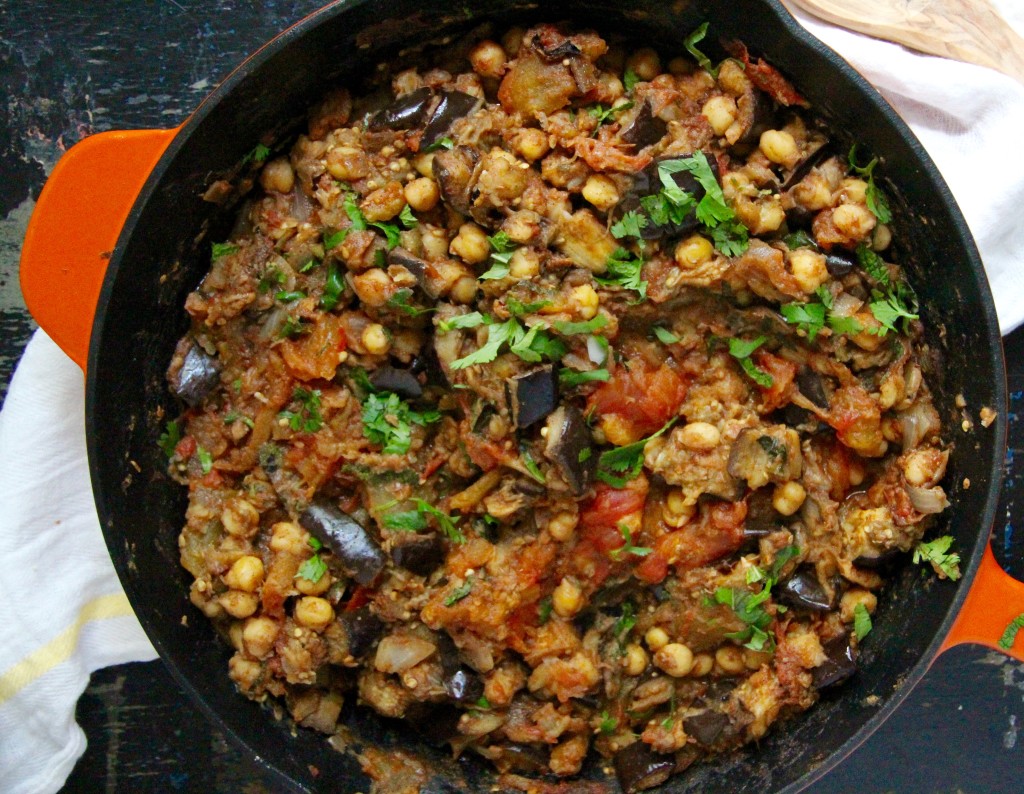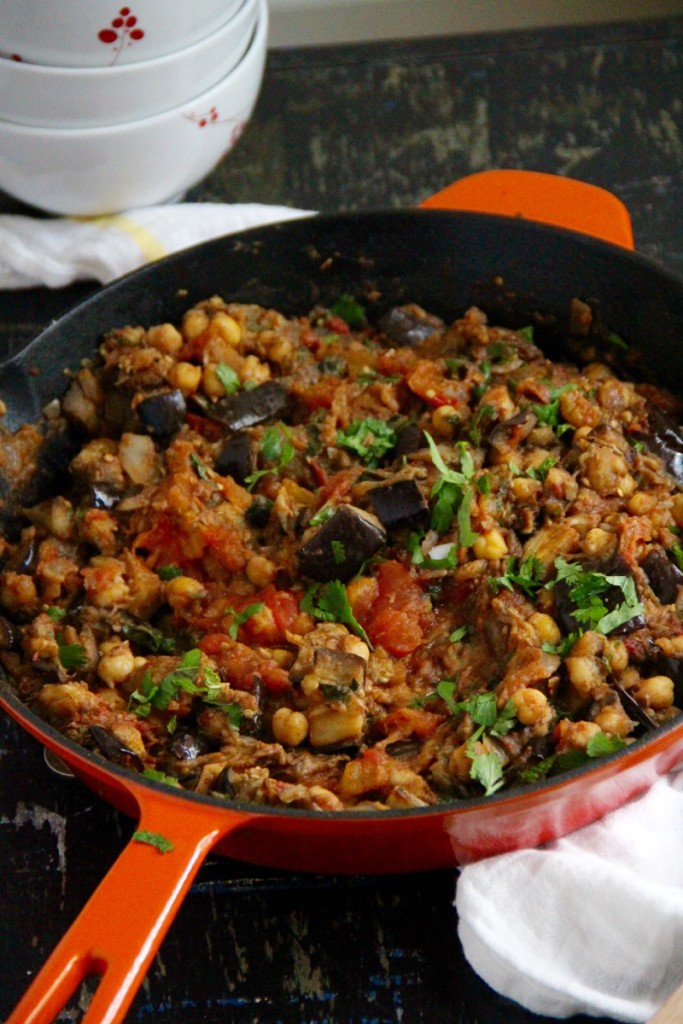 Enjoy!

Aubergine Tomato Chickpea Stew
Ingredients
1 large aubergine (eggplant), chopped into 1 inch cubes
3 large tomatoes
4 tbsp olive oil, divided
1 medium onion, thinly sliced
4 garlic cloves, minced
2 tsp cumin
2 tsp chili powder (or more or less to taste, use cayenne if you like it hot)
1½ tsp cinnamon
1 tsp allspice
2 cups cooked chickpeas (or 1 tin)
2 heaped tbsp fresh coriander (finely chopped)
2 heaped tbsp fresh mint (finely chopped)
Method
Preheat oven to 450F/230C
Skin the tomatoes- Place the tomatoes into a large bowl. Boil a kettle of water, and pour water over the top of the tomatoes. Allow to sit for 5 minutes, and then carefully remove each tomato and slip of their skins (don't burn your hands!!).
Chop the skinned tomatoes in half, and place cut side up in a large baking dish. Drizzle with olive oil, and place in the oven for 25-30 minutes until tender, and beginning to brown or even char at the edges
Cut the aubergine to 1 inch cubes and place on a baking dish, drizzle with olive oil and place in the oven for 25-30 minutes until golden and tender
Once the tomatoes and aubergines are cooked, remove from the oven and set aside
In a large skillet, saute the onion in the remaining olive oil on medium heat for a few minutes until tender. Add the garlic, cumin, chili powder, cinnamon and allspice to the skillet, and cook for a couple of minutes, stirring often. Add chickpeas and stir to coat in the onion-spice mix. Add the aubergine and tomato to the pan, and give everything a good stir. Break the tomatoes up as you go with the back of the spoon. Stir in the coriander and mint, and allow the stew to cook for a few minutes more. Add a splash of water if it looks a little dry (I usually find my tomatoes yield enough liquid, but it depends on how you like it!)
Check the seasoning and adjust to taste
Serve alongside couscous or pita, or enjoy on its own! I like a good tablespoon of yoghurt on mine, but hummus or feta are also fabulous!
Notes
Adapted from Delia Smiths Tunisian Salad from this wonderful book.