This courgette lemon pizza on naan is an easy and light meal, with all the fresh, bright flavours of Summer!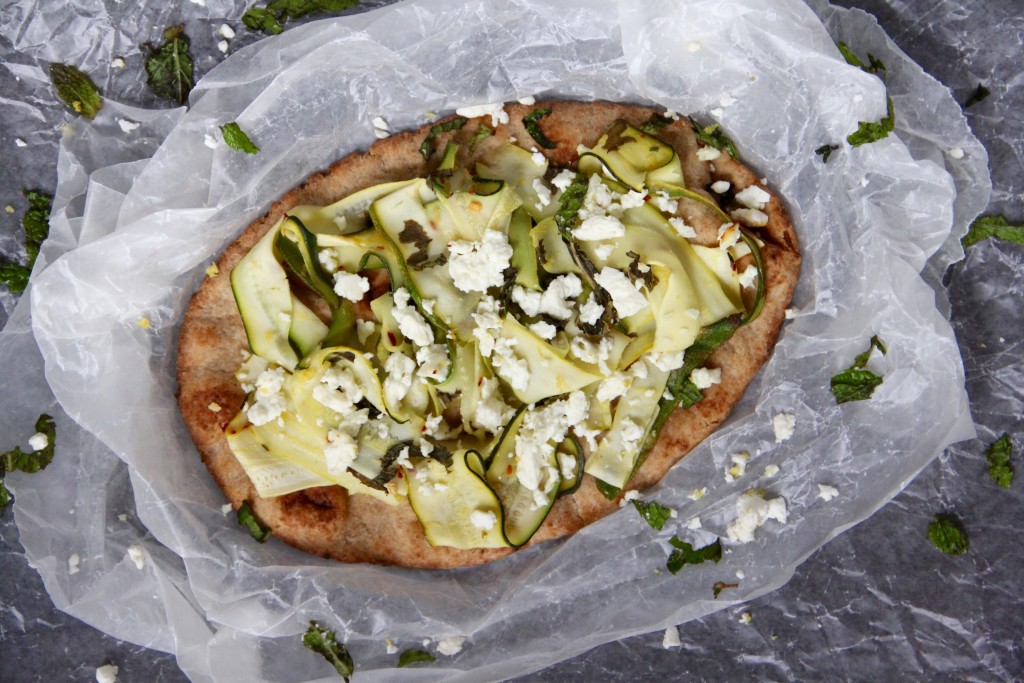 Since rediscovering the concept of the Naan Pizza this winter, I have been on a little mission to come up with new toppings for quick, easy weeknight dinners. This pretty, fresh combination of courgettes, mint, feta and lemon was too wonderful not to keep from you!
The courgette ribbons are optional (you could just slice them!), but don't you think the tangle of white and green is so gorgeous?! Lemon, mint and feta are a classic trio, and flavours that I have been a little obsessed with this summer. There is a slight difference between this naan pizza and it's winter cousin– I baked the naan for a couple of minutes before adding the topping. I found that the lemony-courgette mixture necessitated a firmer base. Other than that it's Naan Bread Pizza, business as usual!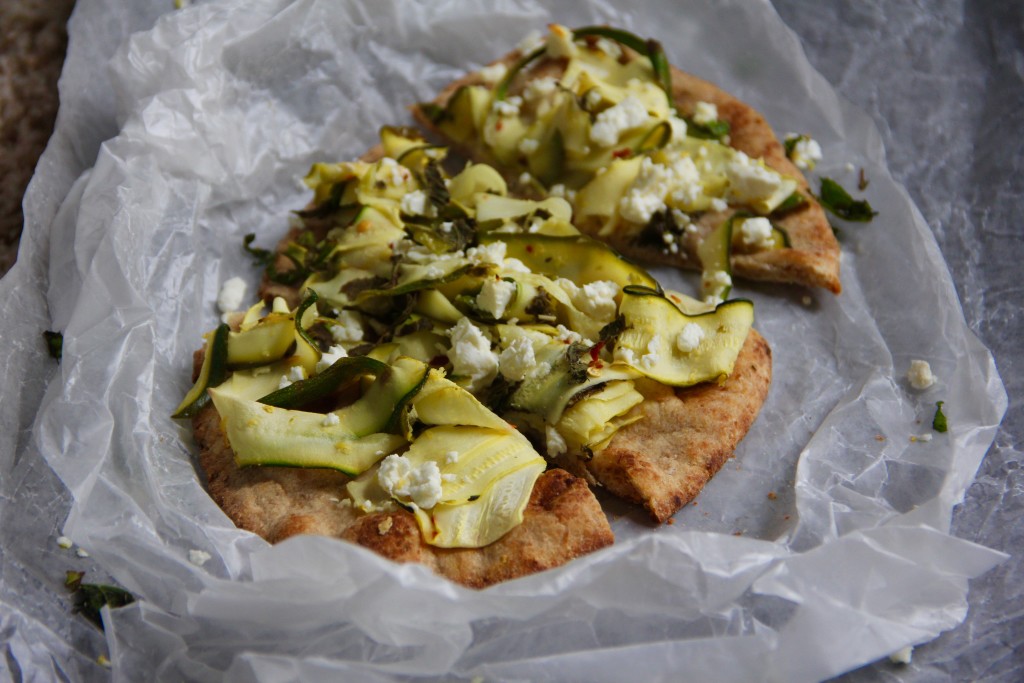 Enjoy!

Courgette Lemon Pizza
This courgette lemon pizza on naan is an easy and light meal, with all the fresh, bright flavours of Summer!
Ingredients
2 whole wheat naan
2 medium courgettes, "ribboned" using a vegetable peeler
zest and juice of 1 small lemon
¼ tsp chili flakes
2 tbsp finely chopped fresh mint leaves
⅓ cup feta
1 tbsp olive oil
salt and pepper to taste
Method
Preheat oven to 375F/190C
Place the naan breads on a baking sheet and cook for two minutes to firm them up. Remove from the oven and set aside
In a medium bowl, toss the ribboned courgettes with the zest and juice of the lemon, chili flakes and mint
Divide the courgette mixture evenly between the two naan, sprinkle each with feta, and drizzle olive oil over the top to finish
Place the naan back in the oven and cook for about 10 minutes until the feta is starting to melt, and the courgettes are tinged gold
Notes
I've said it before, but courgette is "English" for zucchini 🙂
If you fancy making this into a "real" pizza (read: not my lazy naan version!), I like this crust recipe from 100 days of real food.
If you want an even quicker dinner, I have eaten this pizza without putting it back in the oven for the cheese to melt, just cook the naan for a couple of minutes longer on the front end. I do prefer the more cooked version though.