This mushroom & swiss naan bread pizza is the cheats way to a mid-week pizza fix!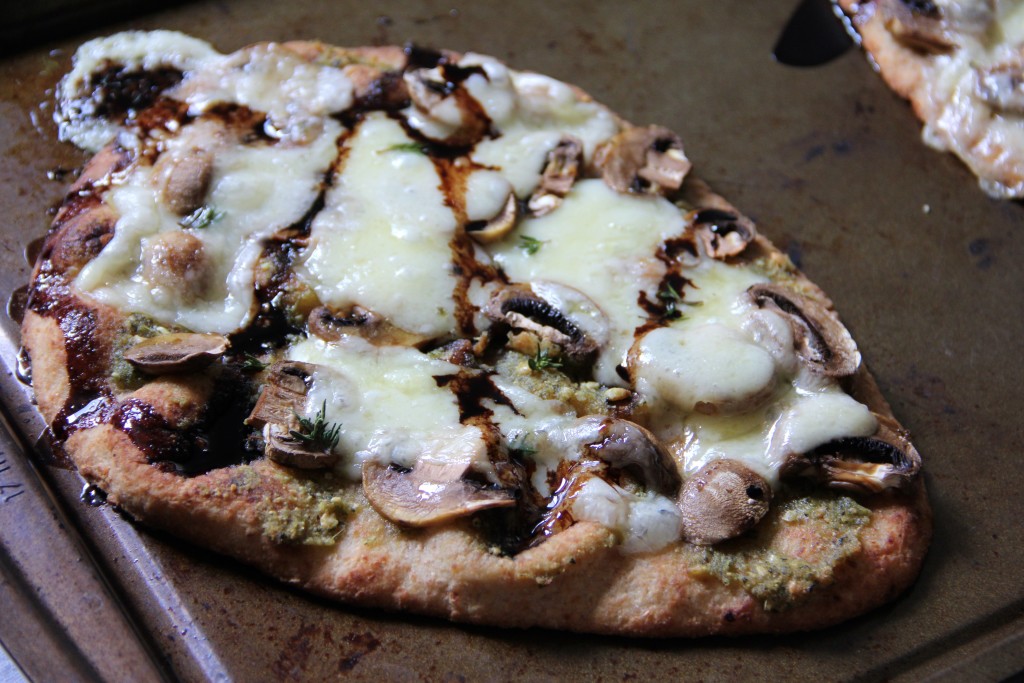 I would love to tell you that these naan bread pizzas stave off my occasional, but nonetheless intense pizza cravings. However, they do not.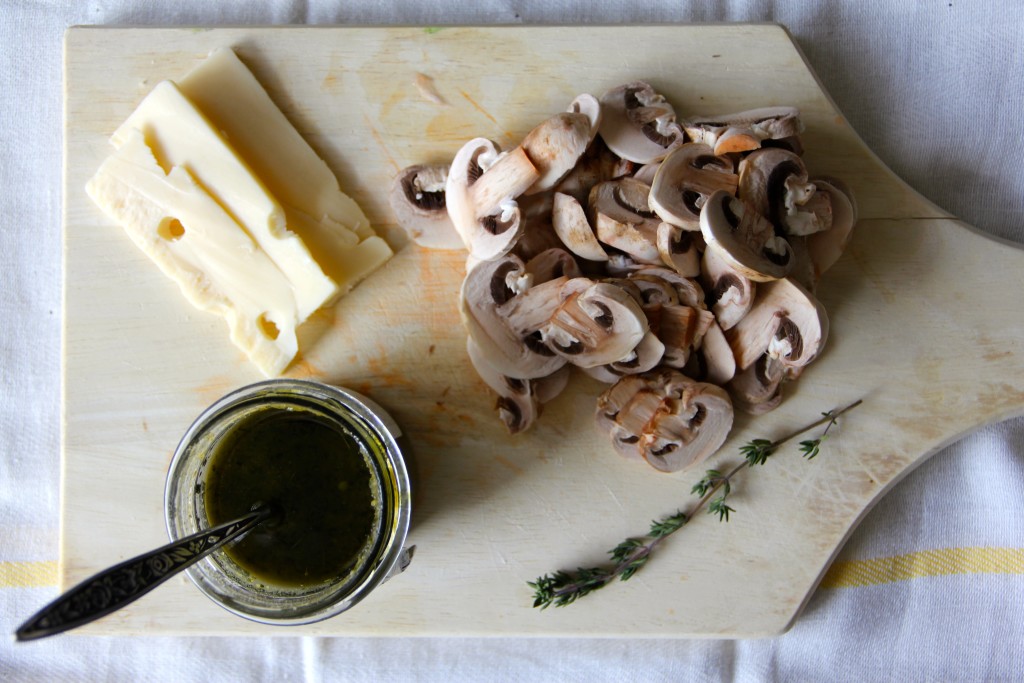 Sometimes eating pizza straight from the box is just what the doctor ordered, and, you know, #yolo. I don't mean to undersell these beauties either, for they are fantastic. You know those days when you want to order take out, but that little voice is reminding you that you will most certainly regret that decision afterwards? This naan bread pizza is for those nights.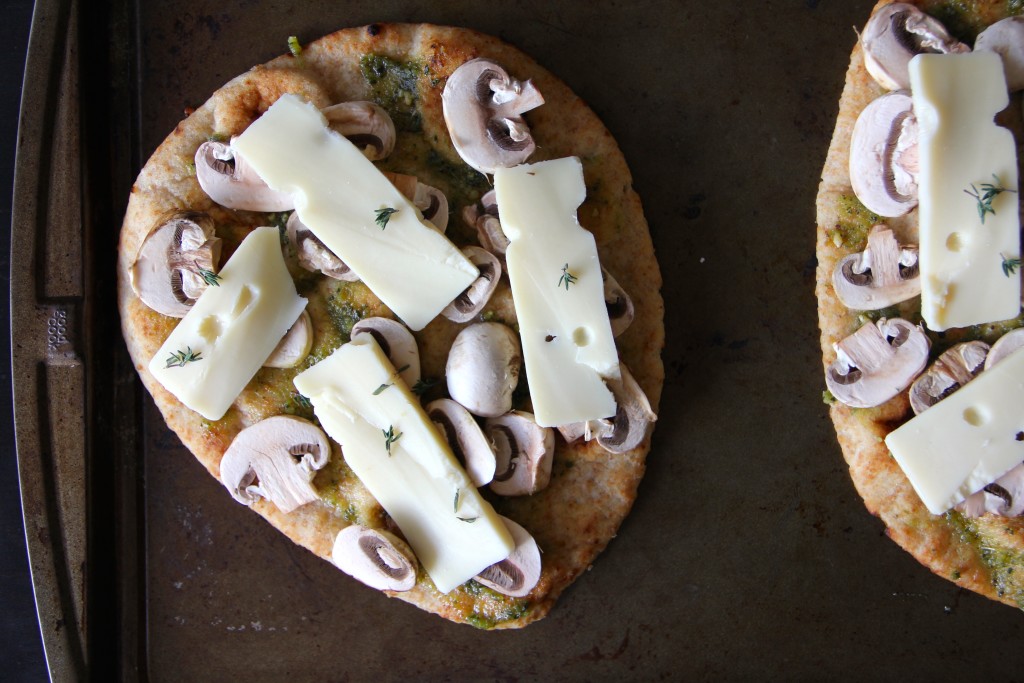 You can make them in about ten minutes flat, the clean up is minimal, almost nonexistent actually, and they will fill up your tummy and satisfy that need for melty-cheesy goodness. I highly recommend  pairing this with a generous glass of red wine, yoga pants and House of Cards on the telly.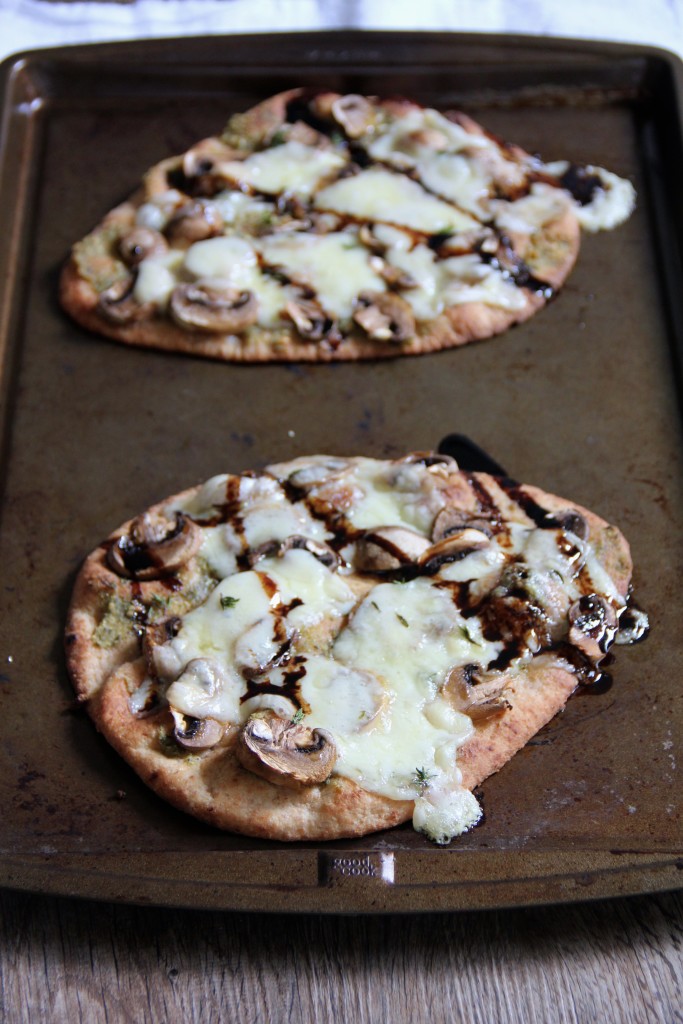 Enjoy!

Mushroom & Swiss Naan Bread Pizza
This mushroom & swiss naan bread pizza is the cheats way to a mid-week pizza fix!
Cuisine:
Italian/Indian/None
Ingredients
2 whole grain naan
2 tbsp pesto (store bought or homemade- see notes)
1 cup mushrooms, sliced
4oz/115g swiss cheese, thinly sliced
2 sprigs fresh thyme, or 1 tsp of dried
1-2 tbsp balsamic glaze (see notes)
Method
Preheat oven to 425F/220C
Spread each naan with pesto, go right to the edges
Next, place the mushrooms on the naan in a single layer, then layer on the cheese, and sprinkle everything with thyme
Place on a baking tray and bake for about 10 minutes, until the cheese is bubbling. Remove from the oven and drizzle balsamic glaze over each pizza
Notes
For ease, you can use a good store bough pesto here, but if you're feeling ambitious this recipe from the Kitchn is my go-to pesto.
I always keep some balsamic glaze to hand (because it is SO GOOD!), if you don't have any, its very easy to make, here is a good tutorial.
This is more of a concept than a hard and fast recipe. The topping potential for the naan pizza is infinite! Please let me know if you stumble across a good combo.