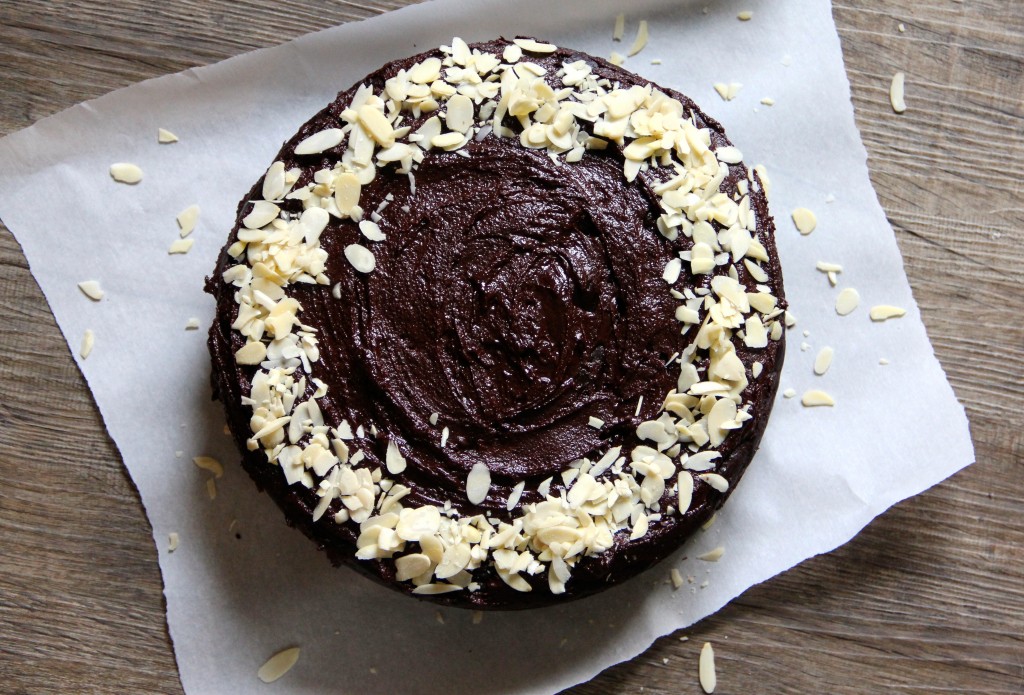 The moment that you announce you have a tiny human on the way, is the moment that people suddenly have a lot of questions for you. They vary from the politely inquisitive (When are you due? How are you feeling?!), to the very personal (Were you trying to get pregnant?!), and everything in between (Names? Boy or girl?). Then there is the classic "Do you have any cravings?".
Well, if it wasn't obvious where I was going with this, I have been craving CHOCOLATE. Nothing too insane (discounting the time I ate almost an entire 200g bar of Dairy Milk in one sitting… oops), but I am pretty much eating chocolate in some form every day. To try and make things a little healthier for me and the babe, I have been trying to come up with ways to make my chocolate consumption a little more nutritious. That is how I came up with this beautiful Chocolate & Courgette Honey Cake.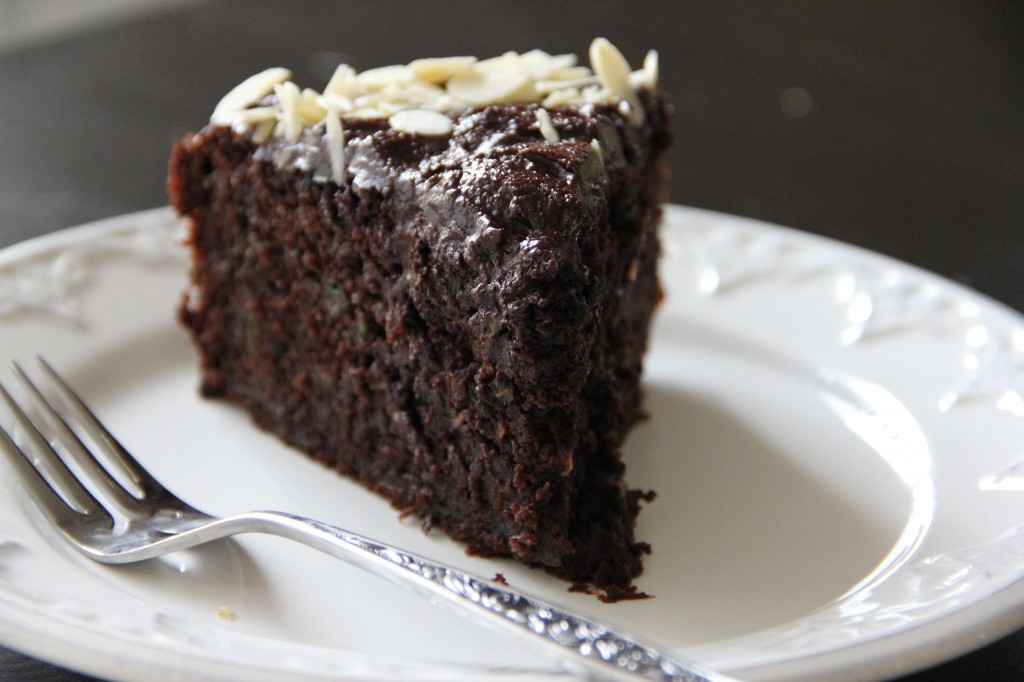 My friend Emma made me my first Chocolate & Courgette Cake a couple of summers ago. I was dubious from the sound of it, but it was incredible! The courgette makes the cake so unbelievably moist, and surprisingly, the almost tasteless courgette really shines! I wanted to make my cake wholegrain, and if possible reduce the refined sugar to the absolute minimum. So this cake is made with 100% wholewheat pastry flour, organic raw honey, and olive oil. Good grains, better sugars and good fats- win! It is not the sweetest chocolate cake, but it is potent in its chocolateyness and very rich- sort of like eating dark chocolate instead of milk chocolate. I found that this also means I only need a smaller slice to satisfy that craving!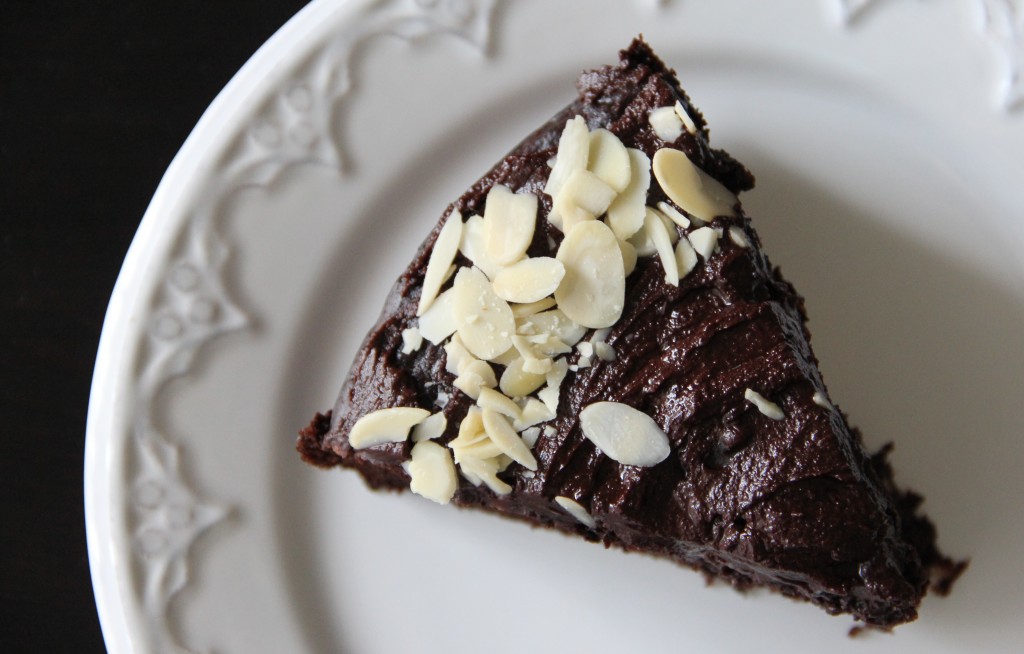 It comes together quickly too, mix the wet ingredients, mix the dry, combine and bake!  I topped the icing with some sliced almonds, mainly for aesthetic reasons, but the texture is very pleasing. I hope you give this one a try, you will fall in love- promise! If this doesn't tickle your fancy, here are some other healthier chocolate recipes from the World Wide Web that I will be baking up in the next few weeks:
Double Chocolate Banana Bread Oat Bars from Ambitious Kitchen.
Wholegrain Chocolate Peanut Butter Brownies from Texanerin.
Nut & Seed Bars with Chocolate Ganache from Running on Real Food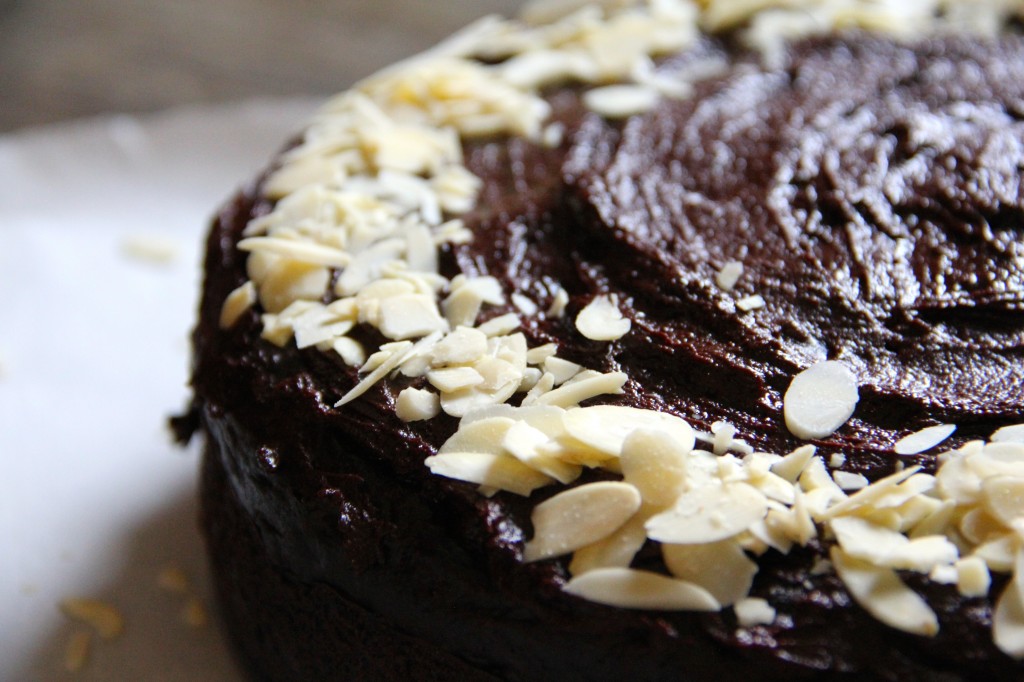 Enjoy!

Chocolate & Courgette Honey Cake
This gorgeous chocolate courgette cake tastes more indulgent than it is! Made with whole wheat flour, olive oil and sweetened with honey, it is a treat you can feel good about!
Ingredients
Cake:
¾ cup olive oil (180ml)
1 cup good quality honey (250ml)
2 tsp vanilla extract
2 large eggs
¾ cup whole milk greek yoghurt (180ml)
2 cups wholewheat pastry flour (290g)
1½ tsp baking soda
½ tsp baking powder
½ tsp salt
¾ (90g) cup dutch process cocoa powder
½ cup (90g) good quality semi-sweet chocolate chips
3 cups courgettes, grated (about 2 medium courgettes)
Icing:
1 cup (180g) semi-sweet chocolate chips
2-3 tbsp hot water
2 tsp vanilla extract
handful of sliced almonds (optional)
Method
Preheat oven to 350F/180C
Grease a 9inch spring form cake tin
Combine olive oil, honey and vanilla in a large bowl (this job will be easier using a cake mixer if you have one!)
Once combined, stir in the eggs and greek yoghurt, set aside.
In a second large bowl, whisk together the flour, baking soda, baking powder, salt and cocoa powder making sure to break up any clumps with a fork or the back of a spoon
Add the wet ingredients to the dry, stir until just combined, fold in the courgettte and chocolate chips
Pour the batter into cake tin
Bake for 55-60 minutes, the center might still seem very slightly soft but thats ok! When the cake is ready, remove from the oven and allow to cool for ten minutes in the cake tin
Remove from the cake tin and allow to cook completely on a cooling rack before icing
Make the icing: Melt the chocolate chips in the microwave in 20 second bursts stirring between each time until melted. Stir in the vanilla and hot water to make the desired consistency.
Spread the icing evenly on the cake and sprinkle with sliced almonds if desired
Notes
Courgette is the English name for Zucchini 🙂
Recipe inspired by this one from BBC Good Food, and adapted from this one by Texanerin. Icing borrowed from this recipe on Cookie and Kate.
For more chocolate recipes on Emma's Little Kitchen, click HERE!
For more healthy bakes on Pinterest, click HERE!