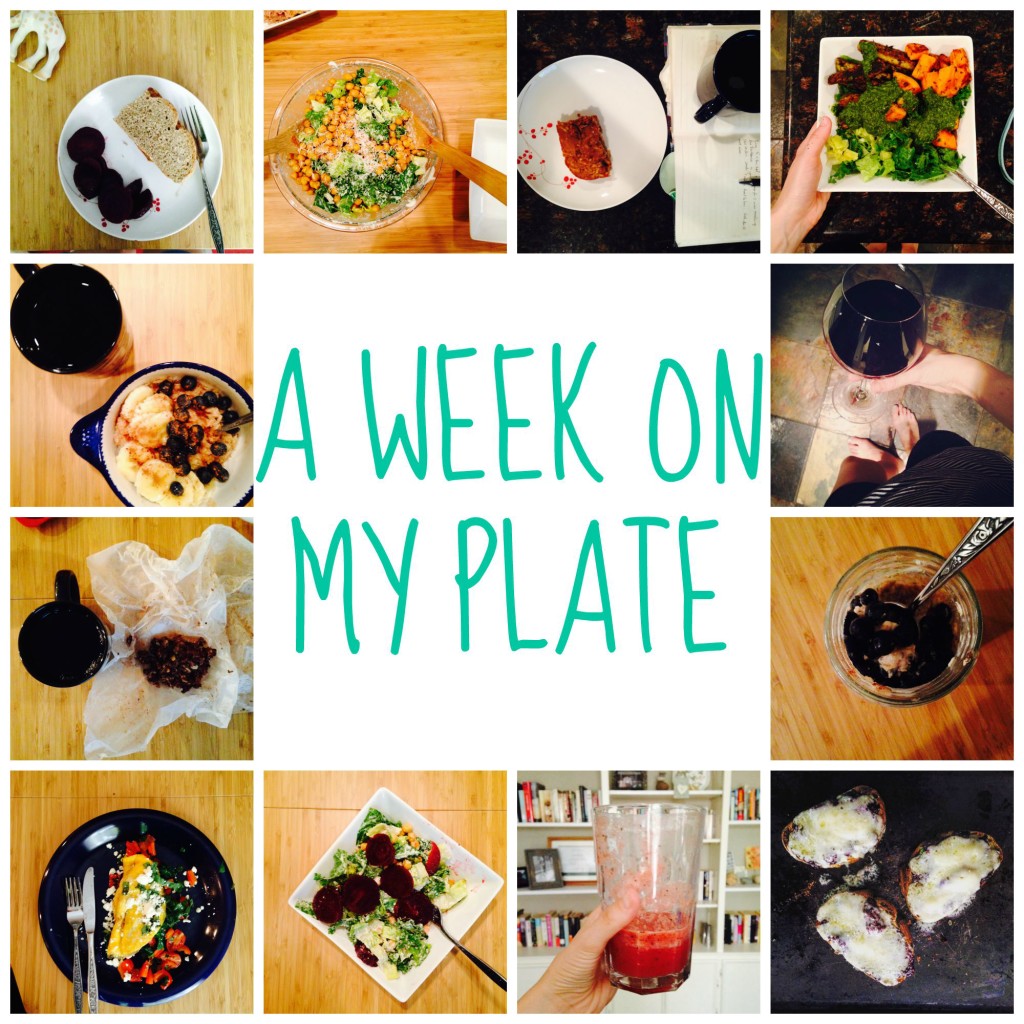 Greetings Friends!
I'm changing things up a little with todays post. Instead of a new recipe, I thought it might be fun to share what a weeks worth of meals really look like in Emma's Little Kitchen. ELK Stripped, if you will. When I first started the blog, my aim to inspire others to cook simple and approachable, healthy fare from scratch. I get asked a lot about what I eat on a day to day basis, so I thought this might be a fun way to share some ideas, without the formality of a recipe.
Secondly, I am always curious (read: incredibly nosy), about what other people eat. Are you?! If thats not your jam, don't fret! I will be back on Monday with something delicious. If this is your jam, read on…
First a couple of notes on my style of eating:
I eat a lot. Seriously. I am currently training for my second marathon and I am still nursing my son, so I'm a pretty hungry lady. I don't count calories (snoozeville!), but I typically try and pick nutrient-rich foods over "empty calories".
I eat often. Or so my family, friends and colleagues say anyway! Typically three meals and two snacks is what works for me. If I get too hungry I'm more likely to reach for the chocolate/cake/ice cream stash (as you will see…!)
I'm fortunate that I have the flexibility in my schedule to be at home most of the day- this does make it easier to prepare food sometimes. But this does not look too different from my diet when I worked a 9-5+ in an office.
Finally- Please forgive my bad phone pics 🙂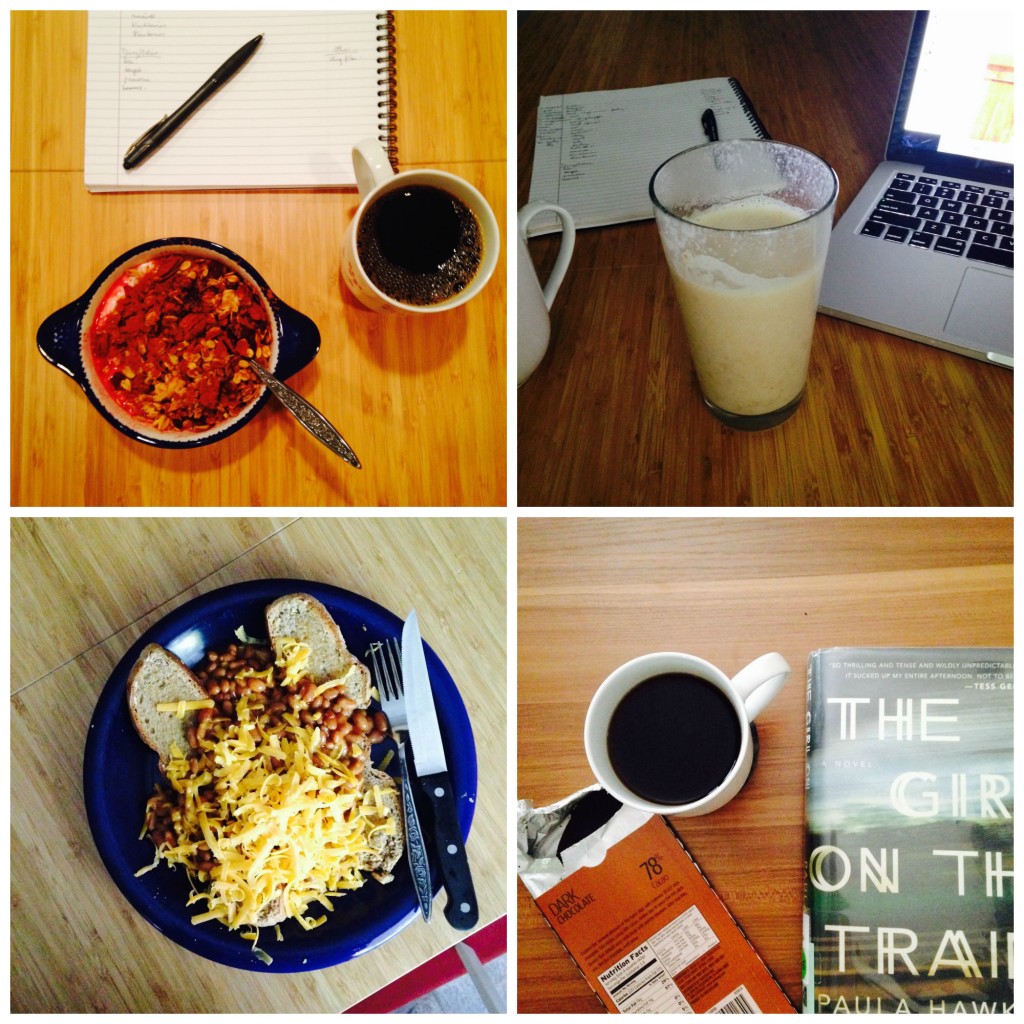 Monday
Breakfast- A big bowl of raspberries, plain yoghurt and homemade pecan cranberry granola (similar to this one, minus the pumpkin!), extra cinnamon on top for good measure. I also have a couple of cups of black coffee.
Snack- I have one very ripe banana that needs to be eaten, and a little almond milk that needs to be used up, so I make this smoothie to fuel my morning run.
Lunch- A British classic! Baked beans on toast with a generous sprinkling of cheese. The beans are left over from this weekend, and the bread is homemade (we used this recipe).
Snack- A couple of squares of dark chocolate and a cup of tea as I read my book (side note: have you read it?!)
Dinner– Roasted some cauliflower "steaks" and topped them with some quick curried lentils. Pretty pleased with the results (maybe I'll work on a recipe for you?!). For dessert we have our remaining Chocolate Cherry Crisps with some vanilla ice cream. Yum!!
Late Night Snack- Feeling a little peckish after the babe goes to sleep, so I make us some popcorn on the stove and top it with olive oil and salt. Kirk cracks open a Corona, and it looks so perfect and refreshing that I crack one open too 🙂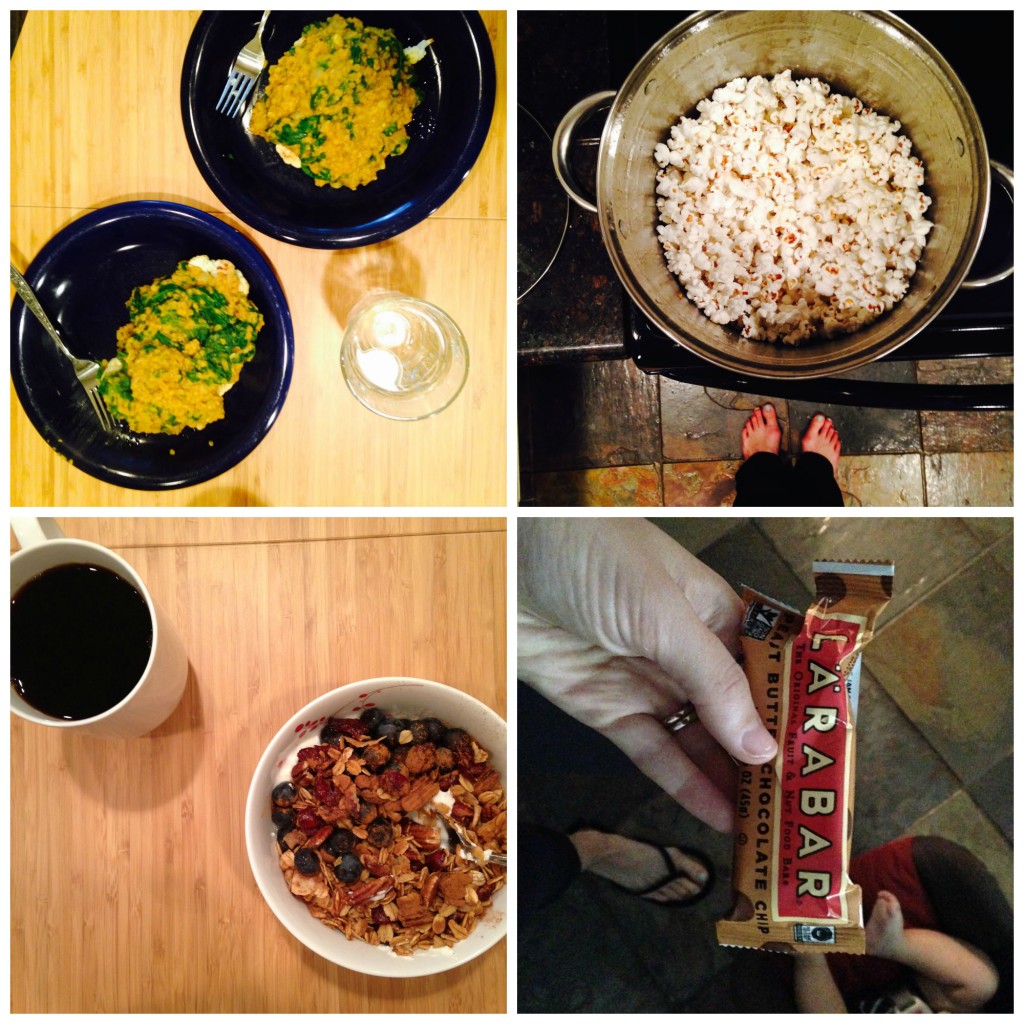 Tuesday
Breakfast– Greek yoghurt, blueberries and the same homemade granola as yesterday. Extra cinnamon on top! Don't forget the coffee!
Snack- A Lara Bar as I'm rushing out of the door.
Lunch- I have a weird assortment of leftover veg and odds and ends from last week, so I throw spinach, last nights cauliflower and tomatoes into a pan for a couple of minutes, toss into some tacos, and top with feta! A little bit odd, but pretty tasty! After lunch I'm still a bit hungry so I have a couple of squares of dark choc, and then (uhoh!) polish off some salted caramel ice-cream.
Dinner- Chard and Chickpea Minestrone (adapted from this recipe), with some garlic bread on the side. Um, did James dish this up for me, or was I in a rush…?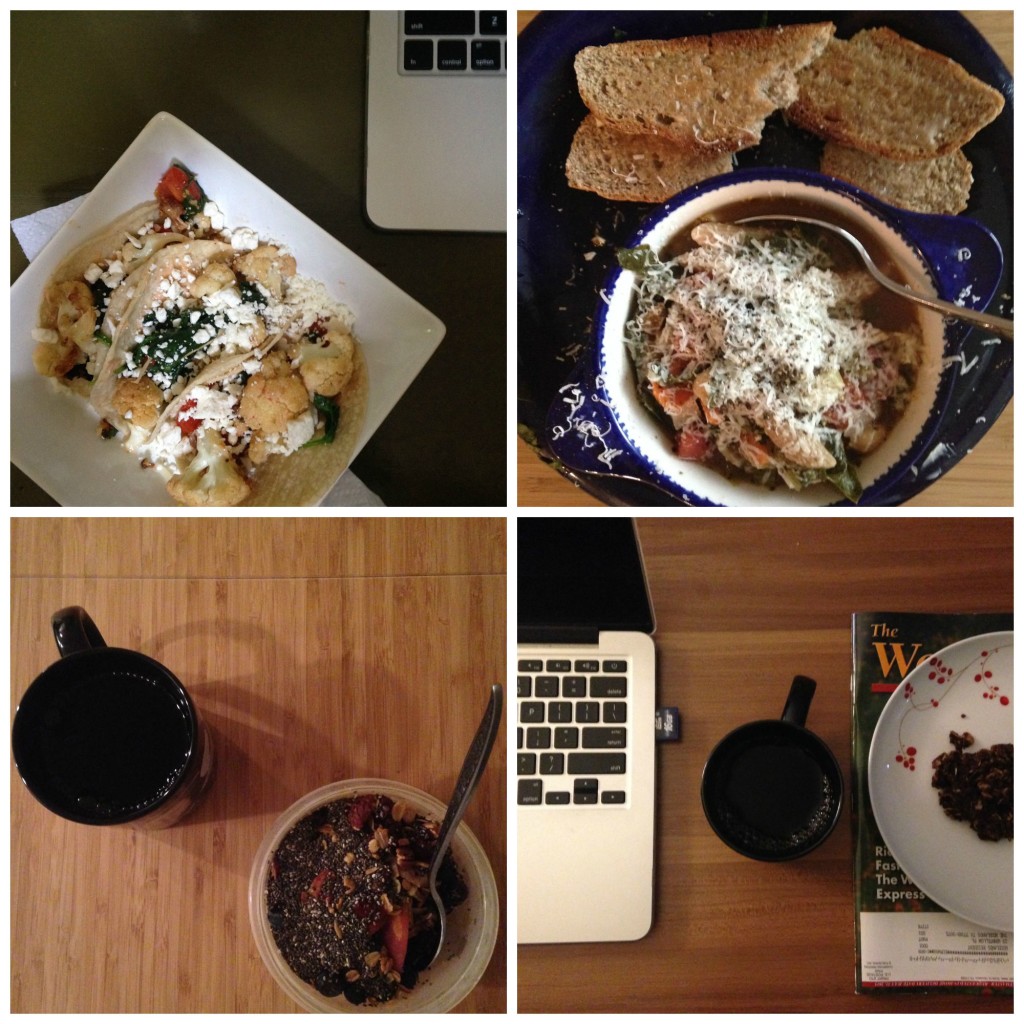 Wednesday
Breakfast- Yoghurt with a teeny bit of granola and peaches, try and beef it up a little with some chia seeds. Black coffee.
Snack- Taste testing some wholegrain mocha no bakes, pretty good but they still need some work… More coffee!
Lunch- Sandwich with avocado, hummus,tomato and spinach with a side of cooked beetroot.
Snack- Pick at some watermelon chunks at my friends house.
Dinner- Leftover Chard and Chickpea Minestrone (not pictured, probably just as well…!)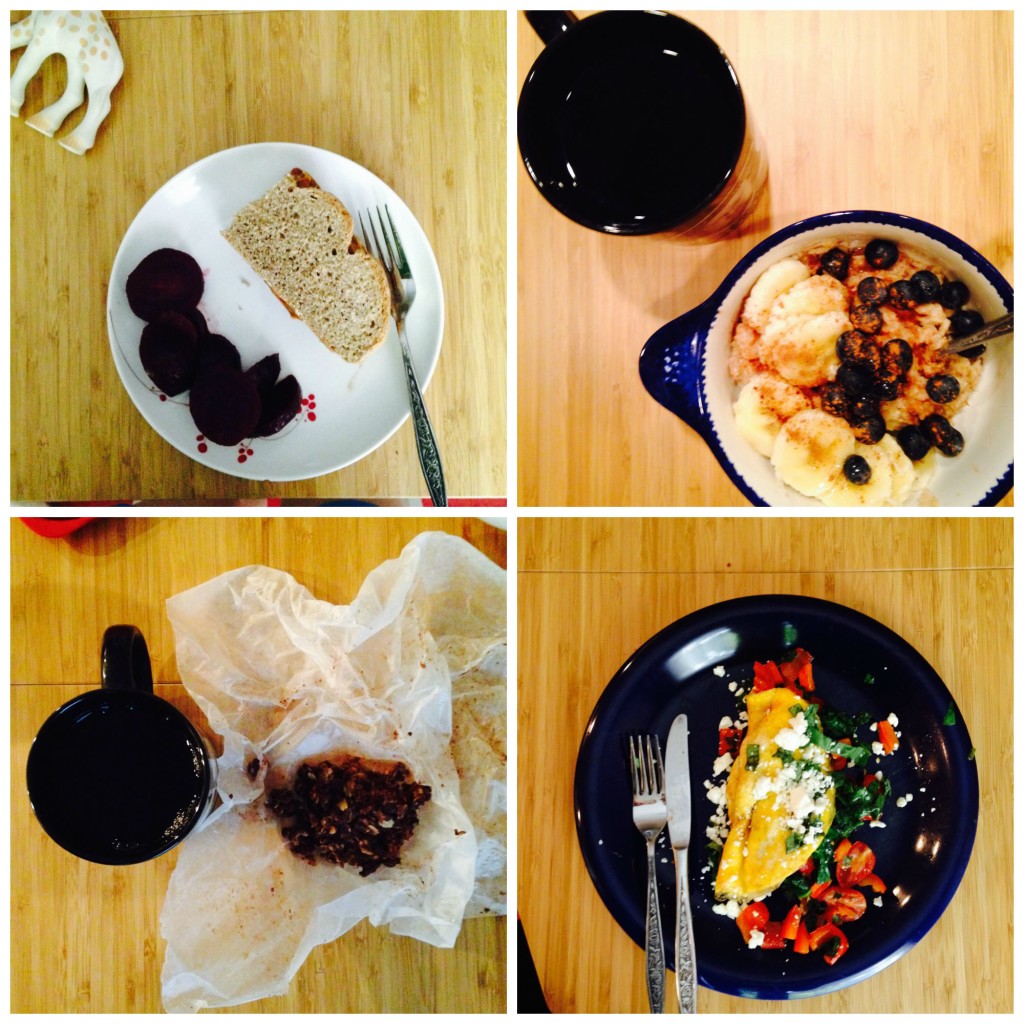 Thursday
Breakfast- Lovely big bowl of porridge made with almond milk, oats and a dash of vanilla. Topped with bananas, blueberries and a generous sprinkle of cinnamon.
Snack- The very last mocha no bake (sob!!), and coffee.
Lunch- SO HUNGRY after the gym, threw together a quick omelet with tomato, red peppers, feta and basil.
Snack- Banana and a handful of cashews.
Dinner- Made the Vegan Ceasar Salad from Oh She Glows. (Spoiler Alert: It's really, really good).
Sweet Treat- A few squares of dark choc. (See what happens when I eat salad for dinner?!)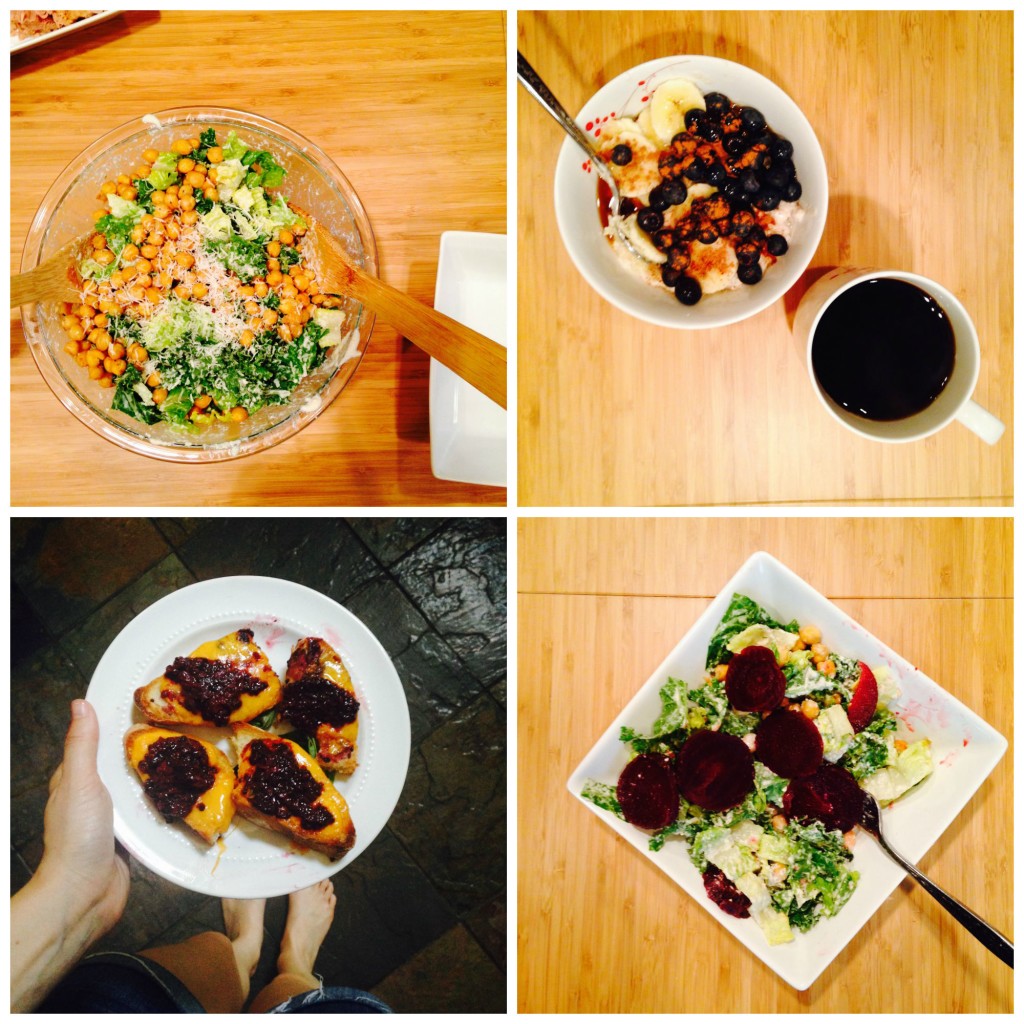 Friday
Breakfast- Made the same as yesterday as I loved it so much.
Snack- Yeah, kind of a hefty snack. I had just finished photographing my blackberry and basil jam (recipe coming soon!), and I could resist topping it on some cheese on toast. SO SO GOOD!
Lunch- Leftover salad from yesterday, sliced up come cooked beetroot and threw it on top.
Snack- Craving something sweet, a freezer raid yields a single slice of whole wheat apple cinnamon crunch cake leftover from the last time I made them (anyone else end up freezing half of their baked goods for cake emergencies?!). Cake needs tea, so I have a cup of tea too.
Dinner- Apparently I was too hungry to photograph this too- a simple stir fry with leeks, mushrooms, broccoli and brown rice.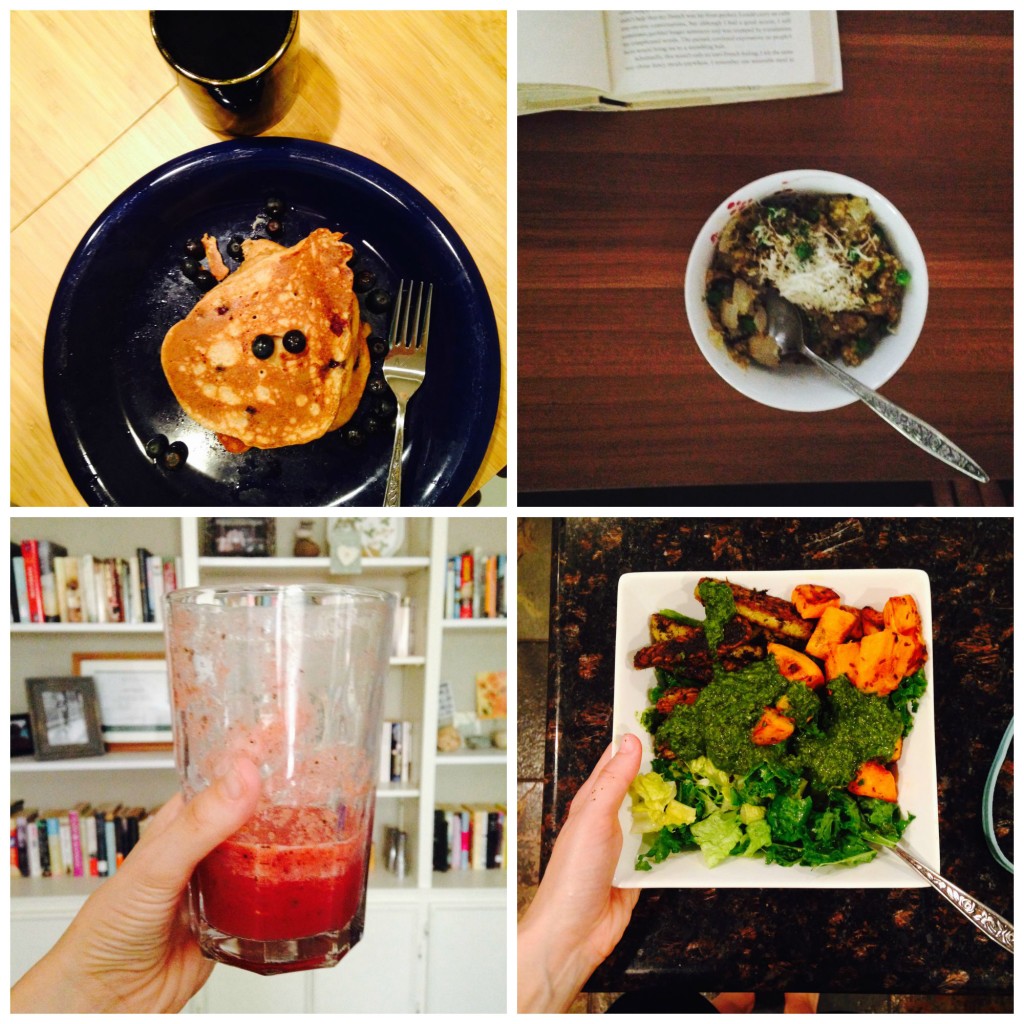 Saturday
Breakfast- Weekend breakfasts are my fave, we have my whole wheat greek yoghurt blueberry pancakes as a final taste test.
Lunch- Not much food left in the fridge, I make some garlic mushrooms and toss them with peas, quinoa and a touch of parmesan.
Snack- NEARLY forgot to snap my watermelon, raspberry mint smoothie (recipe coming soon!).
Dinner- Recipe testing ChimiChurri Tempeh bowls for the blog, pretty good but I think we can improve on them before I share the recipe with you!
Wine Time- Malbec.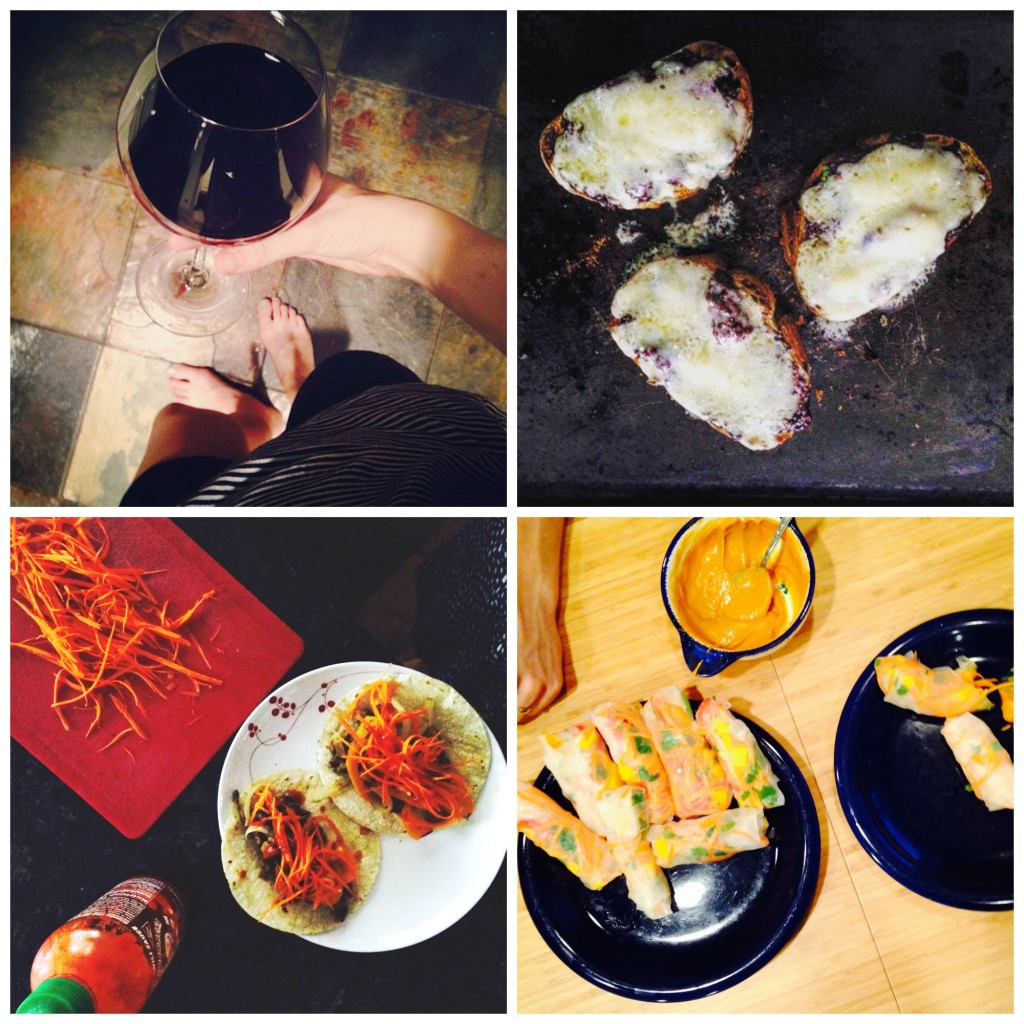 Sunday
Breakfast- I made some overnight oats to eat before I head out on my long run. They have oats, almond butter, greek yoghurt, chia seeds, blueberries and cinnamon. YUM!
Snack- Post run. Erm, this is far from an exemplary "Recovery Meal", but it gets gold stars for deliciousness. Cheese on toast with my blackberry basil jam. Again.
Lunch– Kirk makes me some tacos! They have crumbled vegetarian sausage (we like this kind), onions, peppers, and some raw grated carrot and feta. So tasty!
Dinner– Spring rolls with carrots, mangos, coriander, red peppers and a peanut dipping sauce. We wanted something light before we took James out for an evening swim.
Wine Time– Well someone has to finish that bottle of malbec, no?
And thats it! Are you still there?! Hello?!
*Tumbleweed*
If you are still reading, yay! Thanks for sticking with me. I hope you enjoyed this little departure from the norm. Now I want to hear from YOU! Does this look like your week, or wildly different? What are some of your go-to staples? Like I said, I'm pretty nosy when it comes to what other people eat. Please share with me!
I'll see you next week with another recipe. MWAH!