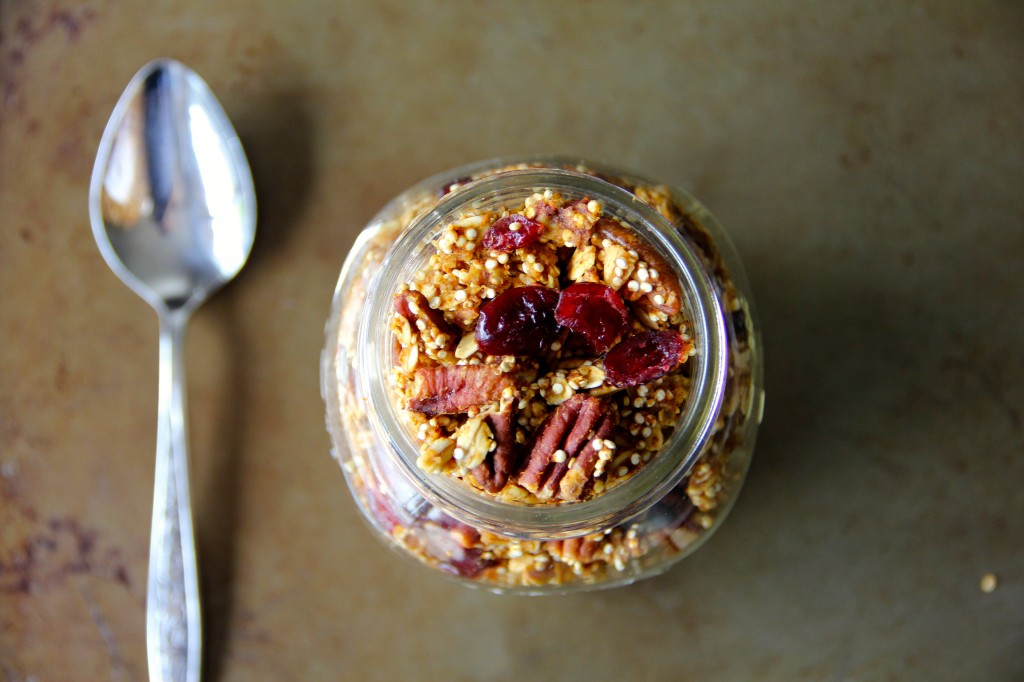 I'm fairly certain I saw an amber coloured leaf fall from a tree branch this week. I am taking this as my official cue that it is ok to share this Pumpkin, Pecan & Cranberry Granola recipe with you… Ok maybe I'm jumping the gun a little bit, but once you make a batch of this gently spiced, toasty, healthy granola, I'm sure you will thank me.
The pumpkin bandwagon is one of those American trends that I have wholeheartedly embraced. I had certainly eaten pumpkin before I moved here, usually in soup form, but living in the USA opened my eyes to the endless possibilities for pumpkin- scones, bread, cake, pancakes, latte's, smoothies, GRANOLA. The list is endless, you Americans love your pumpkin!
I have several pumpkin recipes at various stages of testing in my kitchen at the moment, so watch this space for more pumpkin love soon. In the meantime, lets get stuck into this granola! It is oat-based with a little raw quinoa for extra crunch and nutty flavour. The pecans are lightly toasted (YUM!), and the dry ingredients are baked in a maple sweetened spiced pumpkin mixture. As a final touch I mix in dried cranberries, they look so beautiful amongst the warm orange color of the granola, and add a little tang. Paired with yoghurt, milk or even eaten raw, this is may be the perfect breakfast to see you through those crisp autumn mornings just around the corner.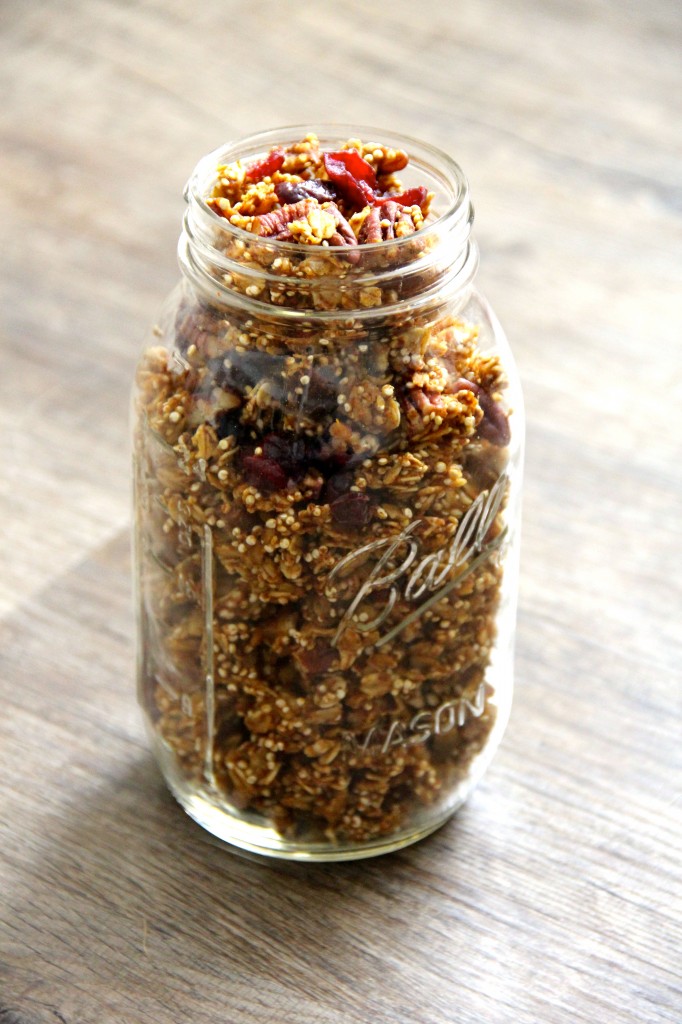 Happy (almost!) Autumn! I hope you love this granola as much as I do!

Pumpkin, Pecan & Cranberry Granola
Ingredients
1½ cups oats
½ cup raw quinoa
½ cup chopped pecans
1 tbsp melted coconut oil
¼ cup maple syrup
2 tsp vanilla exrrtact
½ cup pumpkin puree
¼ tsp ground allspice
¼ tsp ground ginger
¼ tsp ground nutmeg
1½ tsp cinnamon
pinch of salt
½ cup dried cranberries
Method
Preheat the oven to 300F/150C
Spread oats, quinoa and pecans on a parchment lined baking pan
Toast for ten minutes, mixing once
Remove from the oven and transfer into a large bowl, set aside. Turn the heat up to 325F/160C
In a small bowl, whisk together the oil, maple syrup, vanilla, pumpkin, spices and salt
Pour the wed ingredients over the dry, and mix until thoroughly combined
Spread the mixture back onto the baking sheet and bake for an additional 20 minutes
Remove from the oven and allow to cool, mix in the cranberries and break up any larger chunks that have formed
Store in an airtight container.
Notes
Adapted from Skinny Taste's Skinny Pumpkin Granola