These healthy whole wheat greek yoghurt blueberry pancakes are light, fluffy and totally luscious. Maple syrup not optional!!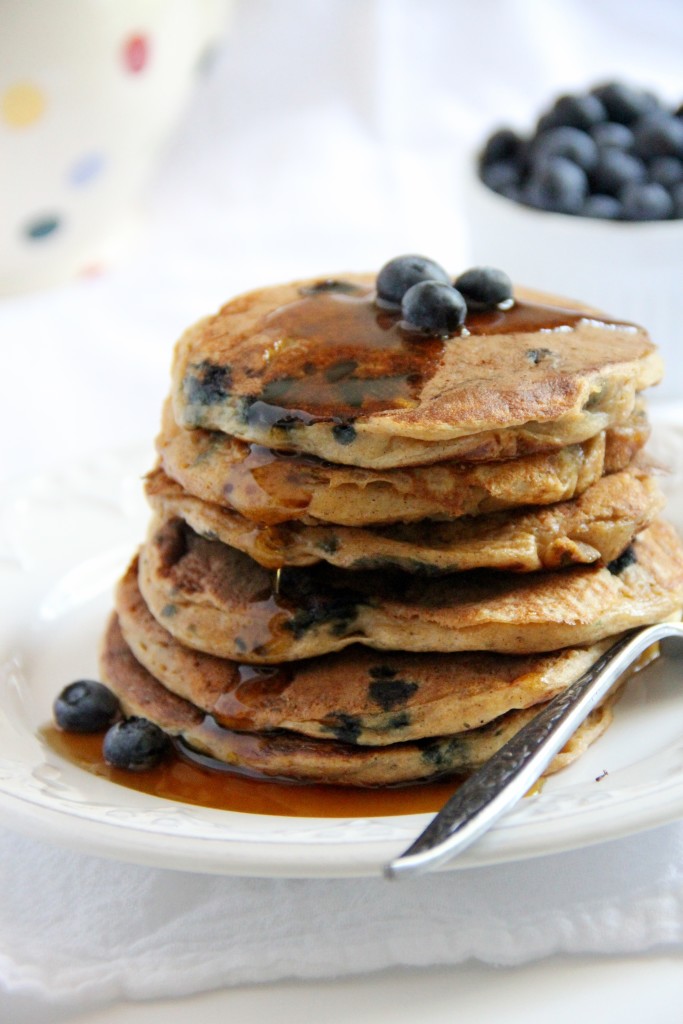 Remember I said I had one last blueberry recipe for you? Here you go! These pancakes are so worth the wait, and  so worthy of that seven-word-long-title. But before we get into the pancakes, fluffy and luscious as they are, I want to natter a bit about The Great British Bakeoff. Do you watch?! I'm something of a GBBO enthusiast, and this year my sissies and I are challenging ourselves to recreate a bake from each episode as the series progresses. I can't wait! It's little things like this that keep us connected when we live in three different cities miles and miles apart. Feel free to join in with the fun, are we Instagram friends yet?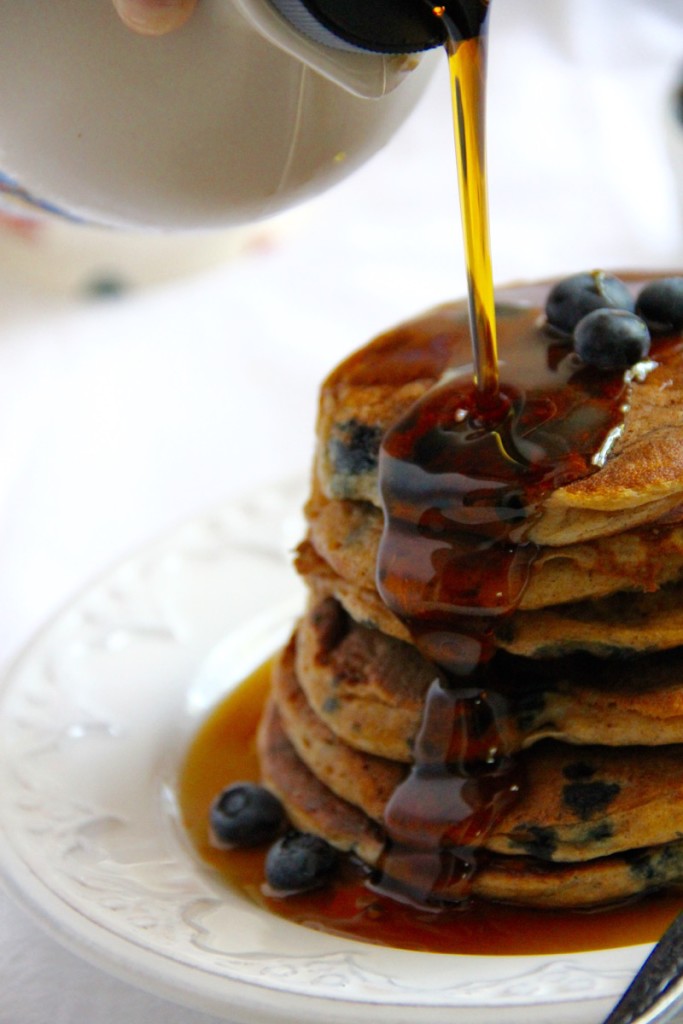 Alrighty, back to these healthy whole wheat greek yoghurt blueberry pancakes. These babies came about as a bit of an accident. I woke up with a fierce craving for blueberry pancakes (hey, it happens!), but I wasn't able to make my go-to recipe as we were out of milk. Searching the fridge, I realised I still had a good amount of greek yoghurt left, and so began my search for a whole wheat greek yoghurt pancake recipe that didn't require any milk.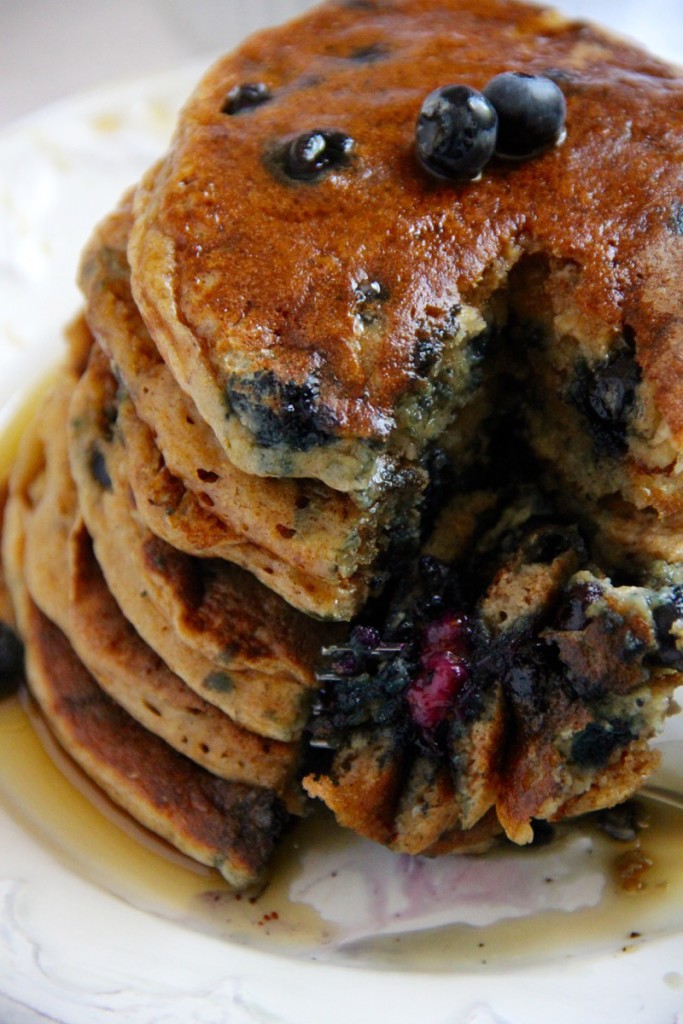 Once I found a recipe that looked like it had good bones, I fiddled around a little, and came up with a recipe that I was really happy with. Despite being made from whole wheat flour, and thick greek yoghurt, these pancakes are wonderfully fluffy, and almost have a buttermilky tang to them. The blueberries provide that satisfying pop of sweetness, and a generous pour of maple syrup is NOT optional.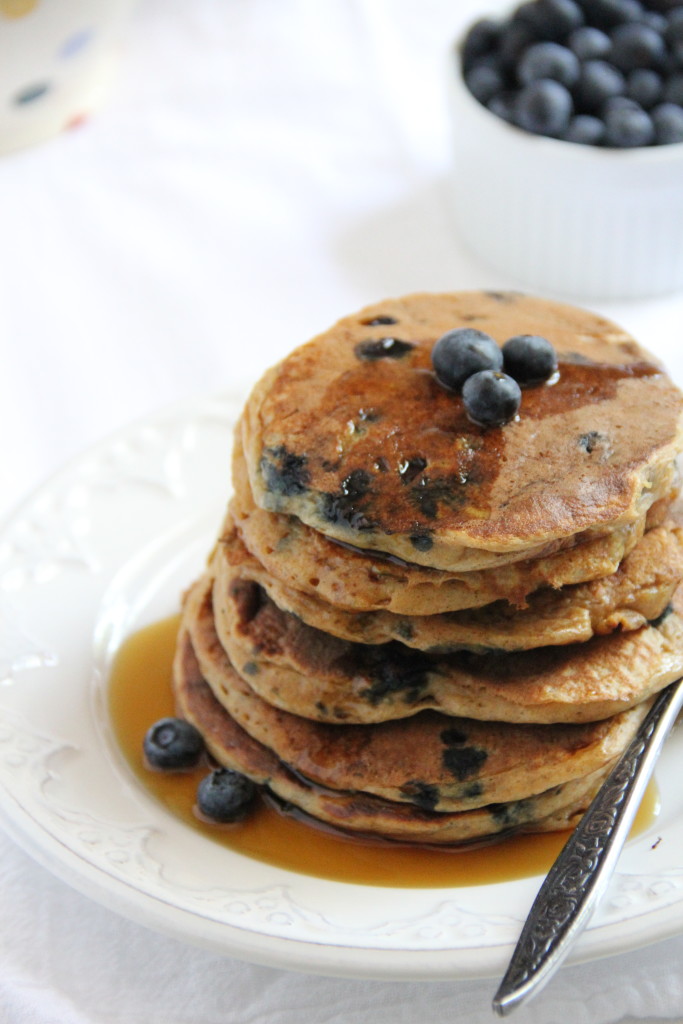 Enjoy!

Healthy Whole Wheat Greek Yoghurt Blueberry Pancakes
Ingredients
1 cup whole wheat pastry flour
2 tsp baking soda
1 tsp cinnamon
1½ cups whole milk plain greek yoghurt
2 eggs
2 tsp vanilla extract
1 cup blueberries
Coconut oil or butter for cooking
Maple syrup and extra blueberries for topping (optional)
Method
In a large bowl, whisk together the flour baking soda and cinnamon. Set aside
In a medium bowl, whisk together yoghurt, eggs and vanilla. Add the wet ingredients to the dry, and stir with a wooden spoon until just combined. Gently fold in the blueberries.
Let the batter rest for 10 minutes
Warm a nonstick pan over medium heat, and add a small amount of coconut oil or butter to melt. Using a ladle, drop small blobs of batter into the pan. Wait until the bottom of each pancake is set, and little air pockets being to appear on the top side. Flip them over and cook on the second side until golden brown
Serve with extra blueberries and maple syrup!
Notes
You can use regular whole wheat flour in place of whole wheat pastry flour, but I found that the pastry flour made for a lighter pancake.
You can use plain (non-greek) yoghurt for this recipe, but I do prefer the result of greek yoghurt, they tend to be fluffier.
You can also use a flavoured yoghurt here if you want to experiment.
Adapted from this recipe.