This red, white and blue patriotic power salad makes a healthy addition to any July 4th party!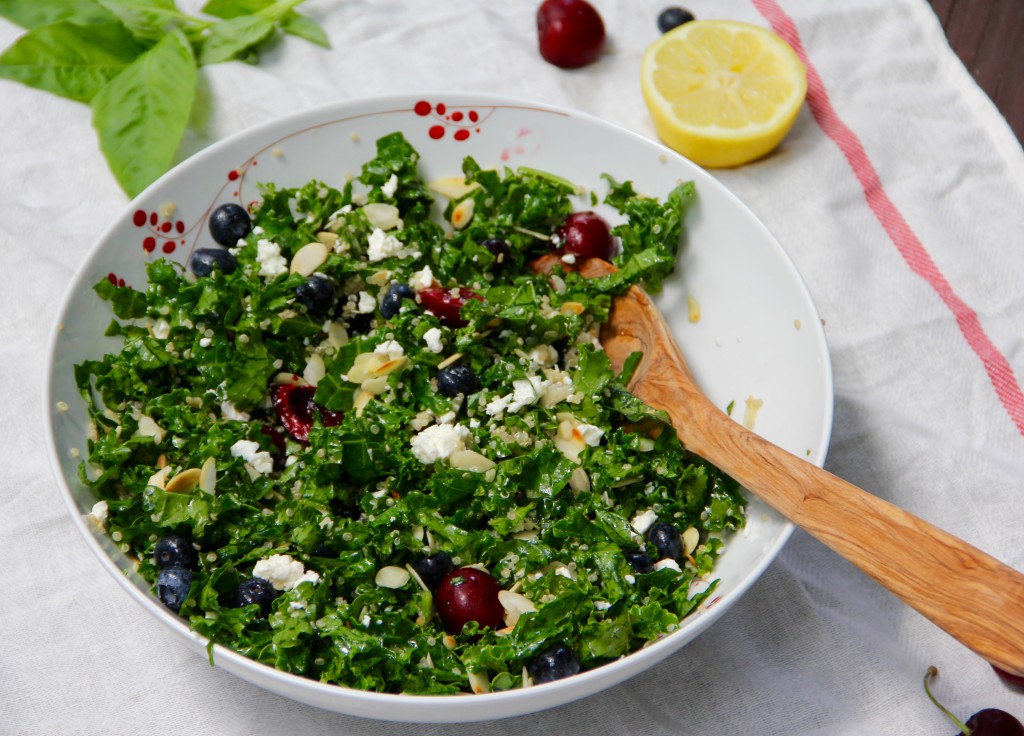 When you're a displaced Brit residing in the USA, July 4th can be a tricky holiday to navigate. I mean, it's not like I come across many people who have deep-seated feelings on that whole Independence "misunderstanding", but my American friends definitely see it as an opportunity to harass me (in a VERY good natured way) all day long.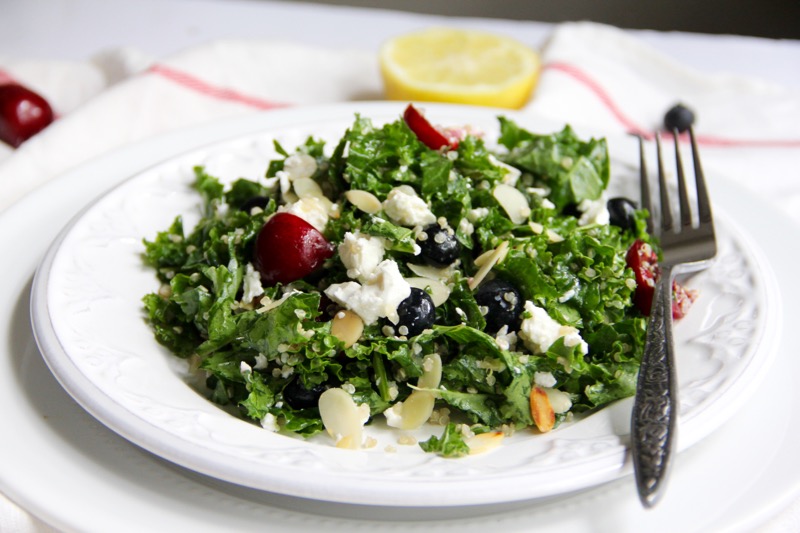 Last year I spared as I was back in the UK, but this year  there is no escape- I will be spending the 4th with ALL of my husbands family at my Sister-in-laws wedding. Oh well, if you can't beat 'em, join em eh?! I decided I would throw myself into the whole affair in the best way I know how- with food! This salad will make a cheery and colourful addition to any 4th of July party.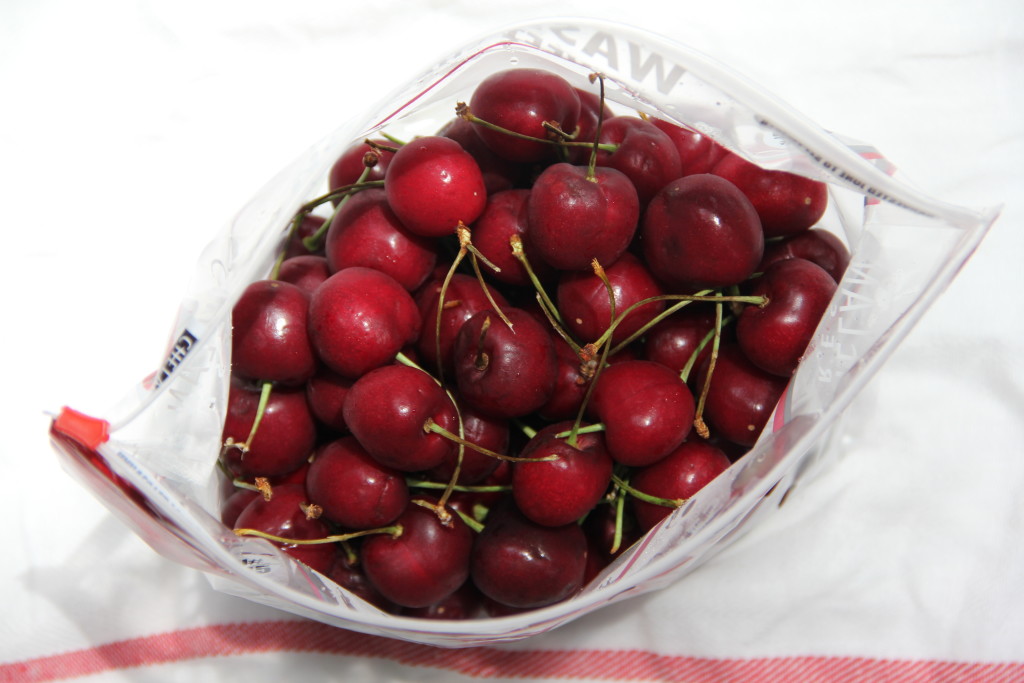 So lets talk ingredients:
The Red- Cherries! I don't know why it has taken me so long to create recipes with cherries, but I'm on quite the kick right now. The fresh cherries in this salad provide a tart sweetness and juicy texture.
The White- Feta! I know, I use feta often, but for good reason! The sprinkle of cheese provides a mild, salty creaminess to balance out the fruit.
The Blue- Blueberries! Another favourite ingredient. Blueberries complement the cherries in their tart sweetness, and provide a delicious pop in the mouth!
The Green- Kale! I love how kale provides a hearty base for salads. I have paired the kale with a slightly sweet lemon basil dressing in this recipe, which balances out the slightly bitter taste.
The Rest- Toasted almonds and a sprinkling of quinoa provide the essential crunch and nuttiness to complete the salad and make it really satisfying, not to mention filling!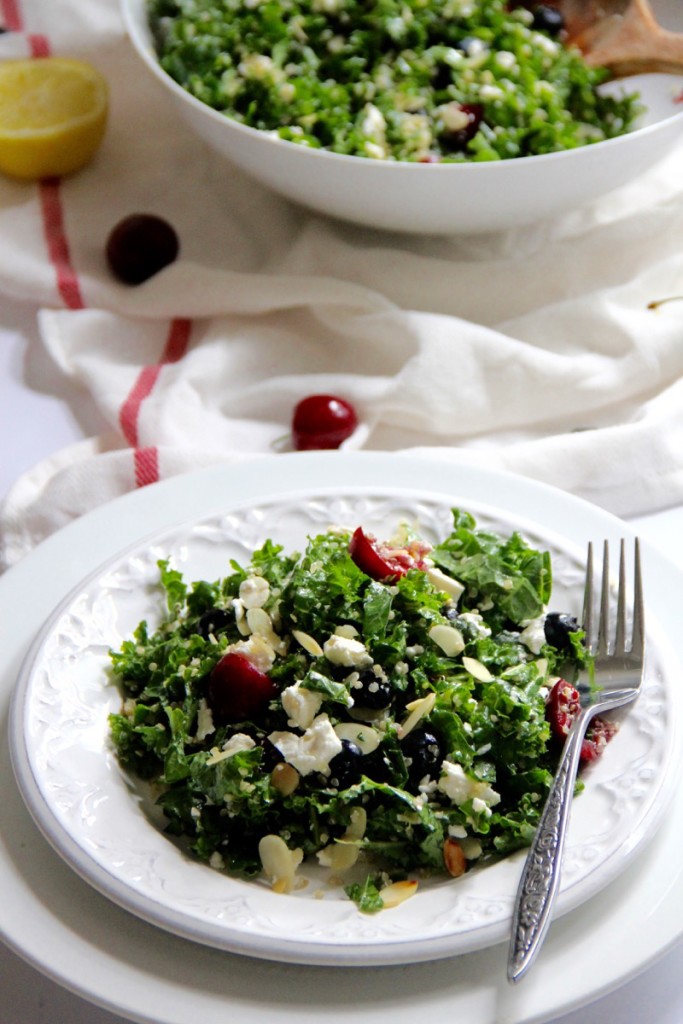 Have a very Happy 4th, if you celebrate 🙂

Red White & Blue (And Green!) Patriotic Power Salad
This red, white and blue patriotic power salad makes a healthy addition to any July 4th party!
Ingredients
Dressing:
Juice of half a lemon
2 tbsp extra virgin olive oil
2 tbsp finely chopped basil
1 tsp honey or maple syrup
pinch of salt
Salad:
1 small head of kale, destemmed and cut into thin ribbons
¼ cup quinoa (uncooked)
⅓ cup sliced almonds
½ cup cherries, pitted and halved
½ cup blueberries
⅓ cup crumbled feta
Method
Whisk together dressing ingredients, and set aside
Arrange the prepared kale in a large bowl, and put the dressing ingredients over the top. Massage the dressing into the leaves for just a minute so the kale is well coated, and just starting to wilt ever so slightly. Set the kale aside to marinate in the dressing while you prepare the rest of the ingredients.
Cook the quinoa according to package instructions. Once cooked, set aside in a bowl to cool.
Toast the almonds for a couple of minutes in a hot dry pan until golden and fragrant. Set aside to cool.
Once the quinoa and nuts have cooled, you can assemble your salad: Add quinoa, almonds, cherries and blueberries to the kale mixture and give everything a good mix. Sprinkle the feta over the top, and serve.