Fudgy cranberry walnut energy bites, perfect for a quick boost!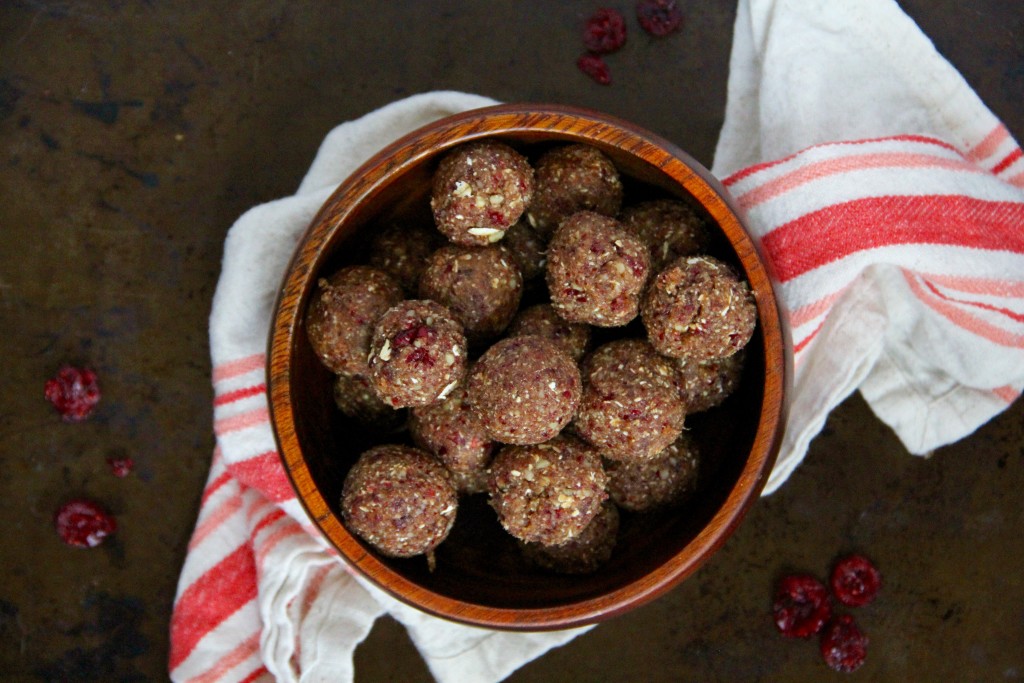 Oh, hi there friends!! I know, things have been a little quiet around here lately, but I have prepared a few excuses so you will let me off the hook… For one, my sweet babe is on the move! Like, really on the move. I mean, this child can crawl faster than I can walk, and is so very curious too (pots! pans! cupboards! toilet brush…!). So it goes without saying that my kitchen activities have been compromised as I chase around after this pint sized whirlwind. Secondly, I have been spending a little time on some behind the scenes blog stuff. Have you clocked the changes?!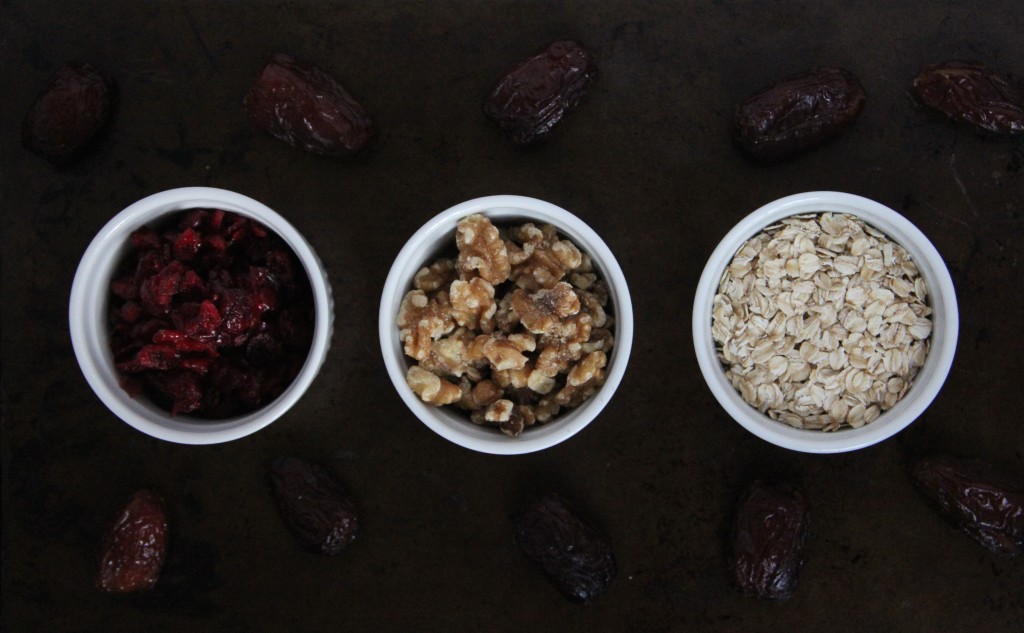 Some are a little subtle, but theres a couple of updates that may interest you.
"The Kitchen" is where you will find a full picture index of all the recipes on ELK. I just thought this was more aesthetically pleasing than a boring list of recipes, I hope you like it!
"The Pantry", this was actually a request from several readers, including my Mum (!). As you asked so nicely, I have put list of pantry items that I use most often. If I have a recipe that includes the pantry item, you can click on the ingredient, and voila! You will see a list of recipes 🙂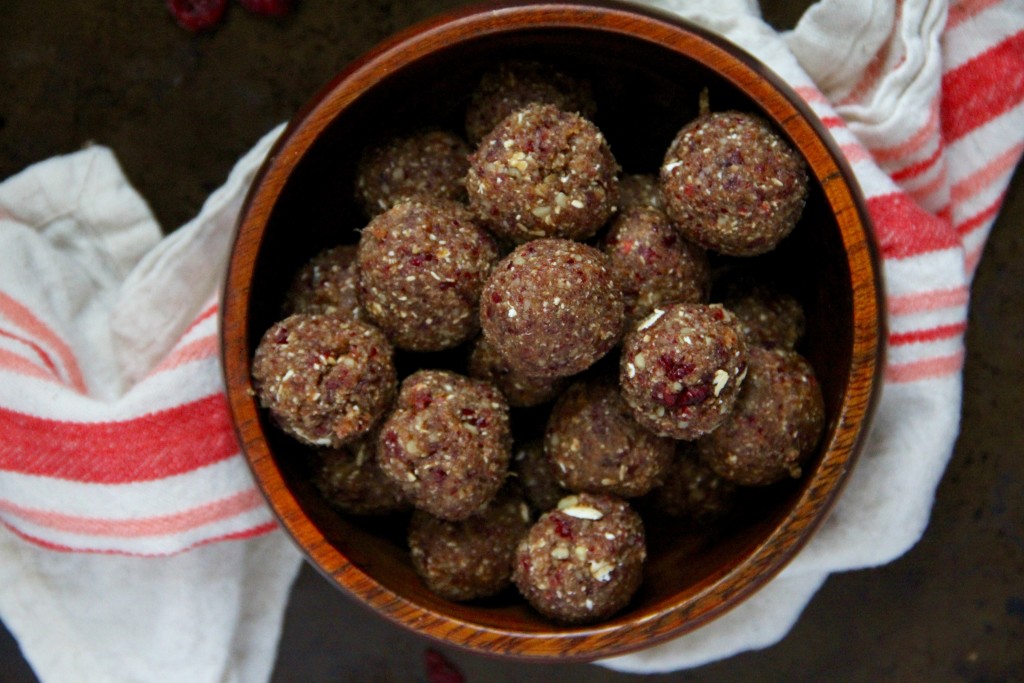 Now onto todays recipe! Just a quicky for you- lovely cranberry walnut energy bites! They can be thrown together in mere minutes, and provide a great boost of energy through the day. They have been super helpful as my marathon training ramps up. One word of caution- making "bitesized" snacks can cause me to mindlessly over eat… In fact, I think I have popped about 6 of these little babies just writing this post…! So sweet, fudge and satisfying.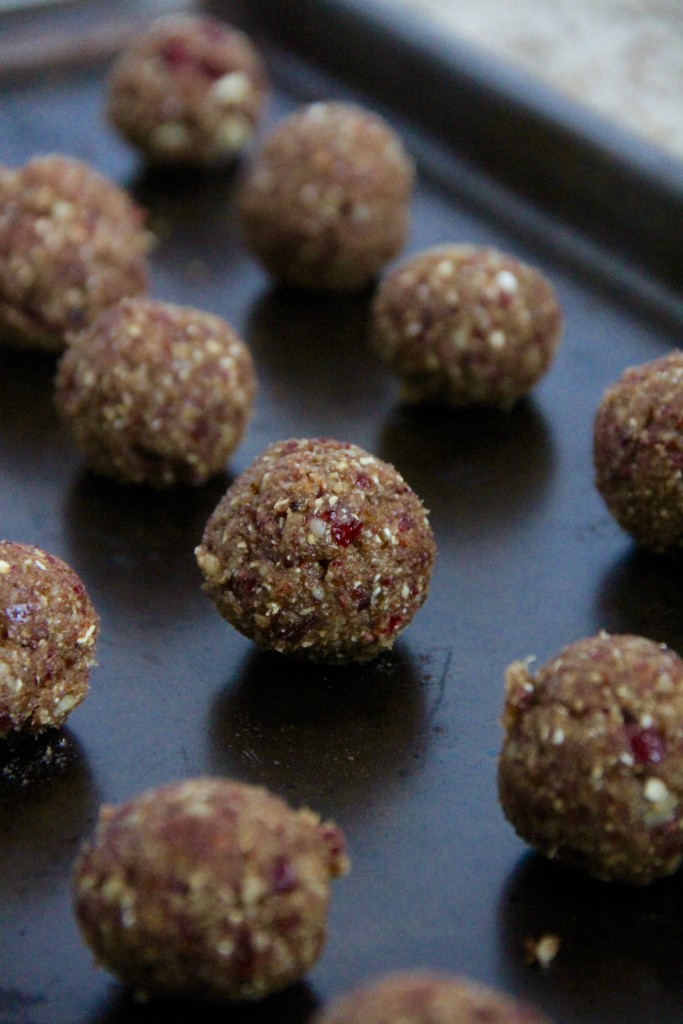 Enjoy!

Cranberry Walnut Energy Bites
Fudgy cranberry walnut energy bites, perfect for a quick boost!
Ingredients
2 cups pitted dates (16-18 dates)
1 cup walnuts
1 cup dried cranberries
¾ cup oats
1 tsp cinnamon
1 tsp vanilla
pinch of sea salt
Method
Put all of the ingredients into a food processor, and blend until the mixture forms a stick dough-like ball. It make look dry and crumb-like at first, but keep going!
Remove the "dough" and roll into small bite-sized balls, I usually get about 24-26 balls but it obviously depends on how big or small your roll them.
Alternatively- press the dough into a cling-film lined 9x9 baking tray, and cut into bars.
For best results, store in the fridge
Adapted from my own recipe-
Cherry Almond Energy Bites
.