This creamy spinach artichoke quiche is perfect for a make ahead brunch!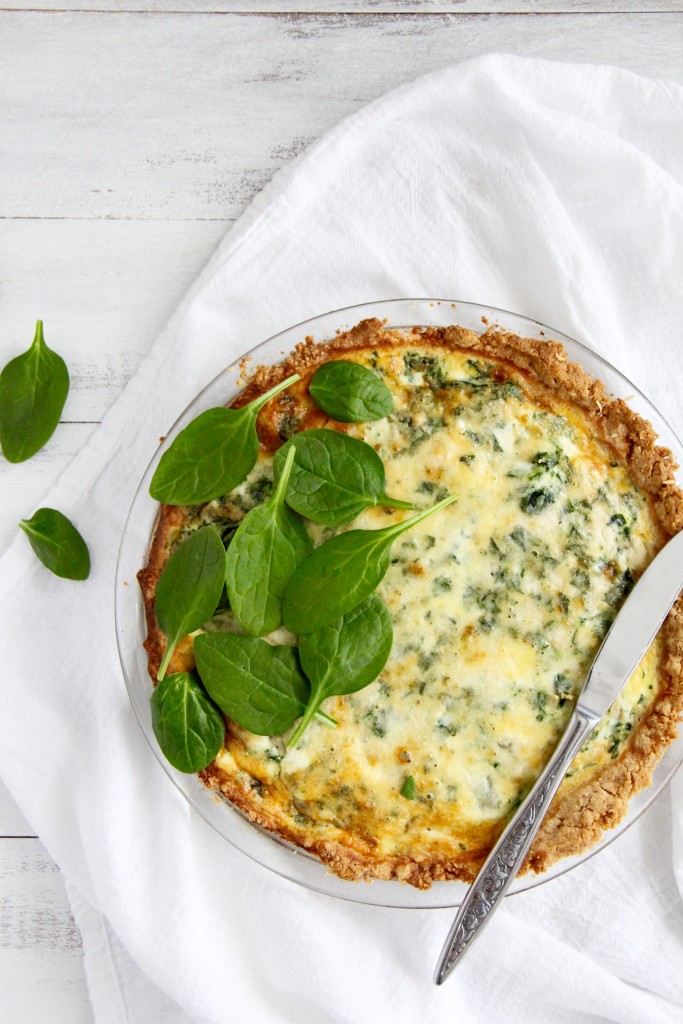 Most likely you have already decided what you are making this Easter Weekend. Or perhaps, you are like me. Perhaps you've had some bad kitchen karma, or perhaps you are woefully disorganized and you still thought it was, like, January. In an effort to keep things simple and stick with what I know, my Easter offering will be the humble quiche.
Its a crowd pleaser, it can be made ahead of time, and its virtually impossible to botch up. Plus we all need a little savory to balance out those sweet treats right? The filling is another classic pairing- spinach and artichoke, with a hefty amount of cheese for good measure. I love using my favourite whole wheat crust for this, but obviously any quiche crust you like would work. What are you making for Easter?!
Enjoy!

Spinach & Artichoke Quiche
Ingredients
Crust:
1½ cups whole wheat flour
½ cup butter, melted
2 tbsp milk
½ tsp sea salt
Filling:
4 eggs
1 cup milk
pinch cayenne pepper
1 cup cheddar (or other strong tasting cheese, divided)
1 cup chopped frozen spinach, defrosted and with the excess moisture squeezed out
1 cup artichoke hearts (I typically use frozen, and defrost them)
Method
Preheat oven to 375F/190C
Combine all of the crust ingredients in a bowl, and whisk together using a fork. Press into a 9 inch pie dish, and pop into the fridge while you prepare your filling
Place the artichoke hearts into the bottom of the crust, evenly spaced
Whisk together the eggs, milk, and cayenne pepper if using. Stir in ¾ of the cheese, and the spinach (make sure the spinach has as much of the excess moisture squeezed out of it as possible)
Place the artichoke hearts in the bottom of the crust, and pour the filling over the top. Sprinkle the remaining cheese over the top of the filling
Bake for 35-40 minutes until the filling is set
Recipe Adapted from my
Broccoli Stilton Quiche
, crust borrowed from
100 Days of Real Food
.