These quick and easy vegan Peanut Butter & Dark Chocolate Chunk Oat Bars are fudgy, satisfying and packed full of energy.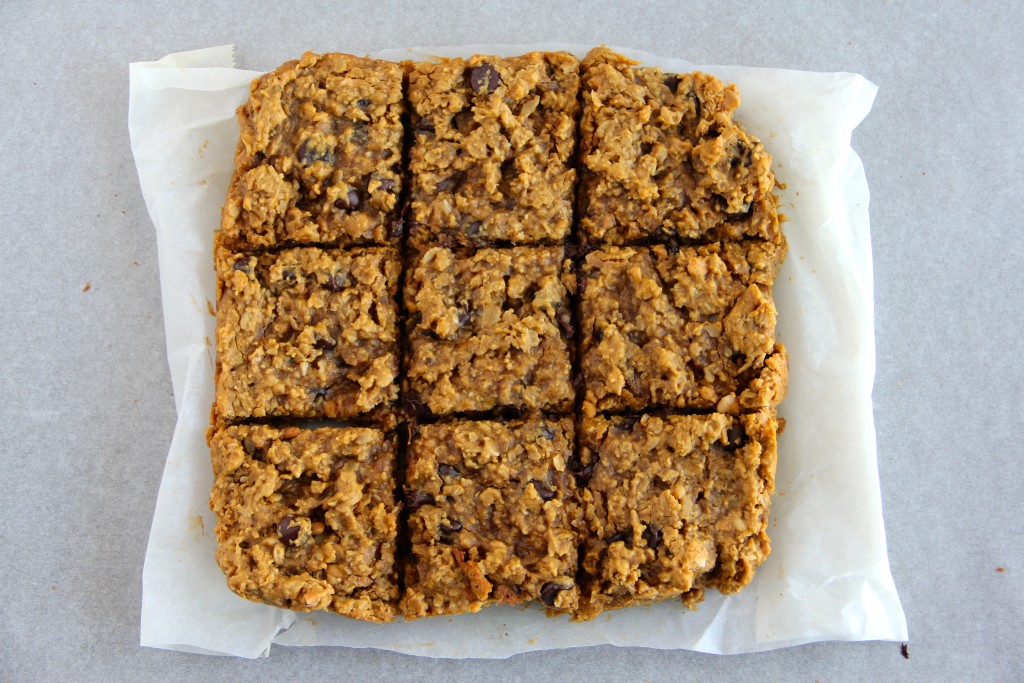 When I left the hospital with my tiny two day old baby, my sweet friend Tanya sent me home with a tin of homemade walnut blondies. I'm only exaggerating a teeny bit when I say that these walnut blondies saved my life the first week of being home. Whenever I felt like my energy was fading, I would pop a little blondie in my mouth and feel instantly lifted. I realised that having delicious snacks around was going to be an absolutely necessary part of my new life, where sitting down for a meal (let alone cooking it!), could be a challenge.
These bars take me less than ten minutes to whip up and then the bake in a little over 20, they have been a lifesaver over the past few weeks. Much as I would LOVE to be eating homemade blondies all day, I knew I had to make something a little healthier to truly sustain me. These bars are made with oats and therefore are whole grain, gluten free and packed with iron and fibre. They are sweetened with maple syrup and vanilla so they contain no refined sugar (ok, maybe a little in the chocolate chunks but its pretty minimal!). And they are so wonderfully peanuty, fudgy and satisfying.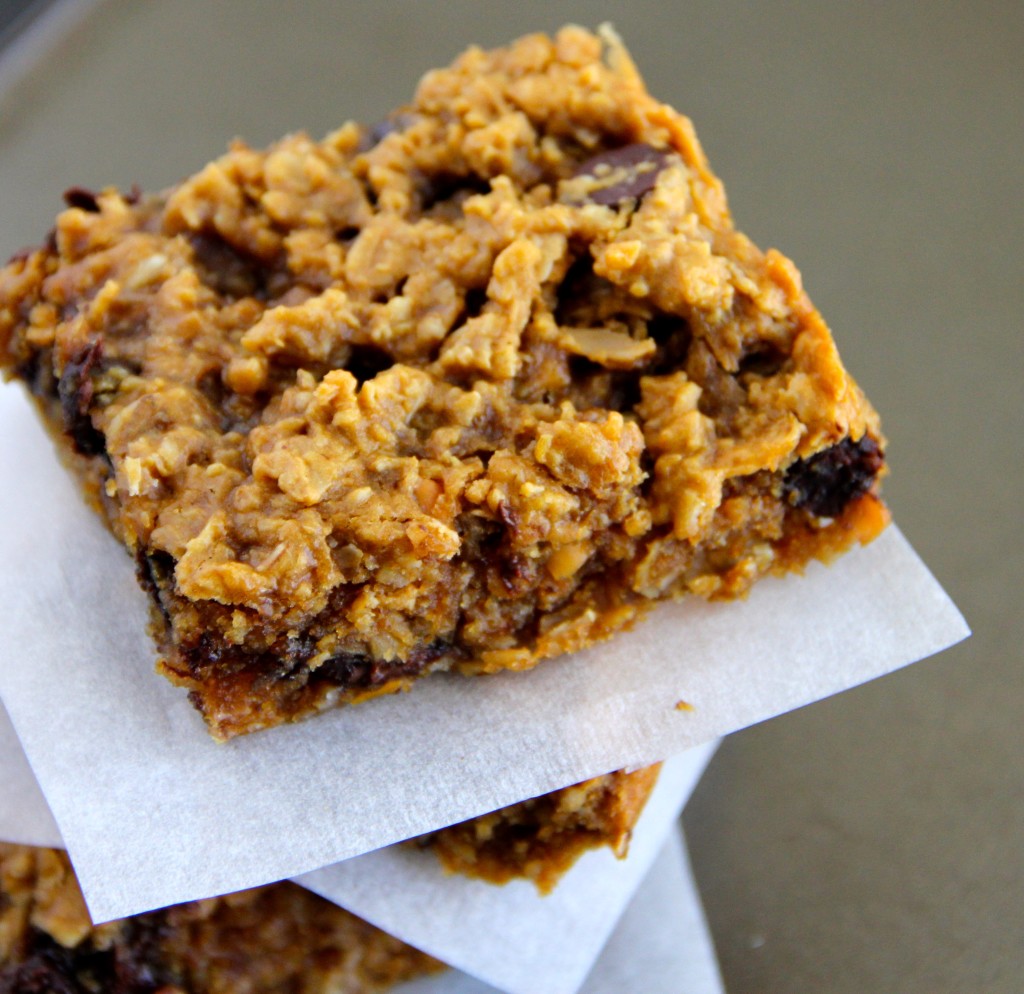 Oh, and added bonus, they are GREAT with coffee…! Enjoy!

Peanut Butter & Dark Chocolate Chunk Oat Bars
Ingredients
1¾ cups of oats, divided*
½ cup maple syrup**
1 cup peanut butter (chunky or smooth, but I prefer the texture of chunky!)
2 tsp vanilla extract
1 tsp baking soda
¼ tsp salt
½ cup almond milk***
½ cup dark chocolate chips****
Method
Preheat oven to 350F/175C
Line or grease an 8x8 inch baking dish, set aside
Take ¾ cup of oats and blend for about 2 minutes in the blender to make a rough oat flour (you could also do this in the food processor if you prefer), set aside
Using a mixer, beat together maple syrup, peanut butter and vanilla extract until fluffy
Add the oat flour, oats, baking soda and salt, and mix into the peanut mixture until combined
Slowly mix in the almond milk in a steady stream, and continue to mix until a thick batter forms
Finally fold in the chocolate chips
Bake for 20-25 minutes until the batter is set. It might seem a little soft in the middle but it will continue to set once its out of the oven
Allow to cool in the baking dish before cutting into squares
Notes
*Make sure your oats are certified gluten free if you need this recipe to be gluten-free
**Honey would probably work in place of maple syrup if you are not vegan, although, I have not tested this recipe using honey myself. Please let me know if you try it!
***Or any other milk you have to hand
****Make sure you are using vegan chocolate chips if you need this recipe to be vegan
Recipe adapted from the fabulous Sallys Baking Addiction.
You may also like these Flourless Peanut Butter Oatmeal Cookies with Dark Chocolate and Sea Salt, or these Chocolate & Coconut Energy Bars.