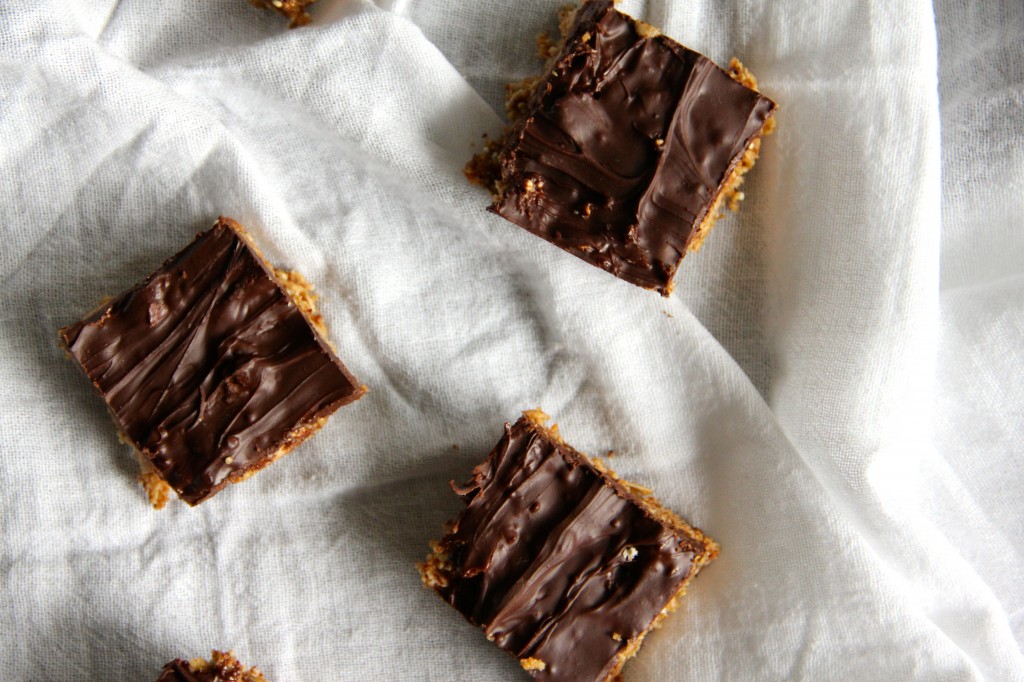 Hello, and Happy September! Are you ready to hear about my latest obsession? Let me introduce you to these Chocolate Quinoa Energy Bars… Yum! I have been whipping up batch after batch of these beauties, and I am still craving them. They are healthy and satiating enough to be enjoyed as a quick breakfast, but taste indulgent enough to be enjoyed for dessert. More often than not I would nibble them at my desk for a mid morning snack. Like I said, obsessed.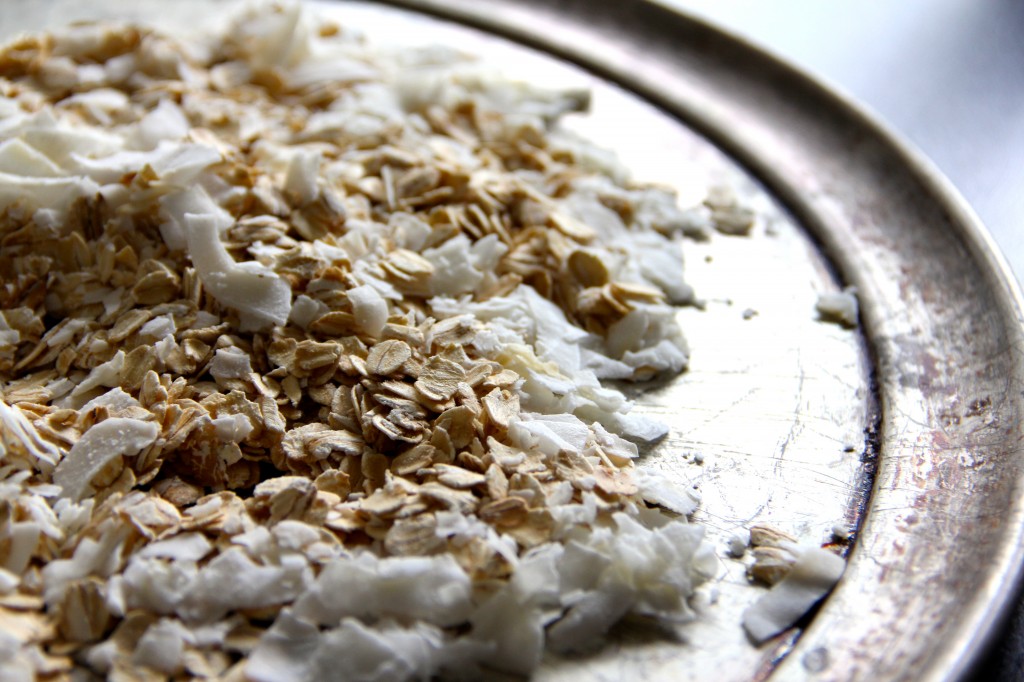 They are very easy to make and come together quickly too! Start by toasting some oats and coconut until golden and deliciously nutty…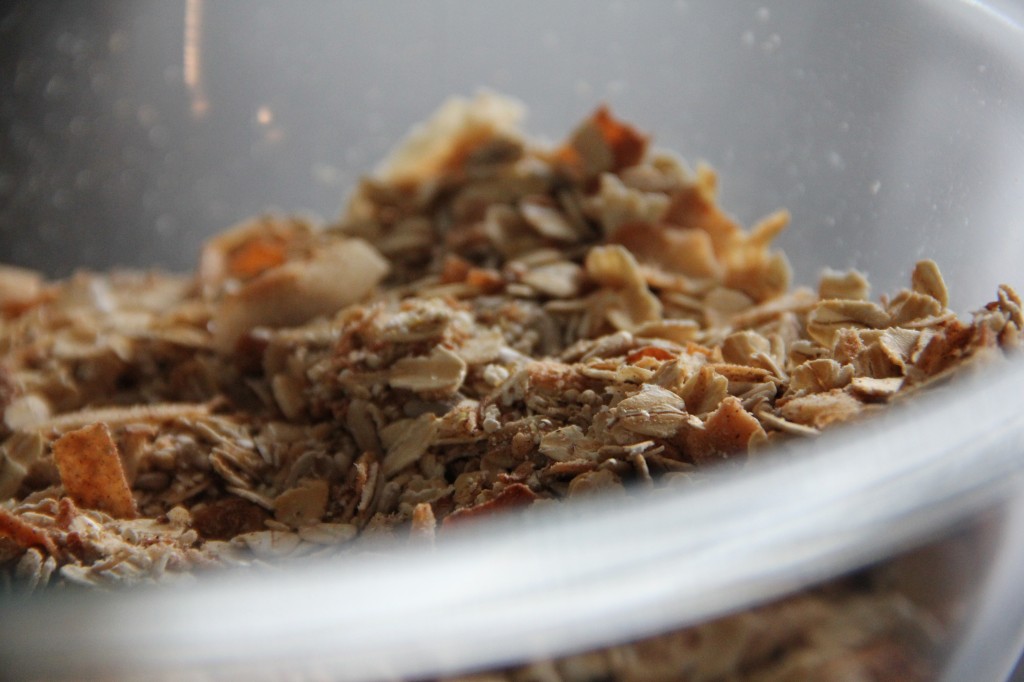 Mix in some warm almond butter, honey or agave and vanilla, add some quinoa and flax…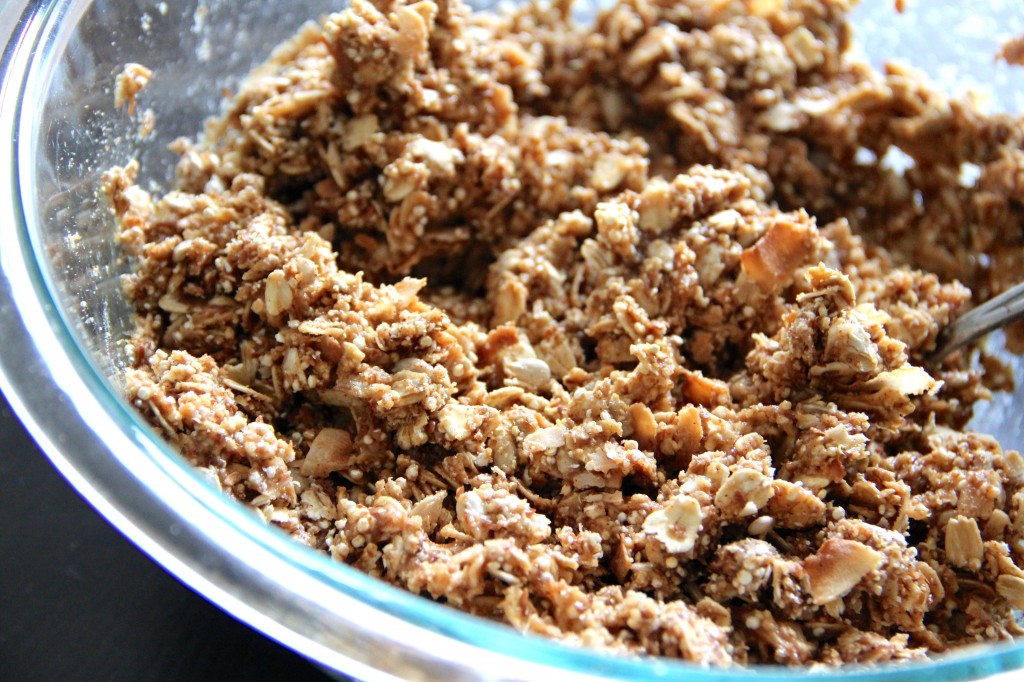 And finally spread a nice layer of dark chocolate on top and pop in the fridge. Et voila! Yummy scrummy Chocolate Coconut Energy Bars are your for the taking!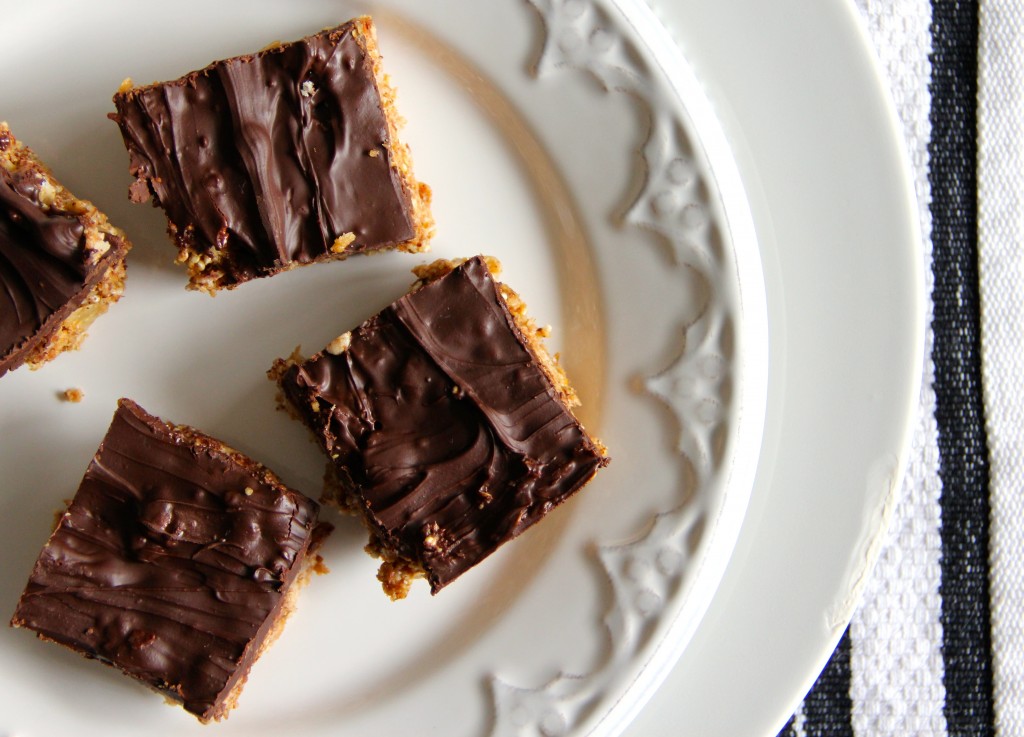 Enjoy!

Chocolate Quinoa Energy Bars
Ingredients
1¼ cup raw oats
¾ cup unsweetened coconut flakes
½ cup raw quinoa
¼ cup ground flax seeds
¼ cup sunflower seeds
1 tsp cinnamon
½ tsp salt
¾ cup honey (agave or maple syrup if vegan)
¾ cup almond butter (substitute peanut butter if desired)
2 tsp vanilla extract
¾ cup dark or semi sweet chocolate chips
Method
Preheat oven to 350F/175C
Spread oats and coconut evenly on a baking sheet, toast for 15-20 minutes stirring once
Meanwhile, grind the quinoa using a food processor, blender of coffee grinder
Transfer ground quinoa into a large bowl, add the ground flax seeds, sunflower seeds, cinnamon and salt, stir to combine
Once the toasted oats and coconut are ready, add to the bowl and stir again
In a small saucepan, melt the honey (or agave/maple syrup), almond butter, and vanilla extract together until smooth
Add to the bowl and mix well, the consistency will be thick!
Grease a 9x9 inch pan (I like to use a little coconut oil for the job), and press the mixture into the pan evenly
Melt the chocolate chips in a small saucepan over a low heat, or in the microwave in 20 second intervals, stirring in-between
Spread the melted chocolate in an even layer over the oat mixture in the pan
Pop into the fridge for 20-30 minutes until set
I like to cut mine into 16 mini squares