Make the most of blueberry season with this whole wheat cashew blue banana bread!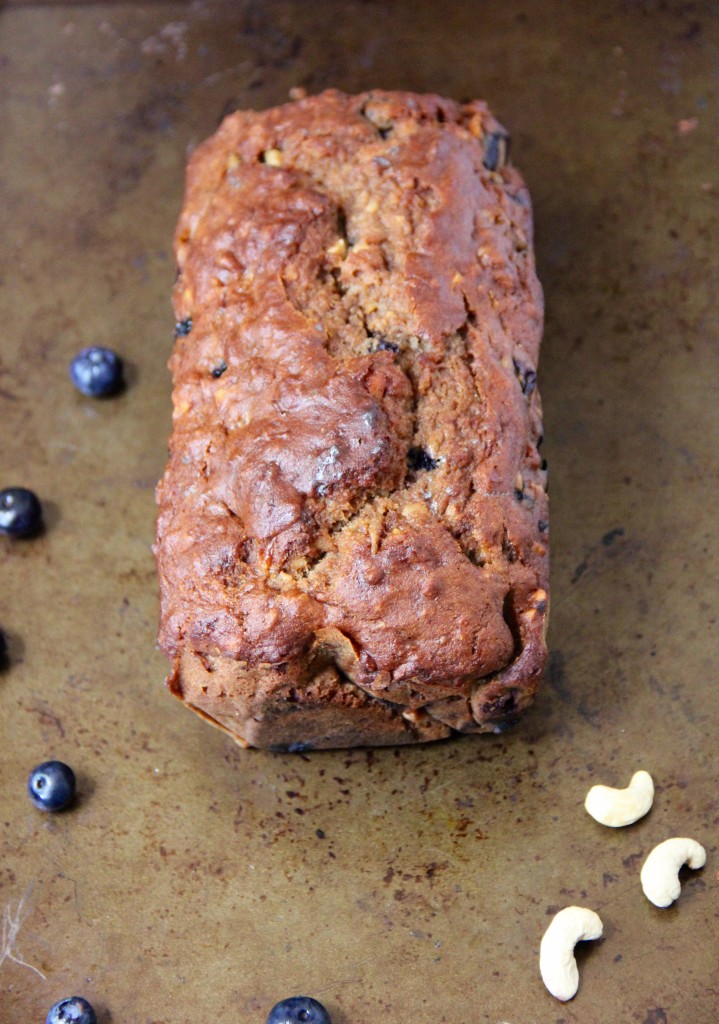 I know, I know. It is not like me to post a sweet treat immediately after a dessert recipe, BUT I was in a pinch, friends! Blueberry season is drawing to a close (sob!), and I have not one, but TWO recipes to share with you before it does. Will you forgive me? Of course you will, because I come bearing banana bread. Special banana bread, made with crunchy cashew nuts, beautiful sweet blueberries, healthy whole wheat flour and just a smidge of sugar.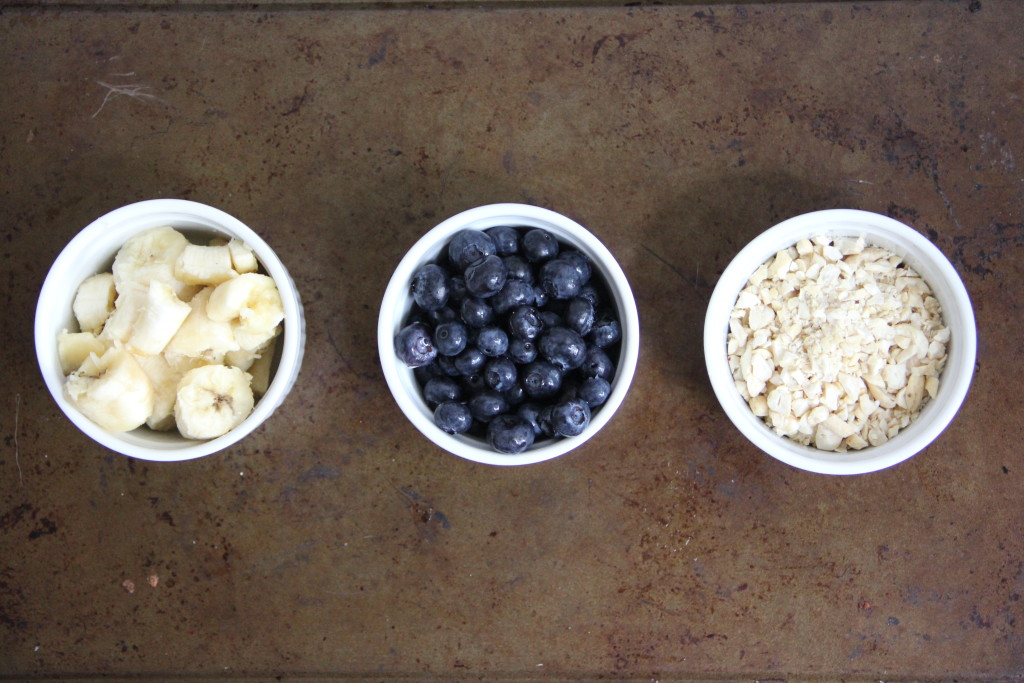 The inspiration for this cashew blue banana bread came from my favourite breakfast spot back in my old Michigan stomping ground. I would normally order the vegetarian breakfast burrito, but if I was in the mood for something sweeter, I would always opt for their cashew blue pancakes.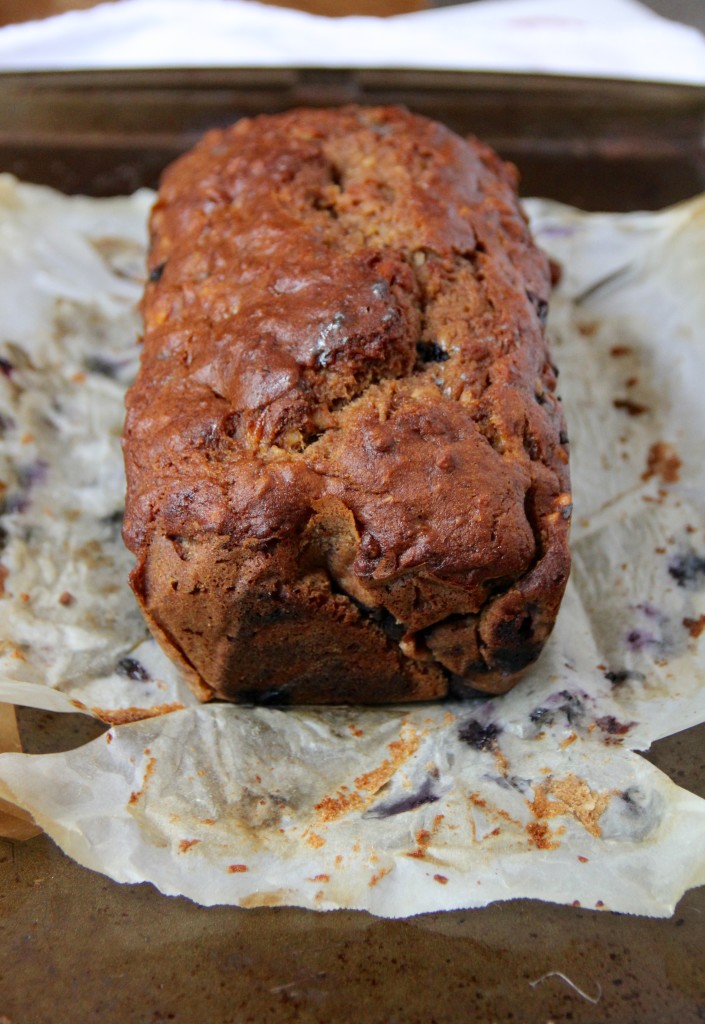 I'm not sure what gave my the idea to throw them in my banana bread batter one day, but I'm ever so happy I did! The cashew nuts are a beautiful compliment to the sweet blueberries. Mixed into banana bread, the cashews provide a satisfying texture, and the blueberries offer a pop of sweet tang.  Perfect for a cheeky sweet breakfast, dessert or a snack. This cashew-blue banana bread is something you need in your life before blueberry season ends!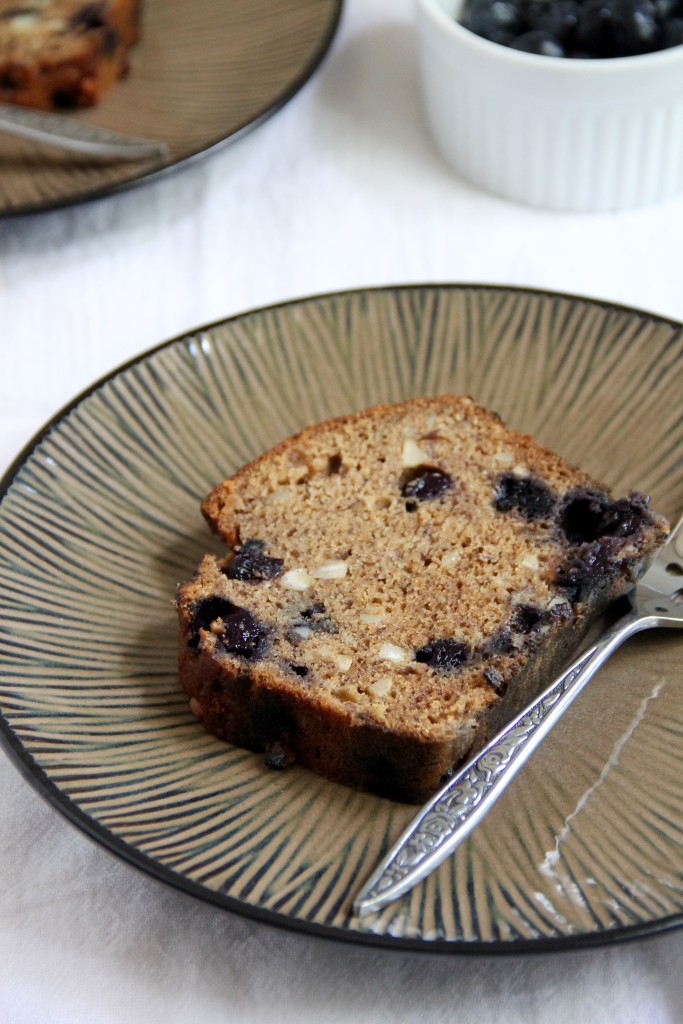 Enjoy!!

Cashew Blue Banana Bread
Make the most of blueberry season with this whole wheat cashew blue banana bread!
Ingredients
6 tbsp olive oil
¼ cup maple syrup
¼ cup brown sugar
2 tsp vanilla extract
¼ cup milk (regular, almond, whatever you like)
2 eggs
3 medium very ripe bananas, mashed
1¾ cups whole wheat flour
1 tsp baking soda
½ tsp cinnamon
½ tsp salt
½ cup finely chopped cashews
1 cup blueberries (fresh or frozen, if frozen don't bother defrosting)
Method
Preheat your oven to 350F/180C
Line and grease a 9x5 inch loaf pan, ser aside
In a medium bowl, whisk together the oil, maple syrup, brown sugar, vanilla and milk until well combined. Mix in the eggs, and then the mashed bananas. Set aside.
In a large bowl, whisk together the flour, baking soda, cinnamon and salt. Add the wet ingredients to the dry, and stir until *just* combined.
Add the cashews and blueberries to the mix, and fold in gently in as few movements as possible. You want to be especially careful if you are using frozen blueberries, as you may end up with grey banana bread!
Pour the batter into the tin and bake in the center of the oven for 50-60 minutes until a knife comes out clean. Check the bread at about 40 minutes, if the top appears to be browning but the center is still uncooked, lay some foil over the top of your bread and continue baking
Notes
Substitute melted coconut oil with the olive oil if you prefer
Substitute honey for maple syrup if you prefer
Bonus Tip! Buy extra bananas next time you are at the shop, and freeze half when they get ripe. Defrost when you are ready to bake into your favourite banana baked good (have you tried these?!), or smoothie!