This elegant Chocolate Cherry Crisp is 100% whole grain and (almost!) refined sugar free.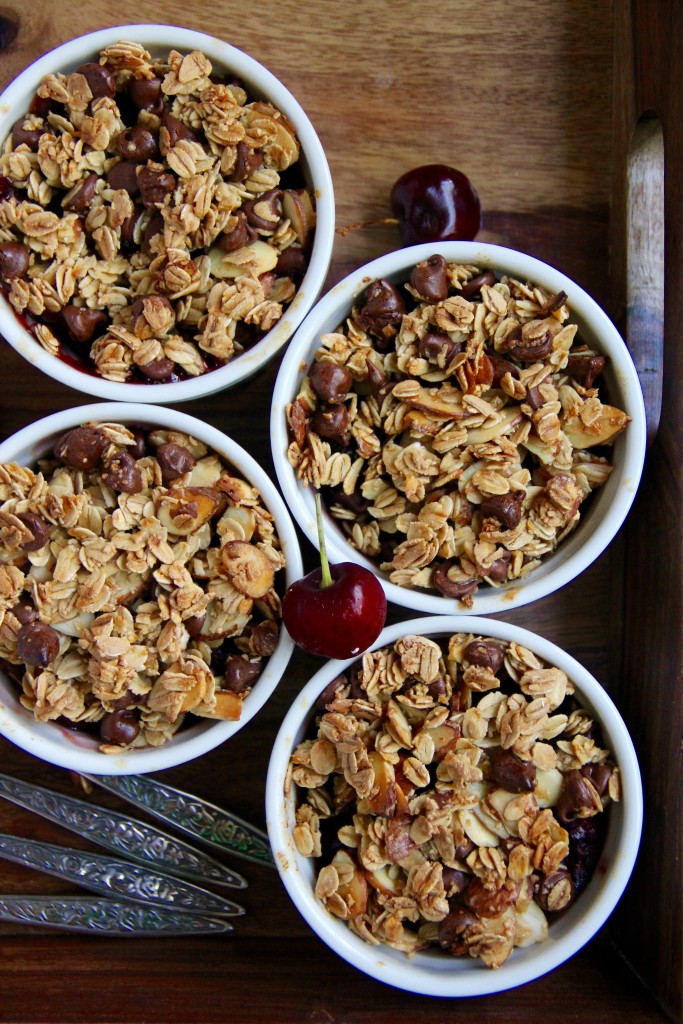 Oh friends, WHAT A WEEK it has been. We've had root canals, cracked fillings, antibiotics, severe allergy to antibiotics (who even knew THAT was a thing?), a blown out tyre on a Houston Freeway, and a partridge in a pear tree. Big shout out to my poor husband who left work to come and replace my tyre on the side of the road in the 100F heat. Is there anything more gallant than a man who rolls his sleeves up for you? I nearly wept with gratitude. Ok, I wept. Girl power? Not so much this week, but at least I have dessert.
In times of crisis one can always turn to the essential trifecta- comfort food, chocolate and wine. This Chocolate Cherry Crisp takes care of the first two, and I see no reason why it can't be washed down with a generous glass of Malbec. In fact, I heartily encourage it. Sweet cherries bubbling in their own jammy juices, with a crisp toasted almonds and oats on top, and half-melted dark chocolate pieces just sinking down into the cracks.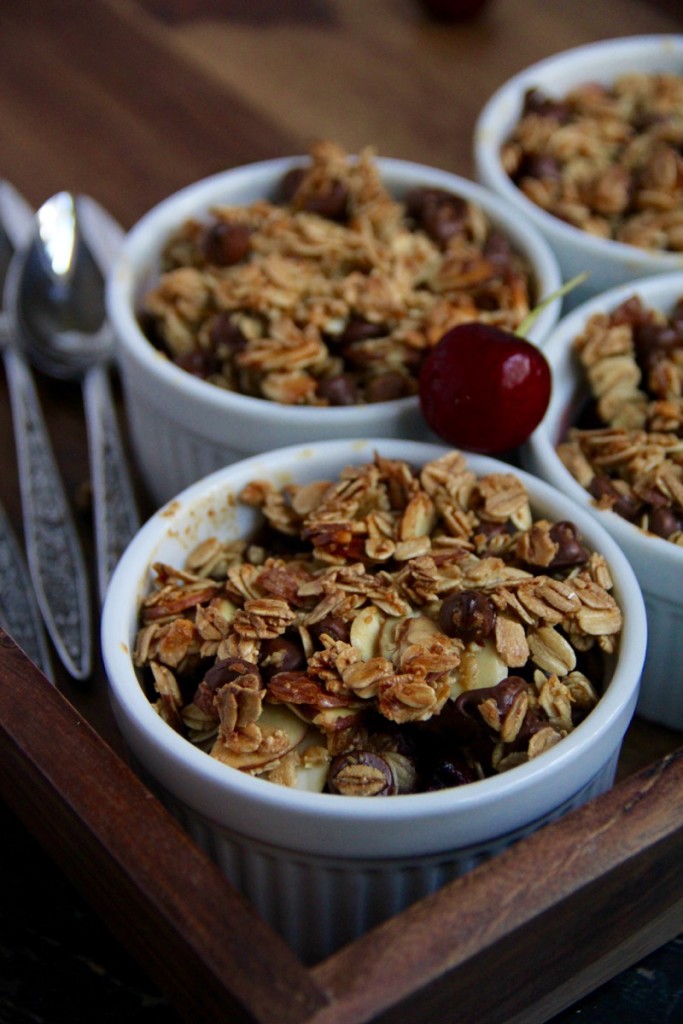 I haven't even got to the best part… this crisp is made from 100% wholegrains, and is almost refined sugar free (save for a little in the chocolate chips!). Best of all this comes together in minutes, meaning you can still pull it off if you are having a disastrous week like me…!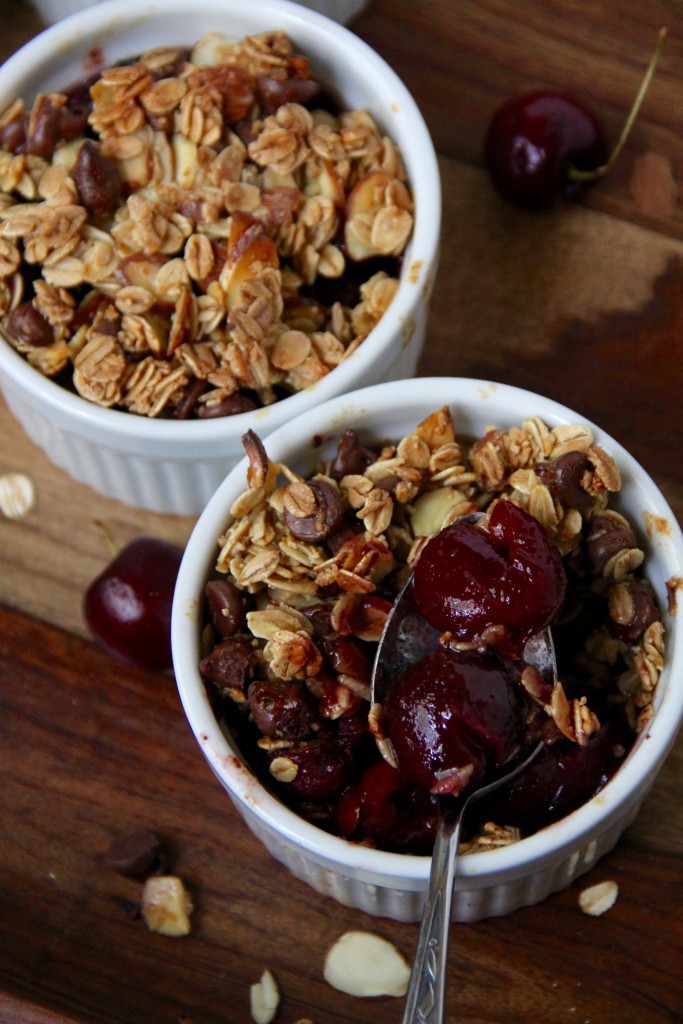 Enjoy!

Chocolate Cherry Crisp
Ingredients
For the Chocolate Oat Topping:
¾ cup oats
⅓ cup chocolate chips
¼ cup + 1 tbsp sliced almonds
¼ cup + 1 tbsp maple syrup
pinch of salt
For the Cherry Filling:
3 cups cherries, pitted
2 tbsp wholewheat flour
3 tbsp maple syrup
1 tbsp lemon juice
2 tsp vanilla extract
Vanilla icecream, cream, or custard to serve (optional)
Method
Preheat oven to 350F/180C
In a medium bowl, combine the chocolate oat topping ingredients, and set aside.
Place the cherries in a large bowl, sprinkle the flour over the top. Add the maple syrup lemon juice and vanilla, and stir to combine with a wooden spoon
Divide the cherry mixture equally between four ramekins (see notes), layer on the oat topping equally between each ramekin
Bake in the oven for 30 minutes until the topping is crisp and golden, and the cherries are bubbling underneath
Inspired by Smitten Kitchen's
Chocolate Oat Crumble
, and Well Plated by Erin's
Cherry Blackberry Crisp
.
This can be made in a casserole dish instead of the ramekins, if you prefer (to be honest, I find that the ramekins help with portion control!!)