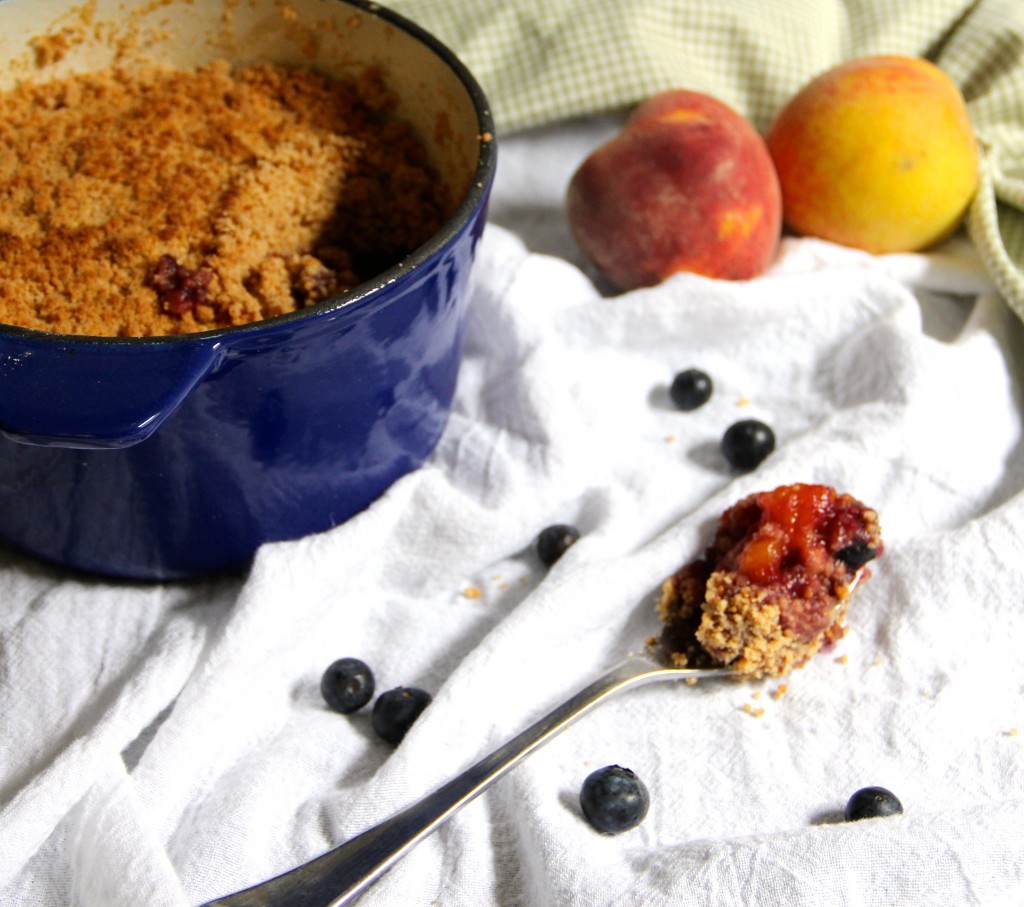 At some point during my early teenhood, my parents developed an interest in gardening. Pretty flowers, the odd bush, a smattering of herbs, and the most overactive fruit trees you could imagine. For some reason, the pear tree and the plum tree would produce an overwhelming harvest each year, and in order to keep up, we had to get creative with our fruit consumption.
There were two obvious solutions: Jam and Crumble. Both require a large quantity of fruit, jam will keep for a while so we could stock up, and crumble would be gobbled up immediately so we could make way for even more fruit. To conclude, I have eaten many a fruit crumble in my day.  Now that I am grown, and no longer at the mercy of a plum tree, I am able to experiment with different seasonal fruit, including this delightful combination of peach and blueberry, yum!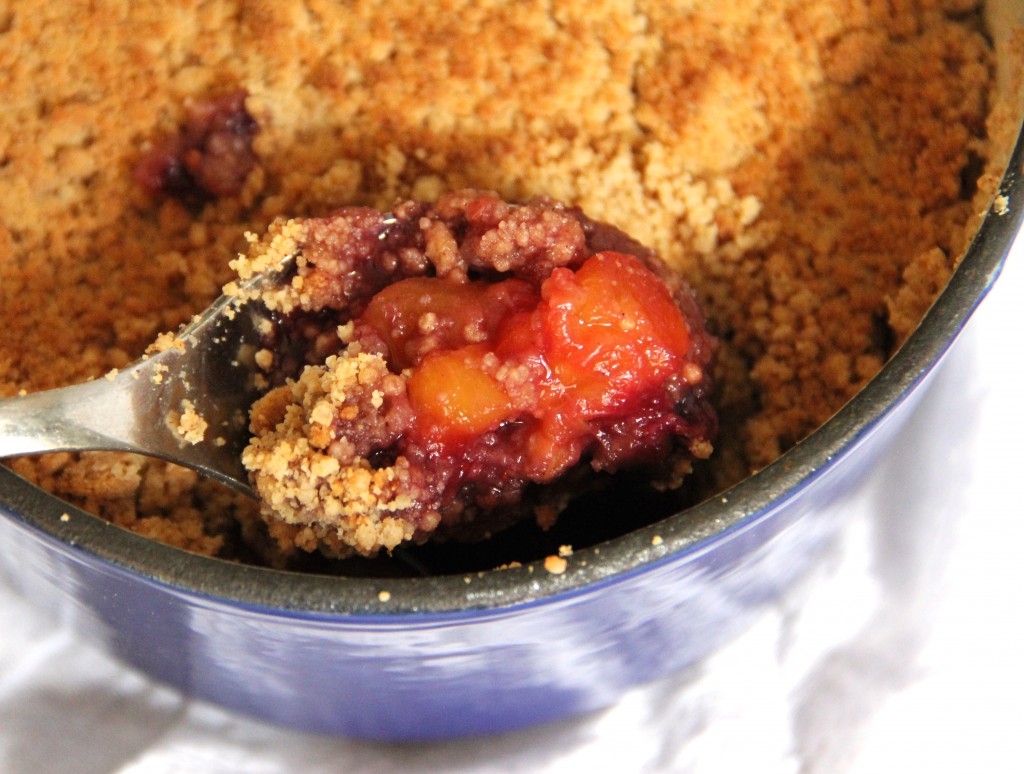 I keep my crumble pretty simple, rustic almost. I have included a recipe below, but it is loose. Any fruit can be given the crumble treatment, and I can guarantee that it will be delicious. I also prefer to keep the topping straightforward- just butter, flour and sugar, prepared by hand rather than a food processor. A crumble comes together in minutes, requires no special skill, and is always a crowd pleaser. It may actually be the perfect dessert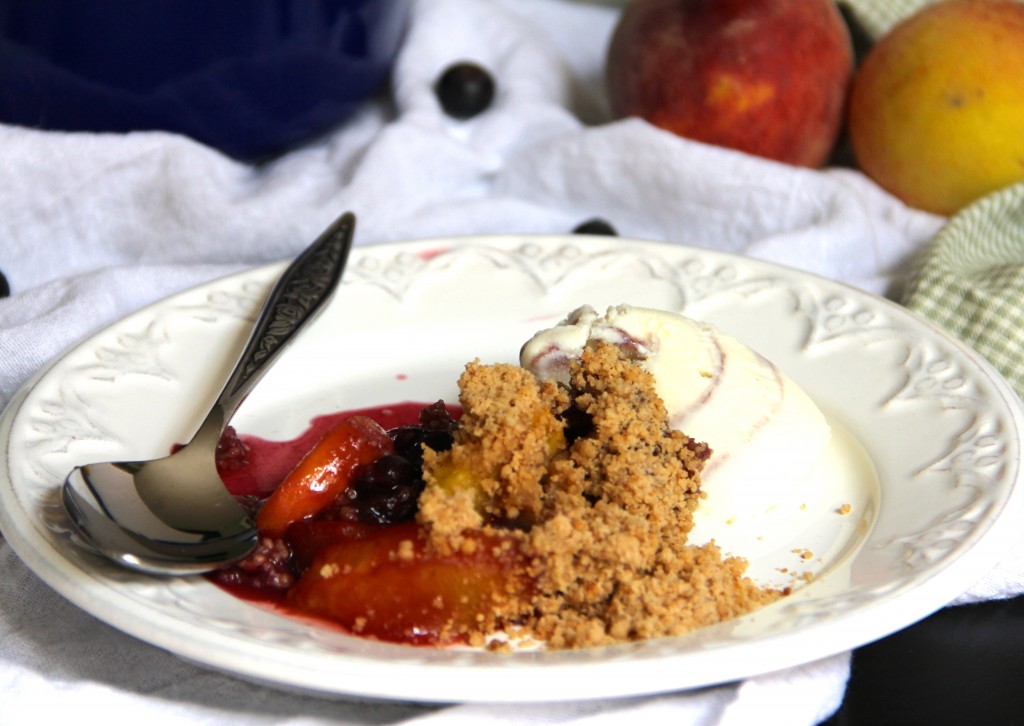 Blueberry & Peach Crumble
Ingredients
For the filling:
2 cups Blueberries
5-6 Peaches
¼ cup sugar
For the Crumble:
115 g/4 oz cold butter, or vegan butter spread
115 g/4oz demarera sugar
175 g/6 oz wholewheat pastry flour
1 tsp cinnamon
Method
Preheat oven to 375F/180C
Peel peaches (see note below) and slice into 1 inch thick semicircles, transfer into a baking dish with blueberries and toss with sugar, set aside
In a large bowl, mix flour, sugar and cinnamon
Cut butter into small chunks and add the the bowl
Using your finger tips, rub the butter and flour together until you are left with a crumb like texture (as pictured)
Tip the crumble mixture over the fruit, and bake for 25-30 minutes until fruit has softened
Notes:
I have made vegan crumbles many a time by using a vegan butter spread in the place of butter, this dessert is totally vegan friendly!
Substitute for frozen fruit if you are tempted to make this out of summer, no need to defrost!
To peel your peaches, give them the "tomato treatment" slit the skins at the bottom, and submerge them in freshly boiled water for a few minutes. The skins should slip away easily