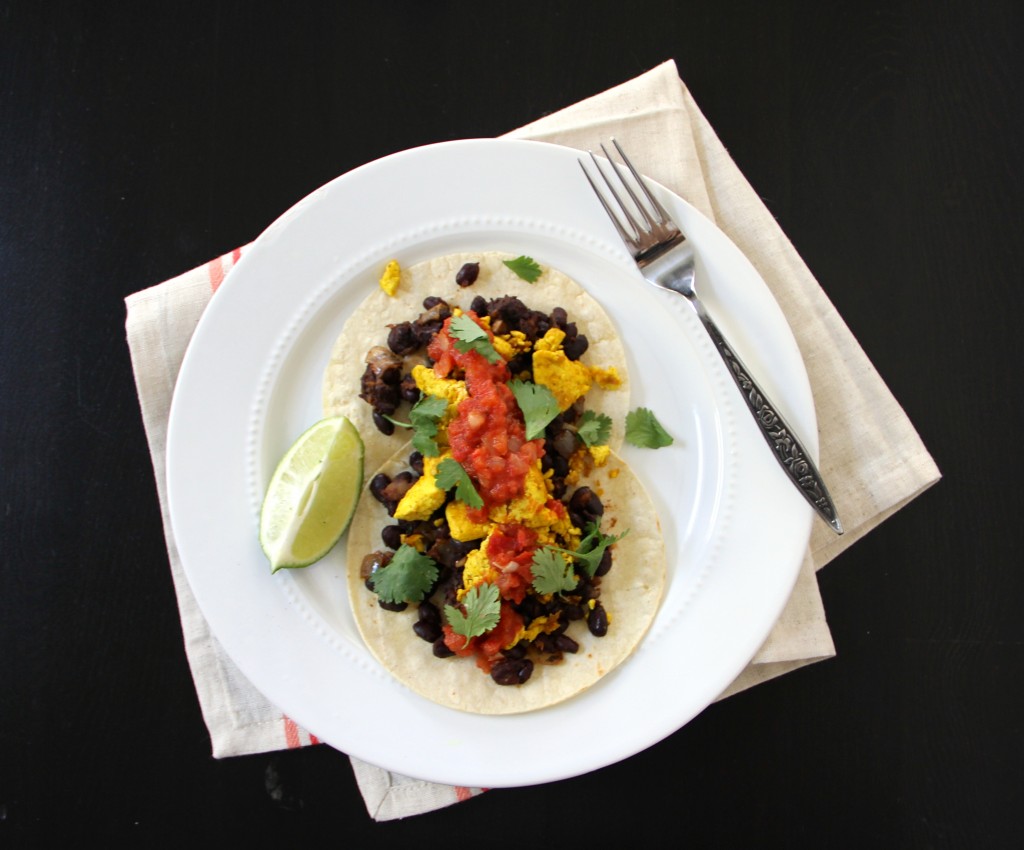 When I first moved to the States, I was delighted to find that Breakfast is an event here. I remember marveling at the extensive menu of the greasy spoon, and the pleasant shock of having my coffee filled up an unlimited amount (upon reflection, I can pin point my caffeine addiction to those early days). I'm not saying Britain doesn't do breakfast, I love a full (vegetarian) English, but the States have broadened my breakfast horizons.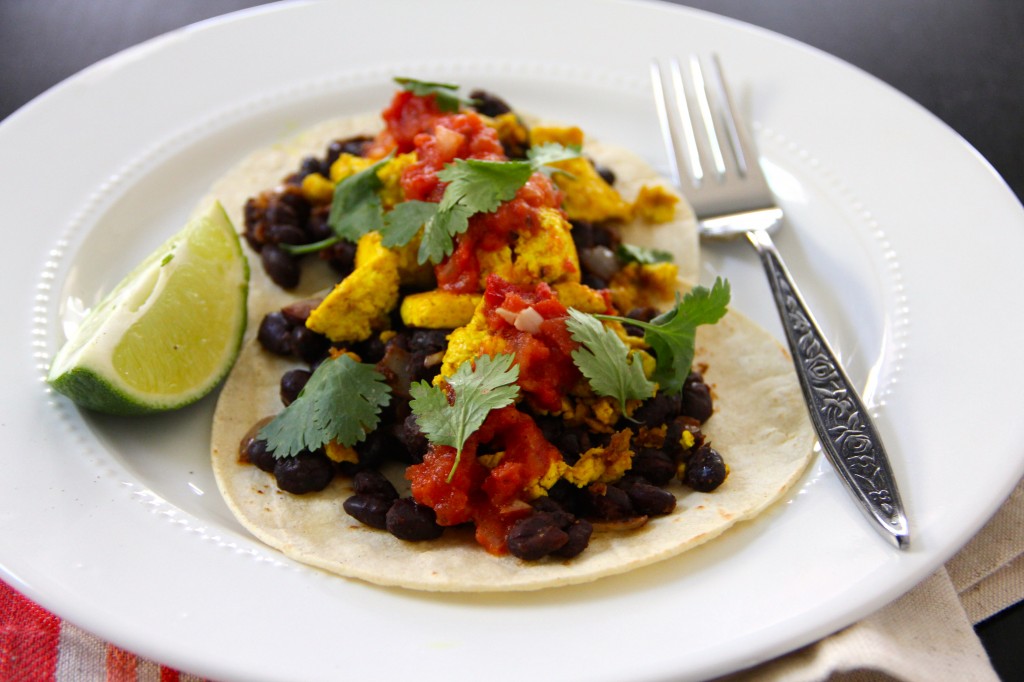 One of my favourite breakfast spots is a lovely vegan diner about ten minutes away from my home. It's always cheap, filling and totally delicious. One of my go-to items on the menu are the Tofu Rancheros, a vegan take on Huevos Rancheros. According to wikipedia Legend has it that Huevos Rancheros are served mid-morning on Mexican farms. This makes perfect sense to me, as the dish is both hearty and bolstering. Perfect after a morning of hard work, or perhaps more accurately in my case, an early morning run!
The dish has three main components. Slowly cooked black beans, a scrambled tofu, and a smoky ranchero sauce, all layered atop a couple of corn tortillas. I recommend serving with a sprinkling of fresh coriander and a squirt of lime. If you are not vegan, a little cheese would be pretty good here too.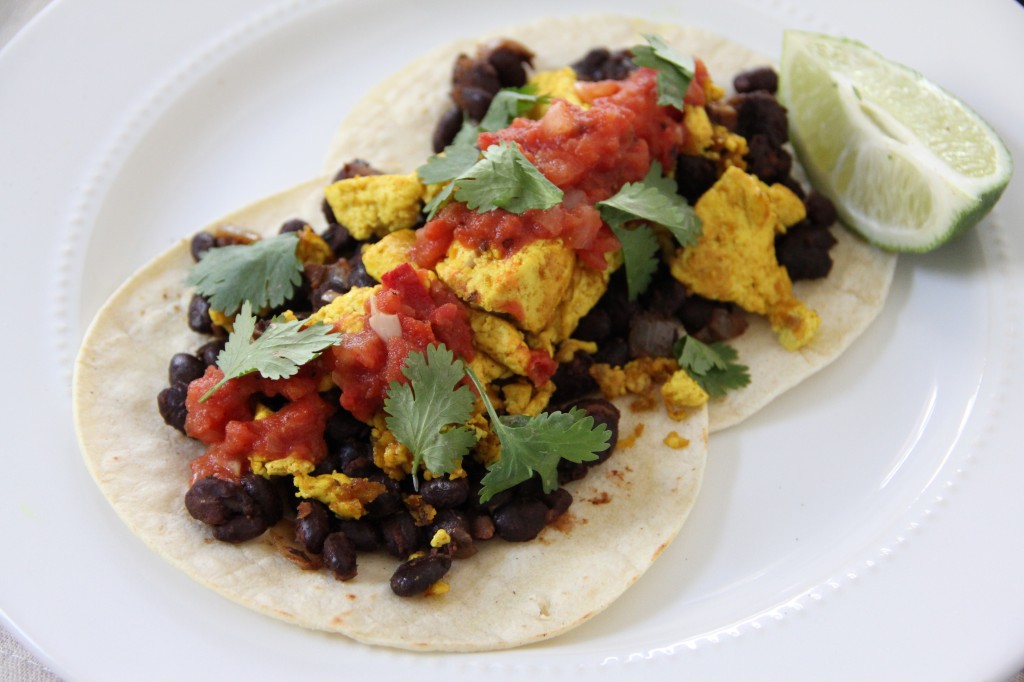 Happy Breakfast time, eat up!

Tofu Rancheros
A delicious vegan alternative to Huevos Rancheros
Recipe type:
Breakfast/Brunch
Ingredients
Ranchero Sauce:
1 tbsp olive oil
½ medium onion, chopped
1 garlic clove, minced
1 anaheim chili pepper
1 14.5 oz tin of fire roasted tomatoes
½ tsp smoked paprika
½ tsp cumin
pinch of cayenne (optional- if you like it a little spicier)
Juice of half a lime
salt and pepper to taste
Black Beans:
1 tbsp olive oil
½ medium onion, chopped
1 garlic clove, minced
1 14.5 oz tin of black beans or 2 cups of cooked black beans
½ cup/125ml water
2 tbsp red wine vinegar
1 tsp cumin
½ tsp oregano
salt and pepper to taste
Tofu Scramble:
1 tbsp olive oil
1 package of organic extra firm tofu (14oz/400g)
½ tsp paprika
½ tsp turmeric
½ tsp cumin
salt and pepper to taste
To Assemble:
8 6" corn tortillas
handful of fresh coriander, chopped
lime wedges
Method
Make the Ranchero Sauce:
In a pan, heat 1 tbsp of olive oil over medium heat
Add the onion, and cook for a couple of minutes until softened
Add the garlic and chili and cook for a minute more
Remove from the pan and throw into a blender
Add the tomatoes, spices and lime to the blender and pulse until a sauce forms (you want to keep some chunks in) set aside
Make the Black Beans:
In a medium saucepan, heat olive oil over medium heat
Add the onion and cook for a couple of minutes until softened
Add the garlic and cook for a minute more
Add the black beans, water, vinegar and spices
Cover and simmer on a low-medium heat, stirring occasionally, until your tofu cooks. If it starts to look a little dry, add a little water
Cook the Tofu
In a pan, heat olive oil over high heat until shimmery
Crumble tofu into pan (careful it might splatter!) and reduce heat to medium
Sprinkle spices over the top of the tofu, and begin "scrambling" in the pan using a wooden spoon. You want to scramble and then leave to cook for a couple of minutes before scrambling again to give the tofu a chance to get golden and firm in places
This should take about 10-15 minutes and the tofu should look "dry" by the end
Assemble:
In a hot dry pan, toast the tortillas on both sides until ever so slightly browned
Layer the plates with two tortillas, ¼ of the black bean mix, ¼ of the tofu mix, ranchero sauce to taste, a handful of fresh coriander and a lime wedge or two