These baked sweet potato wedges with rosemary and sea salt are crisp, salty-sweet, and good for you too!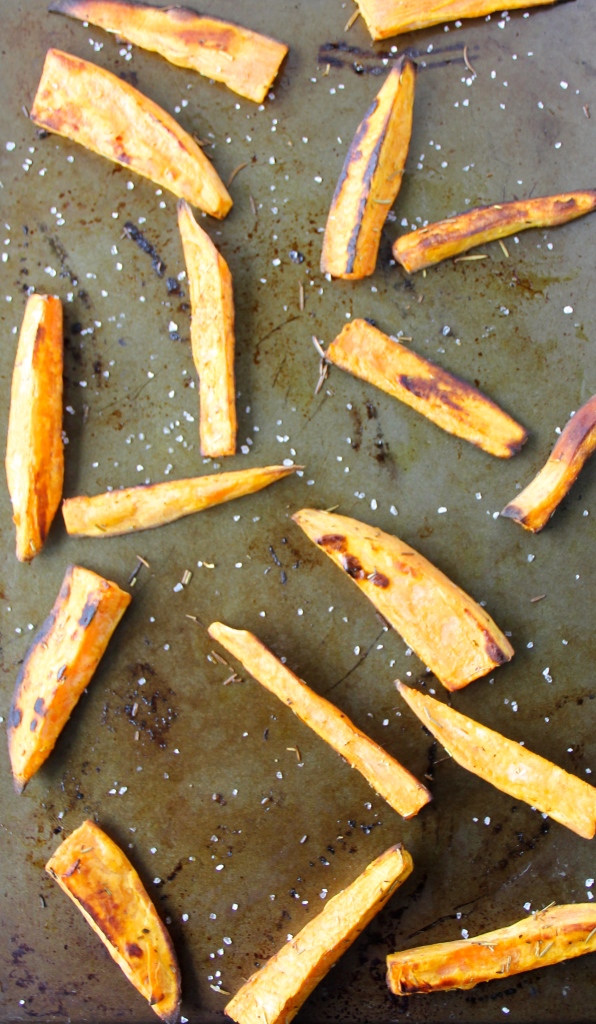 The temperatures are falling and the days are getting shorter, it even snowed this week (*sigh*, Michigan!). Root vegetable season is in full swing, and today I am celebrating with some beautiful baked sweet potato wedges, adorned with crunchy sea salt and piney, aromatic rosemary! Not only are they tasty and incredibly good for you, they cook more quickly that normal potatoes… and that means they are in your belly faster… Hooray!
For years I have been making sweet potato wedges the same way: seasoned with smoked paprika, cumin and a dash of cayenne pepper. I still LOVE this version, but I recently stumbled upon this rosemary and sea salt combination, and am smitten all over again. I love mixing the sweet with the  salty and bold, so these are a real winner in my kitchen. I serve them alongside a scramble of some sort – tofu or eggs will do- for a quick healthy and delicious dinner!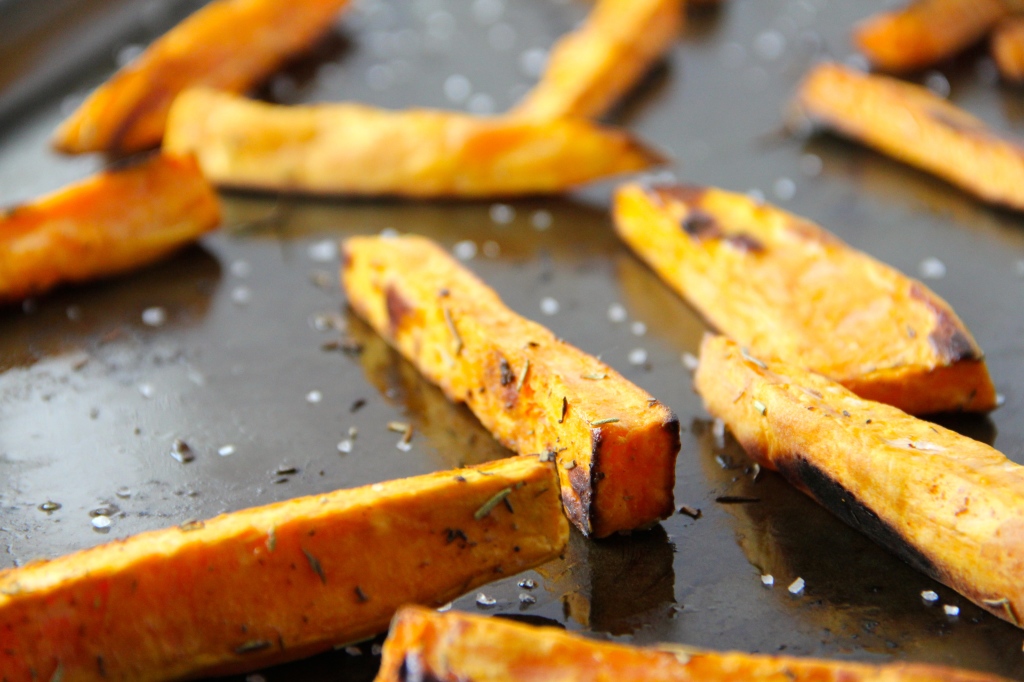 Give them a try!!

Sweet Potato Wedges with Rosemary & Sea Salt
These sweet potato wedges with rosemary and sea salt are crisp, salty-sweet, and good for you too!
Ingredients
2 large sweet potatoes,
2 tbsp olive oil
2 tsp dried rosemary
Pinch of cayenne pepper (optional)
1-1.5 tsp sea salt
Method
Preheat oven to 425F/220C
Peel the sweet potatoes and slice into wedges
In a medium bowl, toss together the wedges, olive oil, rosemary and cayenne pepper if using
Spread the wedges on a baking sheet (or two) making sure they aren't touching- you need to give them space or they get soggy!
Bake in the oven for 15 minutes, remove and flip with a spatula, return to the oven and bake for an additional 10-15 minutes until the edges are crisp, golden brown and lovely
Sprinkle with sea salt in the pan, and serve!
PS. Do you love Sweet Potato Too? Maybe you will enjoy my
Sweet Potato Black Bean Enchilada Bake
, or
Roasted Sweet Potatoes and Leeks in a Coconut Curry Sauce
!