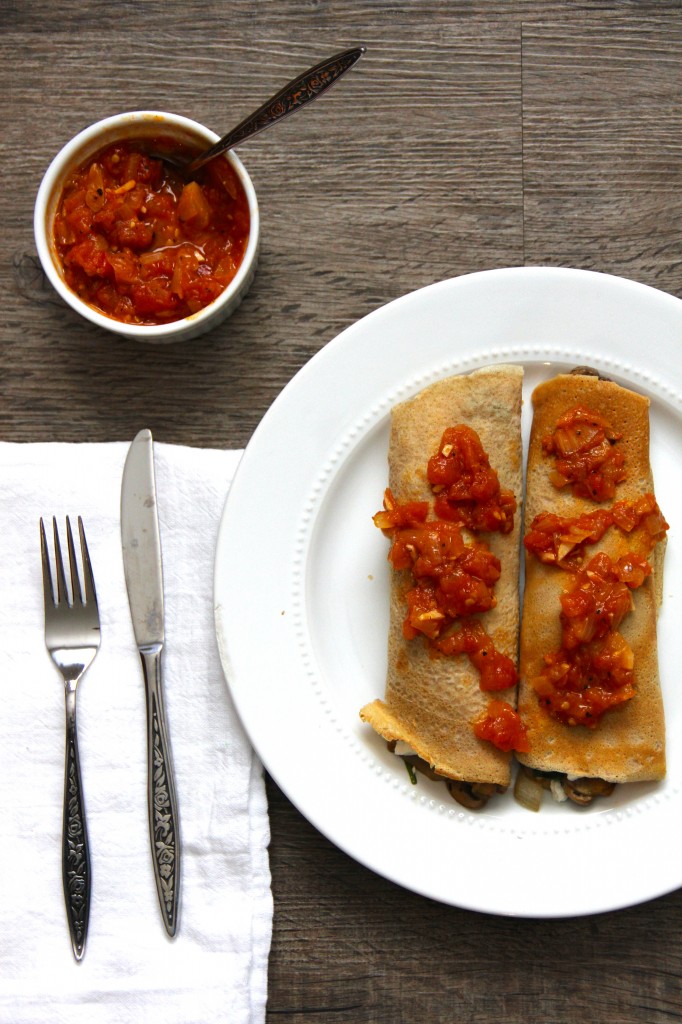 I am leaving for Houston tomorrow. The purpose of this trip is to help my husband move back to home to Michigan now that his assignment is finally wrapped up. Of course by "help" I mean doing no heavy lifting, demanding toilet breaks every hour (ish), and torturing him by setting "Concept Albums" to shuffle (side note- if you really want to mess with my husband, do this with a Sonic Youth Album).  Aaanyway, preparing for this little trip got me thinking about the last time I journeyed down South. Along the way we stopped at St Louis for the night. The next morning we dined at a fantastic creperie called "Rooster", and I munched on some fab spinach, mushroom and goat cheese crepes. They were so good, I wanted to recreate my own version when I returned home.
Last week I feel like I perfected the recipe. Again I borrowed 100 Days of Real Food's wholewheat crepe recipe, but I omitted the honey and vanilla for a more savory taste. The version I had in St Louis came with a spiced tomato jam, but I opted for a balsamic tomato jam instead. I find the balsamic tomato jam adds the perfect sweetness and tang to cut through the rich creamy goat cheese- YUM so delicious! Sometimes, if I'm feeling ambitious,  I will make extra crepes and extra tomato jam for the week ahead. I stuff the crepes with berries and yoghurt, or bananas and nutella, and I use the tomato jam for a cheese toastie (transatlantic translation: toastie is English for grilled cheese… now you know!).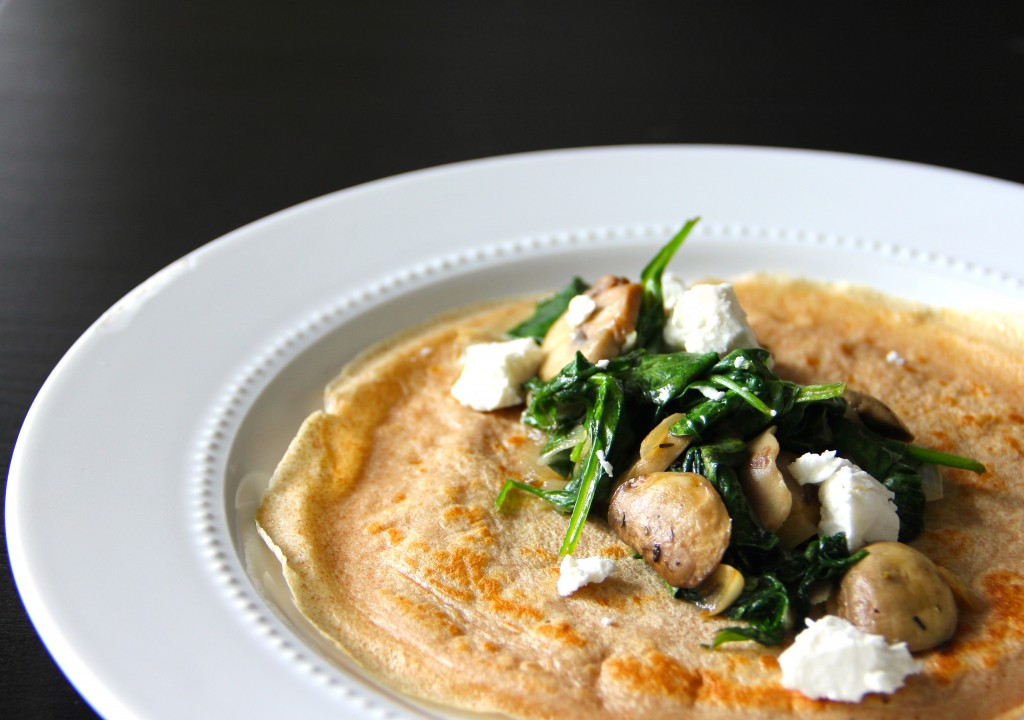 If you have never made crepes before, sometimes they can be tricky to perfect. Expect a few blips as you are getting the hang of it. Just keep them very thin, use a good pan, and resist the urge to flip until they are nicely cooked on one side. You will LOVE these, promise!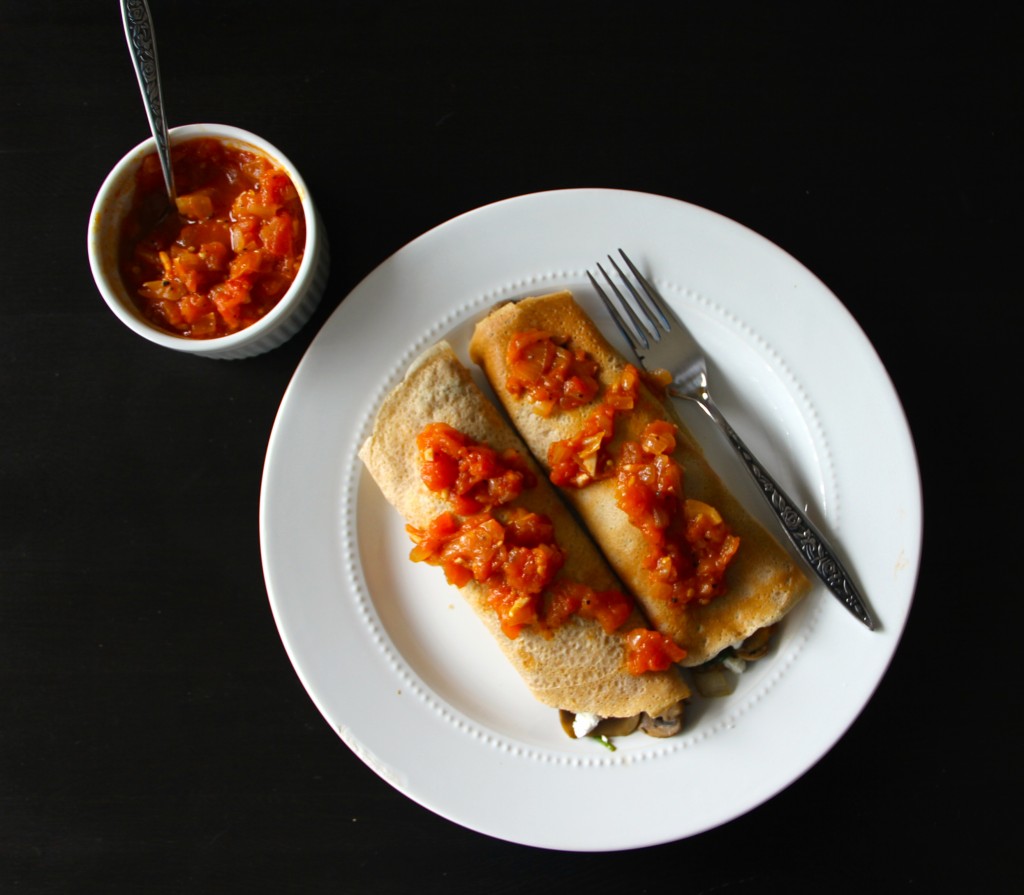 Spinach & Mushroom Crepes with Balsamic Tomato Jam
Beautiful savory wholewheat crepes stuffed with spinach, mushroom and goat cheese, then topped with a sweet balsamic tomato jam.
Recipe type:
Breakfast/Dinner
Ingredients
For the Crepes:
3 Eggs
1 cup wholewheat flour
1 cup milk
¾ cup water
1 tbsp melted butter, plus more for cooking
¼ tsp salt
For the Filling:
3 cloves garlic
1 small onion
2 cups mushrooms, sliced
4 cups baby spinach
½ tsp dried thyme
Salt and pepper to season
½ cup soft goat cheese, crumbled
For the Balsamic Jam:
6 medium-large tomatoes
2 tbsp olive oil
1 onion (preferably red), finely chopped
2 garlic cloves, minced
2 tbsp balsamic vinegar
2 tsp brown sugar
Method
Start by making the jam: place the tomatoes in a large bowl, pour boiling water over the top of the tomatoes, making sure they are fully immersed, and let them sit for 30 seconds to a minute. Carefully drain the tomatoes, and slip the skins off. Dice the flesh, and set aside.
Heat olive oil in a small saucepan over medium heat, add the onion and garlic, and cook gently for about 5 minutes until softened.
Add the remaining tomato jam ingredients to the saucepan, stir, and simmer uncovered gently for about 40 minutes while you prepare the crepes and the filling. At the end all the liquid should have evaporated, and you will be left with a sticky jam
Next prepare the Crepes: Put all the crepe ingredients in the blender, blend to mix, and let the batter stand for about 15 minutes to thicken
Melt a small pat of butter in an 8 inch frying pan over medium heat, swirl around so that the pan is evenly greased
Pour a little batter into the pan and swirl around so the batter covers the bottom of the pan in a thin layer, cook for roughly a minute until the batter is set and golden brown on one side, flip and cook the second site until golden brown
Repeat until all of the batter is used, you should be left with about 12 crepes. Keep crepes warm in a warm oven (or pop them in the microwave to reheat when all of your crepes are ready)
Meanwhile, make the spinach and mushroom filling: Heat olive oil in a large sauté pan over medium heat, add the onion and fry for a few minutes until softened, add the garlic and cook for a minute more.
Add the sliced mushrooms to the pan and sauté for about 3 minutes, you want them to be cooked but retain a little bite and texture
Add thyme and spinach, and allow the spinach to wilt in the pan while gently stirring
If the filling is ready long before the crepes and jam, set aside and reheat in the microwave or pan if needed
Finally, assemble the crepes: Take a crepe and stuff it with a few spoons of spinach and mushroom mixture, top with a little goat cheese, and roll up. Drizzle with the tomato jam and EAT!
Notes:
Crepe Recipe adapted from 100 Days of Real Food Wholewheat Crepes.
Balsamic Tomato Jam adapted from Delia Smith.