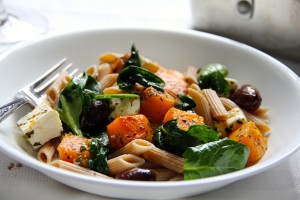 Every Christmas Kirk and I give Nigella Lawson's Marinated Christmas Feta to our closest friends (original recipe in this book). This year, I was a little over enthusiastic with the feta purchasing, and after we had made all of our gifts, we were still left with a staggering quantity of feta to consume ourselves.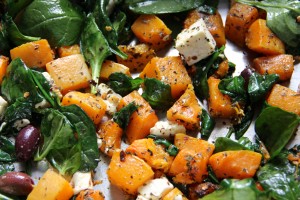 I set about experimenting with a few different recipes, and I came up with this gem. If you didn't know before, butternut squash and feta combine beautifully, and  when tossed with spinach, olives and nutty wholewheat pasta you get something truly magical that is at once sweet, salty, earthy and fresh.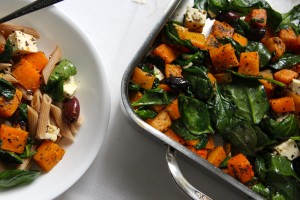 Penne with Butternut Squash and Feta
Simple pasta dish with butternut squash, spinach, feta and olives.
Ingredients
2 tbsp olive oil
1 small butternut squash (2lbs-ish),
1.5 tsp dried mint
1.5 tsp chili flakes
1 tbsp dried oregano
2 cups baby spinach
1 cup feta, cubed
½ cup kalamata olives
½ lb wholegrain penne pasta (or another pasta of your choosing)
Salt and Pepper to taste
Method
Preheat oven to 200C/400F
Peel and deseed the squash, cut into 1 inch bite size chunks
Toss squash chunks with olive oil, mint, chili flakes and oregano in a baking dish
Roast squash until tender, about 25 minutes, then remove from oven
While the squash is roasting, cook pasta according to package instructions, drain and set aside.
Add the spinach to the baking dish immediately, and with a wooden spoon toss (with gusto!) until the spinach starts to wilt
Add olives and feta, and toss for another minute
Add the pasta to the dish and mix until everything is evenly combined, if the mixture looks a little dry add another glug of olive oil
Add salt and pepper to taste (although, I think the feta and olives give enough salty flavour), and serve into warmed bowls