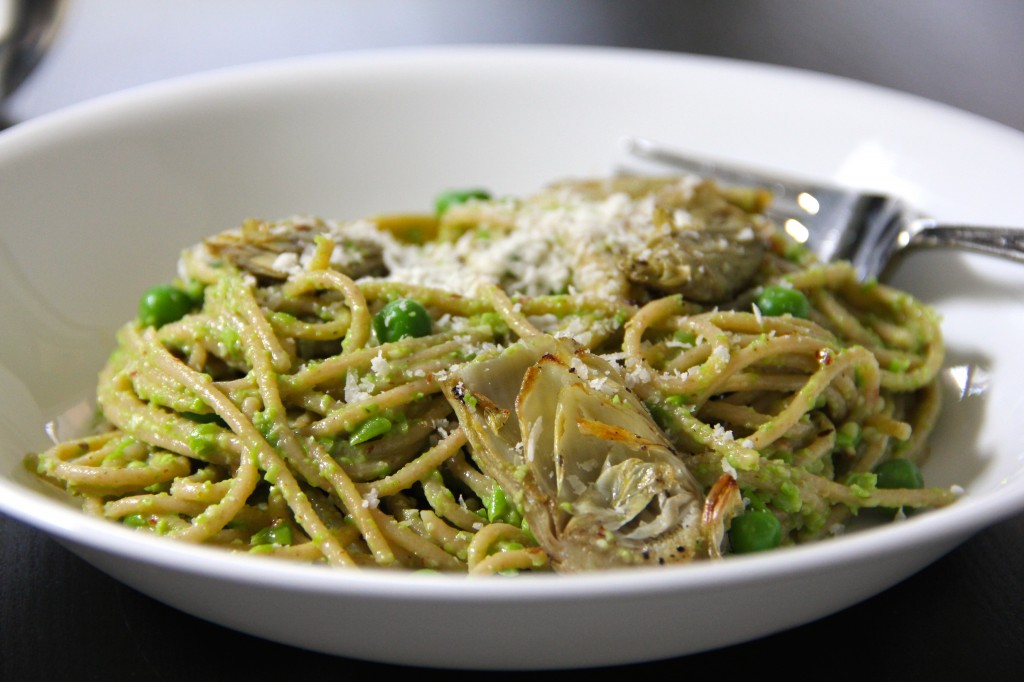 I am a total pasta-phile, so I am surprised that in 6 months of blogging I have only shared one pasta dish with you! Time to rectify this dire situation, and this Pea-Almond Pesto with Artichokes and Spaghetti is just the place to start. This is a great spring  dish, lovely vibrant green peas wooshed into a pesto with almonds, and tossed with roast artichokes.
Happily, it can be enjoyed year round as peas and artichokes are readily available in frozen form. However, definitely try it with fresh ingredients if they are available and you have the time for a little extra prep! Artichokes look intimidating, but they are actually quite simple to prepare.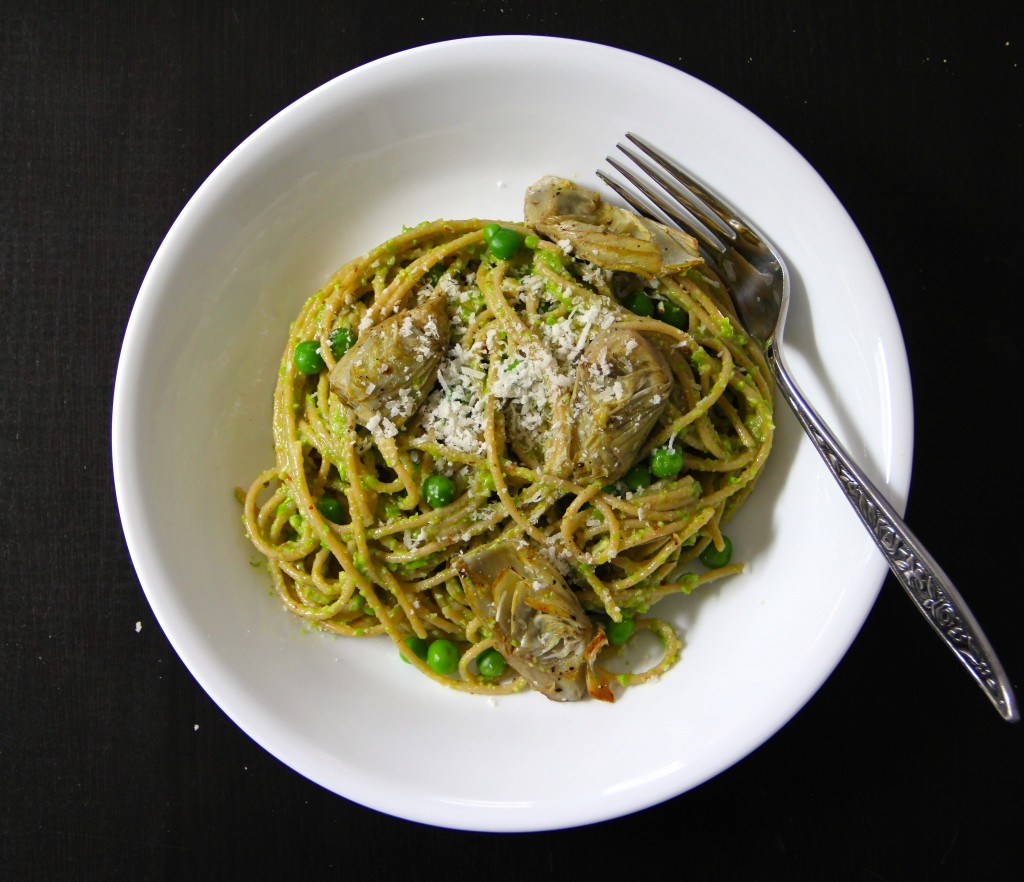 What food do you enjoy most this time of year?

Pea-Almond Pesto with Artichokes & Spaghetti
A spring inspired pasta dish with pea-almond pesto, and roast artichokes
Ingredients
For the Artichokes:
about 225g/8oz artichoke hearts (defrosted and patted dry)
2 tbsp olive oil
For the Pesto:
1½ cups/240g peas (either fresh or frozen and defrosted)
1 small garlic clove, minced
3 tbsp almonds, toasted and cooled
⅓ cup (35g) finely grated parmesan cheese (plus more to sprinkle on top)
pinch of sea salt
⅓ cup olive oil
about 200g/7oz wholewheat pasta (depends on how hungry you are!)
Method
Preheat the oven to 400F/200c
Toss the artichoke hearts with olive oil, and season with salt and pepper
Roast for 25-30 minutes until golden and beginning to crisp at the edges
Bring a large pot of water to the boil, add the peas and cook for barely a minute
Remove from heat and scoop out the peas with a slotted spoon, set aside in the colander to drain
Return the pan to the heat, and bring the water back to a boil
Add spaghetti, and cook until al dente (about 8 minutes)
Take 1 cup of peas and throw in the food processor with the garlic, almonds, cheese and salt
Process for two to three minutes and then drizzle in the olive oil with the processor running,
When the pasta is cooked, drain it reserving 1 cup of cooking water
Return pasta to the large pan and toss with pesto and remaining peas, using the reserved pasta water to achieve your desired consistency of sauce
Add the roasted artichokes to the pan, and toss for a few seconds more
Dish onto plates, and sprinkle with a little extra parmesan
Notes:
Pea Pesto recipe adapted from According to Elle and Smitten Kitchen.
The fully prepared dish doesn't keep very well, but the pesto can be made a few days in advance and kept in the fridge until needed.