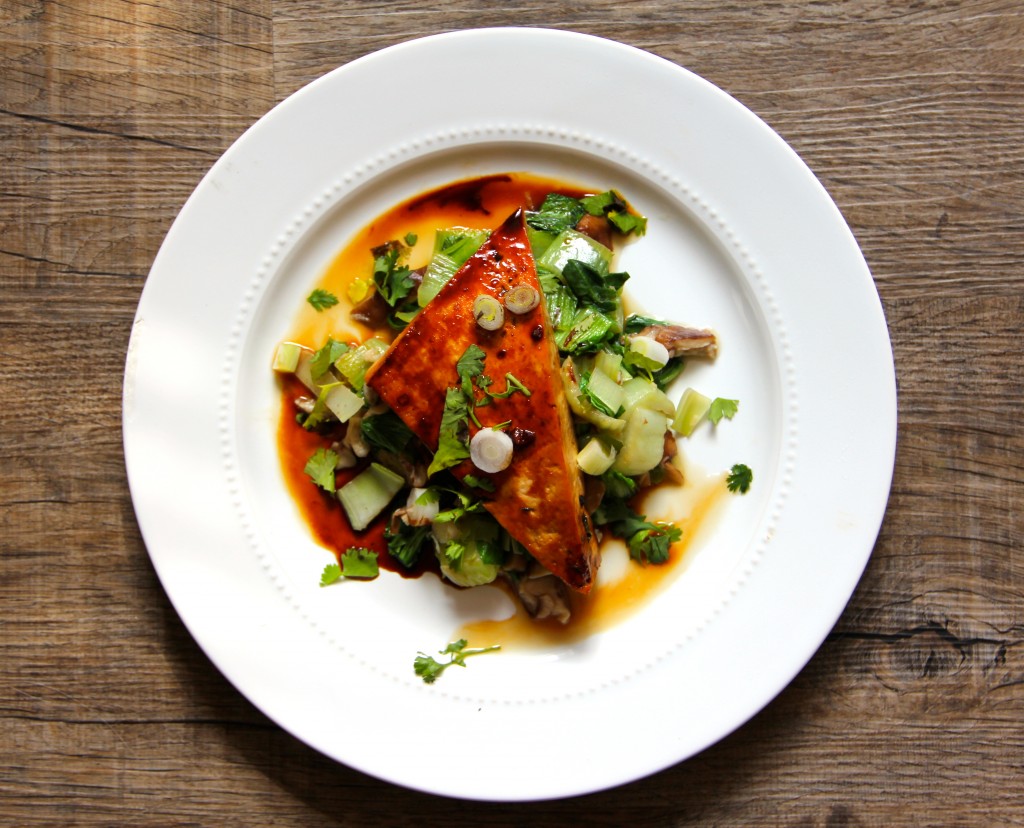 I have spoken before about my lifelong quest to make tofu taste really good, and today I want to tell you about another one of my tricks! One of my favourite ways to come up with delicious tofu recipes, is to take inspiration from seafood. Although I do not eat fish myself, I find that many seafood recipes are complimentary to tofu. This Mirin Glazed Tofu is actually adapted from a Mirin Glazed Salmon recipe from one of my faves, Nigella Lawson. Back when I was at university, I cooked all of my meals with my two besties Harriet and Harriet. They would prepare this recipe using salmon, I would have tofu!
I like to serve mine up on a bed of stir fried bok choy and shitake mushrooms to make a light, elegant dinner, however rice works wonderfully too as it soaks up some if the tasty juices from the sauce. In her book, Nigella describes this as "the fastest possible way to create a culinary sensation", and I completely agree. The rich combination of sweet, salty, tender and crisp is so delicious and more importantly, will make you appear very accomplished to dinner guests (with minimum effort!).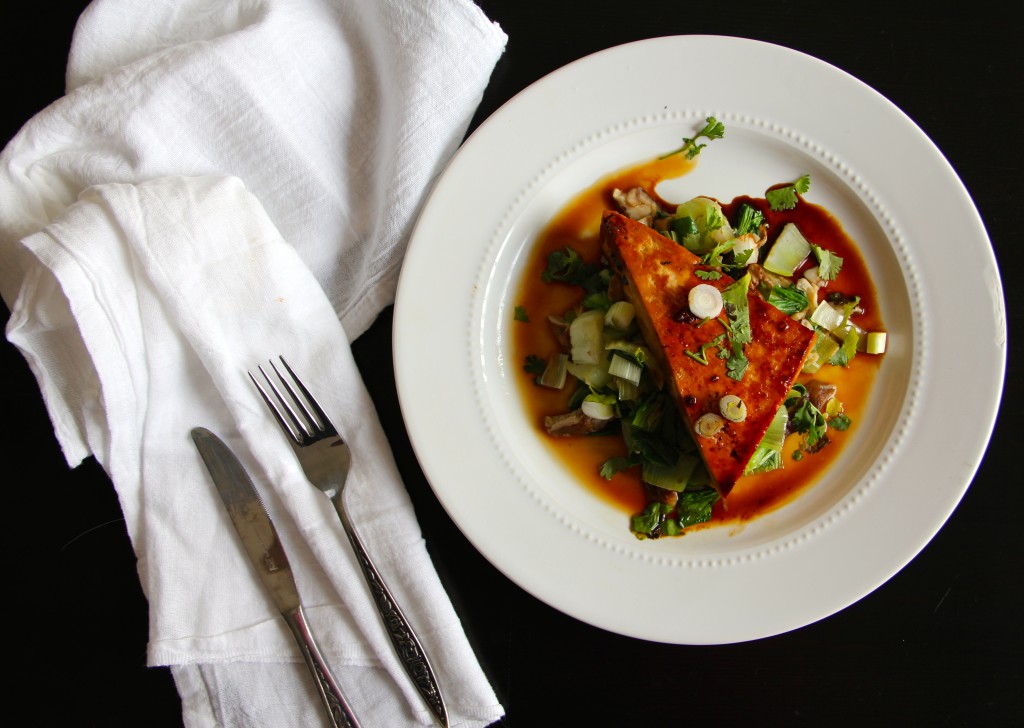 Mirin Glazed Tofu with Bok Choy & Shitake
Ingredients
For the Tofu:
4 tbsp mirin
4 tbsp honey or agave if vegan
4 2tbp low sodium soy sauce
1 tbsp coconut oil (or other flavourless oil)
1 16oz package of extra firm tofu, drained and down the middle and then into four wedge shapes (see picture above)
2 tbsp rice vinegar
For the Vegetables:
1 tbsp toasted sesame oil
2 garlic cloves, minced
1 head of boy choy (or 3 baby bok choy) sliced into 1 inch strips, the tender greens separated from the firmer white part
230g/8oz shitake mushrooms, sliced
To Garnish (optional):
4-5 spring onions
fresh coriander
Method
Cook the tofu:
Mix the mirin, honey and soy sauce in a shallow dish
Place the tofu in the dish, and marinate for a 3-5 minutes on each side
Heat coconut oil in a large pan, when the oil is hot add the tofu and turn the pan down to medium, cook for five minutes and flip over
Add the marinade and continue to cook for 5-6 minutes
Cook the vegetables:
After the tofu has been flipped, and the marinade has been added to the pan, prepare a second frying pan by heating the sesame oil over medium-high heat
Add the garlic and cook for just 30 seconds being careful not to burn it
Add the white parts of the bok choy, and stir fry for about 2 minutes
Add the green parts of the boy choy and the sliced shitake, and cook for another 3 minutes
Remove vegetables and divide between 4 plates, place a tofu wedge on top of each
Quickly, add the rice vinegar to the marinade, and stir a few times to form a sweet, salty glaze
Pour the salty glaze over each tofu wedge
Garnish each plate with coriander and spring onions if desired
Notes:
Adapted from Nigella Lawson.