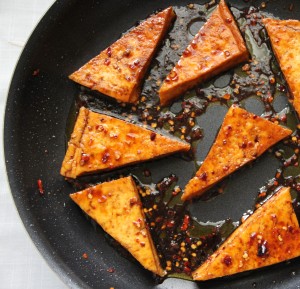 I feel like I have been on a mission to make tofu taste good for almost as long as I have been a vegetarian. Why does tofu have such a bad reputation? I think like many other vegetarian or vegan menu items, it is thrown together as an afterthought (see also: vegetable lasagne and mushroom risotto). If I eat at non-vegetarian establishments, tofu usually arrives at my table either a raw, wobbly bland brick, or greasy, deep-fried and tough. Not good!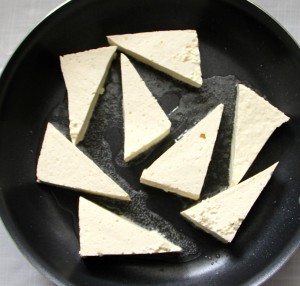 Through extensive trial and error, I have discovered that pressing and marinating usual yields the tastiest results, however, I lack the time management skills for this to be feasible option most of the time.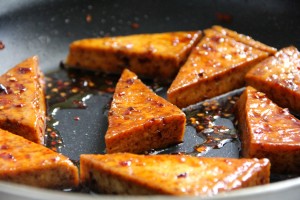 This recipe is my little trick. It does take a little time to cook, but I can potter about the kitchen preparing the rest of my meal as it hangs out in the pan getting tasty. Kirk has also given it the carnivore stamp of approval, so everybody wins!

Honey Glazed Tofu
Sweet and spicy honey glazed tofu, serve with rice or noodles and some vegetable stir fry.
Ingredients
1 package of extra firm tofu (14oz/397g)
1 tbsp coconut oil or other flavourless oil
3 tbsp honey
3 tbsp soy sauce or tamari
2 tbsp rice vinegar
1 tbsp crushed red pepper flakes
Method
Mix honey, soy sauce, vinegar and red pepper flakes in a bowl, set aside
Cut tofu- for this recipe I cut it town the middle to make 2 1 inch thick rectangles, then I cut each rectangle in half, and then cut those 4 halves on the diagonal as shown in the pictures
Warm oil in a large frying pan
Add cut tofu and fry for about 5 minutes on medium heat until golden
Flip over and fry the second side until golden
Add the honey and soy mix to the pan, and turn the heat down to low
Cook for another 15 minutes and then flip back to the first side
Cook for about 15 minutes more until most of the liquid had evaporated and the tofu is coated in a golden glaze