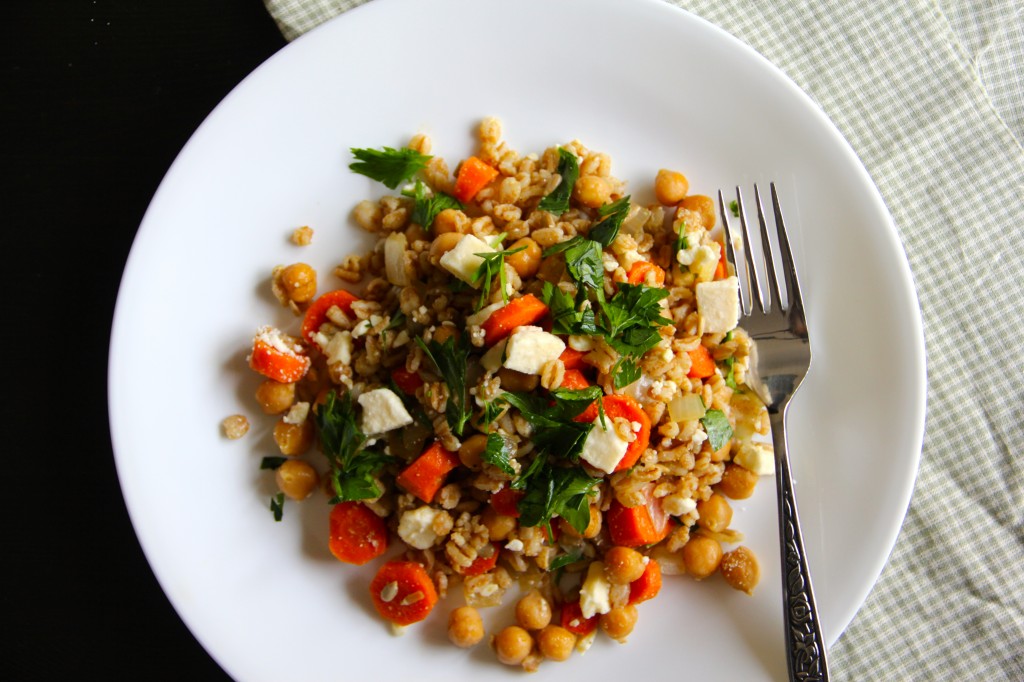 What an exciting midweek treat I have for you today- Cumin-Roasted Carrots with Farro, Chickpeas and Feta, yum! Not only is this an easy and delicious dinner option, I am seriously digging the autumnal colours, aren't you?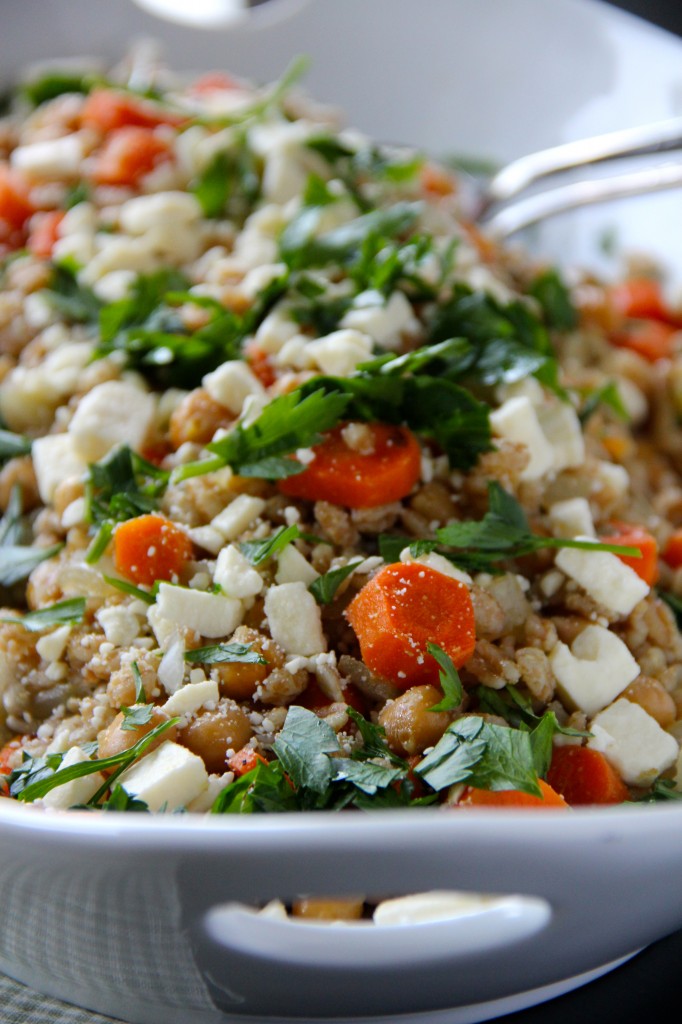 We have been blessed with a spell of seriously gorgeous weather in West Michigan this week, it has been very warm, summery warm, but the sun is hanging lower in the sky, and the trees are beginning to shed their leaves. Dexter and I have tried to make the most of it with several long walks through the woods. Aside from the long walks I have mainly been hanging out in my kitchen trying to perfect some more autumnal recipes for you!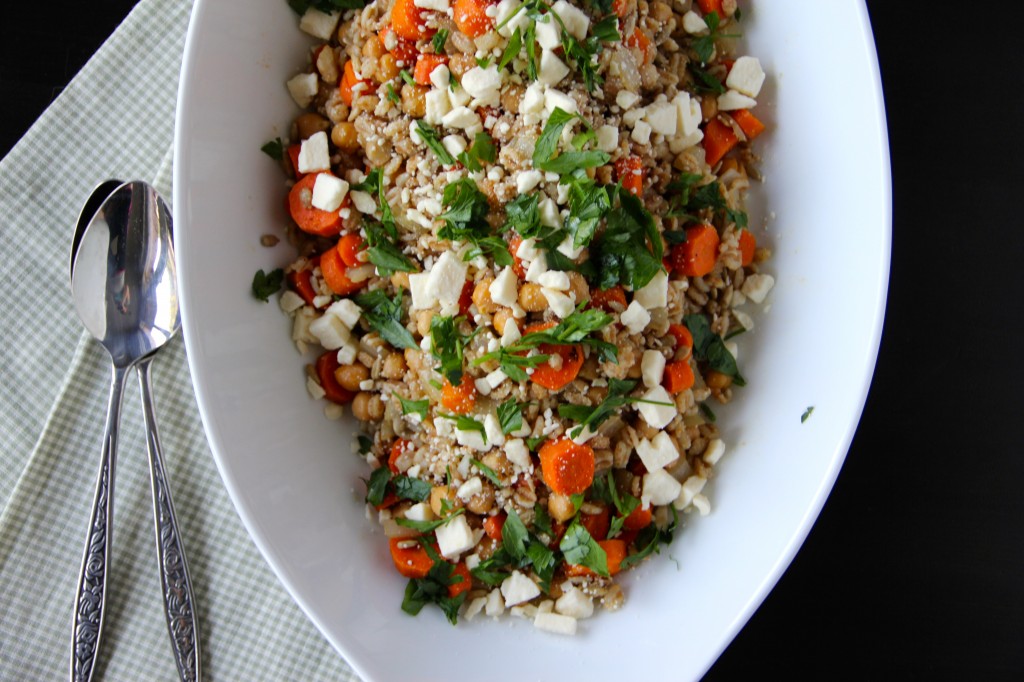 This creation is actually a blend of two recipes, the first created by food blogger royalty Deb Perelmen, who blogs over at the Smitten Kitchen, and the second is a recipe that caught my eye on The Kitchn. The result is a seasonal, simple yet flavorful dish that can be enjoyed as a main, or as part of a side. The sweet, aromatic roast carrots are the perfect compliment to the nutty farro, earthy chickpeas and salty feta. Are you sold yet? Dig in!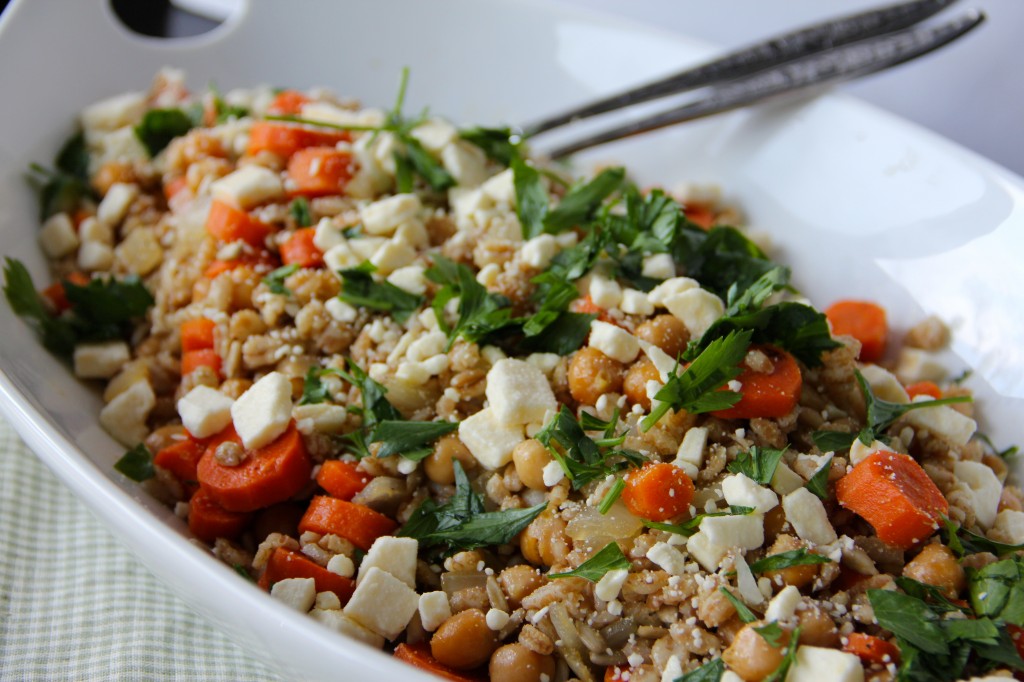 Cumin-Roasted Carrots with Farro, Chickpeas & Feta
Ingredients
1 cup farro
2 cups carrots (about 6 medium carrots) peeled and cut into rounds
1 medium sized onion, diced
2 cups cooked chickpeas
2 tbsp olive oil
1 tbsp cumin
½ cup low sodium vegetable stock
⅓ cup pumpkin seeds, or sunflower seeds
1 tbsp red wine vinegar
½ cup feta, crumbled
¼ cup parsley, chopped
Method
Preheat oven to 375F/190C
Cook farro according package instructions, once done, set aside to wait other ingredients to be ready
In a large roasting pan, combine carrots, onion, chickpeas, olive oil and cumin. Season with a little salt and pepper. Pour the vegetable stock over the top, cover with foil and cook covered for 30 minutes
After 30 minutes, stir the ingredients in the pan, and cook for a further 10 minutes uncovered, until the carrots are tender
Remove the carrot mixture from the oven, and toss together with the cooked farro, seeds, vinegar, feta, and parsley
Eat immediately!
Notes
I found that the leftovers did not reheat too well for this one, definitely best to enjoy fresh!
Again this recipe is adapted from here and here. Roast butternut squash would work really well in place of the carrots, if thats what you have to hand.