This delicately spiced carrot and parsnip soup is topped with crispy curried chickpeas, and makes for a light, healthy and satisfying soup for autumn and winter.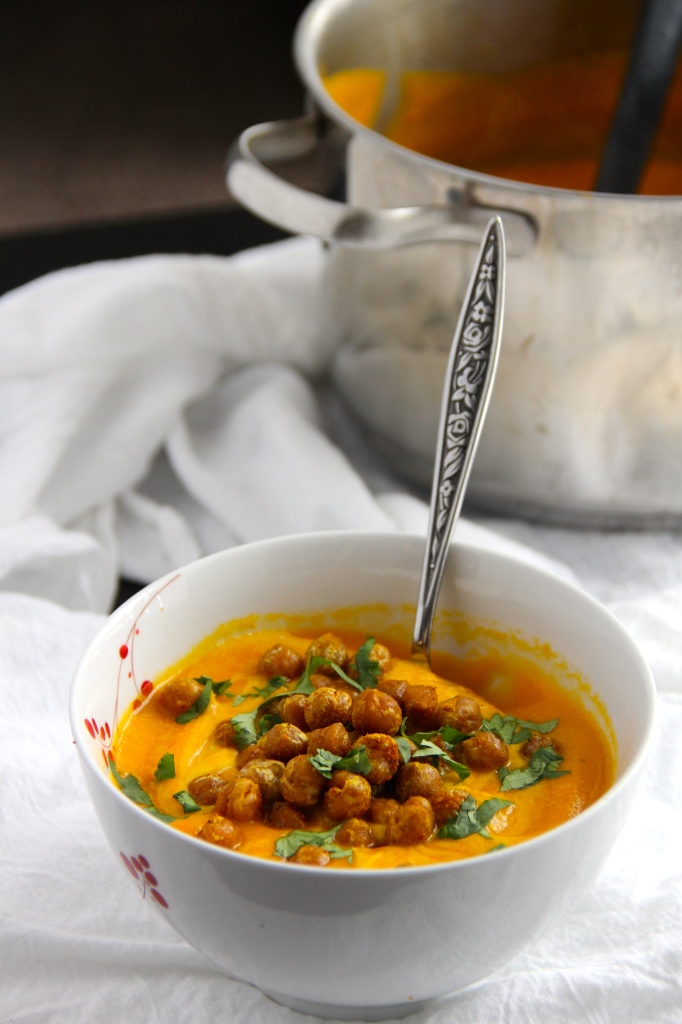 I would like to claim this latest creation the PERFECT late November Soup. For my American readers: a light but filling option to negate the Thanksgiving madness. For my Brits, Canadians and everyone else living in the Northern Hemisphere: it is warm, comforting, delicately spiced, and will brighten your spirits on those short, dark days of early winter. To those in the Southern Hemisphere: I would wait until you have finished celebrating Christmas on the beach… pin for later perhaps?
The soup itself is good as a solid stand alone, but it is so, SO much better with these lovely crispy curried chickpeas on top, and perhaps  sprinkle of fresh coriander if you have it to hand. I also like this with a swirl of plain yoghurt if you are not after a vegan option. Similarly, there is no reason why these crispy chickpeas couldn't be enjoyed on their own as a nutritious snack. Careful though, they are oddly addictive.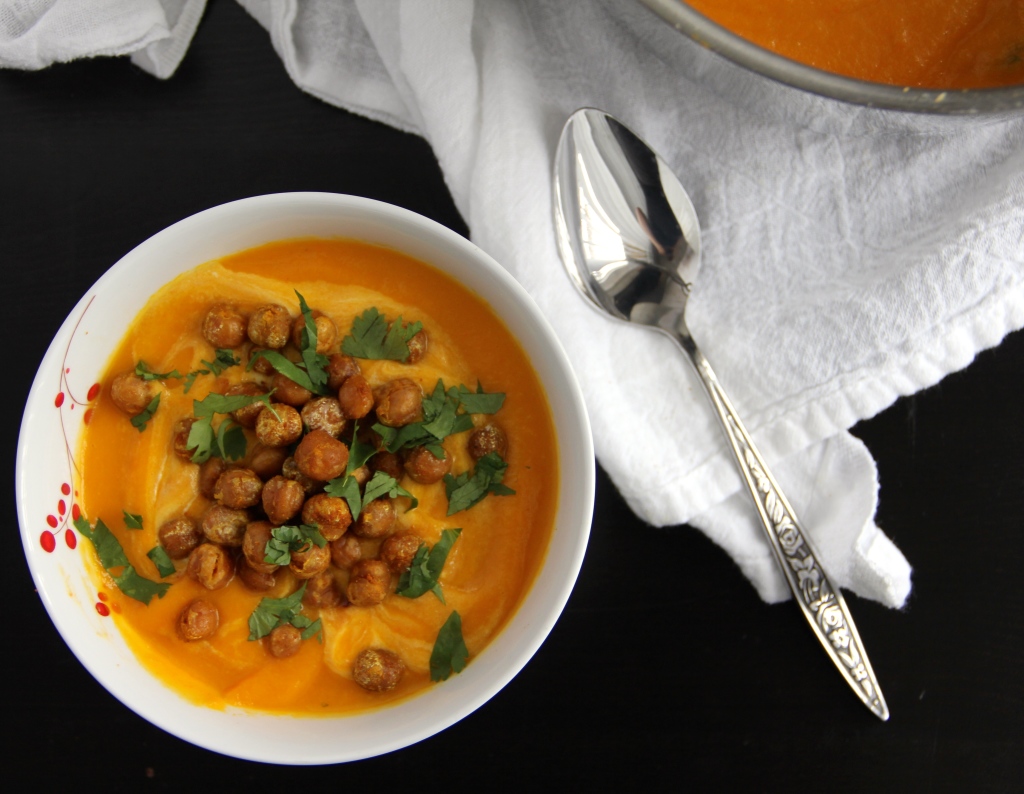 Enjoy!

Carrot & Parsnip Soup with Crispy Curried Chickpeas
Ingredients
For the soup:
1 tbsp olive oil
1 medium onion (peeled and diced)
1 celery stalk (diced)
3 large garlic cloves (minced or finely chopped)
2 large parsnips (peeled and chopped into small chunks)
3 medium carrots (peeled and chopped into small chunks)
¼ tsp ginger
¼ tsp ground coriander
½ tsp cumin
pinch cayenne pepper
For the chickpeas:
1 tin or 2 cups of cooked chickpeas
2 tsp olive oil
1 tsp curry powder
¼ tsp sea salt
4 cups low sodium vegetable stock
Method
Preheat oven to 400F/200C
Heat olive oil over medium heat in a large pot
Add the onion, and cook gently with the lid on for about 5 minutes, stirring occasionally
Add the garlic and celery and cook for 5 minutes more, again with the lid on and stirring occasionally.
Add the parsnips, carrots and spices, and give everything a good stir together
Add the stock and bring everything the pot to the boil, reduce to simmer and cook for about 30 minutes
While the soup is simmering away, make the chickpeas: simply pat chickpeas dry with a clean cloth or paper towel. Toss together with oil, curry powder and sea salt, and lay onto a foil lined baking sheet. Cook in the oven for 20-25 minutes, give the tray a shake every 5-10 minutes to ensure even cooking
When the vegetables are softened in the soup, transfer everything to a blender and blend until smooth (be careful blending hot liquids!!), alternatively, use a hand blender directly in the pan, adjust seasonings and add a splash more stock if needed
Split the soup between 4 bowls, top with crisped chickpeas, and garnish with a tbsp or so of yoghurt and fresh coriander
Notes
Soup freezes very well, however I have found that the chickpeas only stay nice and crisp for about a day, and they are best fresh.