Kick the Summer off early with these Mediterranean inspired Chickpea Gyro Bowls!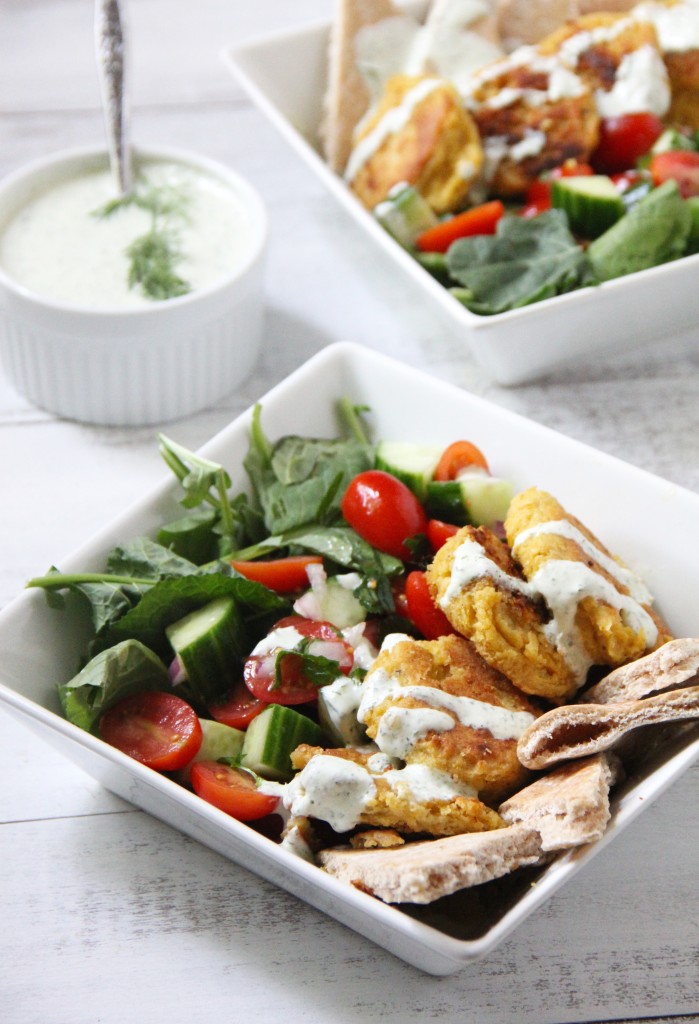 Last week we were back in Michigan for a blink-and-you-miss-us visit, and my Sis and Bro in law kindly put us up (or rather, kindly put up with us…). When we arrived, my sweet Sis Kayla said she had been shopping specifically for me, and opened the pantry door to reveal a shelf adorned with numerous tins of chickpeas.
Pretty funny, right? I mean, its absolutely true! I love a good chickpea. I eat them in one pot meals, I put them on soup, I smash them into sandwiches, I chuck them into salads, I curry them, I even bake them into cakes. I'm the chickpea lady!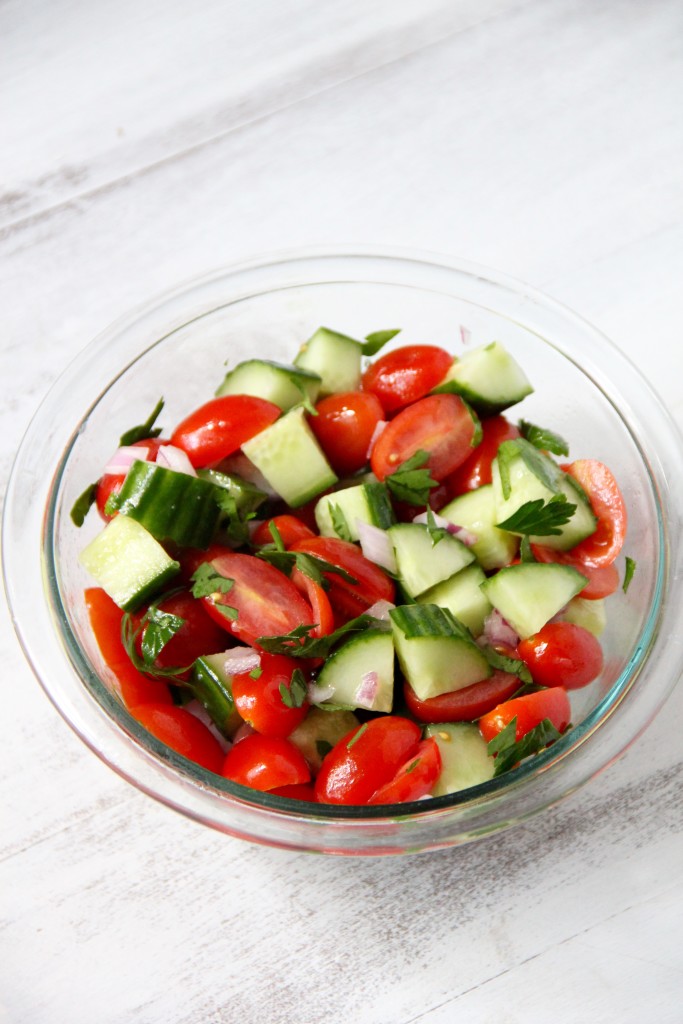 Its been roughly 6 or 7 weeks since I featured a recipe containing chickpeas (shocker!), so I think its high time we dive head first into these beautiful chickpea gyro bowls, don't you?! First up, chickpea fritters, lightly spiced and made with chickpeas and chickpea flour to make them creamy on the inside, and crispy on the outside. A fresh, simple salad of sweet cherry toms, crunchy cucumber and greens provide the base. Lovely toasted whole wheat pita for dipping. And a herby greek yogurt sauce ties everything together. It's only April but with with temperatures starting to creep slowly upwards, my mind is turning quickly to summer food like this.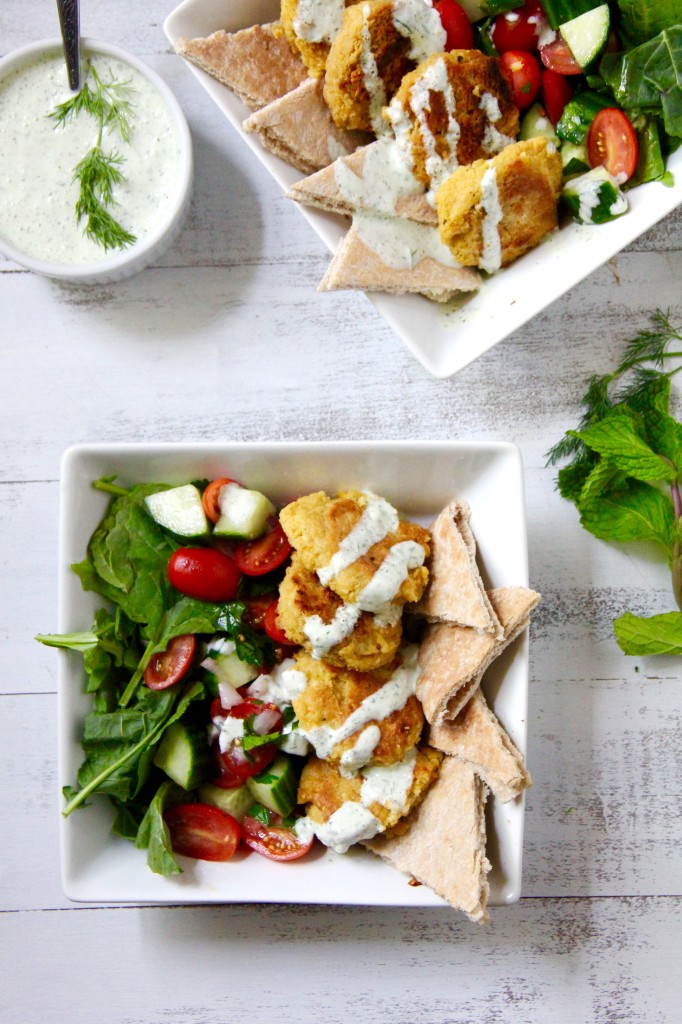 Enjoy!

Chickpea Gyro Bowl
Ingredients
Chickpea Fritters:
3 cups cooked chickpeas (or 2 tins)
⅔ cup chickpea flour
2 eggs
juice of 1 lemon
2 tsp cumin
2 tsp salt
2 garlic cloves
a little olive oil for frying
Salad:
Large handful of mixed baby greens
1 small cucumber, cut into chunks (peel if the skin is bitter)
1 pint (about 300g) cherry tomatoes, halved
2 tbsp red onion, finely chopped (optional)
2 tbsp parsley, finely chopped
juice of ½ lemon
2 tbsp olive olive
Yogurt Sauce:
1 cup greek yogurt
1 garlic clove, minced
2 tbsp mint, finely chopped
2 tbsp dill, finely chopped
1 tbsp olive oil
pinch of salt and pepper
To serve:
2-4 pita breads (depending on how hungry you are!)
Method
Start by making the fritters- pile all of the ingredients into a food processor, and pulse to combine. The process on low until the mixture is well combined but still retains a little texture from the chickpeas. Heat olive oil over medium heat in a large pan. Scoop out golf ball sized handfuls of the mixture, and flatten a little. Place into the warm pan in batches, and fry for about 4 minutes on each side until golden and crispy. Remove to a paper towel. You should get roughly 20 fritters.
Make the salad: Pop all of the ingredients into a salad bowl and toss to combine. Set aside.
Make the yogurt sauce: put all of the ingredients into a blender and blend until smooth
Assemble bowls: Toast the pita breads and divide them equally between the four bowls. Divide the salad, and put a quarter in each bowl. Top with fritters, and drizzle with the yogurt sauce.
Notes
This post is sponsored by The Greek Gods®. Opinions are my own, always.  Thanks for continuing to support ELK and the brands that help make this site possible!