This Bulgar, Lentil and Cucumber Salad is hearty and filling, with a fresh light summer flavour.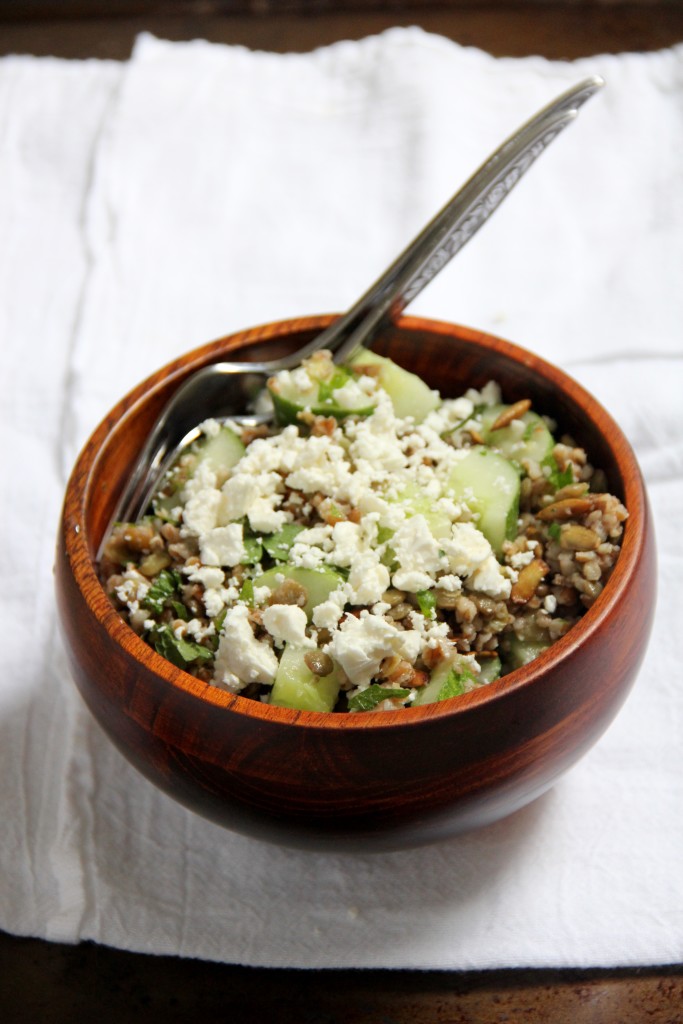 I love the challenge of creating a meal from an understocked kitchen, don't you?! This salad was the result of some cupboard staples, a handful of herbs languishing in the back of my fridge and a scrap of leftover feta. The shining star was a beautiful crisp cucumber, lovingly grown and bestowed on me by my friend Stephanie. All tossed together, these otherwise unpromising ingredients became a beautiful, hearty summer salad.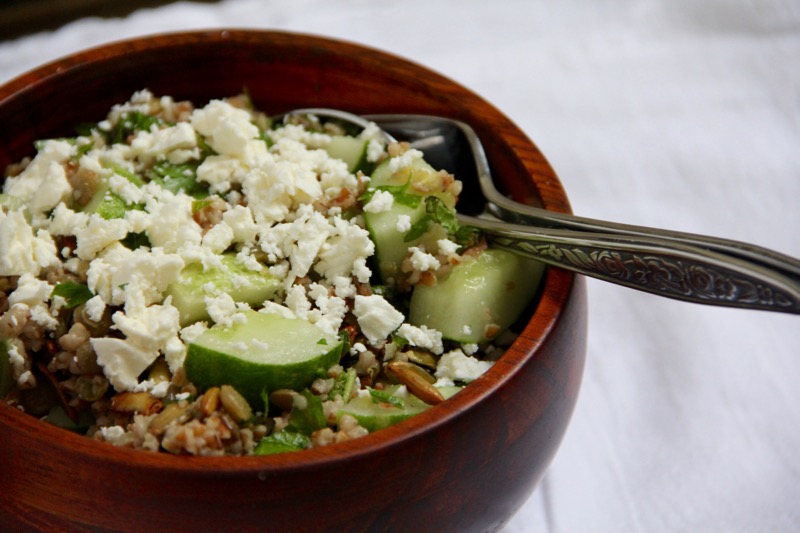 I was going for a tabbouleh vibe here, and the final result is a satisfying contrast of nutty bulgar and lentils with the crisp, fresh cucumber, herbs and lemons. I probably overuse feta in my cooking, but it really is the perfect finishing touch for this salad, so I highly recommend not skipping it!
Enjoy!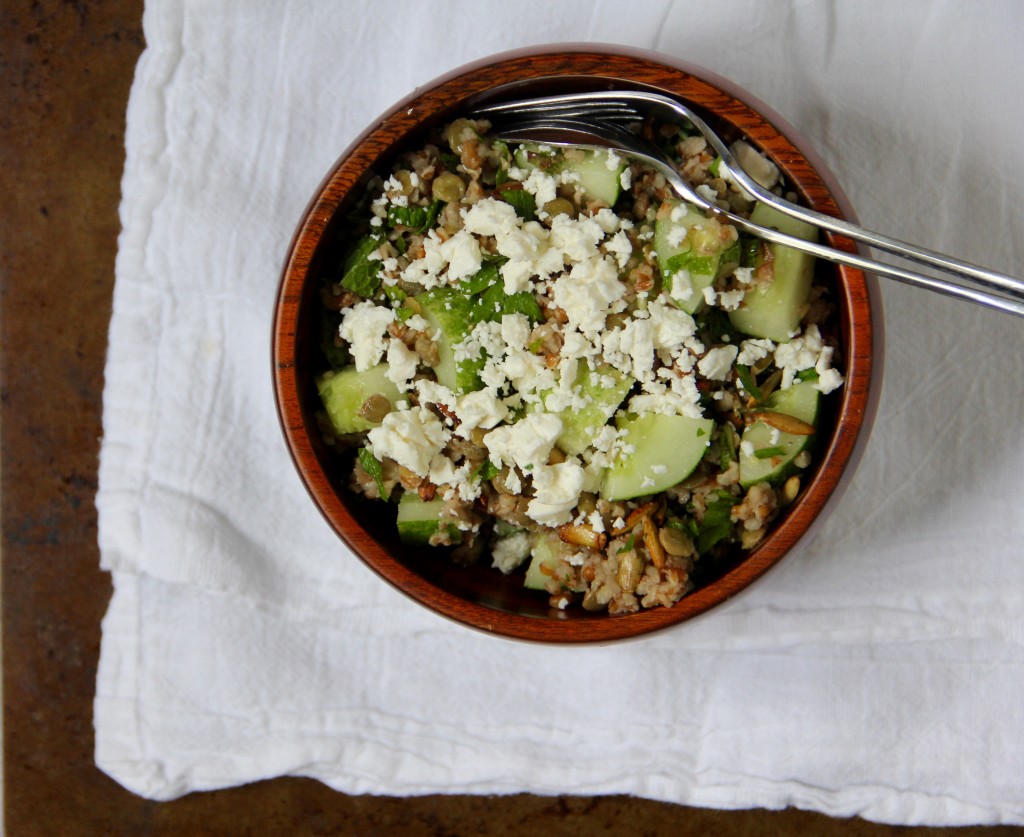 Bulgar, Lentil and Cucumber Salad
This Bulgar, Lentil and Cucumber Salad is hearty and filling, with a fresh light summer flavour.
Ingredients
Salad:
½ cup bulgar wheat*
½ cup dried green lentils
3 tbsp finely chopped parsley
2 tbsp finely chopped mint
1 large cucumber, cut into bite sized chunks**
¼ cup pumpkin seeds
¼ cup very finely chopped red onion
⅓ cup feta, crumbled
Dressing:
2 tbsp olive oil
juice of 1 lemon
pinch of chili flakes
Method
Put the bulgar wheat and lentils in a medium saucepan, cover with about 2 cups of water and bring to the boil, reduce to simmer for about 12-15 minutes until bulgar and lentils are tender. Transfer to a colander or sieve to drain off any excess liquid and cool down while you prepare the rest of the salad. I usually chop my vegetables while the lentil-bulgar mix is drying and cooling
Toast pumpkin seeds in a hot dry pan until nutty and fragrant (barely 2 minutes), set aside.
Whisk together dressing ingredients and set aside.
Assemble the salad: In a large bowl, mix together the bulgar, lentils, herbs, cucumber, pumpkin seeds and onion. Pour the dressing ingredients over the top and give everything another quick mix. Sprinkle the feta over the top and serve!
Notes:
This salad tastes amazing if you are able to let it sit for a while because the flavours really develop. If you have the time, I recommend making it a day ahead or at least make a double batch so you can enjoy the next day too!
*If you can't have/can't find/don't have bulgar, replace with quinoa or another grain.
**I usually keep the skins on my cucumber, but if you have a very bitter-skinned cucumber, then I would peel it