This vegan kale ceasar wrap with tempeh bacon makes a quick and satisfying meal!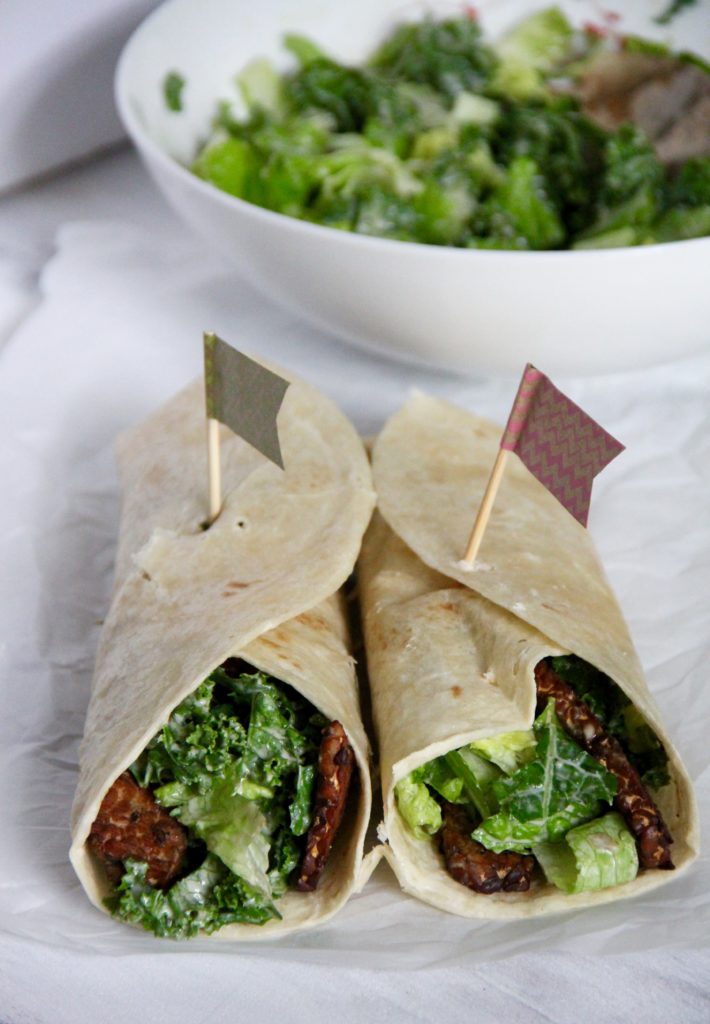 Well, HI! Apologies, I didn't intend to go off the radar for the past couple of weeks, it just kinda happened. I found myself with a major case of the burn-outs and thought it best for myself, and the blog, if I took a week or two to refocus.
SO, here I am refocused, and ready to share a recent triumph, a mega-tasty, super-satisfying, vegan kale ceasar wrap, with tempeh bacon… oh yes!!
Here's the skinny: kale and romaine tossed with a tahini-based creamy caesar dressing, thin slices of tempeh, marinated and cooked to salty-sweet-smoky perfection. The contrast between flavours and textures in this wrap is what really gets me. There's so much going on, but it just works!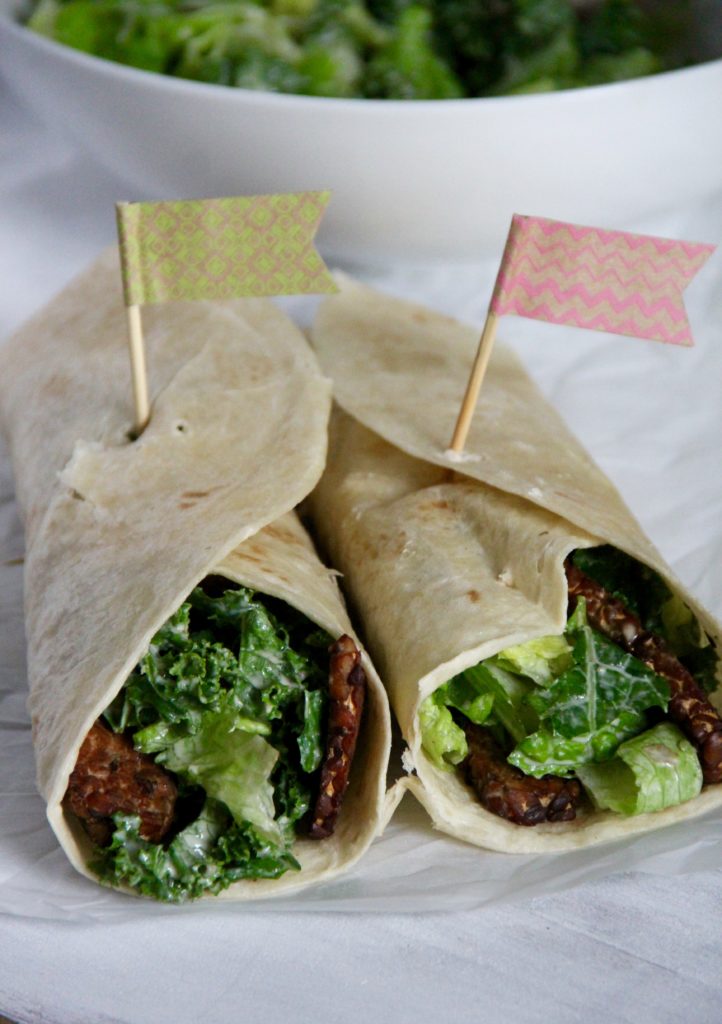 Enjoy!

Vegan Kale Ceasar Wrap with Tempeh Bacon
Ingredients
For the Tempeh Bacon:
¼ cup low sodium tamari or soy sauce
2 tbsp apple cider vinegar
1 tsp maple syrup
½ tsp cumin
½ tsp smoked paprika
1 tsp liquid smoke (optional)
1 tbsp olive oil
pinch cayenne pepper
18oz/500g package tempeh, thinly sliced into about 20 slices
For the caesar dressing:
¼ cup tahini
4 tbsp water
juice of half a lemon
1 tsp dijon
1 tsp vegan worcester sauce
½ tsp honey
2 tsp capers
½ tsp sea salt
For the wraps:
large handful kale leaves, destemmed and cut into small pieces
large handful of chopped romaine lettuce
4 large whole grain wraps or flatbreads
Method
Make Tempeh Bacon: Whisk together tamari, vinegar, syrup, cumin, paprika, liquid smoke, olive oil, and cayenne pepper in a measuring jug. Place the tempeh slices in a shallow dish, and pour the marinade over the top. Cover, and pop in the fridge for anywhere between 30 minutes to overnight. When you are ready to cook the tempeh, preheat oven to 300F/150C, and place the tempeh on a baking sheet lined with parchment paper. Cook for 10 minutes, flip over, and cook for 5 minutes more until cooked through and crispy. Set aside to cool
Make Caesar Dressing: Place ingredients in a blender or food processor, and blend until smooth. Add a little more water if the dressing seems to thick. Set Aside
Assemble the wraps:Place the salad leaves in a large bowl, and pour the dressing over the top, toss to coat evenly. Place about ¼ of the greens in the the center of the wrap, and place 5 slices of tempeh bacon on top of the greens, tightly roll up, like a burrito, to make your wrap. Repeat with the remaining ingredients
Notes
Tempeh Bacon Recipe Adapted from Vegetarian Times.
Caesar Dressing Adapted from Oh She Glows.