These pumpkin, white chocolate & cranberry scones are made with whole wheat flour, and have a mild pumpkin flavour with pockets of sweetness from the white chocolate and cranberries.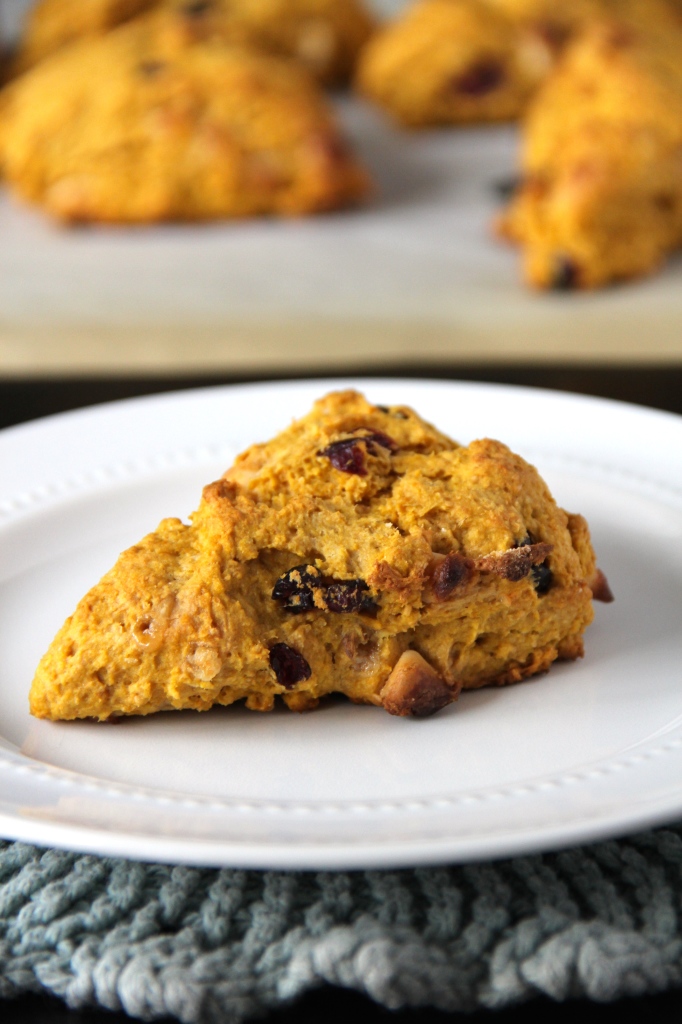 It is my observation that scones can be neatly divided into two categories: the British Scone and the American Scone. The British scone is plain, no frills. It might be dotted with dried fruit, but its main function is to provide a vehicle for the dollop of jam and cream (if you're lucky, clotted cream) scooped liberally on top. The American scone is more of a self contained unit. Often larger and sweeter (of course…!), the American scone comes in all sorts of flavours, and stuffed full of all kinds of goodies- fruit, chocolate, nuts, spices, sometimes all of the above. No jam or cream are required on the American scone, that would be overkill.
This scone is much more American in nature, moist and amber-hued from the pumpkin, mellow sweetness from the white chocolate and vanilla, and studded with tart dried cranberries. Happily it is also made with 100% whole wheat flour, just like the rest, and has a relatively low sugar content. Even though they are made with whole wheat flour, they are remarkably light, and didn't dry out for a couple of days (although, for best results: always eat your scones on the day of baking if possible!). These scones are perfect for a weekend breakfast with a strong coffee, or for a nice mid afternoon snack. I adore them for there autumnal quality, but I have a feeling I will be enjoying them all winter long.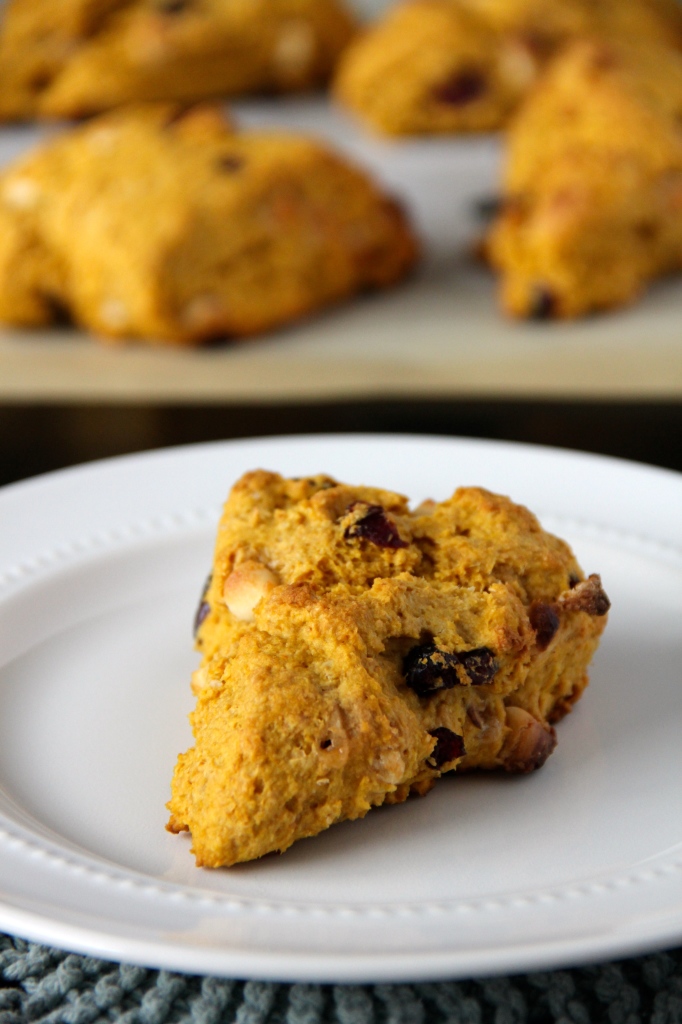 Enjoy!

Pumpkin, White Chocolate & Cranberry Scones
Ingredients
2 cups whole wheat pastry flour
1 tbsp baking powder
½ tsp salt
¼ cup brown sugar
5 tbsp butter, chopped into small chunks
¾ cup pumpkin puree
¼ cup milk
2 tsp vanilla extract
⅓ cup white chocolate chips
⅓ cup dried cranberries
Method
Preheat oven to 350F/175C
In a large bowl, whisk together flour, baking powder, salt and sugar
Cut the butter into the dry mixture, you can use a pastry cutter or knife, but personally I like to use my fingers!
Stir in the pumpkin puree, milk and vanilla until the mixture is fully combined
Fold in the chocolate chips and cranberries
Turn the mixture onto a lightly floured surface, and use your hands to mold the mixture into a circle shape, about an inch in depth
Cut the circle into 8 equal portions, and transfer each scone onto a lined baking sheet
Bake for about 15 minutes, until risen and slightly golden brown, remove from the oven and cool on the baking sheet for just a couple of minutes before transferring to a wire rack to finish cooling
Eat as soon as possible!
Notes
Basic scone recipe adapted from Cookie and Kate.
These can be easily made vegan by using coconut oil in place of butter, almond milk in place of milk, and vegan white chocolate chips.
Store for 2-3 days in an air tight container.