This creamy butternut squash sage sauce is simple, quick, and can be enjoyed with any kind of pasta.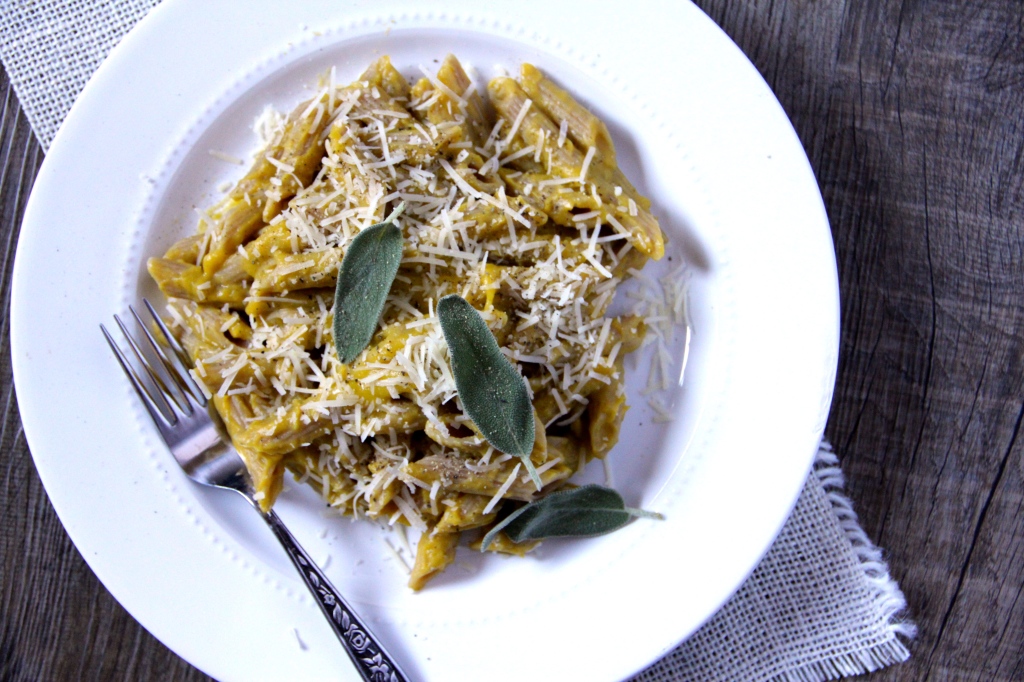 A couple of weeks ago, after a string of failed kitchen experiments, I found myself dangerously low on blog-worthy material. Gazing into my fridge for inspiration, my eyes landed on a butternut squash, and I realised that there is something I have been keeping from you. My butternut squash sage sauce is a recipe I make so often, it really hadn't occurred to me to blog about it. This is one of Kirks absolute favourite recipes, not just for the creamy, velvety texture, or the sweet, warm, nutty flavour, or even the fact it can be made in about 20 minutes. No, what Kirk likes most about this dish is the way it sounds when I say "Butternut Sauce" with my accent…
ANYWAY, a little more about this fabulous pasta dish: I found the original recipe for this a few years ago, but I confess I do not remember where! It was so simple that I only looked at it once and had it pretty much locked in. Over time I have tweaked and evolved the original, and it has become a staple for us in the autumn and winter months. I often double the batch so I have an easy dinner ready to go ahead of time. It can also easily be made vegan by omitting the parmesan- it will still taste great!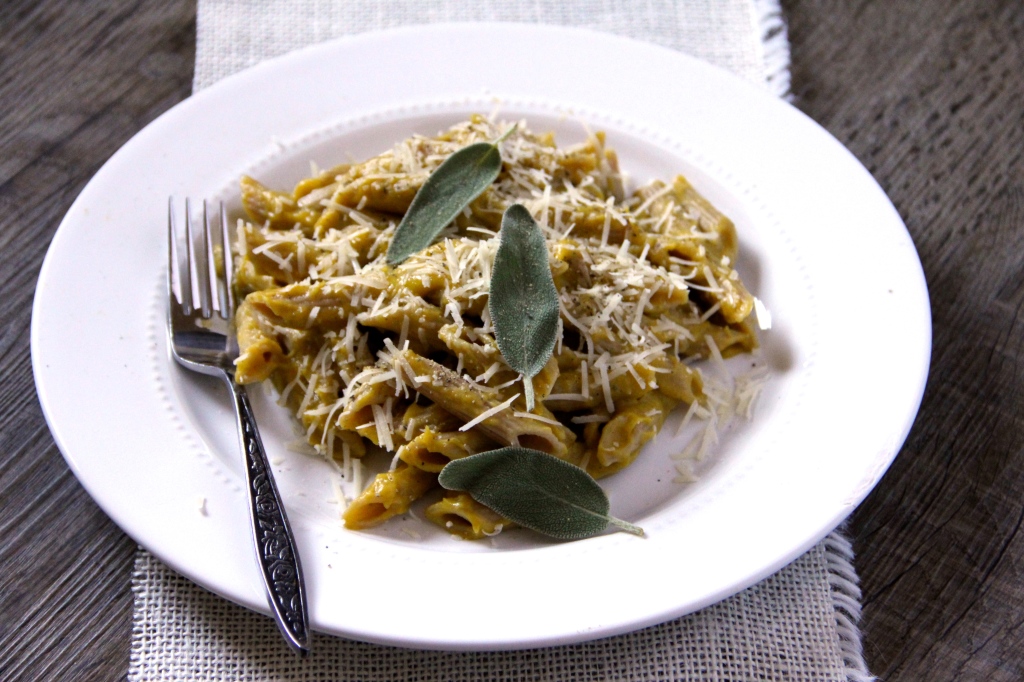 Enjoy!

Pasta with Butternut Squash Sage Sauce
Ingredients
2 tbsp butter
1 tbsp olive oil
1 large sprig of sage
1 small onion
½ medium butternut squash, peeled and diced (3-4 cups)
1½ cups water
¼ cup grated parmesan, plus more for sprinkling
generous helping of salt and pepper
One 14oz/400g box of pasta (I used whole wheat penne, but pick your fave!)
Method
In a large saucepan, melt butter and olive oil over a low medium heat, add sage and cook gently for about 2 minutes, letting the sage flavour infuse the oil
Add the onion and cook for 2 minutes until softened, but not browned
Add the butternut squash and give everything a good stir, cover and bring to a simmer. Cook for about 10-12 minutes until tender
While the butternut squash is cooking, prepare the pasta according to package instructions
Pour the contents of the butternut squash pan into a blender, add grated parmesan and season generously with salt and pepper, blend until smooth (be extra careful when blending hot liquids!!)
Check the seasoning and consistency. If it is a little thick you can water down with a little pasta water (or just water if you are making ahead)
When the pasta is cooked, drain, and return to the hot pan. Toss the pasta with the desired amount of sauce and gently heat through until piping hot
Serve into bowls and sprinkle with extra parmesan
Notes
To make vegan, simply omit the cheese. The sauce is still wonderful without it.
Depending on how saucey you like your pasta, you may have a little sauce left over. It stores for up to 5 days in the fridge, or can be frozen for pasta emergencies.