Ultra satisfying and hearty, these delicious spicy mushroom tempeh tacos come together in less than 30 minutes. They are vegan and gluten free too!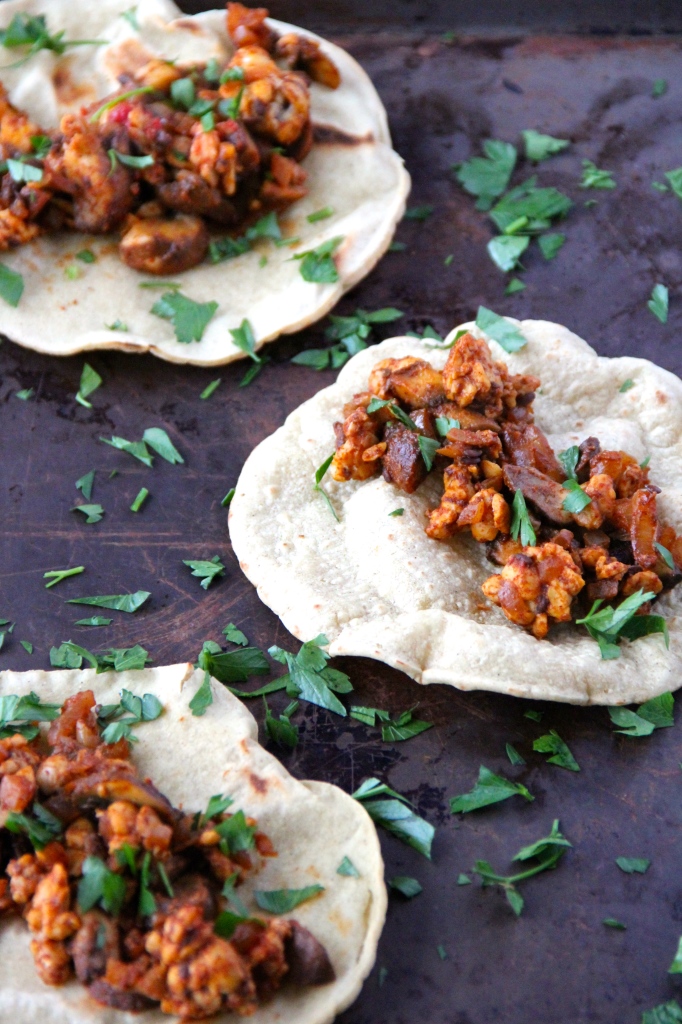 Oh, HELLO all! I'm still here, still no baby boy! I have been doing my very best trying to keep myself busy, taking Dexter on long walks, making many a mess of my kitchen and binge-watching Walking Dead (do you watch it?!). To parents out there: anything else I should be doing in these last few days?! To everyone out there: anything else I should be binge-watching on netflix in these last few days?!! I would love you all to weigh in.
Ok, enough personal chat. Lets talk Tacos! These babies are a great option for the wintery months when our bodies crave something hearty, with just enough zing and brightness to compliment the earthy, nutty combination of mushrooms and tempeh. Additionally, they are a cinch to pull together, and ridiculously satisfying for hungry winter bellies.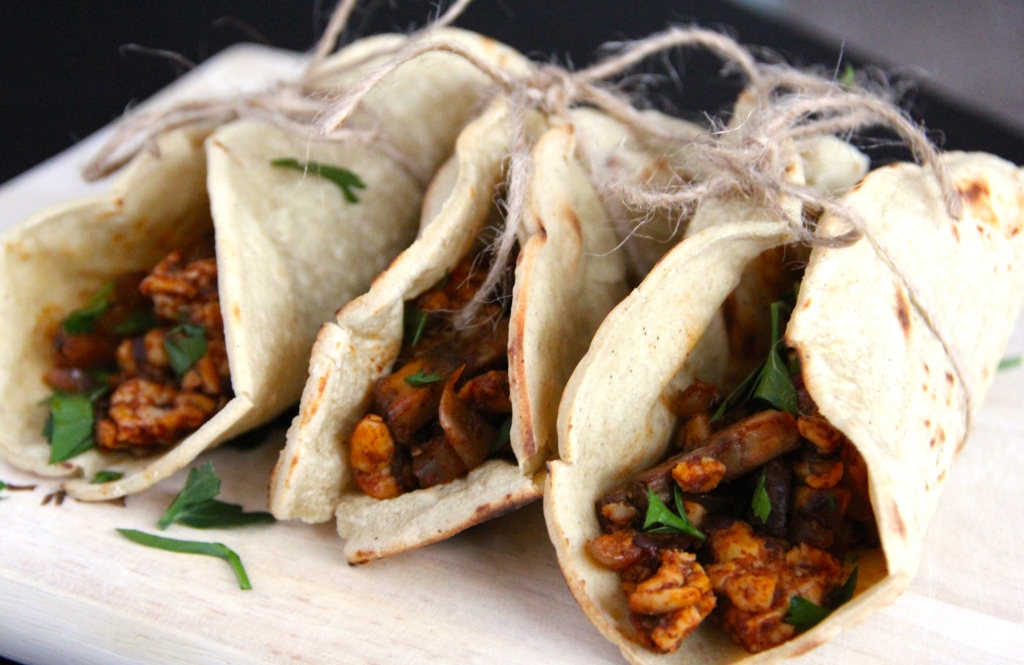 Ok, I'm leaving you now in pursuit of new distraction ( the next season of Walking Dead isn't going to watch itself ya know!). I will let you know when there is news. Until next time, enjoy!

Mushroom Tempeh Tacos
Ultra satisfying and hearty, these spicy mushroom tempeh tacos come together in less than 30 minutes.
Ingredients
1 tbsp olive oil
1 medium onion, diced
4 cloves garlic, minced
1 16oz (450g) package of mushrooms, sliced
1 8oz (225g) package of tempeh
2-4 tsp chili powder
3 tsp cumin
juice of 1 lime
2 tbsp tomato puree
dash of low sodium tamari
dash of liquid smoke (optional)
12 small corn tortillas or whole grain tortillas
fresh coriander to garnish
Method
Coat the bottom of a large frying pan with oil, and heat on medium. Add the onions and cook for a few minutes until softened, and the garlic and cook for another minute.
Add the mushrooms, crumbled tempeh, chili powder and cumin to the pan. Cook for about 5 minutes, stirring often
Add the lime juice, tomato puree, tamari and liquid smoke to the pan. If the mixture appears a little dry, add a couple of tbsp of water too. Give everything a good mix and cook for another 5 minutes
While you are cooking the taco filling, you can also be warming the tortillas: heat a small nonstick skillet over medium heat. Toast each tortilla on both sides for about 30 seconds and set aside.
Assemble tacos: stuff each taco shell with 2-3 tbsp of filling, garnish with fresh coriander.
Notes
If you need these to be gluten-free, make sure you are using gluten-free tortillas! Most corn tortillas are gluten-free but check the package because they can be tricky!
My husband loves a little guacamole on these too…!
If you fancy making your own tortillas, try this 100% whole wheat recipe from The Lean Green Bean!