This recipe for Maple Roasted Delicata Squash with Quinoa, Kale & Smoky Tahini Sauce makes for a hearty and flavourful main or side dish for the late autumn and early winter months.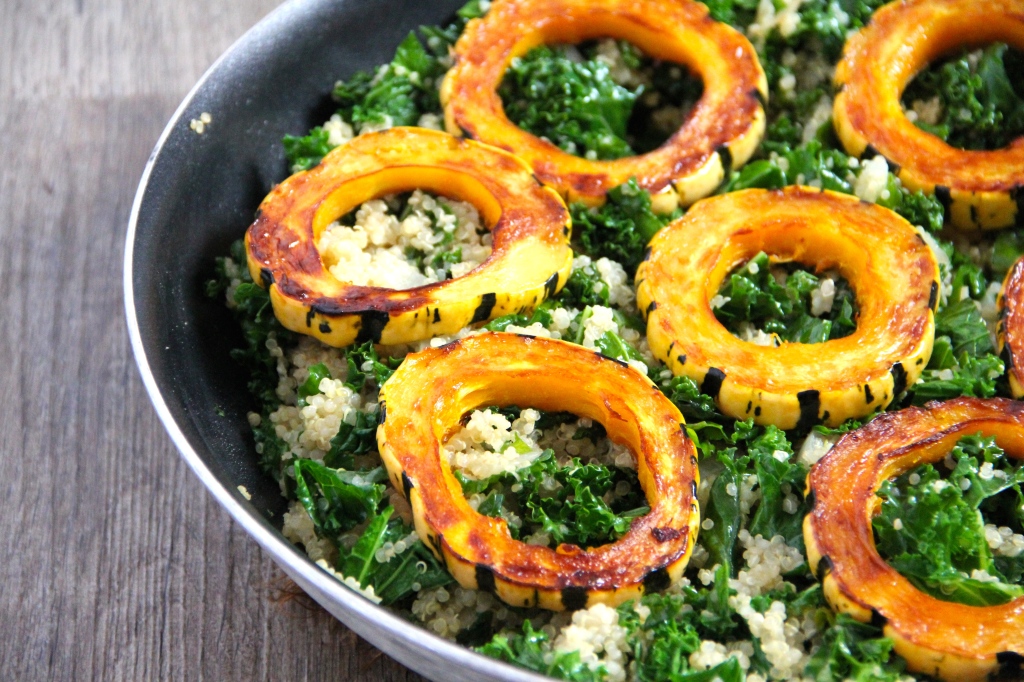 Hello my lovelies, how is your week going? Tomorrow will be my last day at work before I go on maternity leave, and I am so ready! Sleep has been elusive for weeks, and I have felt particularly wiped out in the last few days, I'm ready to hibernate. Speaking of such things, West Michigan has outdone itself again with the old lake effect weather- we have been blasted this week! This timely combination of snowfall and sleepiness is making me want to curl up and never leave the house, so I have found myself with a little extra time to play in the kitchen- yodelay!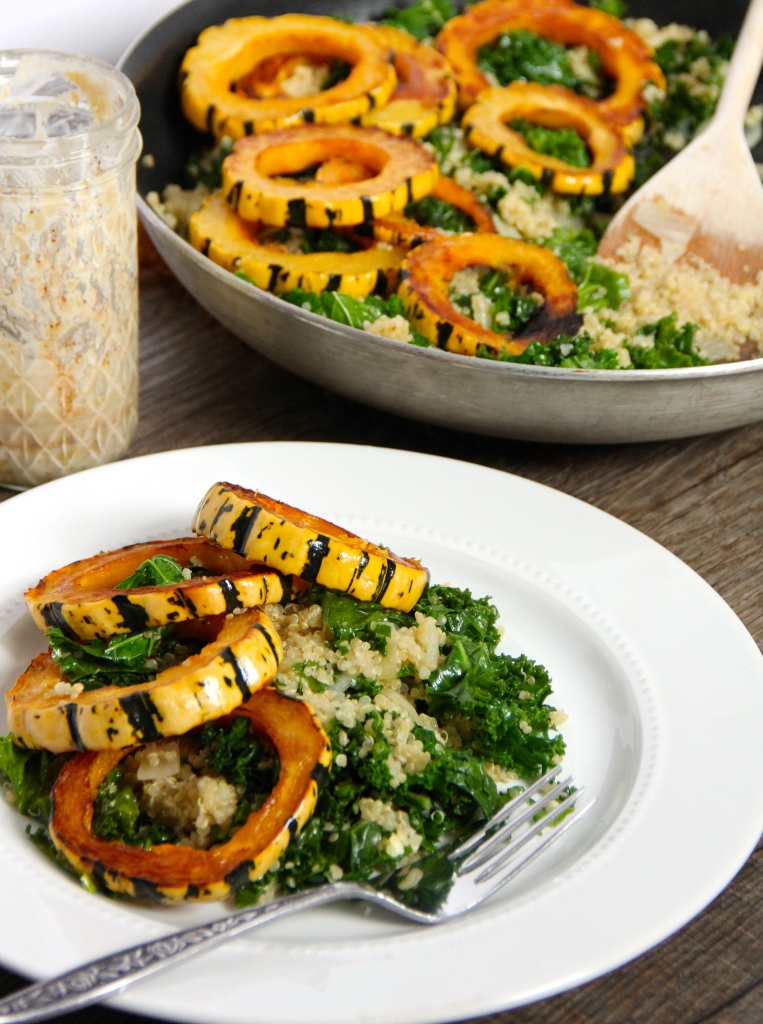 I wanted to create a Thanksgiving themed dish for you all, and here it is: Maple Roasted Delicata Squash with Quinoa, Kale & Smoky Tahini Sauce (admittedly, not the punchiest title for a recipe…). Obviously being British I didn't grow up celebrating Thanksgiving, but it is a holiday I have embraced wholeheartedly since moving to the States. Any holiday that centers around food, drink and family is a-ok in my book! As a vegetarian, I always like to make sure that I bring something creative to family gatherings. A dish that is festive and delicious for me, but can also be enjoyed by everyone else. This recipe ticks all of those boxes, plus it is pretty easy to make so you don't have to have any Thanksgiving morning meltdowns.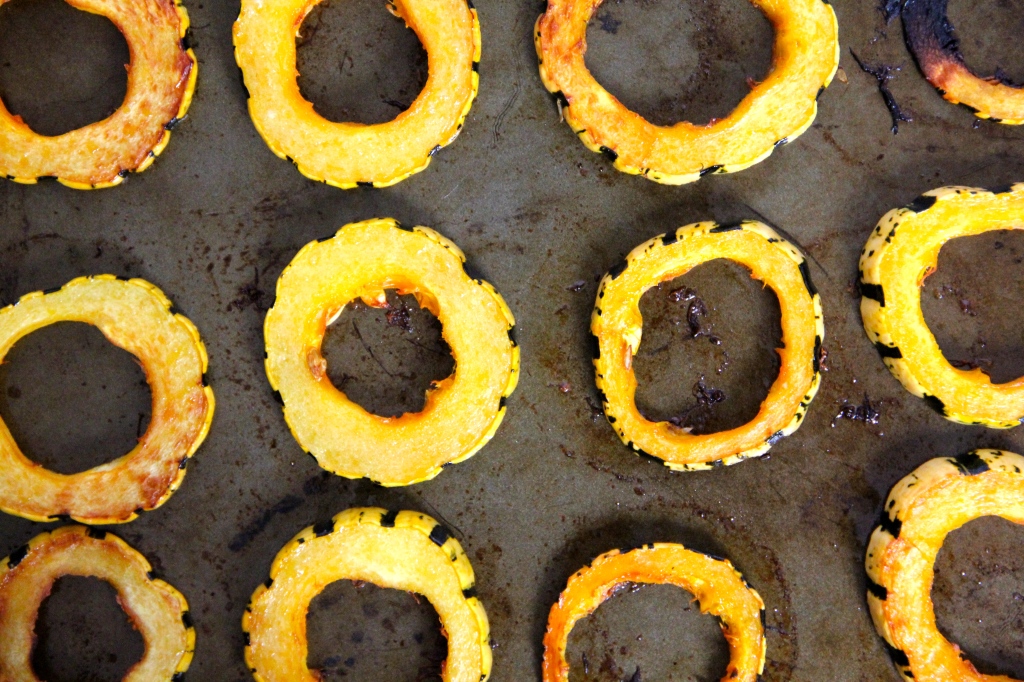 Aside from this dish, I haven't decided what else to bring to Thanksgiving yet, but I'm thinking it will be one of the following:
Smoky String Bean Casserole with Sriracha Buttermilk Onion Rings from Eats Well with Others
Sweet Potato Pie with Sweet and Salty Pecan Crust from Ambitious Kitchen
Shaved Brussels Sprouts with a Maple Balsamic Vinaigrette from Orchard St Kitchen
Sweet Potato & Kale Gratin from Oh My Veggies
Pumpkin Hummus from the Muffin Myth
What are you making for Thanksgiving?!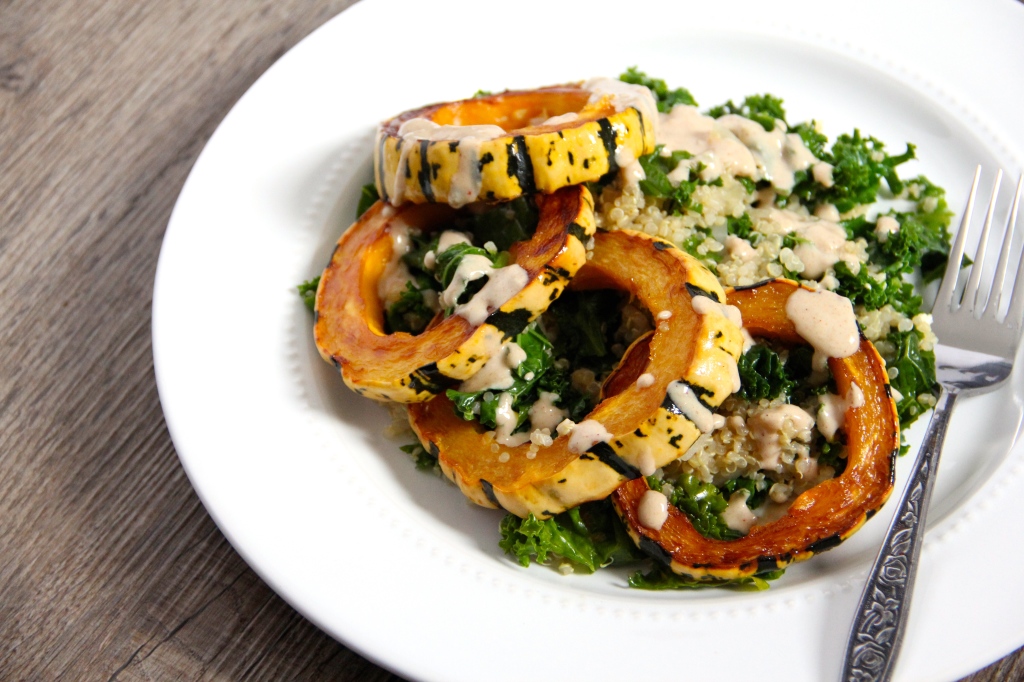 Maple Roasted Delicata Squash with Quinoa, Kale & Smoky Tahini Sauce
Ingredients
For the Squash:
2 small delicata squash
2 tbsp olive oil
1.5 tbsp maple syrup
pinch cayenne pepper
For the Quinoa and Kale:
1 cup uncooked quinoa
1 cup vegetable stock (or 1 cup of water)
1 cup water
1 tbsp olive oil
1 medium onion, diced
1 small bunch of kale, destemmed and finely chopped
¼ cup toasted pumpkin seeds (optional)
For the Smoky Tahini Sauce:
½ cup tahini
½ cup water
2 tbsp nutritional yeast (optional)
2 tbsp apple cider vinegar
Dash low sodium tamari
Dash liquid smoke (optional)
2 tsp smoked paprika
1 tsp cumin
½ tsp chili powder
Method
Preheat the oven to 400F/200C
Cut the squash into 1 inch rounds
Mix the olive oil, maple syrup and cayenne pepper in a bowl, and toss the squash slices with the oil-syrup mixture, or brush each slice individually. Lay the squash in a single layer on a baking sheet (line with foil for easier clean up!)
Roast for 15 minutes, remove from the oven and flip, then roast for 15-20 more minutes until tender and golden
Meanwhile make the quinoa and kale: Combine the quinoa, stock and water in large pot. Bring to the boil and simmer for about 15-20 minutes until the liquid is absorbed, and the quinoa is tender (with a little bite!)
Heat the olive oil in a large shallow skillet, add the onions and saute until softened, and the kale and saute until tender. Add the cooked quinoa to the skillet and toss to combine.
Make the sauce: throw all of the sauce ingredients into a mason jar and shake shake shake until everything is well combined
Assemble the dish: Place the cooked squash atop the quinoa kale mixture, sprinkle with pumpkin seeds if desired, and drizzle with the sauce
Notes:
Squash inspired by this recipe from Edible Perspective, and the sauce is adapted from this recipe from Vegan Yack Attack.
If delicata squash is not available, you can substite with any other squash- I love delicata squash as it requires no peeling (hurrah!).
PS. Do you subscribe to Emma's Little Kitchen yet? Follow along with Bloglovin!