Whole wheat linguine tossed with roasted cauliflower, yoghurt, lemon, and almonds to make a quick and delicious weeknight meal.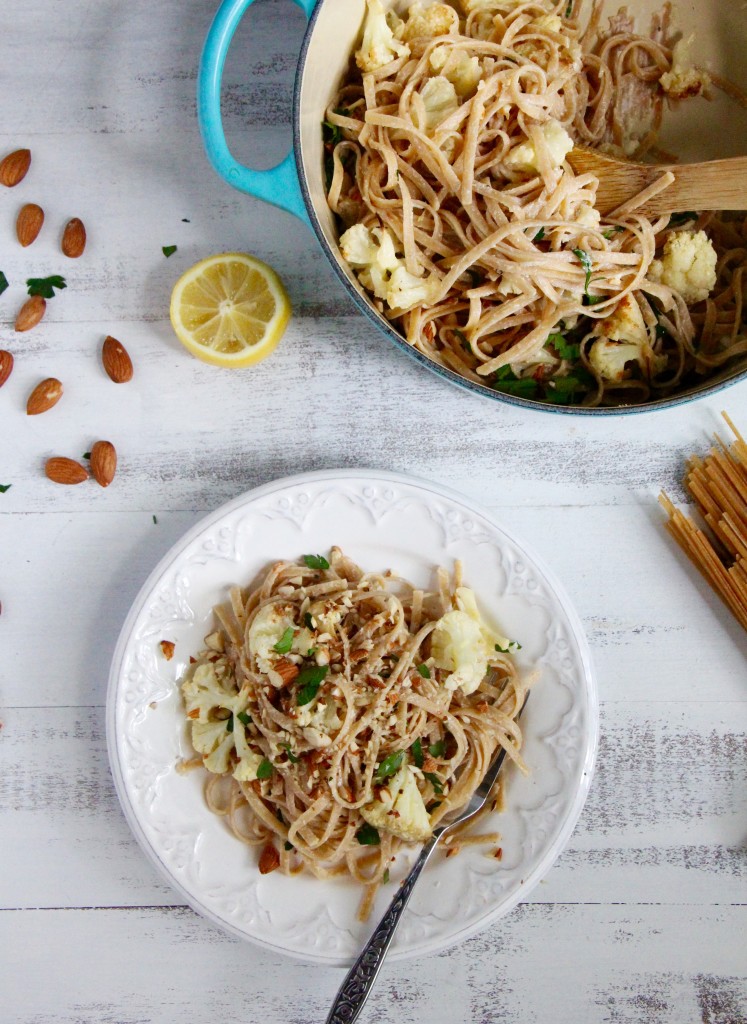 Alternative Post Title = Roasted Cauliflower: A Love Affair.
The first time I roasted cauliflower I was forever ruined, for I can never go back. Like most Brits, I grew up eating my cauliflower boiled, steamed, or even smothered in cheese sauce which is fine and all, but roasted cauliflower is like WOAH.
Honestly I would probably eat a head of roasted cauliflower one its own for dinner and be pretty content, however, I have a responsibility to provide my child with 3 balanced, nutritious meals a day (he gets to choose wether they are eaten or thrown on the floor with a defiant arm swipe), so I decided to toss it with a little whole wheat linguine and a little lemony yoghurt and voila! A simple, delicious meal that can be pulled of in about half an hour. Perfect!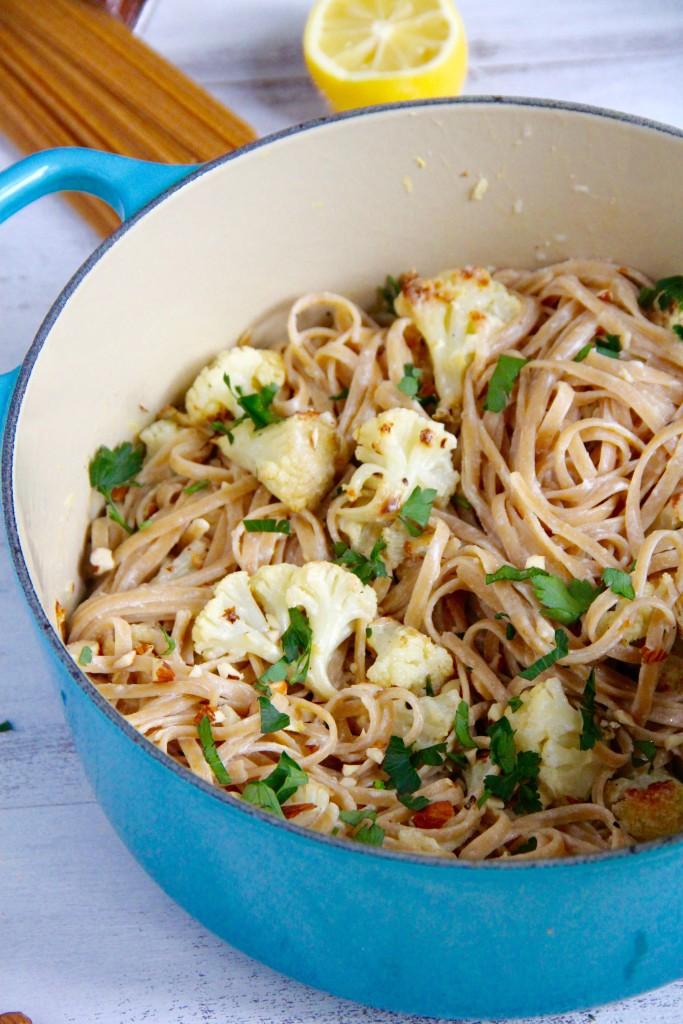 Enjoy!

Linguine with Roasted Cauliflower, Yoghurt and Lemon
Ingredients
1 head cauliflower, chopped into bite sized florets
2 tsp olive oil
½ lb/ 225 g whole wheat linguine (or pasta of choice)
½ cup plain yoghurt (full fat)
¼ cup parmesan or pecorino, grated (plus more for sprinkling)
juice and zest of 1 lemon
1 garlic clove, minced
¼ cup almonds, finely chopped
2 tbsp fresh parsley, finely chopped
2 tsp capers (optional)
salt and pepper to taste
Method
Preheat oven to 400F/200C
Tip cauliflower florets into a large roasting tray, and toss with olive oil. Roast for about 30 minutes, tossing occasionally, until the cauliflower is tender and beginning to caramelize in places
When the cauliflower is about half way through roasting, bring a large pot of salted water to the boil, cook pasta according to package instructions and drain, reserving about a cook of cooking water
Return the pasta to the hot pan, off the heat. Toss with yoghurt, parmesan, lemon juice and zest, garlic, chopped almonds, parsley, capers (if using), and cauliflower. Add as much of the pasta cooking water to the pot as you need to reach the desired constancy. Season with salt and pepper to taste
Serve with extra parmesan on top!