A lightened up version of the classic British vegetarian dish, this healthier Homity Pie is a guaranteed crowd pleaser!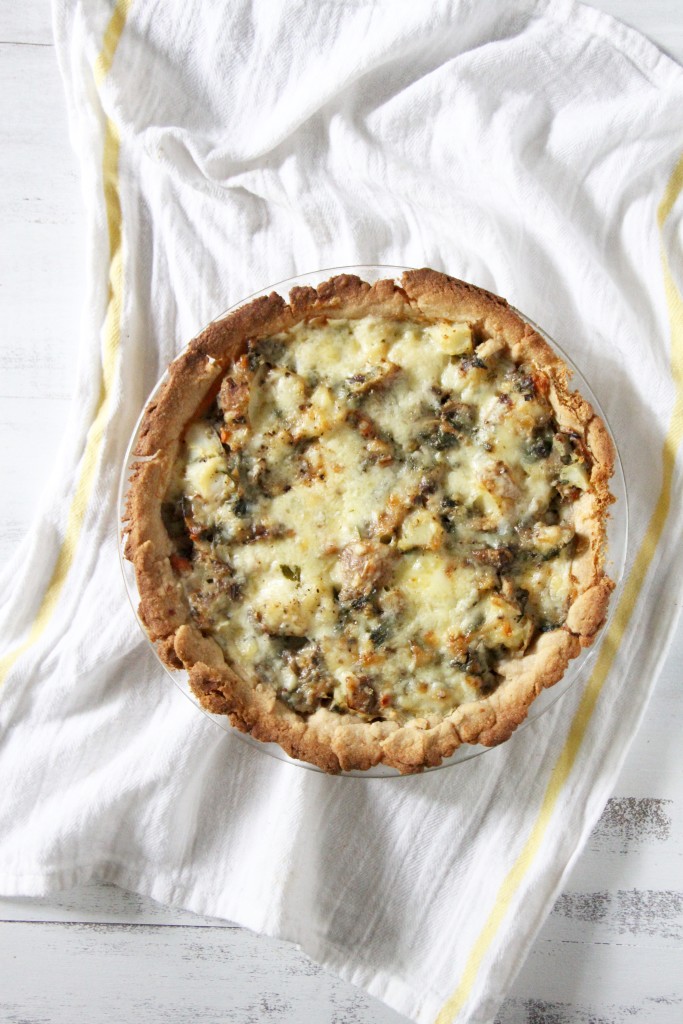 Poor old St George. He doesn't get much air time does he? Especially compared to his colleague St Patrick. Even St Andrew and St David get more attention than old Georgie Porgie, and why is that? Is it because he is not even English? Well, we could debate  all day, but that would prevent us from talking about pie. I want to talk about pie.
I wanted to give a nod to the Motherland with something a little traditional, so I recreated the British vegetarian classic- Homity Pie. Homity Pie apparently originated in 1940's Britain as a result of rationing, and it was made popular in the 60's by veggie pioneers Cranks. There are hundreds of variations of Homity Pie, some healthier than others, but they will usually include potatoes and cheese nestled into a pastry case.
I wanted to make mine as healthy as possible, while still retaining the signature elements. I bumped up the veg content with some carrots, spinach, mushrooms, and fresh parsley, then I replaced the double cream with a little greek yoghurt. This pie is SO GOOD and absolutely worthy of an under celebrated Patron Saint.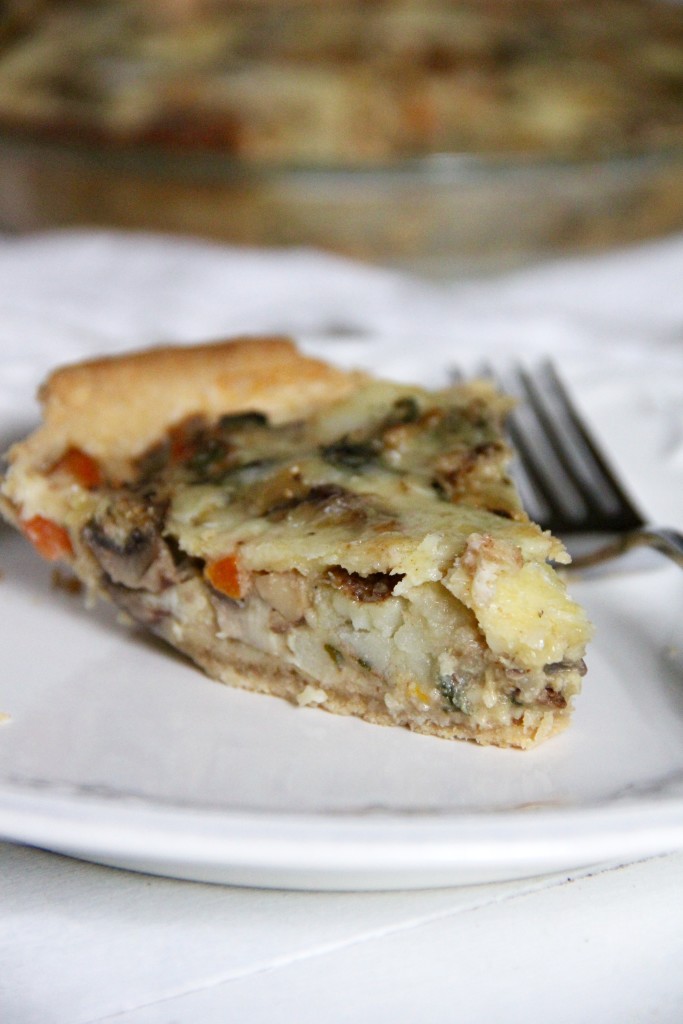 Enjoy!

Healthier Homity Pie
Ingredients
Pastry:
11/2 cups whole wheat pastry flour (or whole wheat flour)
½ tsp sea salt
8 tbsp unsalted butter
2 tbsp cold water
Filling:
1 large potato cut into 1 inch chunks (I don't peel mine but you can if you wish!)
1 tbsp olive oil
1 leek, diced
1 medium carrot, diced
1 cup mushrooms, diced
2 garlic cloves, minced
1 handful of baby spinach, chopped
¼ cup fresh parsley, finely chopped
3 tbsp greek yoghurt
½ tsp dijon mustard
1 cup grated cheddar, divided
salt and pepper to taste
Method
First, make the pastry: I like to use a food processor. Pulse together the flour and butter until the mixture has a crumbly consistency. Add the salt and water and process on low until the pastry forms a ball of dough. Remove from the processor and put in the fridge to rest. If you don't have a food processor, you can do this by hand instead. Rub the butter into the flour, and knead in the water to form the dough. Use chilled butter and water for best results.
Next, place the potatoes in a large pot of water and bring to the boil. Cook until the potatoes are tender but still retaining their shape. Remove from the pot and drain well.
Meanwhile, you can prepare the rest of the filling. Heat olive oil over a medium heat in a large frying pan or skillet. Add the leek and carrot, and cook for about 5 minutes until softened. Add the mushrooms and garlic and cook for a couple of minutes more. Finally hold in the spinach and parsley and turn a couple of times in the pan until the spinach is beginning to wilt. Transfer to a large bowl.
Add the cooked potatoes to the bowl along with the other veg. Then stir in the yoghurt, mustard, half of the cheese, and season generously with pepper, and maybe a little salt. Set Aside, and preheat oven 425F/215C.
Remove the chilled pastry from the fridge, and roll out dough as thinly as possible on a floured surface. Carefully transfer the pie to a greased pie dish and press the edges down
Tip the filling into the pastry case, and sprinkle the remaining cheese over the top
Cook for about 30 minutes until the cheese is golden and bubbly, and the pastry is cooked through. Rest of a couple of minutes before cutting it into slices and devouring. This is also fantastic cold.