These fruit & nut breakfast cookies are healthy, tasty, and easy to make for a convenient breakfast or snack!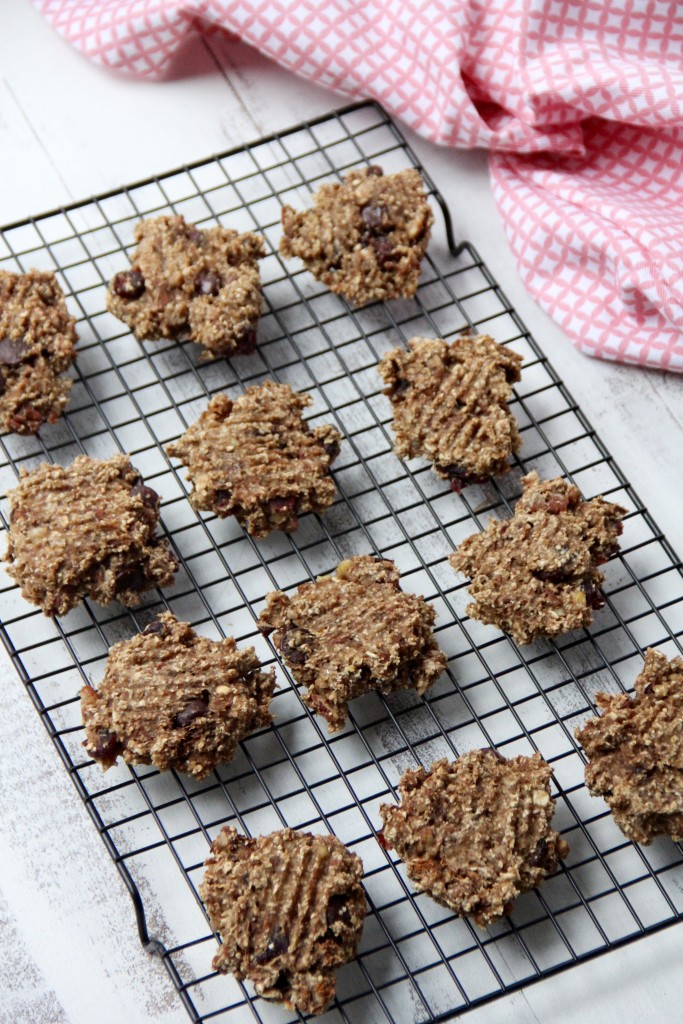 You know when your little, and you don't understand why adults, who can do ANYTHING THEY WANT, opt for sensible high fibre breakfasts instead of, say, cookies?! Well today I'm helping you to realise that childhood dream with some delicious breakfast cookies! Here's the thing though- they are sensible and high fibre too, to placate your inner adult.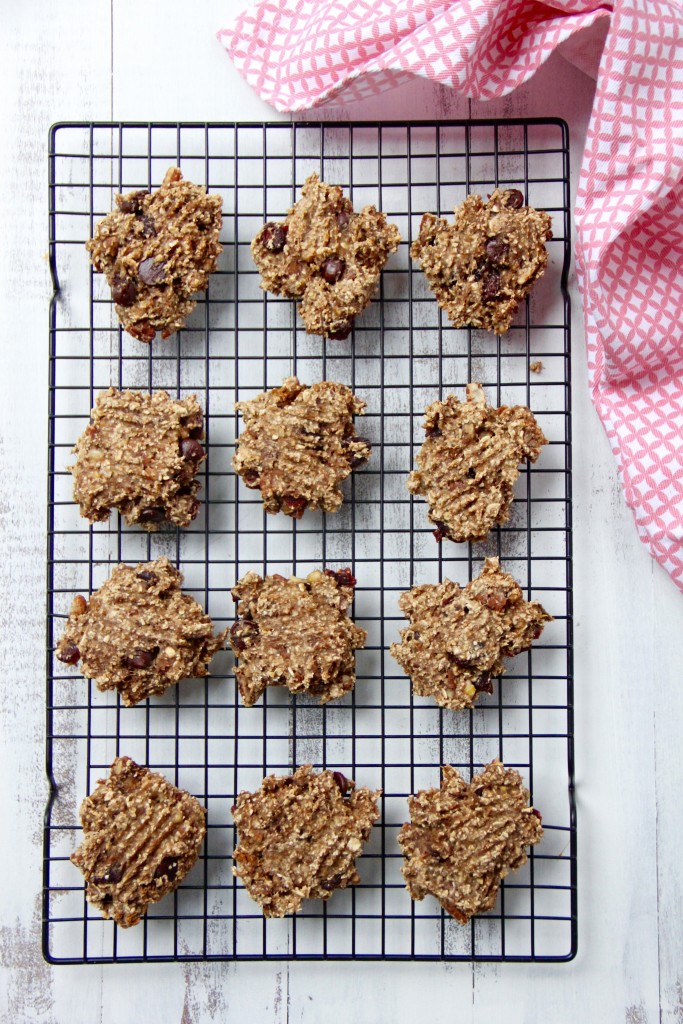 There are endless combinations to be had with these fruit and nut breakfast cookies, today I'm simply showing you my favourite! The base of my breakfast cookies are bananas and oats, and I like to add pecans or walnuts for crunch, a smattering of dried cranberry, and just a touch of dark choc (this may be a healthy cookie, but it's still a cookie!). You can change things up with different dried fruit, or different nuts. You could also leave out the chocolate to make it extra healthy.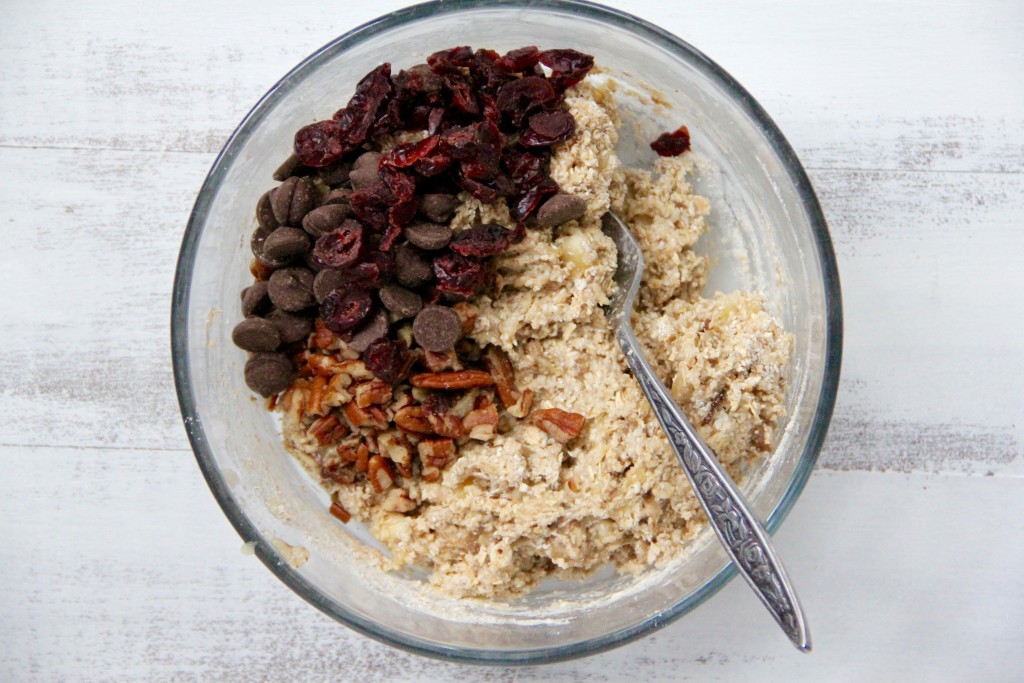 The result is a soft, tasty snack that you can grab on the way out of the door, or in my case, munch-on-the-go as I wrangle a speedy, "curious", one year old. They also freeze well, pack well, and come together in about 15 minutes. Ahhhhh, here's to stress free mornings!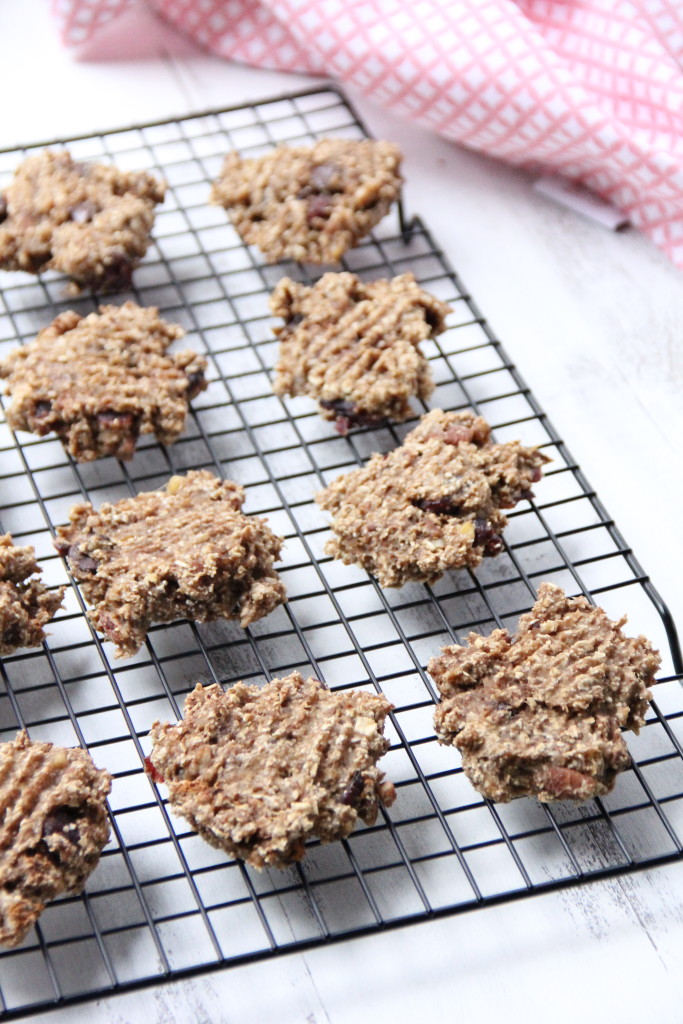 Enjoy!

Fruit & Nut Breakfast Cookies
These fruit & nut breakfast cookies are healthy, tasty, and easy to make for a convenient breakfast or snack!
Ingredients
2 cups oats
2 very ripe bananas,
1 tsp cinnamon
¼ cup dark chocolate chips
¼ cup dried cranberries
½ cup finely chopped pecans (or walnuts)
Method
Preheat oven to 350F/175C, and line a baking sheet with parchment paper
Pulse oats in the blender or food processor to make a rough flour. Keep some oats whole for texture, don't over do it!
In a large bowl, mash the bananas well, and then tip in the oat flour, and stir until combined. Fold in cinnamon, chocolate, cranberries and nuts.
Divide the mixture into about 12 equal sized mounds, and slightly squash them with a fork onto the baking sheet
Bake for about 10 minutes until cookies are set. Remove from the oven, and cool on a wire rack
Notes
Frozen bananas are magical, and I always try to have some in the freezer for baking and smoothies. I'm not sure on the science behind it, but something about freezing bananas makes them sweeter. I often use frozen defrosted bananas in this recipe.
Bonus Baby Recipe: When James was a little younger, I would make half of the batch with the chocolate, cranberries and nuts, and half of the batch just bananas and oats. It made a fabulous and nutritious baby cookie- and all of our baby-friends seem to love them too!