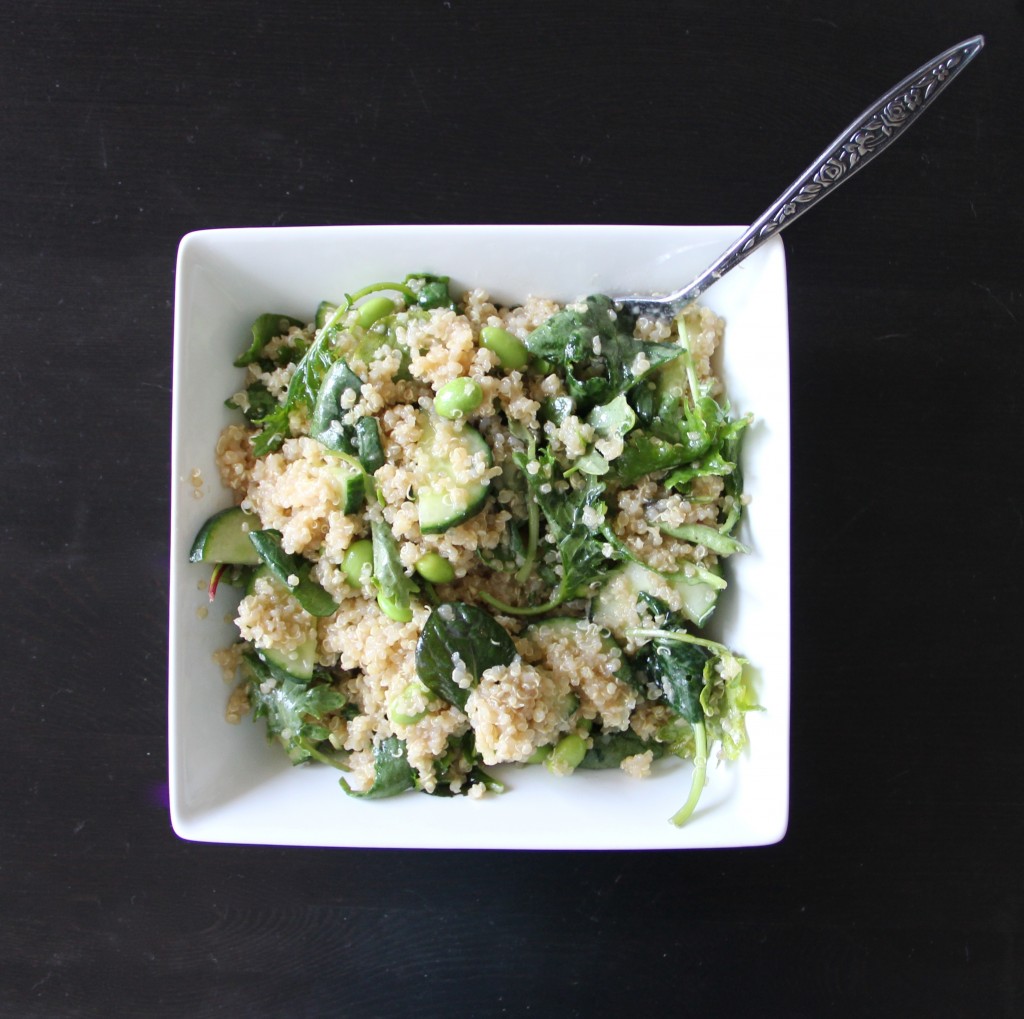 Yesterday I was sat in my weekly staff meeting chatting about upcoming projects with my colleagues. Suddenly I realised that it will be August next week. AUGUST! Where does the time fly? And why has my summer been so devoid of summery activity?!
Hey, no complaints really. I have managed to squeeze in two holidays after all… but almost no beach time, no barbecues and only one tiny ice-cream! Deary me. I decided then and there that I would have to make the most of the next few weeks and clock some serious summer fun, because before I know it, I could be in another Polar Vortex (please god, no!).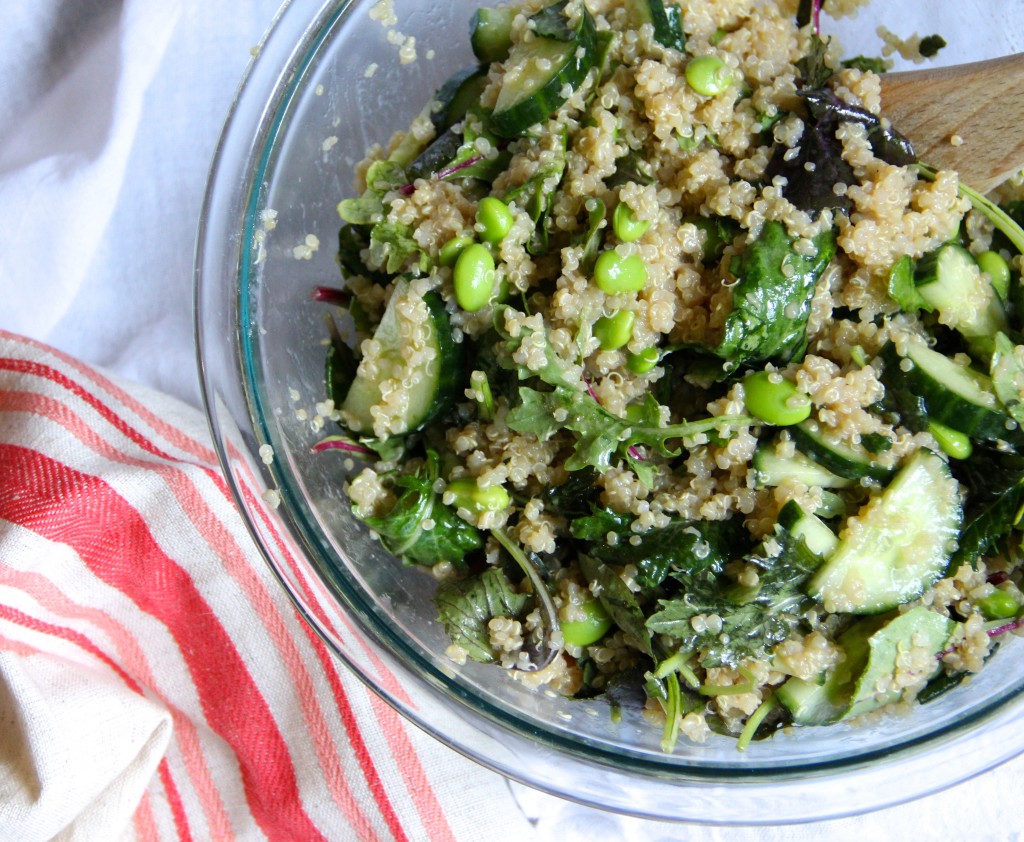 Barbecues and beach time aside, one thing I have certainly enjoyed this summer is the seasons produce. Today I have another offering for you- Cucumber, Edamame and Quinoa salad with a Miso Vinaigrette. So good! So good for you! I love grainy salads for the obvious reason that they fill me up for longer. This one is no exception, yet the cucumber, greens and ginger keep things crisp light and fresh. Plus, the combination of edamame and quinoa make this a protein bomb.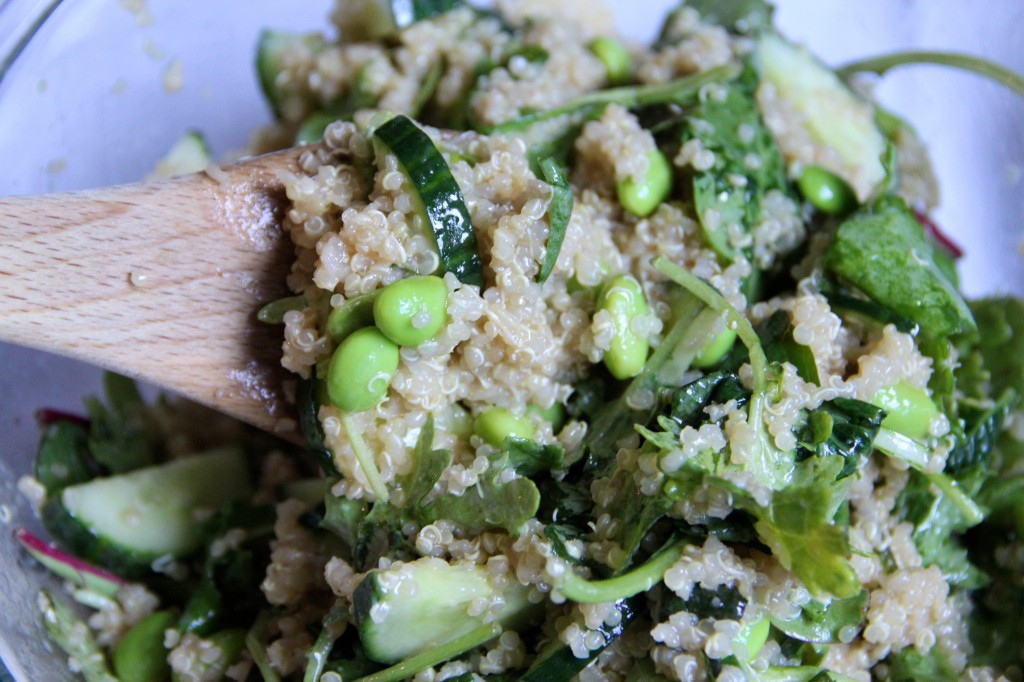 I encourage you to make a big batch tonight, thus freeing yourself up to make the most of the remaining long summer days… enjoy!!

Cucumber, Edamame & Quinoa Salad
A grain based salad with asian overtones, this cucumber, edamame & quinoa salad is perfect for Summer
Ingredients
3 cups (750ml) low sodium vegetable stock
2 tbsp miso paste
2 tbsp rice vinegar
1½ tbsp low sodium soy sauce
1 tbsp toasted sesame oil
3 tbsp coconut oil, melted and cooled
2 tbsp sweet picked sushi ginger
1½ cups (250g) uncooked quinoa
1 medium cucumber cut into ¼ inch semi circles
1 cup (150g) shelled edamame
2 cups (85g) mixed baby greens
Method
Take ¼ cup (60ml) of vegetable stock and add it to the blender along with the miso paste, rice vinegar, soy sauce and sesame oil. Pulse a couple of times until mixed and then with the blender running, slowly add the coconut oil to make a creamy dressing. Add the pickled ginger and pulse a couple of times to chop. Set aside
Take the remaining vegetable stock a simmer over a medium heat, add the quinoa, cover and cook for about 15 minutes until the quinoa is tender (but retains a little bite!), and the liquid is absorbed.
Remove the quinoa from the heat and let it sit for about 10 minutes. Give it a quick fluff with a fork, and allow it to cool completely (about 30 minutes)
In a large bowl toss the quinoa with the cucumber, edamame, and greens
Serve with dressing, and dress to taste
Notes
Recipe adapted from Fine Cooking Magazine June/July 2014
Make sure you use gluten free soy sauce to make it completely gluten free
If like me you buy your edamame frozen, 1 10oz/280g bag should yield about a cup of shelled edamame
Make sure the quinoa is COMPLETELY cooled before you toss it with the salad mix, otherwise you will have a sad, soggy salad on your hands!