This vegetarian butternut squash goat cheese lasagne makes for perfect winter comfort food.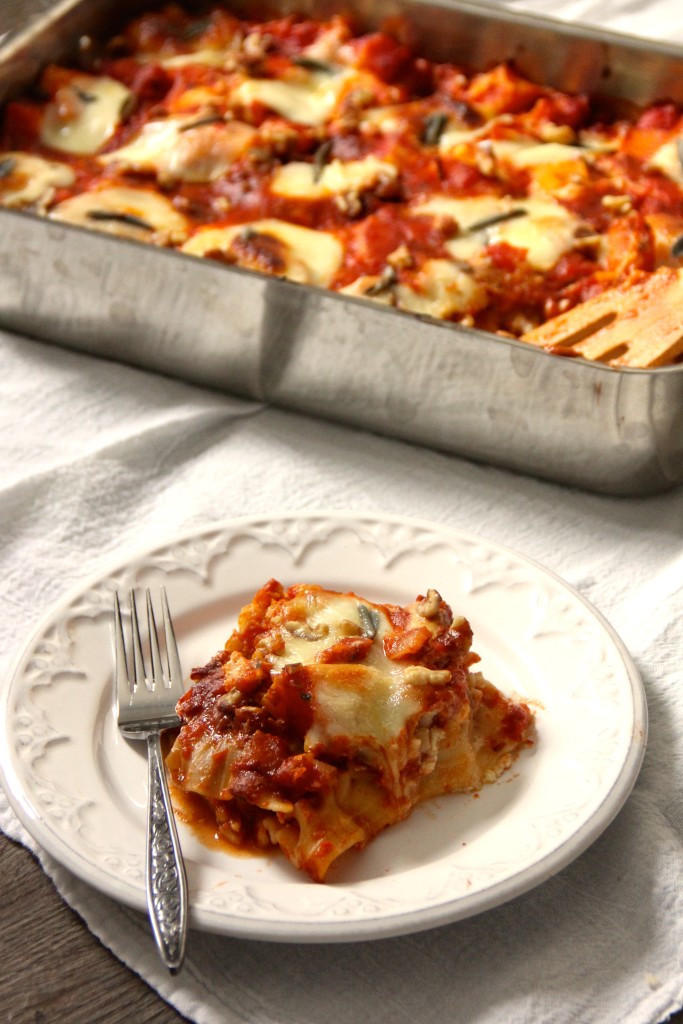 Well its been a week of ups and downs returning to work. On the one hand I love being back at the office, on the other I miss James terribly. Fortunately I have had our upcoming trip to England to look forward to, so the short stint back has seemed manageable.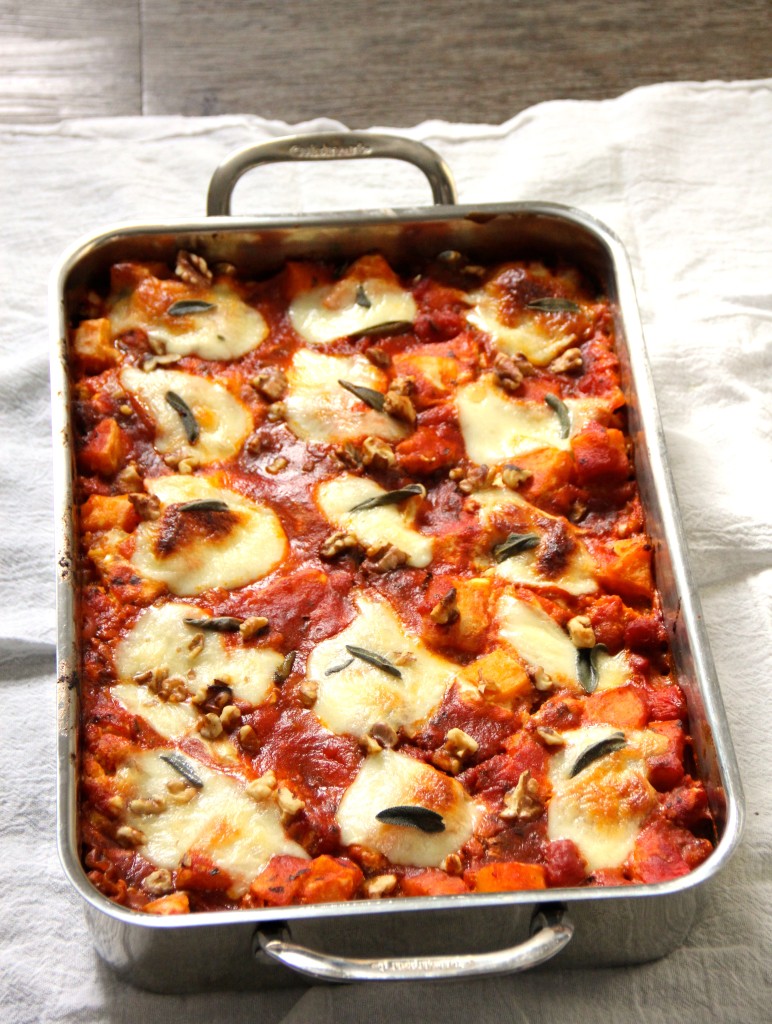 I have been cooking in big batches to save time (and my sanity…!) through the week. This butternut goat cheese lasagne made an appearance in last weeks line up, and Kirk and I were feasting on the leftovers for DAYS. Is it me or is leftover lasagne The. Best.? I can (and did…) eat this stuff cold and directly from the pan…
I love this vegetable heavy version with its alternating sweet and tangy layers. A sprinkling of sage and walnuts add to its all round cosiness and suitability for these last weeks of winter. Creamy, cheesy, rich and super satisfying, just the way a lasagne should be!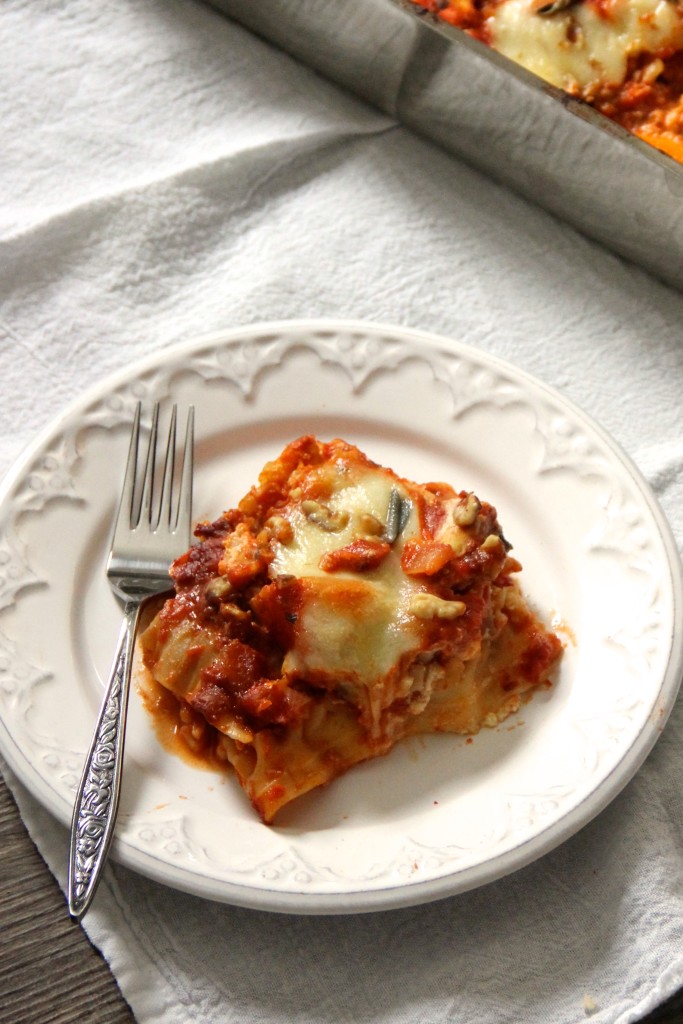 Enjoy!

Butternut Squash & Goat Cheese Lasagne
This vegetarian butternut squash goat cheese lasagne makes for perfect winter comfort food.
Ingredients
Squash Filling
2 tbsp of butter
1 tbsp of olive oil
10 sage leaves
2 medium onions, diced
3 garlic cloves, minced
1 large butternut squash, peeled and cut into small bite sized chunks
¼ cup of white wine
¼ cup of water or vegetable stock
14.5oz (400g) tin of tomatoes
salt & pepper to taste
Tomato Sauce
2½ cups (750ml) of passata or tomato sauce
2 cups of water
Cheese Sauce
1½ cups of goat cheese
2 cups of whole milk ricotta
3 eggs
½ tsp nutmeg
For Assembly/ To Garnish
1 package of fresh lasagne or oven ready (see notes)
1 ball of fresh mozzarella
¼ cup chopped walnuts
12 sage leaves
Method
Melt butter and oil in a large lidded skillet
Add sage leaves and fry for about 2 minutes until the oil is infused with delicious sage flavor.
Add onions and fry for for about 5 minutes until softened
Add garlic and fry for a minute more
Add cubed butternut squash, and give everything a good stir, add wine, tomatoes and stock or water to the pan, season everything generously with salt and pepper
Cover and simmer for about 20-25 minutes until the squash is meltingly soft but still retaining its shape
While this is happening, prepare the tomato and cheese sauces.
For the tomato sauce, simply combine the passata and water in a large jug, set aside
For the cheese sauce, begin by lightly whisking the eggs in a large bowl
Add the ricotta and combine thoroughly
Next, add the goat cheese and stir until combined (note: this will be easier if you have cut your cheese up into small chunks first!) season with nutmeg and a generous grind of black pepper, set aside
When the squash is cooked, we are ready for assembly! At this point, preheat your oven to 400F/200C
Begin by tipping about half of the tomato sauce into the bottom of a 10x14 lasagne pan
Next, line the pan with a layer of lasagne sheets
Add about half of the squash mixture in an even layer
Top this with half of the cheese mixture
Then add a second layer of lasagne sheets
The remainder of the squash mixture
Followed by the remaining half of the cheese mixture
Pour the remaining tomato sauce evenly over the whole dish
Finally top everything with the sliced mozzarella and remaining sage
Scatter the walnuts evenly over the top
Bake for about an hour and allow to rest for about 10 minutes before you serve
Notes
Adapted from Nigella Lawsons 'Christmas'
I have made this with both whole grain and regular lasagne sheets.