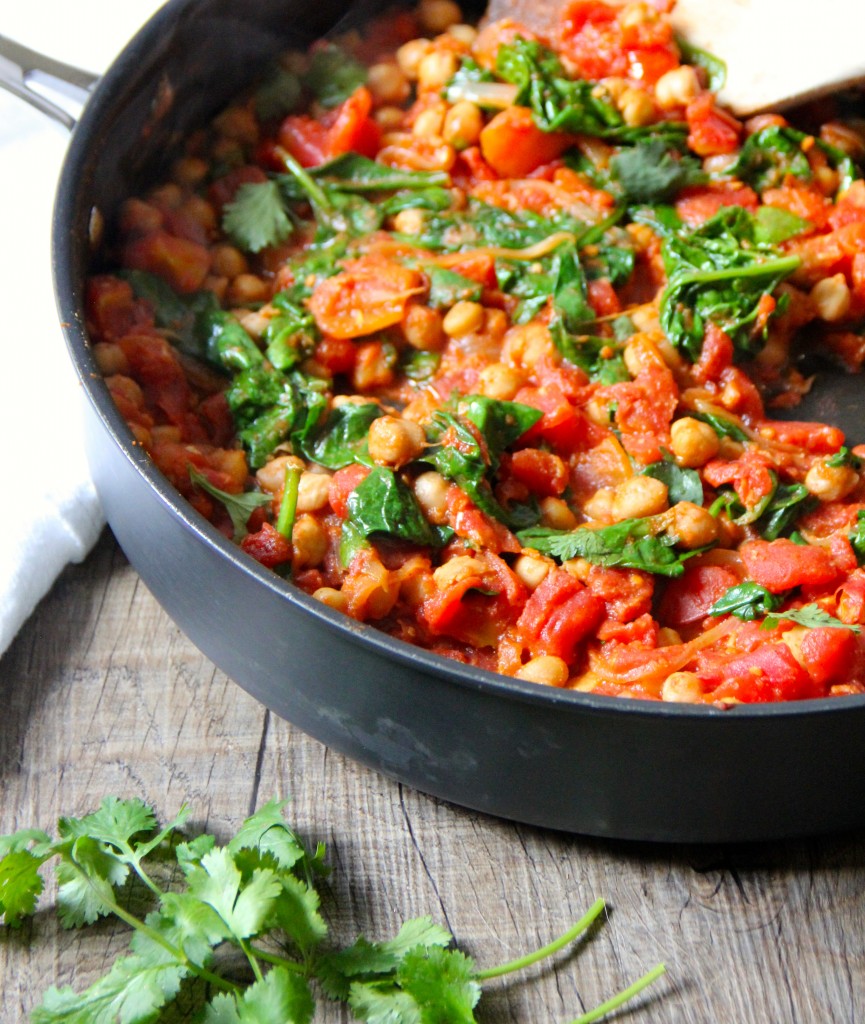 I'm sharing a family favourite with you today! This spinach and chickpea curry is a staple in the home of my parents, and has since become a staple in mine. This is the ultimate curry in a hurry- the spices are simple and I always have them to hand, it comes together in 30 minutes making it a wonderful weeknight meal, plus it is packed full of healthy goodness!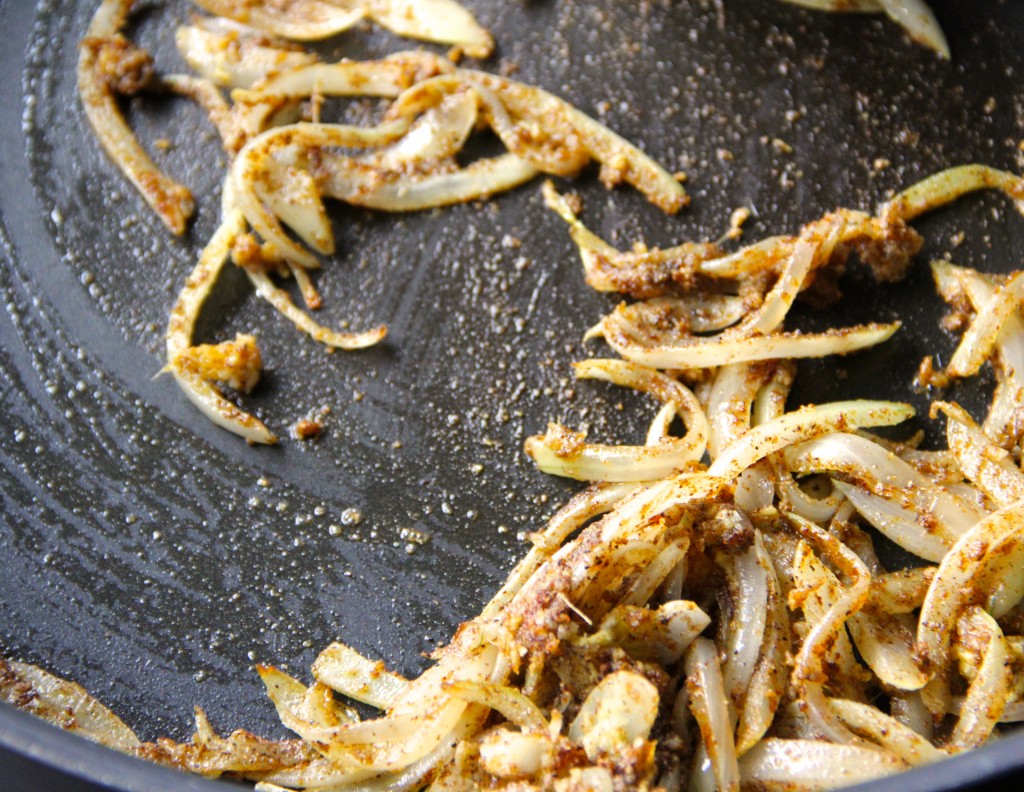 Indian is my absolute favourite, and Kirk and I eat curry dishes frequently. However, when I bring leftovers into work, a lot of people tell me that they find the spices in traditional indian food intimidating. The idea behind this curry is to keep it approachable (no long list of ingredients!) without loosing any of that beautiful aromatic flavour. It may not be the most authentic curry, but it is terribly tasty!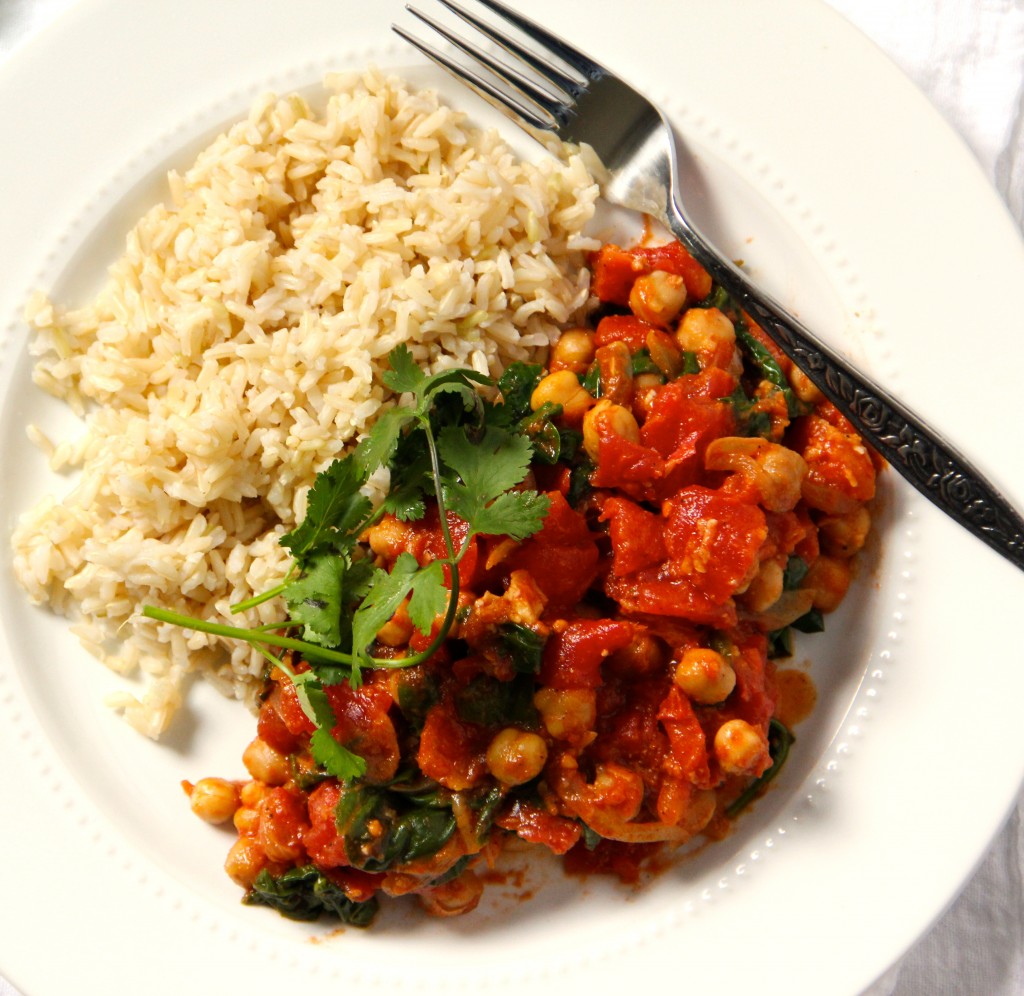 I doubt my parents follow much of a recipe with this, it is not really their style. Similarly, it took me a while to pin down the exact quantities of ingredients because I would just throw it together by what looked right. After a little trial and error I finally got there, and I'm really excited to share the results with you!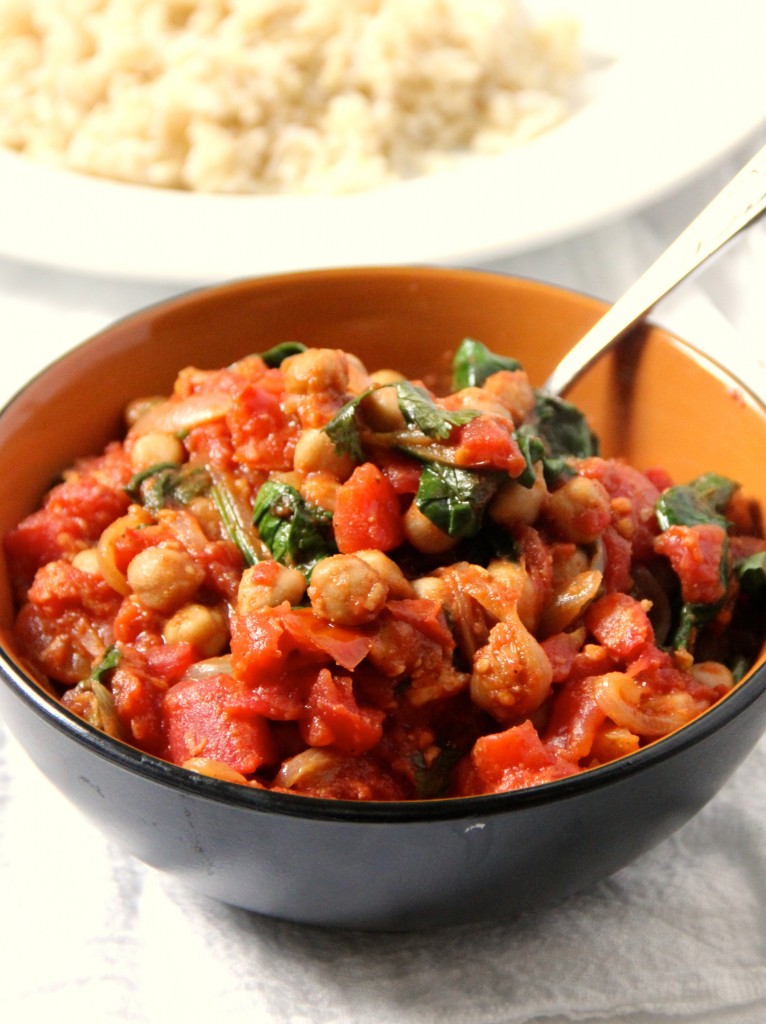 What about you?! Do you like Indian food? Do you make it often?

Go-To Spinach & Chickpea Curry
Ingredients
1 tbsp olive oil
1 large onion, peeled and thinly sliced
3 large garlic cloves, minced
1 pinch piece of ginger, minced
2 tsp garam masala
1 tsp cumin
¼ tsp cayenne pepper (or more or less to taste)
2 cups cooked chickpeas (or 1 tin, drained)
2 tins of chopped tomatoes
pinch of sugar (optional, to cut through the acidity of the tomatoes)
3 generous handfuls of fresh baby spinach
2 tbsp fresh coriander, chopped (optional)
squeeze of fresh lemon (optional)
salt and pepper to taste
Method
Heat olive oil in a large lidded pan over medium heat
Add the onions, and fry until translucent
Add the garlic and ginger, and cook for a couple of minutes more, stirring frequently
Add the garam masala, cumin and cayenne pepper, stir so that the onions have a nice coating of the spices, cook for just a minute until the spices are a little toasted
Add the chickpeas and stir well so they are covered in oil and spice
Add the tomatoes and sugar (if using), give everything a good stir, cover, and simmer for 20 minutes on low-medium heat.
Add the spinach in batches, and stir until the spinach is wilted
At the end of cooking, add a sprinkling of fresh coriander, and a squeeze of fresh lemon juice if desired
Serve with rice or naan