This whole wheat chocolate chip banana bread is 100% whole grain, and 100% delicious!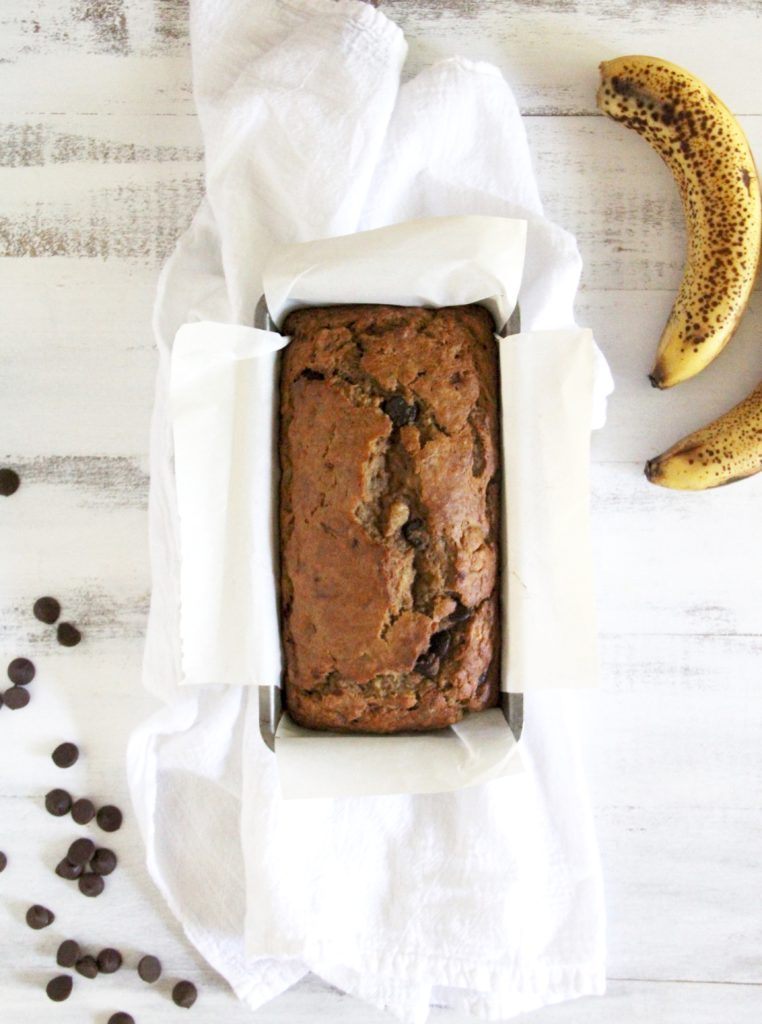 Anyone else overbuy bananas just so you can make Banana Bread? Until recently, this tactic worked like a charm for me, but lately, James has thrown me off my banana game. We now have three people in the house who like to eat a banana a day (and one dog, but rarely is he indulged…!). This means I'm having to buy a near crazy number of bananas when I go to the supermarket. Last week, the cashier even asked me why I had so many?!
Well, because I love them. In smoothies, in pancakes, in cookies, and of course, in banana bread.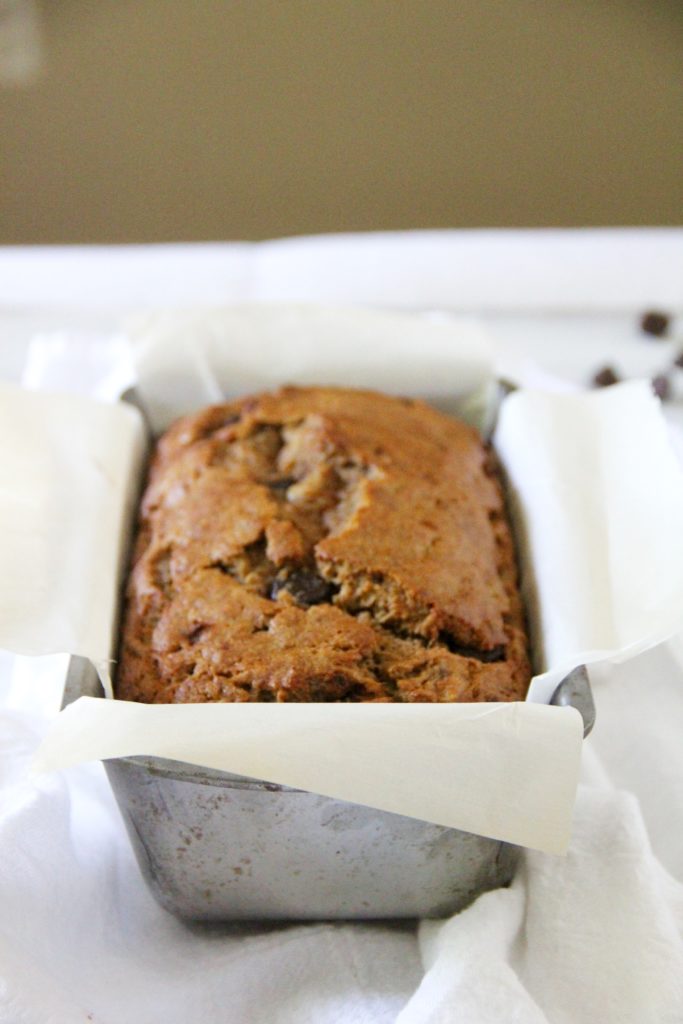 Todays recipe has become my new go-to banana bread. It's  made with whole wheat flour and olive oil, but is beautifully moist. It's sweetened with just a little coconut sugar, but is deliciously sweet as can be. Finally it's dotted with dark chocolate chips, so it holds magical powers.
I can guarantee if you give this healthier banana bread a try, it will become a staple in your home too!
Enjoy!

Whole Wheat Chocolate Chip Banana Bread
Ingredients
6 tbsp olive olive (or melted and cooled coconut oil)
½ cup coconut sugar
2 tsp vanilla
¼ cup milk (whatever you have to hand)
2 eggs
3 medium banananas, mashed
1¾ cup whole wheat pastry flour
1 tsp baking powder
1 tsp cinnamon
½ tsp salt
⅔ cup dark chocolate chips
Method
Preheat oven to 350F, line a loaf tin with parchment paper, set aside.
In a medium bowl, whisk together oil, sugar, vanilla and milk until combined. Then whisk in the eggs, and the mashed banana. Set Aside
Whisk together the flour, baking powder, cinnamon and salt. When they are well combined, stir in the chocolate chips
Tip the wet ingredients into the bowl with the dry ingredients and in as few movements as possible, stir until *just* combined. (This is VERY important, over mixing could make your banana bread dry and tough)
Bake for 55 minutes- 1 hour in the center of the oven