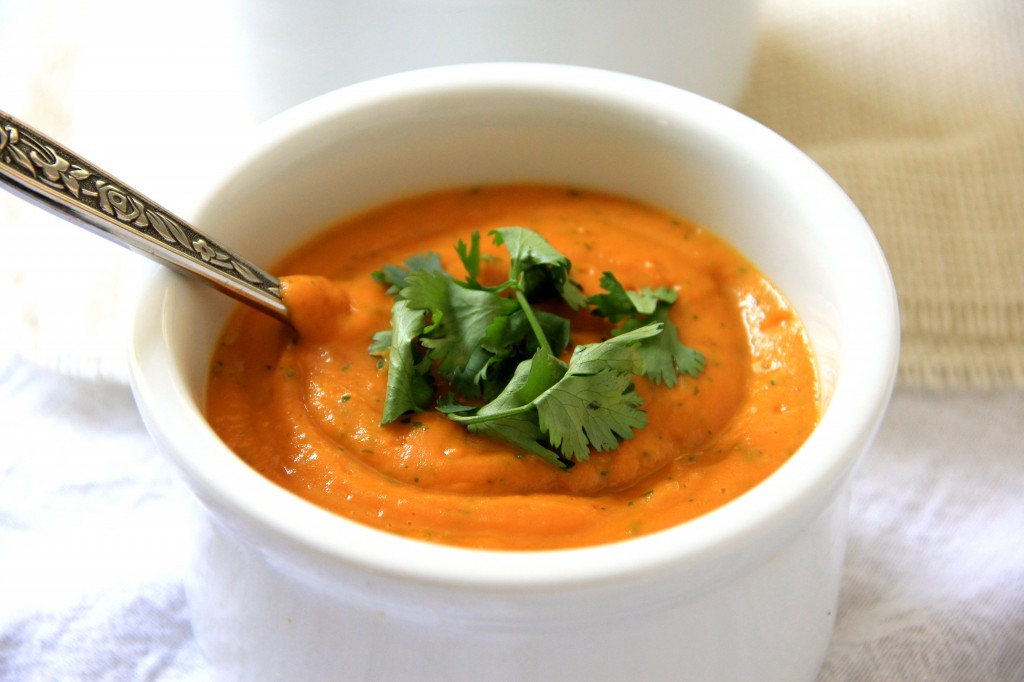 Ahhhhh what a crazy couple of weeks! As if moving home isn't trying enough, Kirk and I had 30 days to find a new place to live, and move our lives, whilst living in different states… not fun! So it actually seems fitting today that I am sharing this Thai Spiced Carrot Soup with you, it is very simple, no fuss, and both comforting and bolstering… the perfect antidote to the stress of a big move.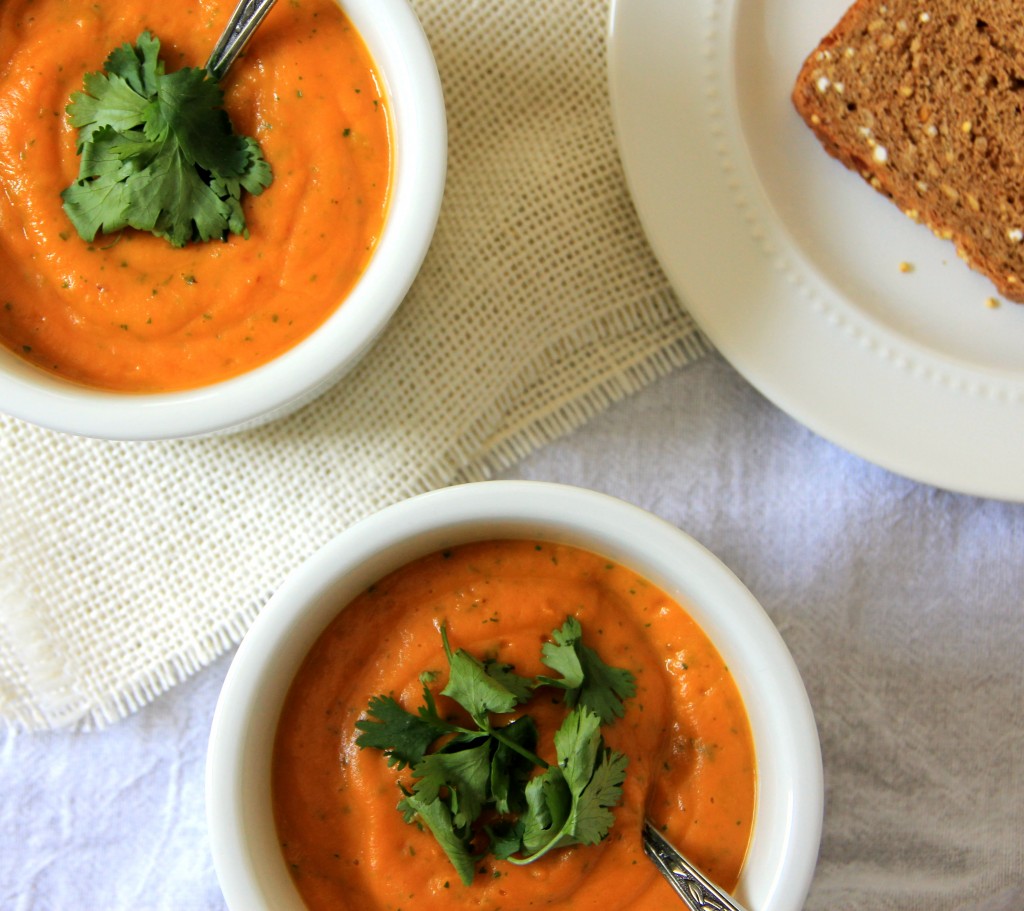 So what's happening besides moving and making lazy soup recipes? Well I have been busy unpacking and settling into my new home, which includes trying to find some good running routes (so far- a little underwhelmed). The big news is I get to go home for a visit to England next weekend… for two weeks!! I'm so ready for a little injection of English wit and weather. In fact, yesterday it dawned on me that I have not enjoyed the British Summer since 2009! Refresh my memory… I should leave my Summer dresses at home, yes? Or just pack lots of cardigans?!
Anyway, enough about me and my weather concerns, let's talk about how lovely this soup is. Simple really, its a carrot soup with infused with beautiful thai ingredients- coconut milk, lemongrass, lime, chili, ginger and coriander. The coconut milk makes it creamy and luxurious, and the thai flavours and a little zip! Let me know if you try it! And thank you all for your patience and well wishes- this little blog has certainly been neglected in the past couple of weeks, but I'm looking forward to sharing some good stuff with you soon!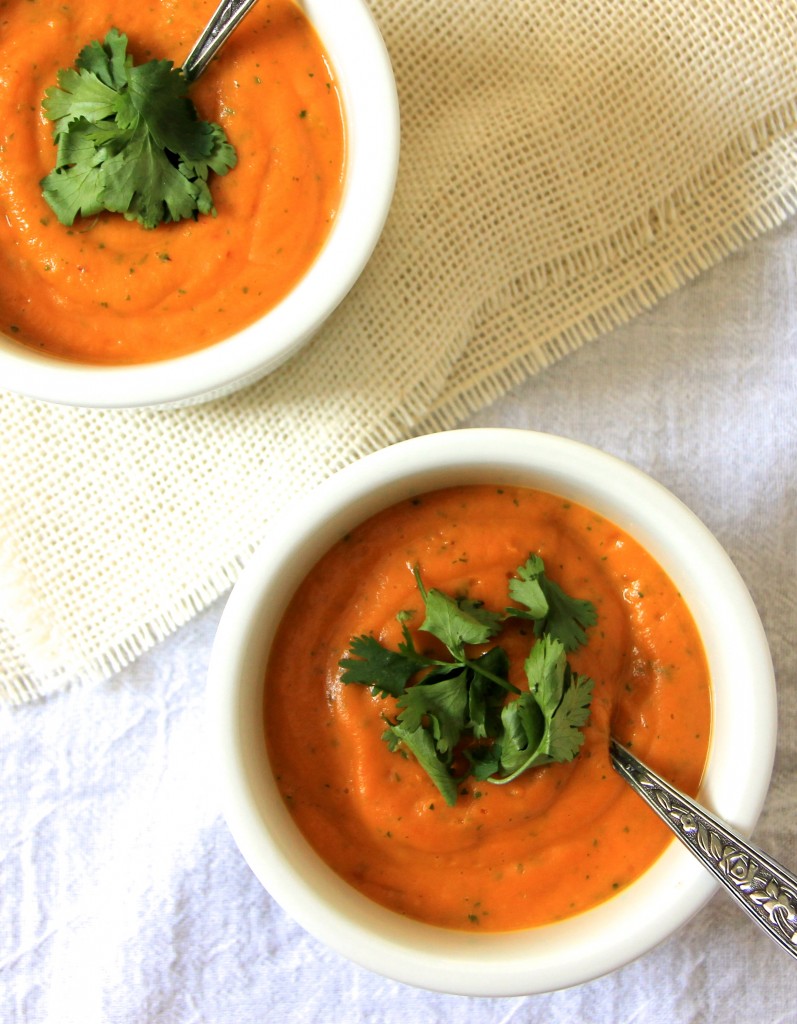 Thai Spiced Carrot Soup
Ingredients
1 tbsp toasted sesame oil (or other oil)
1 medium onion, sliced
4 garlic cloves, minced
1 tsp chili flakes (more or less to taste)
1 thumb sized piece of ginger, minced
750g/26oz carrots (about 6 large carrots), peeled and diced
150g/5oz small potatoes, peeled and diced (about 2 potatoes)
500ml/16oz vegetable stock
2 sticks of lemongrass, bashed with a rolling pin (or some other blunt object!)
225ml /7.5oz creamed coconut
zest and juice of 1 lime
handful of fresh coriander (cilantro)
Method
Heat oil in a large pan, add onions and sauté for a few minutes until soft
Add the garlic, chili and ginger, cook for a few more minutes
Add carrots, potatoes, stock and lemongrass, bring to the boil and then simmer gently for 20 minutes until vegetables are cooked through
Add the coconut and simmer gently for five more minutes
Remove the lemongrass, add lime zest and juice and coriander
Liquidize until smooth and creamy, either in a blender or in the pan using a hand blender
Garnish with additional coriander leaves and dig in!
Notes:
Adapted from the Whaletail Cafe Cook Book, the Whaletail is a small vegetarian cafe in the town where I grew up- Lancaster UK.
If you don't have carrots, or want to change this a little, I think Butternut Squash or Sweet Potato will be fantastic instead of carrots
This soup freezes well, I like to make big batches and freeze it into individual portions for lunch emergencies!