Easy and delicious socca topped with greens makes a quick, elegant and versatile meal!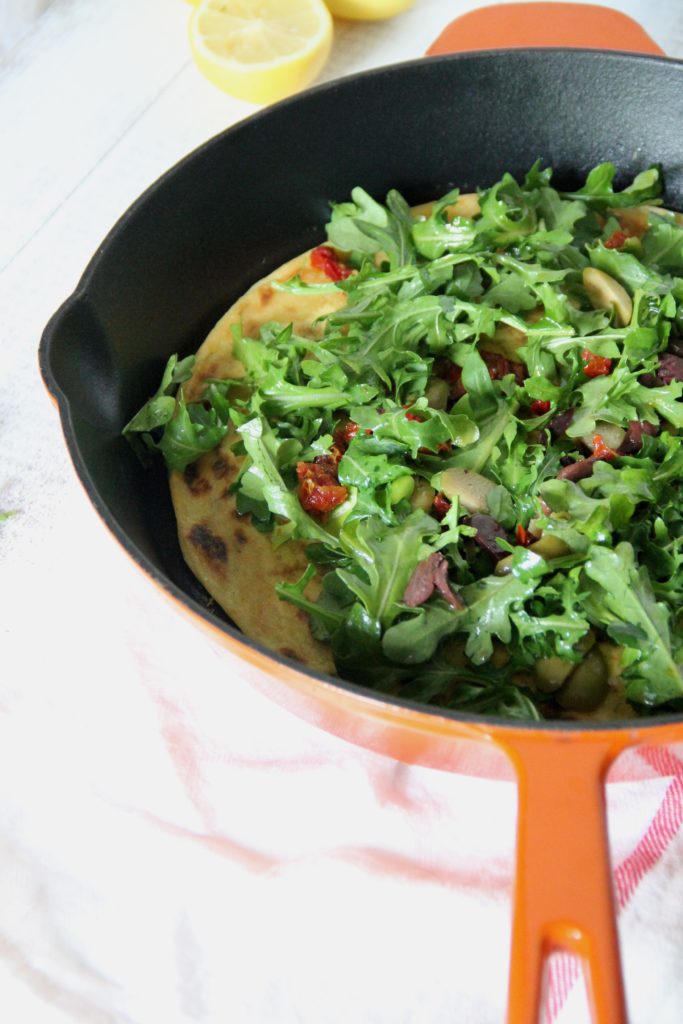 Friends, for years I didn't make Socca because I assumed it was either too complicated, or too fancypants. I urge you not to make the same mistake, because its DEAD SIMPLE and super yummy. A couple of months ago I was trying to figure out how to use up a bag of chickpea flour, and I googled "Chickpea Flatbread". Turns out chickpea flatbread IS Socca. The rest is history, I've been making it every week since.
Have you made socca before? Eaten it? Heard of it?! It ticks my three most important boxes:
Easy, check!
Healthy, check!
Delicious, check!
And my new fourth bonus box, will my kid it eat? Check!!!
There are hundreds of things you can do with socca, but by favourite so far is simply topping it with greens. It's so light, and so elegant, and has become one of my go-to lunches or light dinners.
If you have a different go-to socca recipe, please let me know! I'm addicted to this stuff.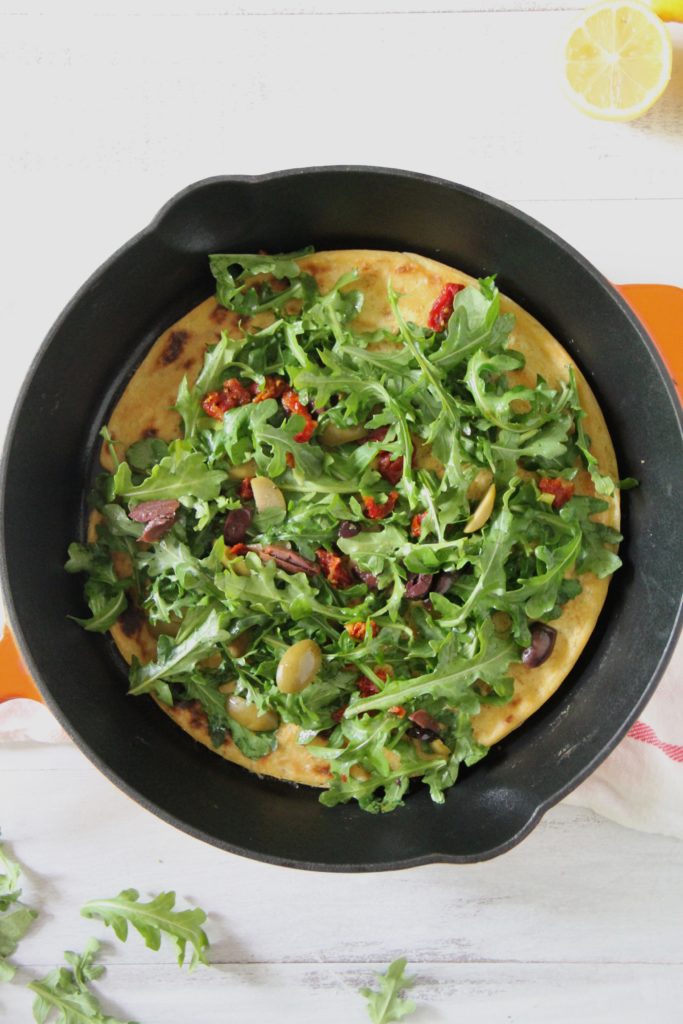 Enjoy!

Socca Topped With Greens
Ingredients
For the socca:
1 cup chickpea flour
1 cup water
1 tsp dried rosemary
1 tbsp olive oil (plus a little more for the pan)
For the greens:
1 generous handful of rocket (arugula) or mixed greens- whatever you have to hand
8-10 mixed marinated olives, pitted and roughly chopped
2 tbsp sun dried tomatoes, chopped
1 tsp olive oil
juice of half a small lemon
generous pinch of sea salt
a little freshly grated parmesan (optional)
Method
You want to mix the socca batter at least half an hour before you want to eat it. Mix all the ingredients in a bowl, and chill in the fridge for at least half an hour
While your batter is chilling, prepare your greens. Simply toss all the the ingredients in a bowl, and put in the fridge to chill until needed.
Set your oven rack about 6 inches below your broiler, and turn on the broiler. Put a 10 inch skillet in the beneath the broiler to warm for a few minutes
Carefully remove the skillet, and swirl a little olive oil in the bottom, enough to evenly coat, and then pour the socca batter into the skillet. Broil for about 3-5 minutes until the batter is cooked through and beginning to blister in places. Carefully remove and allow to cool for a few minutes before you top with your prepared greens
Notes
Socca recipe adapted from The Kitchn.