This cosy one skillet vegetarian cottage pie has a hearty lentil filling, and a crunchy sweet potato topping.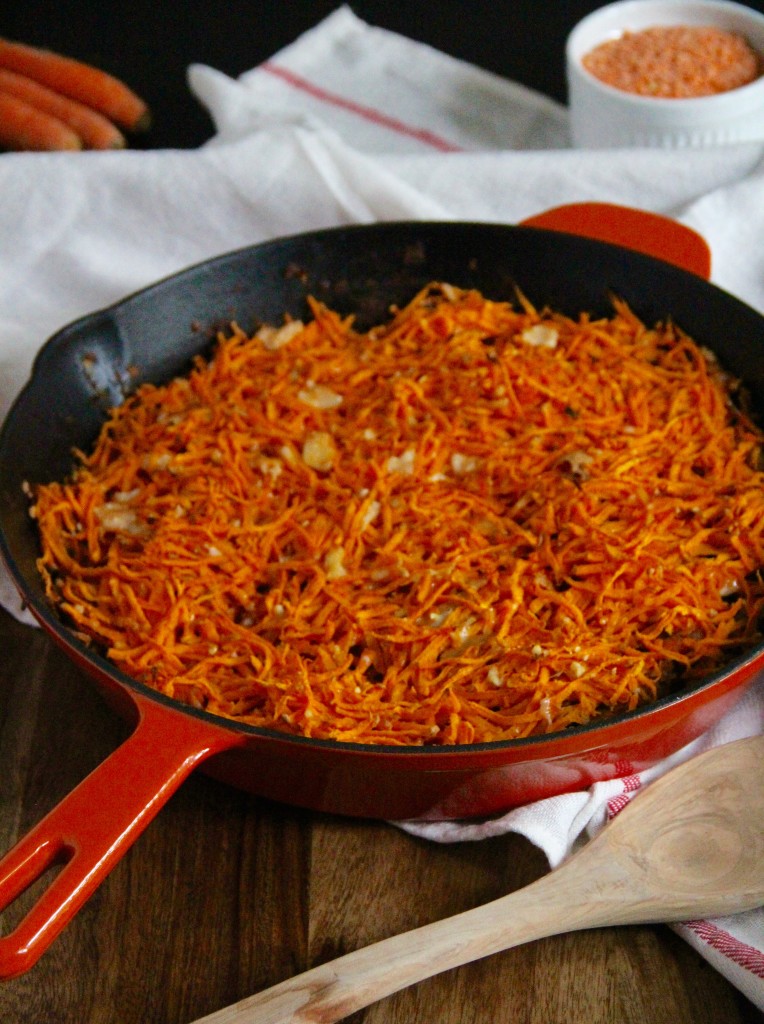 Greetings from balmy Houston! We are now mid way through October, and I am yet to don a jumper, beanie or boot. The temperature is stubbornly hovering in the mid 80s, and showing no signs of dipping this week.
Hmph, despite the heat I am forging ahead with Autumn cooking anyway. There's been cosy chilis, hearty pastas, warming curries, and my latest one pot wonder- a skillet vegetarian cottage pie! This is such a gorgeous dish, (James loves it too!). Just a simple filling of vegetables and lentils that turn a little creamy in cooking, topped off with grated sweet potato to provide a lush crunchy topping.
So simple, so easy, so nourishing. Just the way we like it. I'm curious what dishes are you most looking forward to now the temperatures are starting to dip (in theory…!).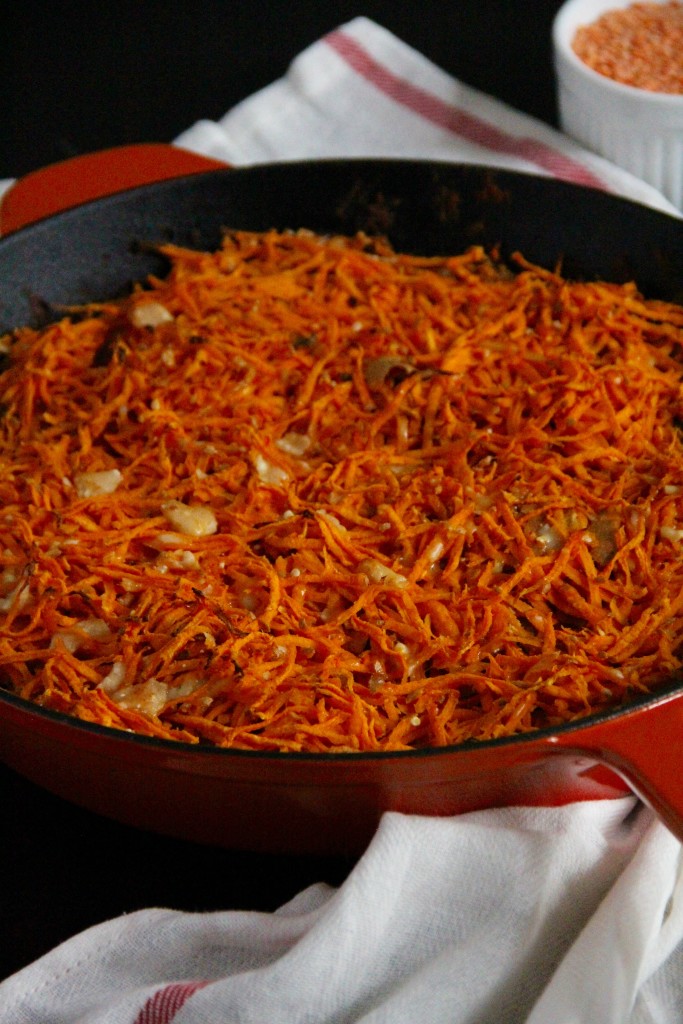 Enjoy!

Skillet Vegetarian Cottage Pie
Ingredients
1 tbsp + 2tsp olive oil
1 onion, finely chopped
2 leeks, the tough leaves removed and finely chopped
2 carrots, peeled and finely chopped
1 cup red lentils
3 cups low sodium vegetable stock
2 tsp dried thyme (or dried mixed herbs)
1 tbsp tomato paste (optional)
1 cup frozen peas, defrosted
1 large sweet potato (at least 350g/12oz)
½ cup parmesan or pecorino, grated (leave out if you want to make the dish vegan)
Method
Preheat oven to 350F/180C
Heat 1 tbsp olive oil in a large skillet over medium heat. Add the onion, leek and carrot along with a generous pinch of sea salt. Cook for about 5 minutes, stirring frequently, until softened
Add lentils, herbs, vegetable stock, and tomato paste to the skillet. Cover, and bring to the boil. Reduce heat and simmer for 15 minutes until lentils are cooked through. Stir frequently so your lentils don't get stuck to the bottom, particularly towards the end of cooking. Add a splash more water if your skillet is looking dry
While the lentil mixture is cooking, prepare your topping: grate on large sweet potato using a box grater, or a food processor if you have one handy. I don't bother peeling the sweet potato, but you can if you wish. Toss the grated sweet potato with the remaining 2 tsp of olive oil, and the grated parmesan
When the lentils are cooked through, remove the skillet from the heat. Stir in the frozen peas (don't bother defrosting them), and arrange the grated sweet potato mixture on top
Place the skillet on the top shelf of the oven, and cook for another 15 minutes until the top is crunchy and golden
Recipe adapted from
Michela Chiappa
.
Make it vegan: simply leave out the parmesan from the topping.