This No Bake Salted Date Caramel Chocolate tart is vegan, gluten free, and contains no added sugar! But most importantly, it tastes like heaven…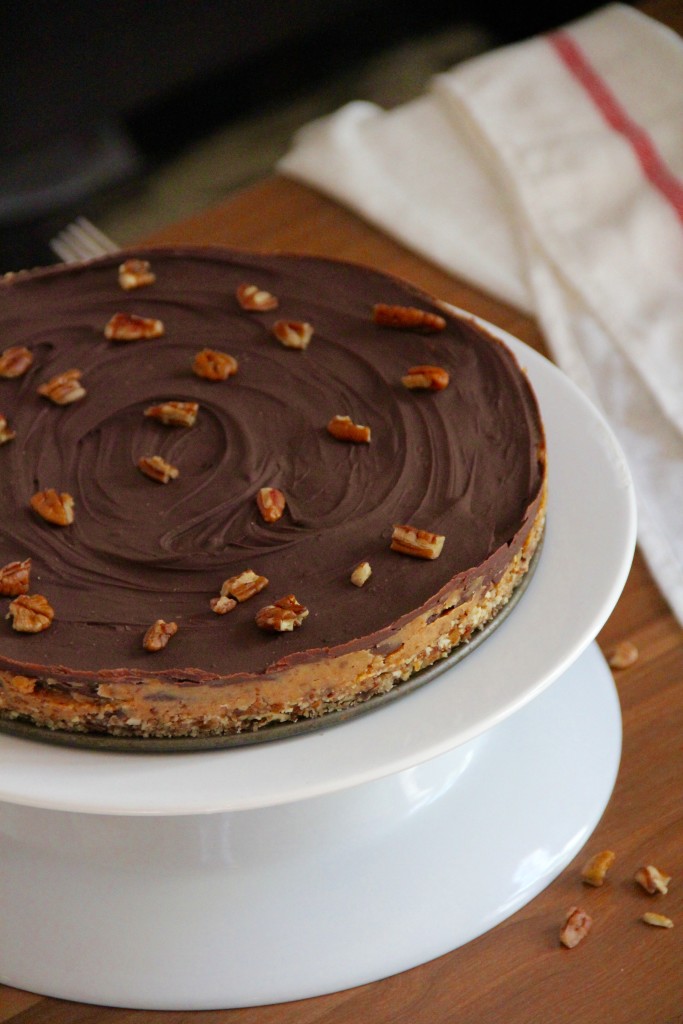 Last Thanksgiving I was nine months pregnant- dangereux, no? I blame my "condition" on the extremely out-of-character choice I made regarding dessert that day. It involved a readymade chocolate crust, cool whip (!), peanut butter, and an ungodly amount of sugar. This year, I wanted to see if I could create a dessert from whole ingredients, that is still rich and worthy of a celebration.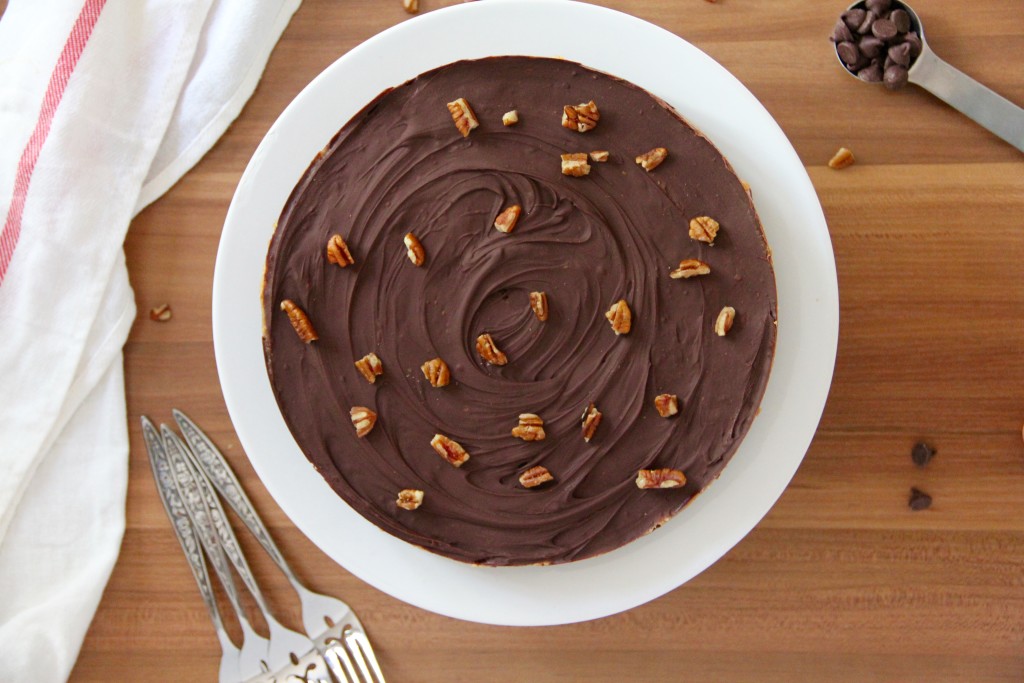 Friends, this is it. A velvety salted "caramel" made from dates sitting atop a nutty, crumbly base, and finished off with a thick layer of dark chocolate that gives a satisfying crack when it meets your fork. Oh, heaven! As if that wasn't enough, this dessert is vegan, gluten-free, and contains no added sugar (just a wee bit from the dark choc!), so it will hopefully cater for EVERYONE at your Thanksgiving dinner- hooray!
This year I am actually hosting Thanksgiving for the first time. As a non-American, I feel like a bit of an imposter, and a tad overwhelmed!! I am also yet to plan the menu, but I have been scouting out various recipes and have a few contenders. Here is my run down if you would like to see-
This Shredded Brussels & Kale Salad with Apples, Gorgonzola & Pecans, sounds SO GOOD!
These Pumpkin Spiced Mixed Nuts would make a great pre dinner nibble!
Healthier Green Bean Casserole– yes!
Love that you can make this Sourdough Herb Stuffing in the slow cooker.
Maybe these Coconut Tartlets could be a second dessert option?!
Apple Cider Sangria sound like the perfect aperitif, no?
Still looking for a good vegetarian main, I fancy changing things up from my usual, so let me know if you have any good leads!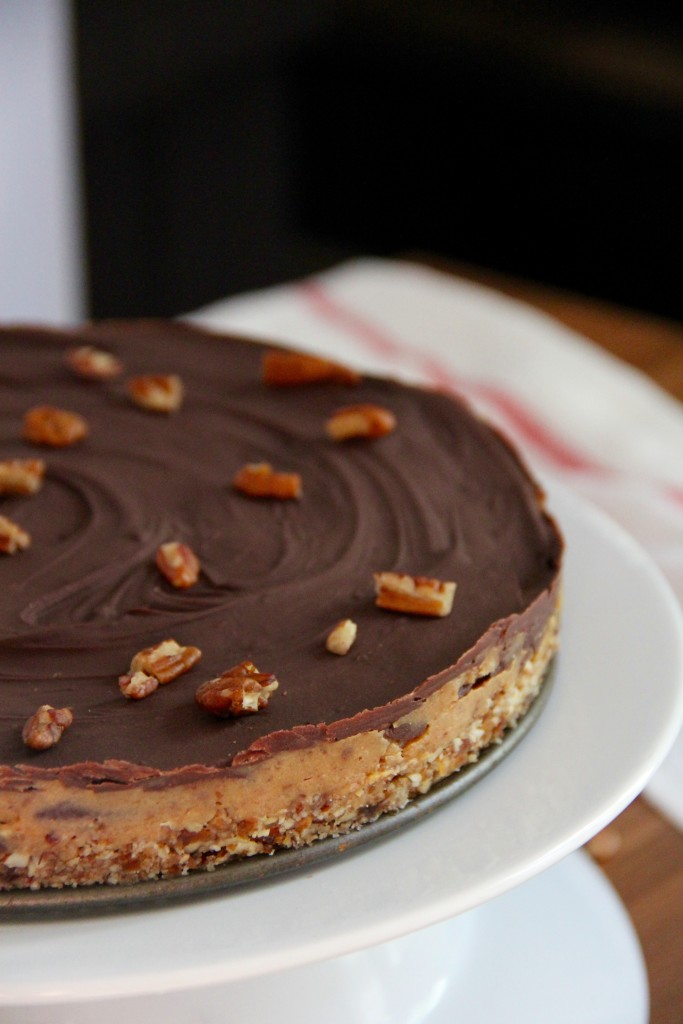 Enjoy, and happy thanksgiving!
Salted Date Caramel Chocolate Tart (No Bake!)
Ingredients
For the base:
150g/5.25oz raw pecans
150g/5.25oz raw almonds
100g/3.5oz pitted dates
1 tbsp vanilla extract
2 tbsp coconut oil
For the caramel filling:
250g dates
150g peanut butter or almond butter
3 tbsp coconut oil
6 tbsp water
large pinch of sea salt
250g dark chocolate
Method
Add nuts to the processor and pulse until they become finely chopped and almost flour like. Add the dates and coconut oil to the processor, and process until the mixture comes together. Tip the mixture into a 9 inch spring form tin, and press the base down firmly. Pop it in the fridge while you make the date caramel
Tip the dates, peanut butter, coconut oil and water into the processor (I don't bother to rinse it), and process until thick and smooth. Spread the caramel filling onto the base in an even layer, and sprinkle with sea salt. Pop the tart back into fridge while you make the chocolate topping
Melt the chocolate either with the double boiler method (see notes), or in 30 second increments stirring between each interval, in the microwave.
Spread the chocolate on top of the salted caramel layer, and put in the fridge for at least 30 minutes to set
Carefully run a knife around the edge of the spring form tin, and then release the tart from the tin. Cut into slices (I recommend using a knife warmed in hot water or your lovely choc topping will crack!), and enjoy!
Notes
This recipe is adapted minimally from The Happy Pear (#YouTubeCrush). I played around trying to make the base with oats, but in the end the nuts won! In the original recipe they mix salt into the caramel, but I like sprinkling over the top so you get the occasional salty hit. If you are not that way, you can mix it into the caramel.
Tips on a double boiler from The Kitchn.
PS- If you do the double boiler method DO NOT let the water touch the bowl you are melting your chocolate in. Your chocolate will become grainy and unusable!