This mexican veggie bowl covers of all of your bases- healthy whole grains, fats, greens and beans. Oh, and it tastes fantastic too!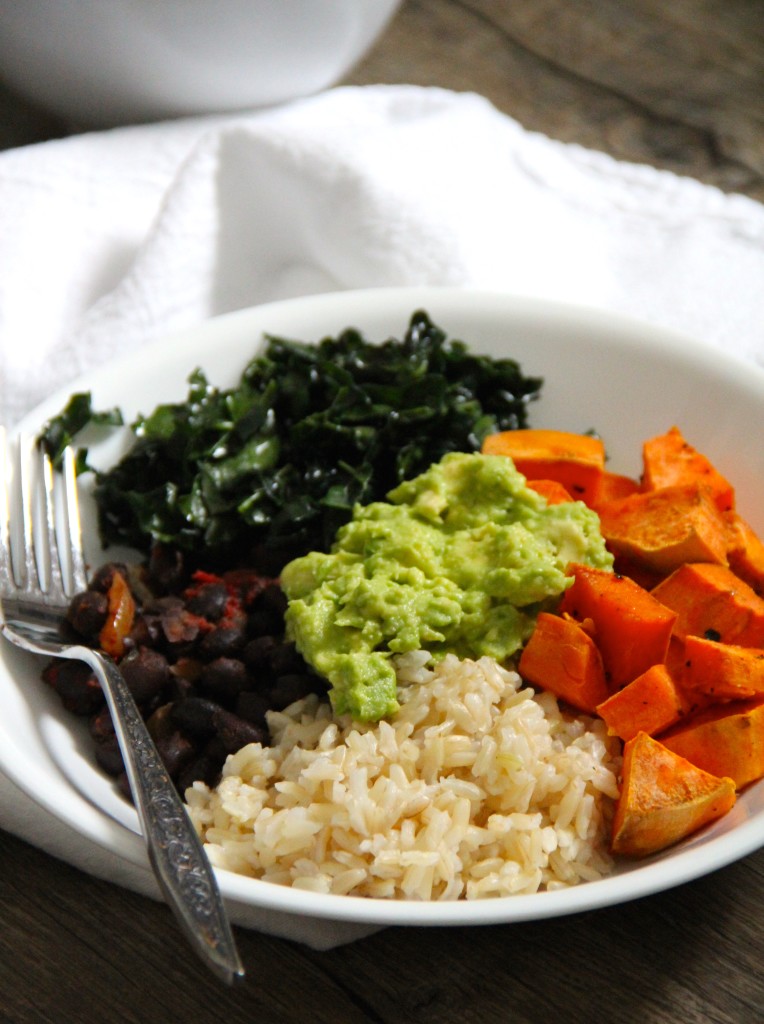 Hello friends, I'm back! Thank you for your patience during my little blog hiatus, I have missed you! The last 6 weeks have been totally bonkers adjusting to life with a newborn. As it turns out, babies are a lot of work, and sometimes you just can't reason with them… However, I am happy to report that our little James is gorgeous, healthy and thriving. Thank you for all of your well wishes 🙂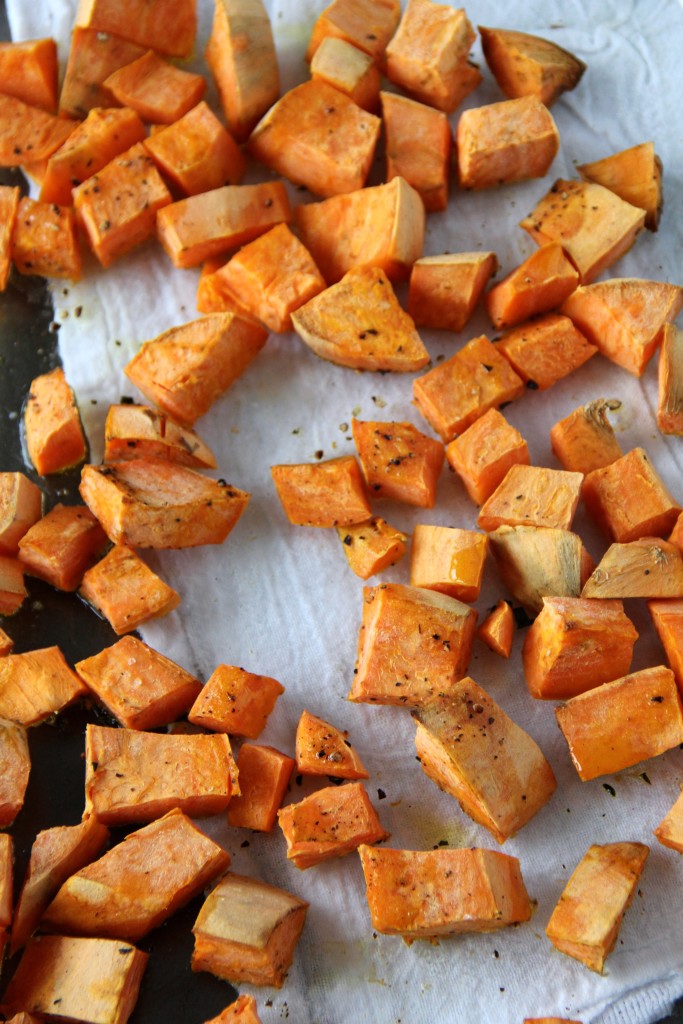 Somewhere in the blur of early parenthood I have managed to find time to cook and even develop a couple of great recipes. I can't wait to share them with you! I'm starting with this lovely mexican veggie bowl, it is packed full of good for you stuff, vegan, and makes for fabulous leftovers. There are five components: lime-marinated kale, brown rice, roasted sweet potatoes, stewed black beans and a big dollop of guacamole.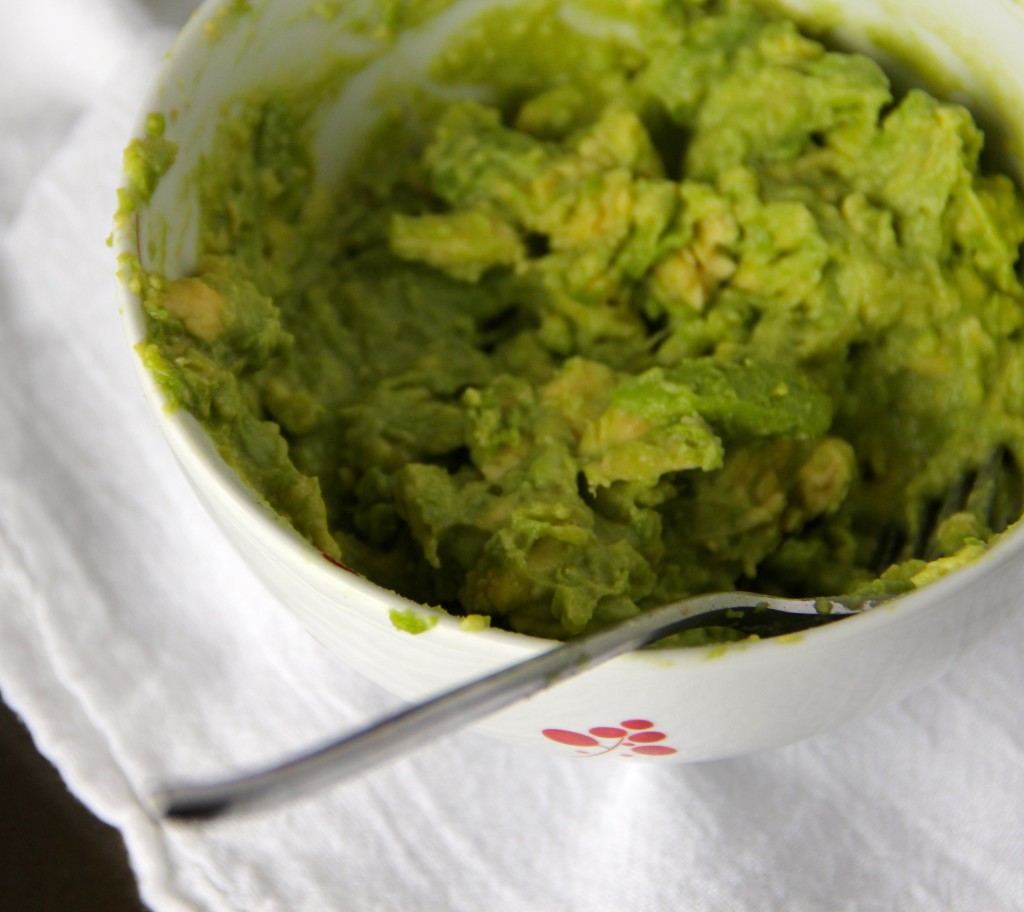 I love it because you are covering so many bases in one meal- whole grains, healthy fats, protein, iron, greens. Plus it is super filling! Kirk and I have eaten this every week for the past month, we are pretty obsessed. I'm thinking of branching out into other themed veggie bowls, Med bowl? Indian Bowl? Japanese bowl? Any takers?!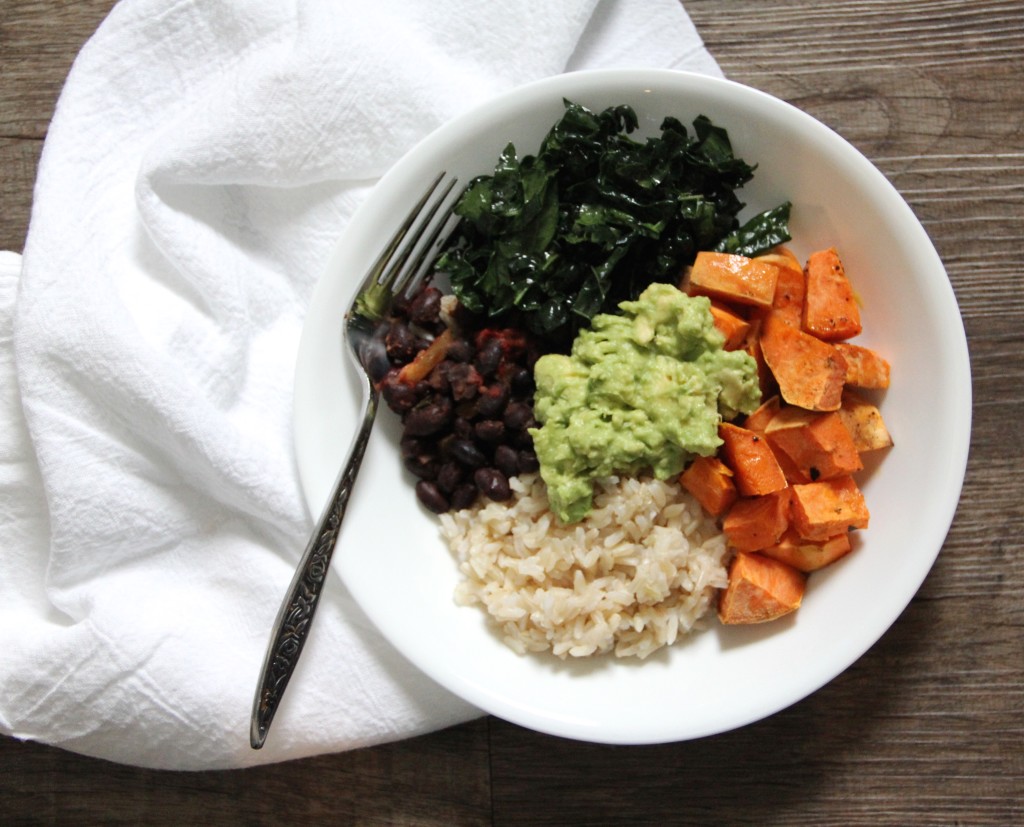 Hope you enjoy this one! So happy to be back!

Mexican Veggie Bowl
This mexican veggie bowl covers of all of your bases- healthy whole grains, fats, greens and beans. Oh, and it tastes fantastic too!
Ingredients
For the kale:
1 large bunch of kale (I like lacinato in salads)
Juice of 1 lime
1 tbsp olive oil
pinch of sea salt
Chili flakes (optional)
For the rice:
1 cup brown rice
For the sweet potatoes:
2 large sweet potatoes, peeled and cut into chunks
1-2 tbsp olive oil
salt and pepper
For the black beans:
1 tbsp olive oil
½ medium onion, diced
2 garlic cloves, minced
1 tin of black beans or 1¾ cups of prepared black beans
1 tsp cumin
½ tsp coriander
¼ tsp cayenne pepper (or more or less to taste)
1 tbsp tomato paste
1 tbsp water
For the guacamole:
2 medium avocados
juice of 1 lime
sea salt to taste
Method
Prepare the kale: rinse kale well, destem, and then cut the leaves into thin strips. Place into a large bowl, and set aside. Whisk together the lime juice, olive oil and sea salt in a cup and pour over the kale leaves. Using your fingers, massage the dressing into the leaves for about a minute until the leaves are evenly coated in oil and dark green in colour. Set aside in the fridge to marinate while you prepare the rest of the bowl.
Prepare the rice: cook rice according to package instructions
Roast the sweet potatoes: preheat the oven to 425F/220C. Peel the sweet potatoes and cut into 1 inch chunks. Lay them in a large baking dish ensuring that there is space between each chunk (use a second baking dish if necessary). Toss with olive oil, salt and pepper, and bake for about 25 minutes until tender.
Cook the black beans: Heat olive oil in a small saucepan. Add onions and saute for a couple of minutes until softened. Add the garlic and cook for a minute more. Add the black beans, spices, tomato paste and water. Simmer gently while the rice and sweet potatoes finishing cooking.
Prepare the guacamole: Cut the avocados in half lengthways. Remove the stone, and scoop out the filling of each fruit into a bowl. Add the lime juice and salt, and using a fork, roughly mash the avocado until you have reached your desired consistency.
Assemble bowl: When the rice and sweet potatoes are ready, divide each component of the veggie bowl into four, and serve in large shallow bowls.
Notes:
Another reason I love this is that it is very easily adaptable, change your grains, greens or beans if you don't have the specific ingredients to hand!
You may also like my Sweet Potato Black Bean Enchillada Bake, my Tofu Racheros, or my Black Bean Quinoa Chili.