Linguine tossed with brilliant green pea puree and garlicky mushrooms and spinach make for a cheery and wholesome weeknight dinner.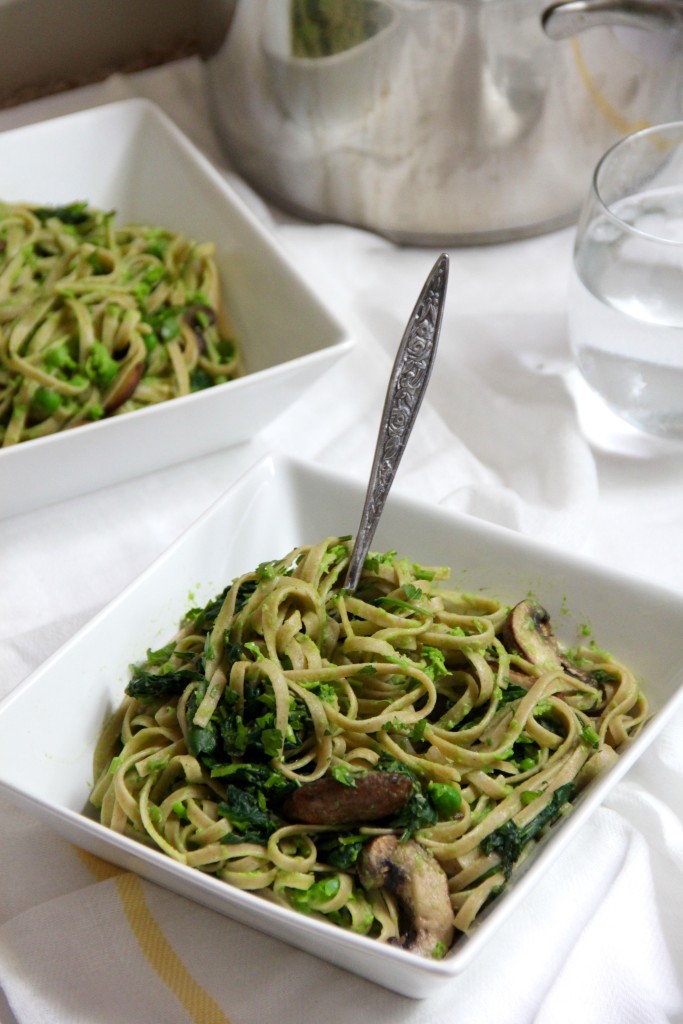 Well mother nature has certainly been flexing her muscles in Texas this week! I'm not normally intimidated by the weather, but I will admit to feeling a little on edge the last few days. In fact, this was the first time I didn't roll my eyes when Kirk said we should assemble an emergency kit(!). Thankfully my Houston neighborhood has been relatively unaffected by the storms and flash flooding so far, so fingers crossed it stays that way.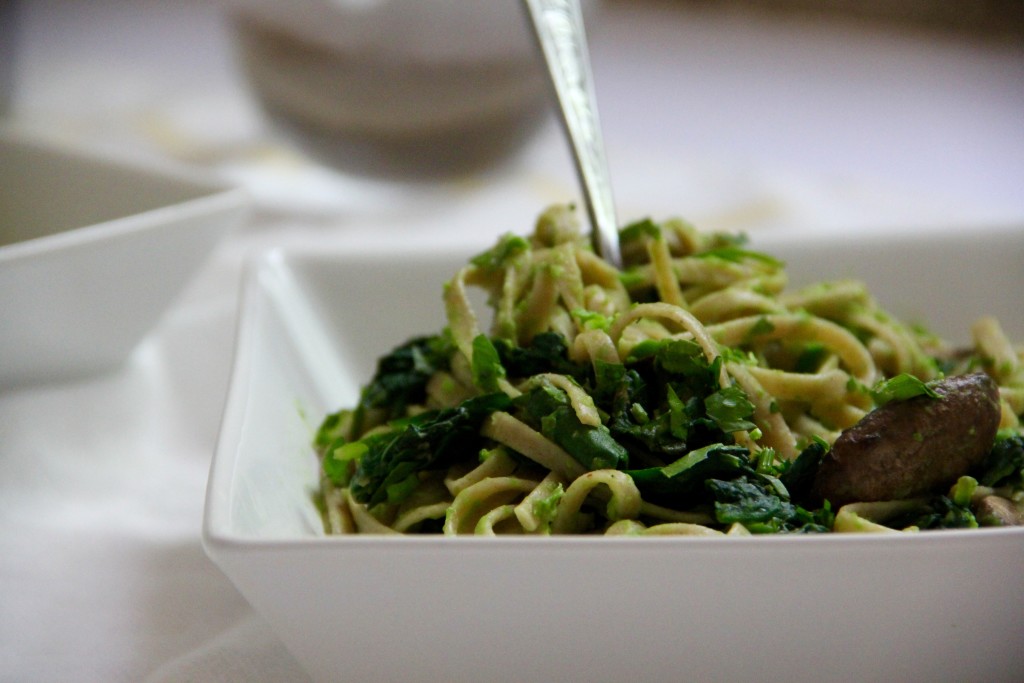 There is really no graceful way to go from a weather update to a description of a pasta recipe, so we shall just dive right in, yeah?! Ok. This recipe has become a new staple in our house. It's pretty quick to come together, and I am totally addicted to this creamy bright green pea puree.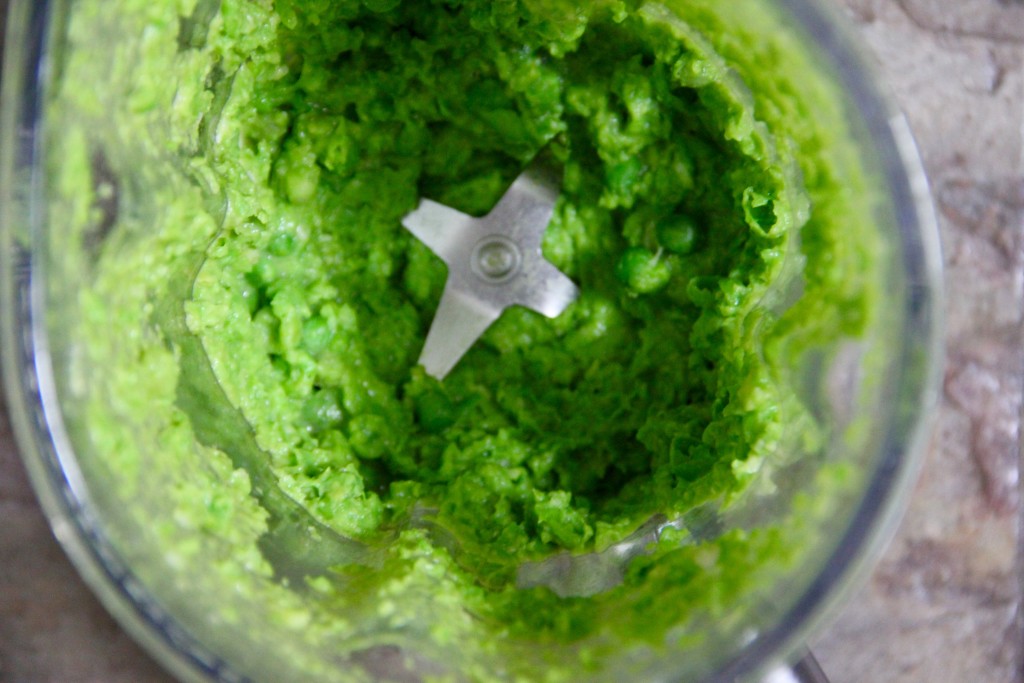 One thing you will always find in my freezer is a bag of frozen peas, I chuck them in any old thing, but in this recipe they are the main attraction! Mushrooms thickly sliced and lightly sautéed with garlic add a little meaty texture, and spinach adds another layer of colour, taste and nourishment.
Toss it all together and sprinkle with parmesan- its comforting, bolstering and totally satisfying in all its sweet, garlicky bright green glory.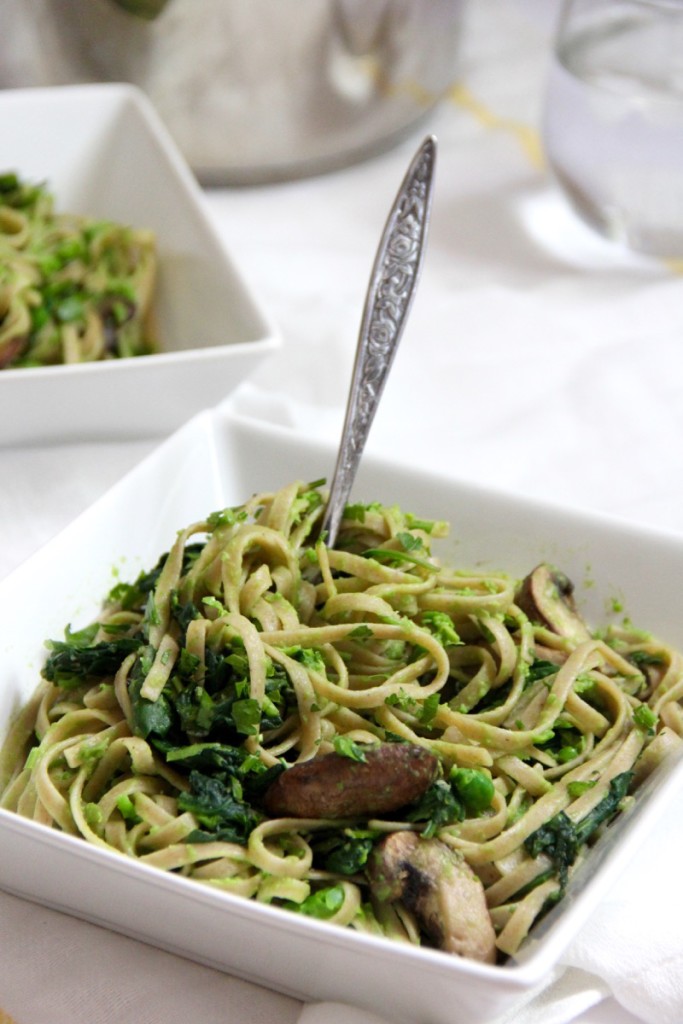 Enjoy!

Linguine with Pea Puree and Garlicky Spinach and Mushrooms
Linguine tossed with brilliant green pea puree and garlicky mushrooms and spinach make for a cheery and wholesome weeknight dinner
Ingredients
For Pea Puree:
1 tbsp butter (or olive oil of you prefer)
1 clove garlic, minced
2 cups frozen peas
2tbsp-1/4 cup pea cooking water (reserve after draining)
¼ cup parmesan
Salt and pepper to taste
For Spinach & Peas:
1 tbsp olive oil
1 cup mushrooms, thickly sliced
3 large garlic cloves, minced
4 large handfuls of baby spinach
For Pasta:
250g/9oz whole wheat linguine (or pasta of choice)
Grated parmesan for topping (optional)
Finely chopped parsley for topping (optional)
Method
First make the pea puree: melt butter in a skillet over a medium heat, and the garlic and fry gently until golden. Transfer butter and garlic to a blender and set aside. Bring a medium sized pot of water to a boil, add peas and return to the boil. Drain immediately and reserve at least ¼ cup of cooking water. Add peas to blender along with the grated parmesan. Pulse a few times and then loosen the puree up with the cooking water- just as much as you need to get to your desired consistency (I like to keep a few peas whole to get that satisfying pop!). Take a quick taste and season with salt and pepper to taste. Set aside.
Cook Spinach & Mushrooms
Return skillet to medium heat and add olive oil, add mushrooms and garlic and a pinch of sea salt, and cook until the mushrooms begin to release liquid, and then add the spinach in handfuls, stir until wilted and set aside.
Cook the Pasta:
While the mushrooms and spinach are cooking you can make the pasta. Refill the pea pot with water and bring to a boil, add the pasta and cook until al dente. Drain and set aside. It may be wise to reserve a little of the pasta cooking water too- just in case you want to thin your puree out even more.
Assembly:
Return pasta to its cooking pot (off the heat!), add pea puree and toss together with a pair of tongs until the pasta is well coated. Add a couple of splashes of pea or pasta water if you want to thin in out a little more. Toss in the spinach and mushrooms. Serve with a little extra parmesan, and parsley if desired.
Notes:
Pea Puree adapted from River Cottage Veg by Hugh Fearnley-Whittingstall.