Blackberry Basil Chia Jam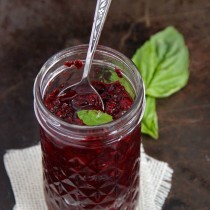 16oz/450g blackberries (fresh or frozen)
3-4tbsp maple syrup (or use honey)
juice of 1 lemon
1 cup basil leaves
2 tbsp chia seeds
In a blender, blend 3 tbsp maple syrup, lemon juice and basil until smooth
Add the mixture to a saucepan, and then add the blackberries
Bring to a slow boil, and simmer for about 5 minutes, mashing the blackberries with the back of your spoon as you go
Stir in your chia seeds, and reduce heat to low. Cook for 15 more minutes, stirring occasionally
Check the taste, add more maple syrup if desired.
Let to stand for 10-15 minutes to thicken, store in a clean airtight container in the fridge. Jam should keep for at least a week.
Recipe by
Emma's Little Kitchen
at http://www.emmaslittlekitchen.com/blackberry-basil-chia-jam/