This Chocolate Orange Granola Bark makes the most delicious and easy holiday gift for your loved ones!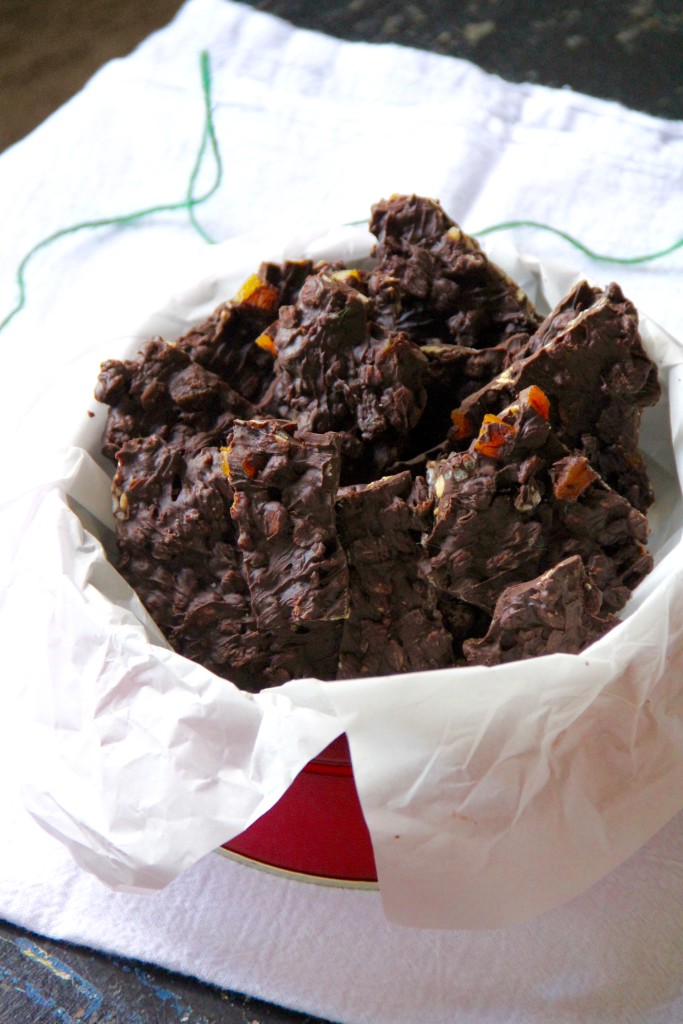 If you grew up in the UK, you may also have found a Terry's Chocolate Orange occupying your stocking on Christmas morning (Its not Terry's, its mine!). And after I had bashed it on the corner of my bed for long enough to break it into segments, I would wolf it down for a pre-breakfast snack. Hey, Santa only comes once a year!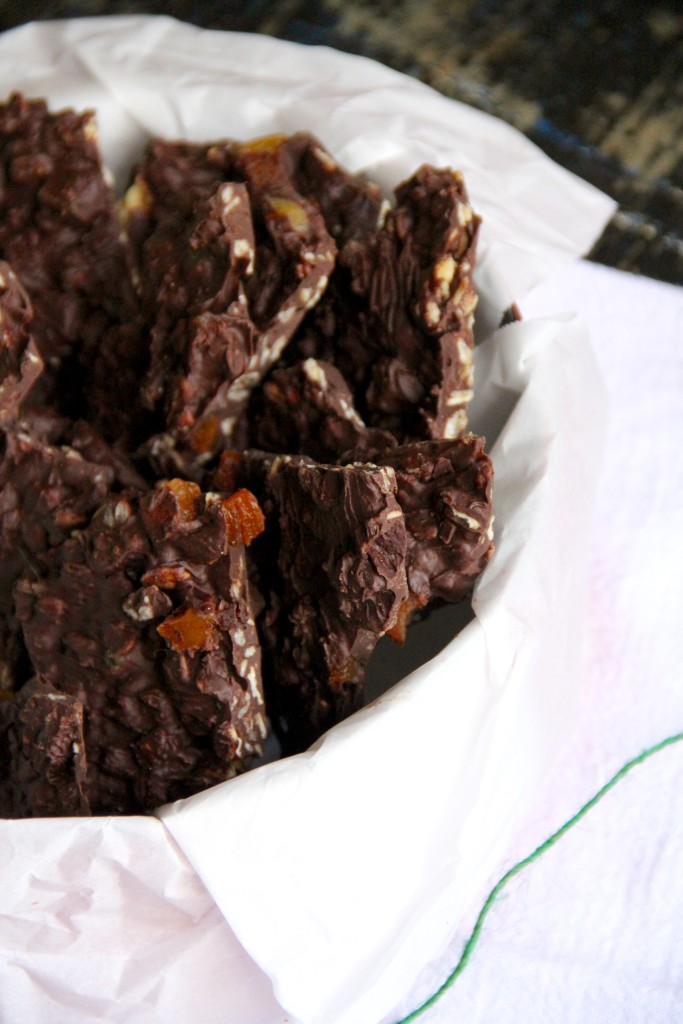 For this reason, any kind of chocolate orange treat just tastes like Christmas to me, including this uber-delicious chocolate orange granola bark. Warning, the rich dark chocolate, toasty granola crunch and warm citrus vibes make this bark highly addictive. Honestly, once I nibble on a little bit I CAN.NOT.STOP! So please proceed with caution friends.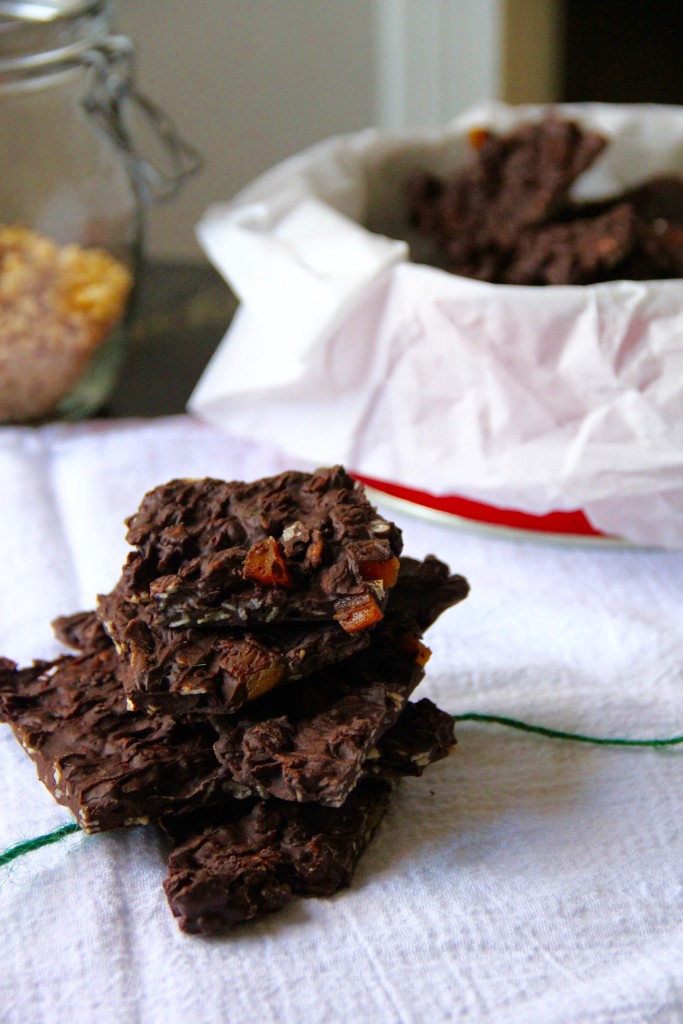 This will make a fabulous homemade gift for loved ones, or a fun addition to any holiday spread. It comes together incredibly quickly (just allow enough time for it to cool and set!), and people will admire your Martha Stewart-esq brilliance all December long. Just make sure you make enough for yourself too!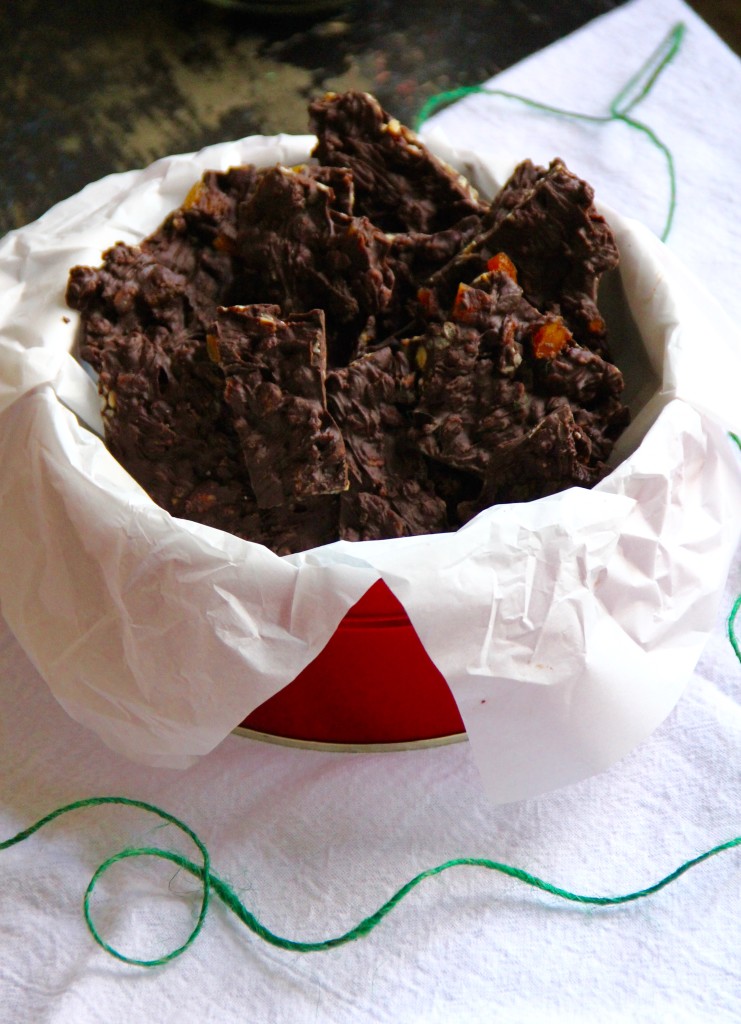 Enjoy!

Chocolate Orange Granola Bark
Ingredients
2 cups (about 350g) dark chocolate chips
zest of 1 orange
½ tsp cinnamon
1 cup granola* (about 150g)
¼ cup dried apricots (optional)
Method
Line a baking sheet with a large piece of wax paper or parchment paper
Put the chocolate chips, orange zest and cinnamon into a large bowl Fill a saucepan with a couple of inches of water, and set the bowl snugly into the saucepan. Make sure that the water is not touching the bottom of the bowl, and will NOT touch the bottom of the bowl when simmering (this is VERY important you don't want to scorch the chocolate- it will turn into a grainy nightmare...!)
When the chocolate is completely melted, remove it from the heat and quickly fold in the granola and apricots. Turn the mixture out onto the lined baking sheet in a thin layer using a spatula. You will need to work quickly so the chocolate doesn't set
Place the tray in the fridge, and allow to set for at least an hour before breaking it into chunks and devouring :)
Notes
*Use a relatively plain granola (this is a good option). If your granola contains fruit you may want to skip or reduce the dried apricots.
Dried apricots can be substituted for dried cranberries or dried cherries.